From restaurants and chocolate tastings to shopping and street festivals, there are so many things to do along Chocolate Avenue in Hershey. Founder Milton S. Hershey envisioned the town as an ideal place to work, live, and play. Today, you can enjoy several walkable blocks of shopping and dining in Downtown Hershey, plus additional locations all along Chocolate Avenue, the sweetest street in town!
Things to Do in Downtown Hershey
This revitalized region of Hershey The Sweetest Place on Earth® includes several new restaurants, shops, and nightlife spots that pair well with the town's historic sites.
1. Visit Hershey Theatre
Known as "The Most Impressive Theatre in Pennsylvania," Hershey Theatre delights guests not just with its renowned performances but its striking décor and rich history. Inside you'll find gold adornments, breathtaking tile work, and art that tells a story. When you're in town for a touring Broadway show, comedian, musician, or the Hershey Symphony, arrive early to marvel at the beautiful venue. Schedule a Spotlight Tour (available Fridays and Sundays year round, with some event exceptions) featuring a guided walk through history, an examination of the building's features, and a behind-the-scenes peek of the venue.
Did You Know?
Hershey Theatre was built in the early twentieth century as part of Milton S. Hershey's Great Building Campaign and provided job opportunities for hundreds of workers during the Great Depression.

2. Get pampered at MeltSpa by HersheySM
Unwind with a decadent Hershey's Dark Chocolate spa treatment at MeltSpa by HersheySM. Look and feel your best with a rejuvenating facial and salon services from head to toe. Before and after your appointment, put your feet up in their relaxation room and enjoy complimentary hot cocoa and chocolate samples.
FAQs What's the difference between MeltSpa and Chocolate Spa®?
A MeltSpa experience is perfect if you have just 3-5 hours to spare. For overnight packages and day-cations just for you, opt for premium services at The Spa At The Hotel Hershey®, a resort spa with an array of chocolate and signature spa treatments including massage, wraps, scrubs, and salon services. Spa guests have access to fitness equipment, exercise classes, indoor/outdoor pools, steam room and sauna, and a guest-only restaurant.
3. Let the kids frolic at Cocoa Castle
It's a short walk (0.6 mi) from Chocolate Avenue to Cocoa Castle (605 Cocoa Ave.), one of Derry Township's public parks with an impressive playground for kids! Slides, swings, rock climbing walls, and more are perfect for burning some toddler energy!
4. Explore the 11-acre ZooAmerica®
Even though admission to ZooAmerica® North American Wildlife Park is often associated with Hersheypark®, the zoo is open year-round and accessible from its Downtown Hershey entrance. Stroll through this indoor/outdoor attraction, home to more than 200 creatures from five regions. See alligators from the Southern Swamps, black bears of the Eastern Woodlands, elk of Big Sky Country, wolves of the Northlands, and desert reptiles of the Great Southwest.
Did You Know?
Animal enthusiasts can upgrade a ZooAmerica visit to include a behind-the-scenes, interactive encounter before and after zoo hours. Feed the bears, pet a reptile, or hold a bird of prey. Plan ahead. Tours are pre-registered and pre-paid 72 hours in advance and are limited to 10 participants.
5. Cheers with a Long Island iced tea pitcher at Houlihan's
In addition to a crowd-pleasing food menu, Houlihan's is known for its supersized Long Island Iced Tea (LIT) pitchers. Go Classic, Top Shelf, or creative flavors like Peach, Tennessee (with Jack Daniels), or Texas (with tequila). We also recommend a mini Martini flight or a chips & dip flight for happy hour snacking
6. Catch a great dinner at Devon Seafood + Steak
One of Hershey's best ports for fresh seafood, Devon offers sustainably farmed and line-caught fish in an upscale dining environment with a touch of Hershey sweetness. Choose a daily fresh fish entrée alongside mouthwatering sides like lobster mac n' cheese, Yukon Gold potatoes and seasonal vegetables. Dine alfresco on their new patio, on the corner of Chocolate and Park Aves.
7. Discover the sweet history of Milton S. Hershey at The Hershey Story Museum
There's a lot of history to unwrap about the man behind the chocolate. Follow the story of Milton S. Hershey from his humble beginnings and big dreams to his monumental success as an entrepreneur and philanthropist at The Hershey Story, Museum on Chocolate Avenue. The museum includes some of Hershey's belongings, interactive exhibits, still-working factory equipment, and historical footage to share Hershey's inspiring story. Become a chocolatier yourself in the Chocolate Lab or sample warm drinking chocolates from around the world. 
Did You Know?
Milton S. Hershey wrote a deposit check for a first-class stateroom on Titanic. He fatefully changed his plans at the last minute!
8. People-watch in ChocolateTown Park
This peaceful little green space offers visitors and locals a chance to rest on a park bench and enjoy the hustle and bustle of Chocolate Avenue. ChocolateTown Park (48 W. Chocolate Ave.) is located across the street from The Hershey Story and is the site for several Downtown Hershey Association festivals and street fairs!
9. Enjoy homestyle Italian delights from Fenicci's of Hershey
Fenicci's of Hershey is a local favorite known for its rich history, Italian comfort food, and welcoming family atmosphere. You'll find families chattering about roller coasters, couples enjoying seafood entrees before date night at Hershey Theatre, and Hershey residents grabbing drinks at the bar. Fenicci's uses meat from local farms to create their famous meatballs and family recipes brought from Italy to blend their celebrated sauces. You're sure to taste the fresh, homemade flavors in these delightful Italian dishes.
10. Order a few scoops at Phillip Arthur's Café
This sweet little café features a breakfast, lunch, and dinner menu topped off with homemade Hershey's ice cream! Order a sweet treat on a cone or in a float, sundae, or split. Phillip Arthur's is owned by Fenicci's next door, so you can expect the same family-friendly atmosphere and welcoming service.
11. Order a beer flight at Iron Hill Brewery & Restaurant
Cheers for beers at the new Iron Hill Brewery & Restaurant, who brews their balanced craft beers just steps from the bar. Chocolate fans will enjoy the Pig Iron® Porter with roasted malt flavors and chocolate notes. If you can't decide, order a beer flight of their signature brews or some of the try-it-before-they're-gone seasonal varieties. Not just a brewery, Iron Hill's casual yet upscale restaurant menu features entrees, salads, sandwiches, and steakhouse favorites, perfectly plated to pair with your pints. They also have one of Hershey's largest kids menus with dozens of entrée/side combinations to try and housemade ice cream for dessert.
12. Shop savory snacks at Beef Jerky Experience
Yep. This store, Beef Jerky Experience, is dedicated entirely to your favorite snack featuring more than 100 varieties and flavors including wild game like venison and buffalo. You can also shop for sauces, rubs, and flavored popcorn and peanuts.
13. Order "A Sub Above" at Jersey Mike's
New to Downtown Hershey, Jersey Mike's sub shop offers hot and cold sandwiches, marked by their quality and taste, not just how big and how fast you can get 'em. The Jersey Mike's brand is known for their local produce, freshly sliced cheese and meat, authentic Jersey bread, and a signature red wine vinegar and oil blend that gives each sandwich that zing.
14. Solve a mystery at Escape Room Hershey
You've left your house only to be couped up again? That's part of the fun of the puzzling spaces at Escape Room Hershey. You and your group must work together to solve riddles, decipher codes, and put the pieces together. Use your combined brainpower to unlock the room before time runs out! Choose between three whimsically themed rooms each with their own set of puzzle and secrets.
FAQs: What's a good age for kids to do an escape room?
While there are no age restrictions to play, Escape Room Hershey recommends participants be age 10 and above. Kids under 14 must be accompanied by an adult, and participants age 14-17 must sign a waiver.
15. Sample craft spirits at Tattered Flag
Next door to Escape Room Hershey, new-in-town Tattered Flag Distillery Lounge features cocktails and flights of their award-winning handcrafted spirits. Their menu also includes Pennsylvania craft beer and a wide selection of casual fare, such as tapas, tacos, sliders, salads, and create-your-own-burgers. 
16., 17. & 18. Enjoy some retail therapy
Get your steps in as you walk from shop to shop along Chocolate Ave. Just to name a few, Knock Knock Boutique features unique jewelry and gifts, while Simply J Boutique has a curated collection of women's clothing. Hershey is nearby PA Dutch Country, and Uncle Filbur & Aunt K's Gift Shop brings the charm to you, offering chocolates, Pennsylvania-made food items, candles, and more.
19. Visit historic Pronio's Market
Family-owned and operated Pronio's Market has provided high-quality meat and groceries to residents and restaurants for more than 100 years. Take a stroll through the aisles of this quaint little store in the heart of Hershey.
20. Count the Hershey's Kisses streetlamps
You know you've arrived in Hershey the Sweetest Place On Earth® when you see the wrapped and unwrapped Hershey's Kisses streetlamps along Chocolate Ave. On second thought, don't spend time counting them. We did, and there are more than 100 in Downtown Hershey! Take a few selfies and group photos instead to commemorate your visit!

More Things to Do on Chocolate Avenue
Chocolate Avenue keeps on going past the walkable section of Downtown Hershey. It's just a short drive in either direction to find even more sweet sights.
East Chocolate Avenue (toward Palmyra)
21. Play a round at Spring Creek Golf Course
Spring Creek is one of the region's oldest courses, built by Milton S. Hershey in 1932. This 9-hole course is 2,200 yards, par 33, with impressive slopes and the Spring Creek flowing through it. The course is perfect for golf novices, families with kids, or those looking to get a quick game in while you're visiting.
22. Sample craft beer and upscale casual bites at Rotunda Brew Pub
Rotunda Brew Pub is a welcome addition to Chocolate Avenue, featuring Rotunda Brewing Company pints, seasonal craft cocktails, and varied menu from pub pretzels to entrees. Their draft beer selection includes something for every palate, be it sours, stouts, IPAs, or barleywine. 
23. Try the best breakfast in town at The Hershey Pantry
Start your day sunny side up at The Hershey Pantry, voted the best breakfast in Central PA for 20 years running. Favorite menu items include Italian Stuffed French Toast, Crab Florentine Eggs, or one of their seasonal chef specialties like Pumpkin Pancakes or Eggplant Benedict.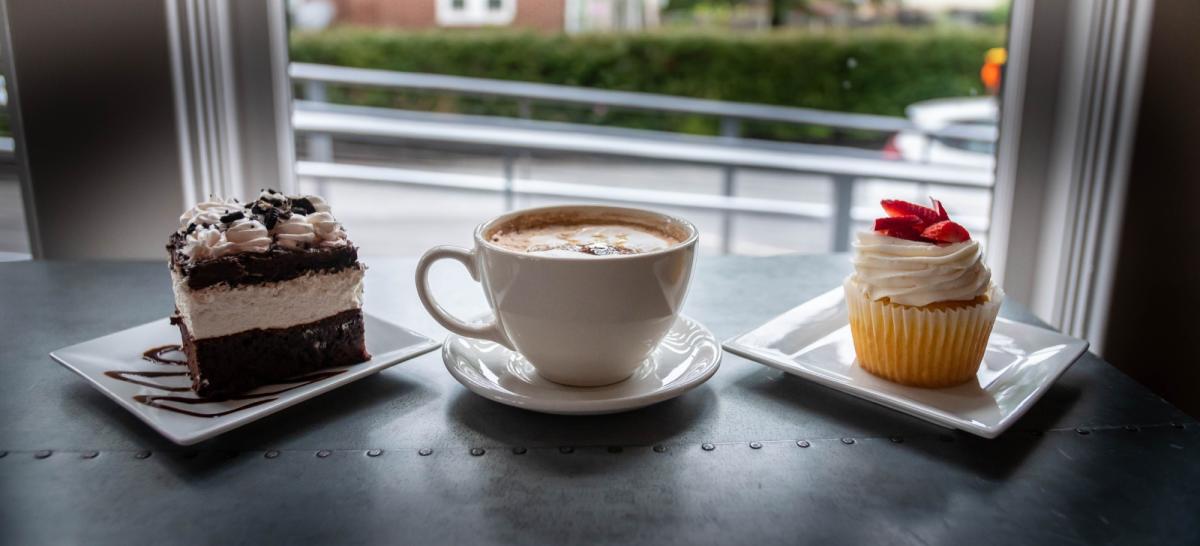 24. Treat yourself to a cupcake at Desserts Etc.
The Pantry's sister location, Desserts Etc., bakes some of Hershey's sweetest treats. From cookies and mammoth cupcakes to quiches and sandwiches, their menu includes sweet and savory delights for any time of day. They also offer gluten-free baked goods to ensure everyone enjoys dessert!
25. Dine at What If…Of Hershey
This full-service restaurant featuring innovative, contemporary American cuisine is a great place for happy hour, lunch, or dinner. What If's menu includes hearty entrees with chicken, steak, veal, pork, and seafood, as well as specialty salads and appetizers. Their house drink is the Infused Martini, featuring fruit-infused vodka handcrafted to order.
26. Enjoy a wine tasting at Cullari Vineyards
Cullari is the first and only vineyard and winery in Hershey, and you can sample their varieties at their  Chocolate Ave. tasting room. When in Hershey, do try their Coco Nostra, their best-selling chocolate wine!
West Chocolate Avenue (toward Hummelstown & Harrisburg)
27. Enjoy farm-fresh flavor at The Mill in Hershey
Inside the renovated, historic Curry Feed Mill, The Mill in Hershey features farm-fresh, seasonally inspired cuisine from their scratch kitchen. Here you'll find tasty entrees, beautiful dining spaces, and handcrafted cocktails made with fresh fruit and herbs.
28. Drive by the H.B. Reese Candy Company
This factory is the birthplace of Reese's Peanut Butter Cups, one of your all-time favorite chocolate treats. They don't offer tours, so you'll have to imagine all the chocolate-peanut butter goodness that's happening inside!
Did You Know? Before creating his own signature sweets, H.B. Reese worked at The Hershey Company factory. He maintained a close relationship with Milton S. Hershey who supplied Reese with chocolate coating for the cups. In 1963 the company was sold to Hershey and went on to be one of their most popular product lines in history. (HersheyArchives.org)
29. Hit the ice at The Bears' Den, an ice hockey-themed restaurant
Step inside The Bears' DenSM, a unique themed restaurant modeled to look like an ice hockey arena! The floor looks like ice, the tables like pucks, and jerseys and memorabilia line the walls! Hershey Bears® AHL ice hockey team has an astounding 11 Calder Cup wins and is one of the league's most storied teams.
30. Refuel at Cocoa Beanery
Grab a coffee, latte, tea, or fruit smoothie at local-favorite, Cocoa Beanery®. In addition to hot/cold beverages, they offer breakfast and lunch menu items and a display filled with sweet pastries and desserts.
Where to Park 
Downtown Hershey has ample free parking options, including two parking garages. The Hershey Downtown Parking Garage is accessible from N. Linden Road and provided easy access to The Hershey Story, Houlihan's, and Devon. ZooAmerica has a parking lot, but you can also park in the garage and walk over via an access tunnel. Behind the shops at Hershey Towne Square, there's another parking garage, accessible from Ridge Road. If you're visiting Chocolate Ave spots outside of Downtown Hershey, most locations have their own parking lots.
Events in Downtown Hershey
Downtown Hershey has several annual street festivals and popup events, including live music, food pairings, craft beer, art, local vendors, farmers markets, and more!
Music on Chocolate (Second Saturdays June through September)
Market on Chocolate (Saturdays June through August)
Art Show & Culturefest (May)
Choctoberfest (October)
Holiday Celebration (December)
Places to Stay along Chocolate Avenue
Hershey is filled with excellent accommodations, but if you're looking to stay along Chocolate Avenue, here are a few of our favorite options:
Days Inn Hershey
Fairfield Inn & Suites by Marriott Hershey Chocolate Avenue
There's always something sweet happening on Chocolate Avenue!