Whether you're visiting us to golf our championship-style courses, or squeezing in 18 holes on your family vacation, you'll find that golf in the Hershey Harrisburg Region is convenient, fun, and affordable. Our meticulously manicured greens and challenging holes are lined with lush landscaping, making for beautiful days on the fairway.Learn a little more about the courses in the Hershey Harrisburg Region.
Sunset Golf Course (Harrisburg)
Located 18 miles from the Capitol is Sunset Golf Course, one of our region's most beautifully maintained courses. You'll tee off from the top of a hill at their signature 10th hole, a 345-yard par-4, whose height makes the cup look much farther away. Locals also love the view from the 1st hole that has you aligned with the runway at Harrisburg International Airport.
The Sunset course is par 70 that plays to 6400 yards with two unique nines. If you've played here before, they've removed some of the trees on the front nine, yielding magnificent views. After you've wrapped your game, stop by the Sunset Bar & Grill for a draft beer and a sandwich!
Dauphin Highlands Golf Course (Harrisburg)
It's not uncommon to spot a deer or turkey on the fairway at Dauphin Highlands, an open, well-maintained course not far from the Susquehanna River. Dauphin Highlands is described by avid golfers as challenging and beautiful with no two holes that are alike and very little back and forth. Their signature 17th hole is a par-3, where golfers tee off over a natural ravine onto a sloping green. Kick back after your game at Five Iron Grille, named after everyone's favorite club, featuring casual fare, including sandwiches, appetizers, and drinks.
Manada Golf Club (Grantville)
Manada Golf Club has a historically competitive 6700-yard, par-72 course. Its ryegrass fairways and fast, undulating greens make it a challenge for golfers of all skill levels, with several long par 4s topping 400 yards from the blue tees. Many golfers rave about Manada's excellent conditions year-round, fast greens, and the pace of play. In 2004, golf champion Michelle Wie played Manada during the USGA Public Links Qualifier when she was in her early teens!
The 19th Hole has alcoholic beverages and food specials to round out your day. Just down the road from Manada is the Hollywood Casino & Penn National Race Course with four on-site restaurants and more than 2,300 reel, video slot, and video poker machines, 50 table games, and 17 poker tables.
Lykens Valley Golf Resort (Millersburg)
Take a scenic drive north of Harrisburg to play this 18-hole championship course with 6,300 yards of Pennsylvania countryside. While this course is fit for all skill levels, the challenge comes in the form of elevation changes, bodies of water, sharp doglegs, and other natural hazards that dot the course. Two distinct nine-hole challenges, with the par-4 3rd hole and par-3 10th hole, this one with a 200-yard rip over water. Lykens Valley is beautiful and challenging and sure to be one of the highlights of your golf year. Chat with other players at Swing Restaurant & Bar and enjoy craft brews, cocktails, and plate of their famous crab cakes. Make a weekend out of it when you stay overnight at this golf resort. The Lodge overlooks the countryside and has 27 guest rooms, continental breakfast, an in-ground pool, and more.
Spring Creek Golf Course (Hershey)
Spring Creek is the area's lengthiest 9-hole course at 2,200 yards, perfect for those new to golf, families, or visitors who want to get a quick game in during their vacation. Spring Creek is also one of the region's oldest courses, built in 1932 by Milton S. Hershey to introduce the town's youth to the game of golf. The course is a par 33 with impressive slopes and rolling greens, and its namesake, Spring Creek, meandering through it.
If you're staying at The Hotel HersheySM  or Hershey LodgeSM, you can golf at one of Hershey® Country Club's 18-hole courses (East Course and West Course). Hershey Country Club is ranked by Golf Digest as one of the top 50 resorts in the US.
FORE More Places to Putt...
The Hershey Harrisburg Region also has several miniature golf options to work on your putting game. Head to City Island for Water Golf, a picturesque course with water hazards, sloping greens, waterfalls, and cool summer breezes from the Susquehanna River. Don't be fooled by its miniature nature – we're told that this course is actually quite challenging with its unique holes and distractingly beautiful scenery.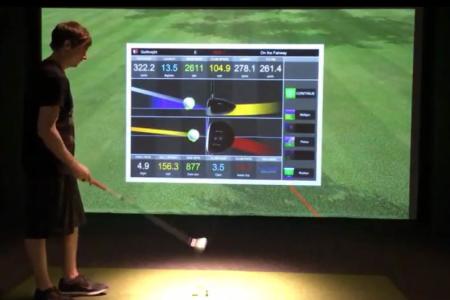 The Harrisburg Golf Simulator pairs technology and sports for an incredibly accurate, indoor golf experience. Play more than 80 virtual courses including Pebble Beach, Oakmont, and Torrey Pines, hone your skills at the driving range, or play a few skills games. The simulator tracks your swing and ball flight with infrared light waves and a high-speed camera, displaying your stats on a 17-foot-wide screen. Putt in privacy in a private lounge, featuring posh leather chairs, control over the music, and BYOB options.
The Golf Garage is another of our region's golf simulators offering bay rentals and state-of-the-art technology that collect consistent and accurate club-head and ball information to help you improve your game. You can even compete against other Foresight Sports players through the online platform. The Golf Garage also offers golf lessons by David Hilgers Golf Academy.
Adventure Sports in Hershey is filled with family entertainment (batting cages, go-karts, bumper boats) but also has a putt-putt golf course and a driving range with 24 matted tees and a chipping and sand trap area. Another of our region's fun sports complexes is Sports Emporium, home to two of the area's largest mini-golf courses. One is Castle-themed, while the other sets players in the Old West. Sports Emporium also has indoor/outdoor go-karts, laser tag, and a roller skating rink!
Don't wait for the back nine of summer to visit us!