You're pumped about your upcoming trip to Hersheypark®, and you might have already mapped out your park route to make sure you ride as much as you can! To help you make the most of your sweet day at the park, we've put together some insider tips from skipping the lines and avoiding the crowds to the best places eat and where to find awesome deals!
When to Visit
Hersheypark sees thousands of smiling faces every day, but certain times of the week are less crowded than others. If your family would prefer to zip from ride to ride, try a weekday (Monday – Thursday) or a Sunday.
Hersheypark opens at 10 AM, and the entrance tends to get crowded with early birds. But those visitors who arrived for the opening of the park are on their way to the gates after a long day, making a 2-3 PM arrival time ideal for visitors who are prepared to stay all night! Most days, Hersheypark is open until 10 PM, so you've got plenty of time to ride. Hersheypark also offers a Sunset Ticket where you can visit later (after 4 PM or 5 PM depending on the hours of operation) and save more than 50%!
You can also make your first stop Hershey's Chocolate World Attraction which opens before the park. Shop a little then stow your souvenirs in the car before you ride. If you're planning on buying chocolate (of course you are!) and you don't want it to melt (oh no!), Chocolate World is open after park hours so you can grab it before you head home.
When it comes to weather and its impact on attendance, overcast days with a slight chance of rain are great times to visit. In most cases, the roller coasters can run in a drizzle, so you'll find shorter wait times for your favorite thrill rides. If there is a popup downpour or storm, take cover or use this time to try the attractions at Chocolate World. When the clouds break you can be first in line because many folks will call it a day and head home! 
Animal lovers interested in ZooAmerica® North American Wildlife Park should stop in before lunch or in the evening (refer to their hours). The furry residents of ZooAmerica are most active in cooler temperatures, so you're more likely to catch them scurrying about rather than seeking shelter in the shade!
Did You Know? Every Hersheypark ticket comes with the Summer Preview Plan that gives you a sweet sneak peek of the park the night before your full day visit. Park-goers who spend the night receive up to 3 ½ hours free at Hersheypark. Guests of the Official Resorts of Hersheypark receive up to 4 ½ hours free with the Preview Plan and exclusive 1-hour early access with Hersheypark Sweet Start.

How to Navigate the Park
The best way for a first-timer to get around Hersheypark is with the mobile app! Not just a digital map in your pocket, the Hersheypark app filters your ride options by type and height category, shows entertainment schedules, and lists all of the places to dine. You can also find the fastest route to your next ride with the "Take Me There" functionality.
The app also provides insights on how long you might be standing in line when you get there. Instead of walking across the park to find out your favorite ride has a "sooperdooper" long wait time, you might decide to hop on a few other rides until the crowd clears! The app can tell you ahead of time if a ride is closed for repairs and can push an alert when it reopens so you can "skyrush" right over!
How to do Hersheypark like a VIP
Wouldn't it be awesome to hop right to the front of the line like a celebrity? The Hersheypark Fast TrackSM program saves time and allows you to bypass the regular lines at 14 of most popular rides, including 12 coasters. Fast Track (starting at $39 per day) allows you to skip the regular line once for each of the 14 featured attractions. New this year, Fast Track Unlimited (starting at $49 per day) allows you to skip the regular line on all 14 featured attractions all day long! You'll be checking off every ride on your list in no time! Extend the fun to 16 attractions when you add on WhitecapSM Racer and Breakers Edge® Water Coaster to your Fast Track or Fast Track Unlimited program.
HPGOSM is an all-new personalized program that allows you to collect your race times from Whitecap Racer and track your agent score on Reese's CupfusionSM. It also seamlessly integrates with the Fast Track program and the Hersheypark mobile app and stores your ride photos from Whitecap Racer and Reese's Cupfusion!
Another luxury that guests can enjoy is an all-day cabana at The Boardwalk At Hersheypark®. Each cabana has a refrigerator, table, chairs, chaise lounge chairs, beach towels, a beach bag, sunscreen, complimentary water bottles and fountain soda, and complimentary locker use all day. You can even hop on the Intercoastal Waterway (the lazy river) via a special entrance just for cabana guests.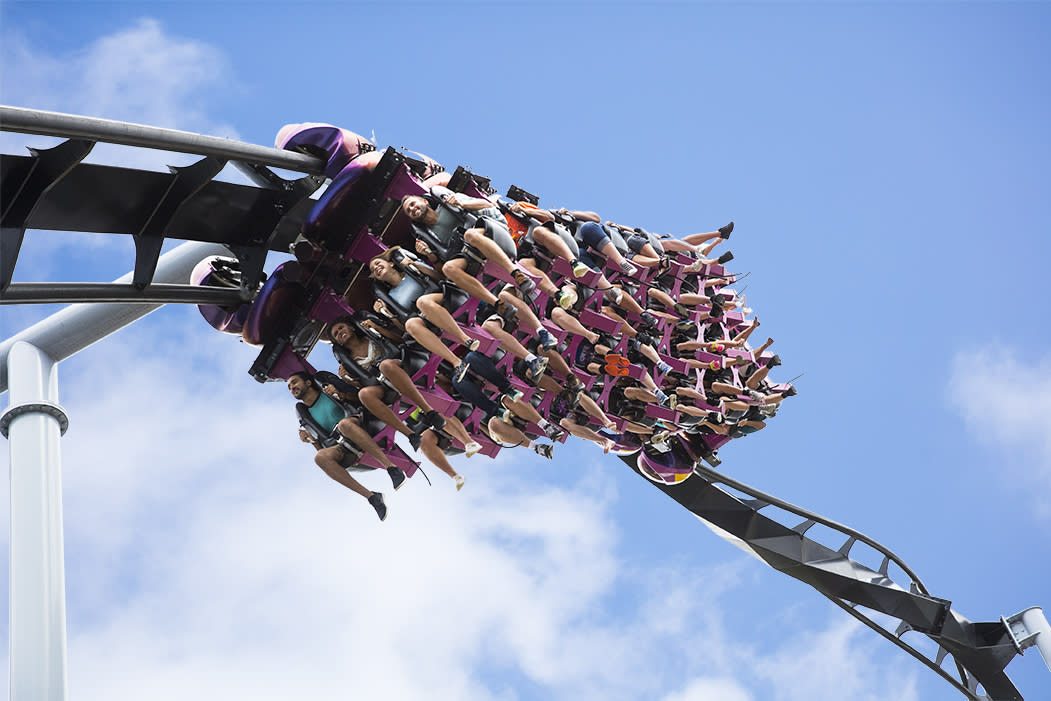 Where to Eat and Drink
With delicious food stops and vendors at every turn, there's no reason to go hungry in Hersheypark! You can get pizza, chicken, burgers, waffle fries, subs, salads, tacos, pretzels, hot dogs, grilled cheese, gyros, and even turkey legs. We didn't even mention the desserts like the mouthwatering King Size Milkshakes, funnel cake, and cotton candy. New for 2019 are Chick-fil-A®, Nathan's Hot Dogs and Keepin' It Kosher food trucks and a dedicated gluten-free and nut-free stand in Pioneer Frontier.
Eager eaters can nosh and drink all day throughout the park for one low price with a dining or drink program. If you only have time for one meal, try the Overlook Food Court near Kissing Tower® with nine concession options, air-conditioned seating, and draft beer for exhausted Moms and Dads!
How to Get the Best Deals
In addition to saving time, you can also save money and acquire perks when you stay at The Hotel HersheySM, Hershey LodgeSM, or Hersheypark® Camping Resort, known as The Official Resorts of Hersheypark®.  Remember that Summer Preview Plan we mentioned? Resort guests can get up to 4½ hours free at Hersheypark the night before their visit, as well as 1-hour early access (9 AM) with Hersheypark Sweet Start and complimentary Front Gate Shuttle Service between the park and the resort.
In addition to the family memories you'll make at Hersheypark, many guests take home a little souvenir like hats, coffee mugs, shirts, stuffed animals, and bags of chocolate. This year, opt for a collection of your ride photos with the Ride Photo Pass. It doesn't matter if the kids look happy or terrified, you'll get unlimited digital downloads of all your ride photos and discounts on photo purchases like keychains and prints for one price!

What's All the Construction?
Guests visiting Hersheypark in 2019 and early 2020 will no doubt notice the development and construction for Hershey's ChocolatetownSM, slated to open in summer 2020. No need to worry, though -- Hersheypark is fully operational for 2019. View the summer map that includes temporary entrance information for 2019 and information and updates about Hershey's Chocolatetown.
Want a photo with a life-size candy bar? Hershey's Characters often hang out around the Hershey Triple TowerSM and near the Carrousel!