The Hershey Harrisburg Region is home to several impressive theatre and show venues as well as an eclectic dining scene. Why not combine the two into an entertaining and delicious date night getaway? These pairings are walkable to one another, encouraging a little romantic handholding between stops!
Hershey Theatre & Fenicci's of Hershey
Distance: 5-minute walk (0.2 mi)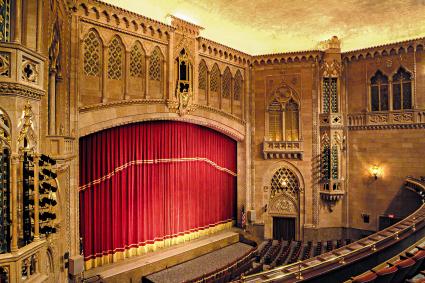 Hershey Theatre is "The Most Impressive Theatre in Pennsylvania," where history and opulence can be found everywhere you look. Arrive early so you have time to marvel at the beautiful architecture, ceiling art, tiles, and woodwork. As for their lineup, Hershey Theatre hosts the finest touring Broadway shows like Rent, Cats, and Jersey Boys in 2019, plus musicians, dancers, and world-renowned entertainers.
If you're looking for a local experience, make the homemade Italian fare of Fenicci's of Hershey a tradition when you're in town for a show. The restaurant has a rich history in the town of Hershey. Generations of families have sat around their white linen tables for made-from-scratch sauces, famous meatballs, and a slice of Upside Down Pizza that's wow'ed customers since 1947. Fenicci's has an extensive menu that includes essential Italian dishes and chef-inspired creations like Pecorino Siciliano Tortellini, three types of tender meat tossed with oil, red peppers, cheese, and tortellini, or the Seafood Fra Diablo, a slightly spicy spaghetti topped with clams, mussels, shrimp, and fried calamari.
Whitaker Center, Ad Lib & 1700° Steakhouse
Distance: 2-minute walk (0.1 mi)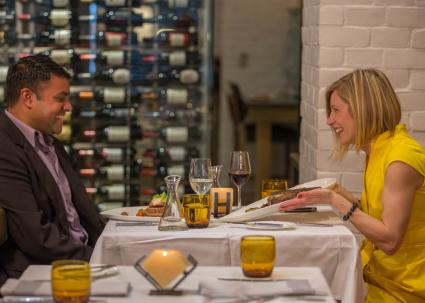 The Whitaker Center for Science & the Arts is an entertainment venue with three attractions under one roof. Whitaker Center welcomes a variety of plays, musicals, concerts, and nationally known musicians and performers in their Sunoco Performance Theatre. It has astounding acoustics, and all 600 seats have unobstructed views, never more than 65 feet from the stage. Instead of a live show, how about a larger-than-life movie in the Select Medical Digital Cinema, a six-story 200-seat theater? Their box office offers blockbuster hits as well as 3D documentaries that supersize even the smallest things in nature. You don't have to be a kid to roam around the Harsco Science Center. Everyone can learn something new about physics, engineering, weather, the human body, and technology behind television and movies throughout the three-story education center.
Before or after exploring the Whitaker Center, enjoy a meal at one of the two upscale-casual dining establishments at the Hilton Harrisburg, adjoined to Whitaker Center via Strawberry Square. Ad Lib Craft Kitchen + Bar playfully recreates traditional menu items like swapping pork ribs for bison back ribs, coated in a pomegranate barbecue glaze. The chef recommends their rich and hearty Shepherd's Pie, braised lamb legs with seasonal vegetables, topped with a decorative swirl of mashed potatoes. Pair your meal with a handcrafted cocktail blended with seasonal fruits and herbs and premium spirits. Located within the same space is the classy yet non-conventional 1700° Steakhouse, known for their impressive cuts of meat with expert preparation and plating. The steaks emerge with the perfect char thanks to their 1700-degree broiler. Celebrate date night with a bottle of wine from their robust and award-winning wine list. The chef recommends a full-bodied red wine to complement your steak.
Gamut Theatre & Rubicon
Distance: 8-minute walk (0.4 mi)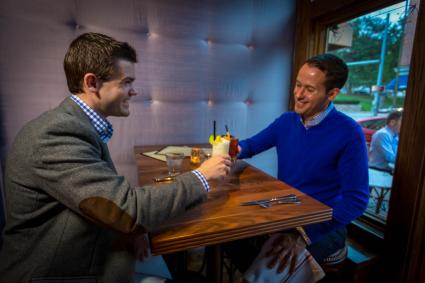 Flipping the script from national touring entertainment to local theatre, Gamut Theatre in Harrisburg always gives a memorable show, from Shakespeare renditions and classic plays to hilarious improv comedy nights. Gamut Theatre Group includes the Harrisburg Shakespeare Company and Popcorn Hat Children's Theatre and delivers the stories you know and love in new, reimagined ways. Volunteer actors perform their Stage Door Series, and visitors are encouraged to come as they are and pay what they will for a ticket. For a truly one-of-a-kind evening, throw your ideas into the ring and add to the sidesplitting comedy of their in-house improv comedy troupe, T.M.I.
Just as unique as the Gamut shows, Rubicon, on the other side of the Pennsylvania State Capitol building, offers French-inspired cuisine, artfully prepared with local, seasonal ingredients. Start your meal with a selection of French cheeses or sample something off the wall for the average palate like Frog's Legs Provencal or Turtle Soup. Rubicon reached around the globe for entrée ideas like the Poulet Colombo, French West Indian Braised Curried Chicken with coconut milk and basmati rice pilaf. They also serve approachable yet non-conventional options for cautious clientele like their familiar L'hamburger, topped with caramelized Vidalia onions and brie on warm brioche with a side of pommes frites (French fries).
Zeroday Brewing Company, Midtown Cinema and Millworks
Distance: 6-minute walk (0.3 mi)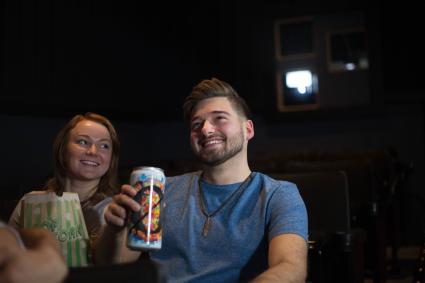 This date night idea takes you to Midtown Harrisburg, the city's hip, cultural corner and includes three superb stops.
Zeroday Brewing Company is known for their adventurous beers! From the sweet (Dolce Vita chocolate hazelnut sweet stout) to the spicy (Mango Hab pale ale with the perfect kick of habanero pepper heat) to their try-it-before-its-gone novelty beers and one-offs, sip a few then choose a crowler to go to enjoy at Midtown Cinema, Harrisburg's independent art house theatre right next door. They screen limited release, indie, and foreign films, and its intimate three-screen theater is a callback to the glory days of cinema theaters. You and your date can share classic movie snacks like popcorn and candy, but we recommend sampling some of their local products like small batch, hand-dipped ice cream from Lancaster and coffee and tea from Elementary Coffee Co. in Harrisburg, all available at their concession stand.
Another Midtown Harrisburg must is Millworks, a restaurant, meets craft brewery, meets art house. Starting with their food, Millworks focuses on sustainability and sourcing farm-fresh products from local growers to share with urban diners. With a seasonal menu dependent on the region's best crops, Millworks assembles creative dishes packed with flavor and fresh local ingredients like free-range chicken entrees, local grass-fed prime beef creations, and wood-fired pizzas featuring organic stone-milled flour and heated with PA wood. Alongside your meal, order up one of their craft beers like the rotating ale brewed with 100% PA-grown ingredients, or an artisan cocktail mixed with Pennsylvania spirits. Before you go, browse their art gallery and gift shop, or peek inside one of the 25 in-house artist studios where you might even witness art in the making.