Double Dining Destination. 
One is spontaneous, one is sophisticated, and with so much culinary creativity and flavor under one roof, you'll forget you're dining in the lobby of Hilton Harrisburg. 
Executive Sous Chef Anthony Bianco shares what's good at Ad Lib Craft Kitchen + Bar and 1700° Steakhouse, two sister eateries that share a space and a kitchen while giving guests unique dining experiences.
Ad Lib Craft Kitchen + Bar
Taking traditional menu items and turning them on their sides, Ad Lib Craft Kitchen + Bar is always cooking up something unique. The chefs are known for their bold ingredient swaps, like substituting picnic-style pork ribs for bison back ribs, drizzled with a pomegranate barbecue glaze and served with a salad and side of grits. Chef Anthony Bianco raves about their rich and hearty Shepherd's Pie, with braised lamb legs and seasonal vegetables, topped with a swirl of mashed potatoes.
Their handcrafted cocktail menu riffs on their philosophy on food, pairing seasonal mix-ins with premium spirits. For a twist on a favorite cocktail, bartenders drop in black walnut bitters and other distinctive ingredients for their Off The Wall Manhattan. Diners can also say cheers to their famous spontaneous brunch, featuring a bloody mary bar and a "keep 'em coming" style of dining and a bounty of food, each bite more delicious than the last.
1700° Steakhouse
Described as a classy restaurant, without being too conventional, 1700° Steakhouse reimagines the average steak dinner with its artful preparation and plating. With its signature namesake entrees emerging from the broiler at 1700 degrees, the chefs can deliver the perfect char on the outside while maintaining juiciness on the inside.
In addition to its incredible steak cuts, 1700° serves up high-end and seasonal seafood and a robust, award-winning wine list to bring out the flavors of your dinner. Chef Anthony Bianco recommends a California cabernet whose full-bodied flavor enriches the marbled fat in a perfectly seared rib-eye steak.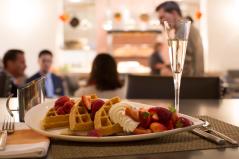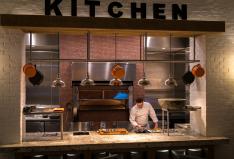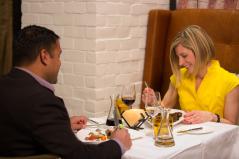 Welcoming hotel guests and Harrisburg visitors alike, Ad Lib and 1700° are not just "hotel bars and bites" and firmly stand alone as two of our region's best restaurants.