Whether you're arriving by train or plane, this guide gives you all the tips and tricks to travel to and around Hershey and Harrisburg without a car! Once you're here, we have numerous transportation options like bus lines and Uber/Lyft services to get you from place to place. Explore our walkable neighborhoods and entertainment hubs where you can sightsee and get your steps in.
Getting Around
Transportation
It's time to settle in and enjoy your stay. But we bet you won't be staying in the hotel room the whole time! Use these tips to get to and from the attractions you're longing to see.
Capital Area Transit
Harrisburg's affordable and reliable Capital Area Transit (CAT) bus system has active service (Monday through Saturday) in and around the Capitol region and suburban/rural areas of Hershey, Middletown, Halifax, Mechanicsburg, Carlisle, Shippensburg, and other Cumberland Valley locations. Find a connection a the Market Square Transfer Center, 0.3 miles from the station.
If you're Hershey bound, catch the 322 Hershey/Hummelstown line with weekday service every 90 minutes (6 AM to 12:15 PM) and 45 minutes (2:15 to 5:15 PM). View the CAT Interactive System Map. 
Rental Cars, Car Services, Taxi, Uber & Lyft
If the CAT services don't ride where you need to be, arrange for a town car from one of our transportation partners or keep things simple with a taxi, Uber, or Lyft ride.
Get behind the wheel of your own rental car from Enterprise, Alamo, Hertz, Avis, and Budget, with hubs at the Harrisburg Amtrak station and Harrisburg International Airport.
 
Getting Around Hershey
You've arrived in Hershey The Sweetest Place On Earth®! While the Hershey area doesn't have its own public transportation, you'll find that many of the area hotels offer complimentary shuttle services to Hersheypark® and Hershey's Chocolate World, as well as service to Downtown Hershey. Outside our major attractions, the best way to explore Hershey and the surrounding area is by calling an Uber or Lyft to get you from place to place.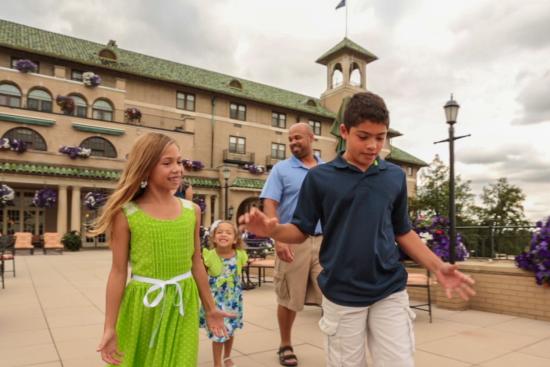 If you're looking to soak up the Hershey experience with ease and comfort, consider a room at one of The Official Resorts of Hersheypark®: The Hotel Hershey®, Hershey LodgeSM, and Hersheypark® Camping Resort. All locations offer on-site recreation, swimming pools, and shopping, free Hersheypark front gate shuttle service, early access to the park, discounts on tickets, and complimentary admission or preferred pricing other Hershey attractions. Hungry for more? The Hotel Hershey and Hershey Lodge each have several world-class, on-site restaurants and lounges, perfect for relaxing after a sweet day.
Walkable Neighborhoods in Hershey
Downtown Hershey
Along Chocolate Avenue, Hershey's Kisses streetlamps guide the way to sweet shopping, delectable dining, exciting nightlife, and historic attractions. Thanks to some recent infrastructure upgrades, it's a little more than a one-mile walk from Chocolate Avenue to Hersheypark and Hershey's Chocolate World Attraction. You gotta burn off all those chocolate calories somehow, right? More Things to Do on Chocolate Avenue
Hummelstown
Just outside Hershey, Hummelstown treats visitors to a bit of nostalgia, with brick-lined sidewalks, Mom & Pop shops, and local-approved restaurants. Shop vintage toys, gifts, and collectibles. Dine on the region's best chicken wings. From Main Street in Hummelstown, it's 1.2 miles to Echo Dell – Indian Echo Caverns, one of the East Coast's most popular adventure attractions.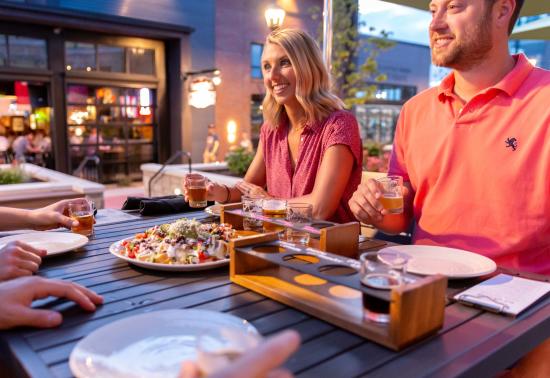 Other Attractions, Restaurants, and Shops Close By
These Hershey things to do are close by one another so you can make the most of your ride fare!
Getting Around Harrisburg
While you're spending time in the city, plan to use your two feet to explore and rely on CAT, taxi, or ride services in and out of Harrisburg and its suburban entertainment hubs.
Walkable Neighborhoods in Harrisburg
Downtown Harrisburg
With intriguing arts and history by day, handcrafted cocktails and eclectic dining by night, there's no shortage of things to do in downtown Harrisburg. Enjoy local theatre, explore our stunning Capitol building, or turn back in time inside a museum. Indulge in retail therapy at a vintage shop, grab a locally roasted cup of java, or browse a free art gallery. As the sun sets, Second Street in Harrisburg comes alive with nightclubs, upscale-casual restaurants, and friendly neighborhood pubs. More about Harrisburg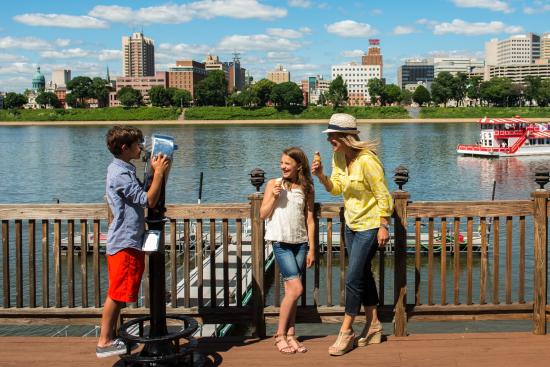 City Island
Across the Walnut Street walking bridge, you'll find a self-contained summer paradise. Explore an Island baseball stadium hosting the Harrisburg Senators, an authentic paddlewheel riverboat, a mini-golf course, a train, a carousel, and a waterfront, open-air lunch café. More about City Island
Midtown Harrisburg
We like to refer to Midtown as the hip part of town, brimming over with culture and vitality. From craft breweries and farm-fresh food to magnificent murals and live music venues, Midtown makes its residents proud and gives visitors something to experience. More about Midtown Harrisburg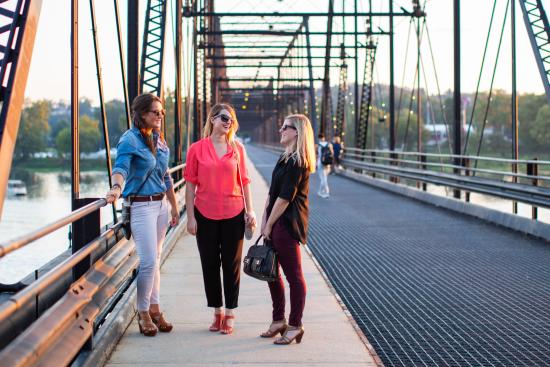 Other Attractions, Restaurants, and Shops Close By
These Harrisburg things to do are close by one another so you can make the most of your ride fare!
How to Get Here Without a Car
Arrive by Amtrak or Bus
In addition to being centrally located along the Mid-Atlantic, Harrisburg is connected to New York, Philadelphia, and Pittsburgh by daily Amtrak lines. The Keystone Service Train offers frequent trips to Harrisburg from New York via Philadelphia. Additional stops along the Keystone include Lancaster, Elizabethtown, and Middletown. If you're coming from Pittsburgh, the Pennsylvanian Train, which runs through to New York, passes through Harrisburg.
The Greyhound Harrisburg Bus Station is also located at the Harrisburg Amtrak station and is open from 7 AM to 10 PM. New for 2020, international bus company, FlixBus, offers daily rides from New York, Philadelphia, and Pittsburgh for less than $10. Pick up and drop off will be at 326 Chestnut Street, Harrisburg, PA 17101. 
Hotels with free shuttle service to and from the Amtrak station:
Hotels within walking distance of the Harrisburg Amtrak Station:
Arrive by Air
It's a breeze to touch down in Harrisburg, with an international airport that's hassle-free and close to it all. Harrisburg International Airport (MDT) offers nonstop service to 15 cities, including Boston, Chicago, Orlando, Nashville, Denver, and Dallas.
Hotels with Free Shuttle transportation to & from Harrisburg International Airport:
Comfort Inn & Suites Harrisburg Airport - Hershey South
SpringHill Suites by Marriott Hershey Near the Park
Hotels close to Harrisburg International Airport:
Holiday Inn Harrisburg East (4 mi.)
Comfort Inn & Suites Harrisburg Airport - Hershey South (3 mi.)