To create his signature chocolate bar, Milton S. Hershey combined milk, sugar, and cocoa, and the result was one of America's favorite sweet treats. With the right recipe, you can whip up a sweet family getaway to Hershey that blends fun, learning, and out of the ordinary experiences into treasured family memories!
1. Start with a Hefty Helping of Fun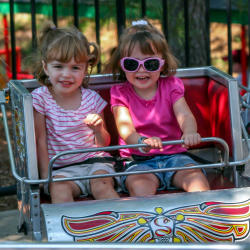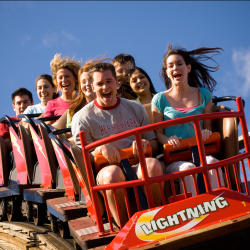 Hershey is a family-friendly destination that offers endless entertainment for families of all shapes and sizes! No place screams fun from the top of its roller coaster hills more than Hersheypark®. With more than 70 rides including 13 thrilling coasters, friendly kiddie rides, and a 15-attraction water park, everyone in the family can be Hersheypark HappySM!
That's not all! Throughout the park, you can catch a musical performance, watch the seals perform tricks in the Aquatheatre, go head to head with Dad at arcade game of skill, or munch on some delicious snacks and treats at one of the park's restaurants or food carts. Don't forget to pick up a souvenir or two, like a ride photo that captures the excitement of a special day!
Ready for more action? Just a few miles south of Hersheypark you'll find hands-on family fun at Adventure Sports in Hershey. The kids can let loose on the Go-Kart track, team up for outdoor laser tag, play a round of miniature golf, or splash and bash each other with the bumper boats. Depending on your sport of choice, you can practice your swing in the batting cages or the driving range. Then, finish off the day earning an armload of tickets from the arcade and enjoying a delightful ice cream treat!
2. Add a Dash of Learning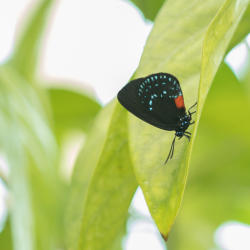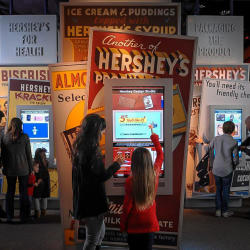 If the kids groan when you tell them you're headed to a museum, quickly remind them this one is all about chocolate! The Hershey Story, Museum on Chocolate Avenue shares the life and legacy of Milton S. Hershey, his chocolate business, and the town that's his namesake through its interactive family activities and fascinating museum exhibits.
Check out Hershey's chocolate-mixing machinery from his original factory and learn about his innovations that revolutionized the confectionery industry. Mr. Hershey was known to experiment with unusual ingredients and flavors, and the family is invited to become apprentice chocolatiers, building their own candy bars in the Chocolate Lab and sampling warm drinking chocolates from around the world.
Across town at the Hershey Gardens, there's a wealth of botanical wisdom waiting for you. What once began as a nice garden of roses for the Hershey family has blossomed into a 23-acre property filled with perfect pansies, robust roses, and hundreds of colorful and rare flowers, trees, shrubs, and plants. In the Children's Garden, step into a whimsical world with giant Hershey's Kisses and hands-on activities. Meander around the charming themed spaces like the aromatic herb garden, the seasonal perennials, or the tranquil Japanese garden. Open year-round, the tropical Butterfly Atrium is filled with more than 500 friendly butterflies who are known to land on an inviting shoulder, and the Conservatory offers kids a chance to see bugs and insects on display.
Traveler Tip: The Hershey Story and the Hershey Gardens offer a combo deal on admission!
3. Sprinkle on a Few Out-of-the-Ordinary Experiences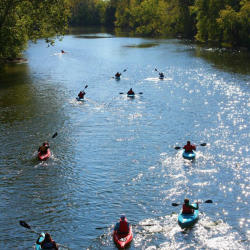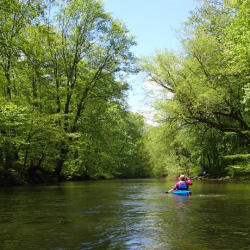 Just when the kids think they've seen and done it all, throw in an extraordinary activity because beyond the mainstream attractions, Hershey has a few surprises. Surprise them with a beautiful day paddling down the Swatara Creek with Cocoa Kayaks. The creek is gentle, scenic, and tree-lined, with an average depth of 1-3 feet, perfect for families and recreational kayakers. Both 1-person and 2-person kayaks are available to rent to accommodate the whole family!
Families who prefer indoor activities can put their heads together and work as a team at Escape Room Hershey where they lock you in a room for an hour. WHAT? Escape rooms are immersive experiences that mimic a hands-on detective show. Get ready to work your collective brains to uncover clues, decipher hidden messages, and unravel the mystery – oh, and of course, unlock the door to escape!
4. Don't Forget the Chocolate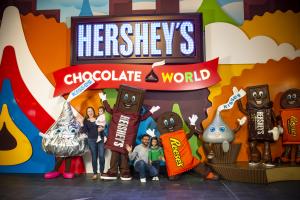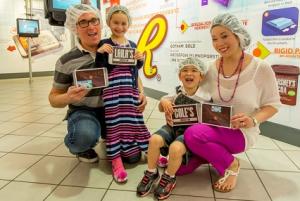 There's no doubt this is the destination for chocolate-loving families! And the best place to get your fill is at Hershey's Chocolate World Attraction. Take the chocolate tour and learn how your favorite treat is made, then try it yourself with the Create Your Own Candy Bar activity. Experience their newest attraction, Hershey's Unwrapped, A Chocolate Tasting Journey, where you can see, touch, hear, smell, and of course, taste chocolate! In addition to the treats to try there like s'mores, cupcakes, and chocolate milkshakes, Chocolate World is stocked with take-home delights including hard-to-find chocolates and Hershey's branded souvenirs to commemorate your trip!
Cooking up a great trip isn't an exact science, so get creative with your own ingredients!