Every getaway doesn't need to break the bank! Grab your sweetheart and enjoy a weekend trip in Hershey and Harrisburg, filled with these inexpensive date activity ideas under $40 a couple.
1. Visit Hershey's Chocolate World Attraction
You love each other and you both love chocolate, so there's no sweeter place to visit than Hershey's Chocolate World Attraction. As soon as you walk through the doors, you're greeted with the mouthwatering scent of chocolate. It's free to take the Chocolate Tour Ride, an immersive factory experience that shows you how the sweet stuff is made, from bean to bar. While you nibble on your free chocolate sample, stop by The Bakery for a colossal chocolate cupcake – one for each of you, of course! Book a ride on the vintage Hershey Trolley ($15.95 per person) that takes you around the town of Hershey for a little bit of history and a few chocolate samples along the way. 

2. Enjoy Wine Tastings in Hershey Harrisburg Wine Country
Swirl, sniff and sip wine samples throughout the Hershey Harrisburg Wine Country, which includes more than a dozen award-winning vineyards and wineries. Tasting fees range from $5-10 with some wineries offering complimentary samples. Our wineries often host free live music and themed weekends throughout the year, so check the event calendars before you arrive.

3. Celebrate Local Theatre
Harrisburg has an eclectic theatre scene with three impressive theatre troupes in one city. From Shakespeare plays and Tony Award® winning musicals to original shows and improv nights, the diverse lineup and superb production quality is not to be missed. Bonus: these stages are located nearby some of Downtown Harrisburg's most renowned restaurants, perfect for rounding out your date night experience. Explore our region's theatre offerings: Gamut Theatre Group, Open Stage, and Theatre Harrisburg.

4. Experience Our Art Galleries
Harrisburg is an arts and culture hub with several galleries with free or low-cost admission to browse. Each of these unique art venues strives to make art accessible and enjoyable for everyone, and each exhibition further enriches the community of artists. The Art Association of Harrisburg (free admission) on Front Street features a rotating collection of in-house exhibitions and themed shows in the historic Governor Findlay Mansion. In Midtown Harrisburg, the Susquehanna Art Museum ($8 per person) is the city's only dedicated art museum with works from local, national, and international artists, chosen to represent a variety of art styles and themes. Not just a restaurant and brewery, The Millworks (free admission) features in-house studios of more than 25 local artisans, from painters to potters. You might even get to see them at work! It's difficult to miss all of the colorful street art popping up around the city. Thanks to the vision of Sprocket Mural Works to beautify the city with art, you can take a drive or a stroll around the city along the Harrisburg Mural Trail to spot these larger than life murals.
5. Tour a Craft Brewery
If you're a craft beer couple, the Hershey Harrisburg Region's brewery scene makes us a must-sample weekend destination. You've probably tried the bold beers by Tröegs Independent Brewing at home, but it's a new experience entirely to have a drink in their tasting room alongside perfect paired snacks, sandwiches, and entrees from their scratch kitchen. Their Guided Production Tour ($10 per person) is one of the top five brewery tours in the country and includes samples and a souvenir glass. Appalachian Brewing Company in Harrisburg is a local brewpub with crowd-pleasing craft beer, full food menu, and seven locations (and growing). On Saturdays at 1 PM, tour their production facility for free and sip a few complimentary samples. Pair a tasting and meal with a show at their upstairs Abbey Bar, a cool live music space overlooking the brewhouse.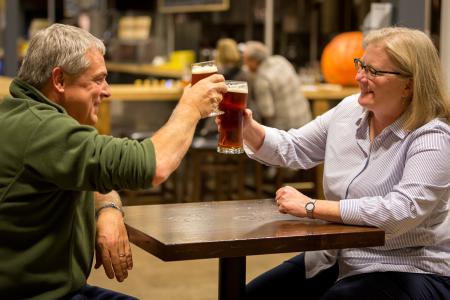 6. Sip Spirits at Midstate Distillery
It's free to sample the craft spirits at Midstate Distillery, Harrisburg's first distillery since Prohibition. Their small-batch spirits aren't just made locally, they're distilled from Pennsylvania grains and Non-GMO corn, and they use Pennsylvania water, labor, and bottles in production. Their White Rum is made with locally sourced 100% high-quality baker's molasses, and their Coffee Liqueur begins with beans from Little Amps Coffee Roasters, another beloved Harrisburg business. Time your visit for Happy Hour, every Friday and Saturday from 5-7 PM, and save $2 off cocktails and martinis.
7. Take a Refreshing Walk or Hike
If the weather is fair, hit the trails for some exercise. The Hershey Harrisburg Region is close to the Appalachian Trail, as well as several other hiking spots like Boyd Big Tree Preserve (12 miles, 8 trails) and Ned Smith Center for Nature & Art (10 miles, 18 trails). You can also take a brisk walk around Wildwood Park (6 miles, 8 trails), a serene spot to enjoy nature and escape the hustle and bustle of the city.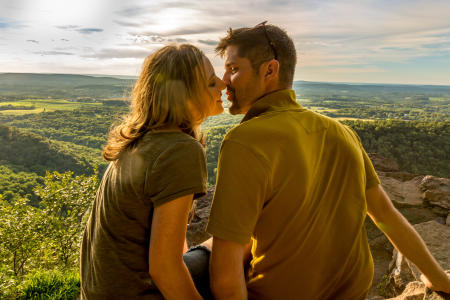 8. Catch a Hershey Bears Game
Hockey fans don't have to be told about the legacy and local love for the Hershey Bears®. Hundreds of thousands of fans pack Giant CenterSM every season to watch the Bears roar onto the ice. Tickets, even last minute, are affordable, and the games are always exciting, between the AHL hockey action, fan giveaways, and mascot appearances.
9. Take a Chocolate Lab Class at The Hershey Story
They say, "A couple who learns how to make chocolate together, stays together." Okay, maybe they don't say that. Still a Chocolate Lab Class ($13.50 per person) at The Hershey Story, The Museum on Chocolate Avenue is a sweet, hands-on activity to enjoy with your significant other. Roll up your sleeves and learn about chocolate's ingredients, how to decorate, and of course, take home their delicious creations. Couples can also sample warm drinking chocolates ($10 per person) from around the globe at Tastings, a decadent treat for your taste buds.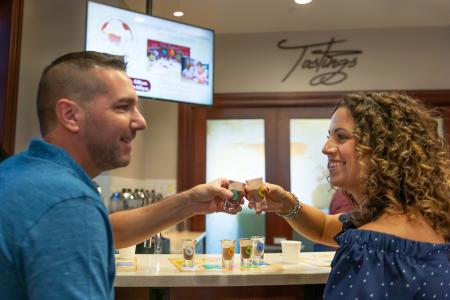 10. Wander Through a Museum
Before or after a delicious dinner in Downtown Harrisburg, walk hand-in-hand through one of our renowned museums. The State Museum of Pennsylvania ($7 per person) covers dozens of topics from anthropology and archaeology to dinosaurs and outer space, so you're sure to find an exhibit that fascinates you. The National Civil War Museum ($13 per person) is a must-see for history enthusiasts, featuring exquisite exhibits that portray the entire story of the American Civil War from both sides of the battlefield. The Smithsonian-affiliated museum has two floors and thousands of artifacts from uniform buttons to bayonets. If you're staying in Hershey, don't miss the pristine car collection at AACA Museum, Inc. (12.50 per person). This Smithsonian-affiliated museum features antique and collector cars, buses, trucks, motorcycles, and memorabilia.
11. Strike the Bullseye at Generation Axe
Unleash your inner Viking at Generation Axe, an all-skill level ax-throwing attraction ($15 per person) inside Joe K's Brewhouse in Harrisburg. Book a time, get trained by one of their axe-perts, and score points for every axe that sticks in the target. Loser buys dinner?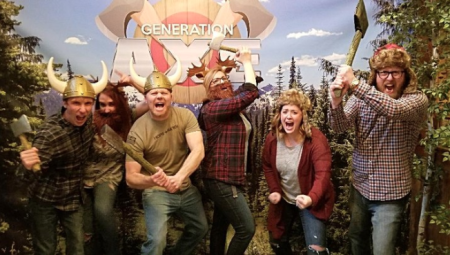 12. Hit the Links…Indoors
If you're a couple who likes to golf, get in some practice rounds indoors at one of our new golf simulator attractions. Harrisburg Golf Simulator, open 24/7, has 84 courses, national and international, to try along with 13 other sport and skill games in a posh lounge atmosphere. The Golf Garage offers bay rentals with a vast library of games and courses in 4K resolution. Rentals at both locations run $40 per hour and feature precise, state-of-the-art technology, analytics, and measurement.
13. Catch an Indie Flick at Midtown Cinema
Midtown Cinema, Harrisburg's independent arthouse theater, has just a handful of independent and foreign films each week and calls back to that nostalgic movie theater experience before the era of blockbuster movies. Tickets are usually under $10 per person, and the snack bar options are delectable, including locally roasted coffee, fresh popcorn, and hand-dipped ice cream. Stop by next door at Zeroday Brewing Company for a to-go crowler and bring it into the theater. Yes, you're allowed!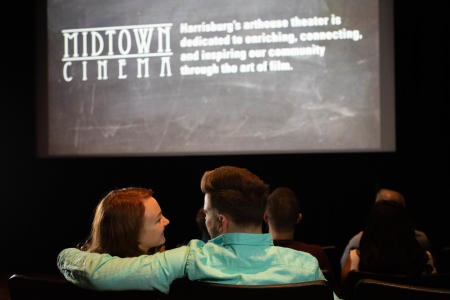 14. Stroll Around Hershey Gardens
Walk hand in hand around Hershey Gardens (13.50 per person), a beautiful, refreshing date idea year-round. There's always something in bloom, from the spring tulips and summer roses to the colorful fall foliage and winter plants and wildlife. Indoors, you'll find a magical butterfly atrium, with hundreds of tropical butterflies who're known to land on your shoulder.
Hershey & Harrisburg is even sweeter with your sweetheart!