You've heard the phrase: "It's not the destination; it's the journey." While the Hershey Harrisburg Region isn't a long road trip from most major Mid-Atlantic cities, these car games for kids will keep your passengers entertained and excited on the way here!
Car Games for Kids
"Are we there yet?" Help the kids pass the time with a few Hershey & Harrisburg inspired car games!
Chocolate Tic Tac Toe and Checkers – You'll need a dry erase board, markers, and a handful of Hershey's Kisses and Reese's Peanut Butter Cups. It might be a challenge not to eat the game pieces.
Crossword Puzzle and Word Search – Download and print these two wordy activity sheets. Spoiler Alert: Many of the word search words are also the crossword puzzle answers! Download: Crossword Puzzle | Word Search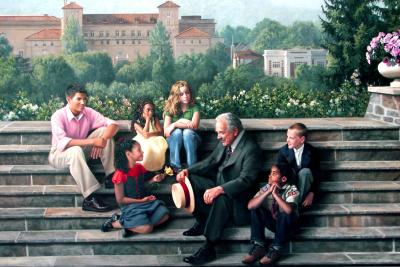 Hershey & Harrisburg Trivia - Share these 15 questions with your car and see who can get the most correct.
Milton S. Hershey purchased a ticket on what famous ship, one that never made it to America? (Titanic)
This famous walking path stretches more than 2,100 miles from Maine to Georgia and passes by just 20 minutes north of Harrisburg. (Appalachian Trail)
Which former U.S. President said the Pennsylvania State Capitol Building was "the handsomest building" he'd ever seen? (Teddy Roosevelt)
Which tropical winged insect can you visit year round inside the Hershey Gardens? (butterfly)
What kind of Hershey's chocolate streetlamps line Chocolate Avenue? (Hershey's Kisses)
True or False? The Broad Street Market is the oldest continuously operating farmers market in the country. (True)
True or False? The Rockville Bridge in Harrisburg is the longest stone masonry arch railroad bridge in the country. (False. It's the longest in the WORLD!)
Milton Hershey founded another town called "Hershey" with a sugar mill and refinery to produce the sweet ingredient for Hershey's Milk Chocolate. Which country was it located? (Cuba)
True or False? Hershey Bears® have won more Heisman Trophies than any other team in the AHL. (False. They've won more Calder Cups!)
Which legendary basketball player played a record-setting 100-point game in the Hersheypark® Arena in 1962? (Wilt Chamberlain)
The Pride of the Susquehanna Riverboat is one of the last remaining paddlewheel boats in the country. What two colors is it painted? (Red and White)
True or False? Milton Hershey built The Circular® dining room at The Hotel HersheySM with its signature round shape so no one would need to sit in the corner. (True)
True or False? In the 1790s, Harrisburg was in the running to become the nation's capital. (True!)
Which Hersheypark® roller coaster opened in 1977 as the first modern looping coaster on the East Coast? (sooperdooperLooper®)
Our region's underground attraction – Echo Dell - Indian Echo Caverns – maintains a consistent temperature year round. Is it A) 32° B) 52° C) 70° D) 98.6° (52°)
"I'm Going to Hersheypark..." - A sweet twist on a classic car game, this is one everyone can play. We'll start with A: "I'm Going to Hersheypark and I'm going to say AHHHHH on the coasters."
License Plate Fun – Pennsylvania's central location on the East Coast welcomes dozens of different state plates to keep an eye out for. Another way to play is to get creative with the letters on the plates you pass. GWA could be "Girls With Attitude" or DBK could be "Dogs Bring Kites." Funniest answer wins!
Electronic Entertainment
Today's kids have access to endless electronic entertainment in the form of smartphones and tablets. When they get tired of the same old games, get them excited about their getaway.
Before you leave home, download the Hersheypark mobile app and preview the park. Filter the rides by type and height, create a to-do list of attractions, preview dining options, and get entertainment schedules. When you arrive, use the digital map to plan your route and navigate around using the "Take Me There" functionality. The app also provides insights on how long the lines are or which rides are temporarily closed.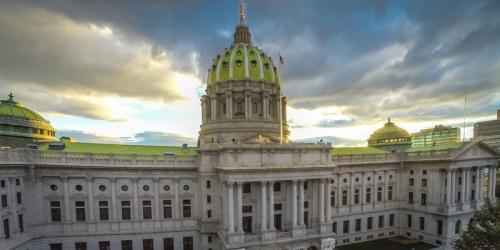 The Pennsylvania State Capitol also has an app that includes a self-guided tour and a map of Capitol Complex. See inside the Main Rotunda, Senate and House Chamber, and Supreme Court, and take a closer look at each room's artwork, stained glass, and artistic embellishments in this "palace of art."
While the map is awesome, we encourage you to stop by for a FREE guided tour of one of the most beautiful Capitol buildings in the country. In the Main Rotunda, have the kids hunt for mosaic floor tiles like a butterfly, a cow, and a Keystone.

Look Out For These Landmarks
Don't be road weary - you're almost here! Have your passengers give a shout when they see these landmarks!
To Hershey - You know you're getting closer to Hershey The Sweetest Place on Earth® when you see signs for Hershey Attractions. Depending on which way you're headed into town, tell your crew to keep their eyes open for the Hershey's Kisses streetlamps and the Hershey's Cocoa bushes. As you get closer to Hersheypark, look for the tallest rides: Kissing Tower®, Skyrush®, Storm Runner®, and Hershey Triple TowerSM.
To Harrisburg - Hello, Harrisburg! You're here when you spot the green dome on the State Capitol Building, our skyline's most colorful and recognizable landmark. You can also look for City Island and FNB Field, connected to Harrisburg by the Walnut Street walking bridge and the Market Street bridge. Another sight to see in the Susquehanna River is the colorful Pride riverboat, sailing daily May through October. If you're coming from the north, you're getting closer when you see our mini Statue of Liberty on her perch in the River along Route 322.