For those who love an active recreational retreat, the Hershey Harrisburg Region has scenic trails for hiking and biking, a mighty river for kayaking, zip lines for a treetop challenge, and natural surroundings to explore. And outdoor enthusiasts know that getting some exercise in a new place is all part of the vacation. Here are 5 gotta-try activities for you in our region:
1. Hike the Appalachian Trail
Yes, the famous Appalachian Trail (AT) winds through our region, and it's just a short drive north from Harrisburg to hop onto this famous footpath. An easy 4.2-mile hike known as Table Rock offers breathtaking vistas of the Susquehanna River and valley, leading to an outcropping perfect for a picnic lunch with a view. Here's how you get to the Table Rock trail (click on Pennsylvania in the document, it's the 4th hike on the list.) Avid hikers will enjoy the longer, 8-mile Peters Mountain to Victoria Trail, a wildflower-lined, out and back journey.
Further north in Duncannon, the Hawk Rock Overlook offers hikers one of the most famous panoramic views found anywhere on the AT. Browse these preview pictures and read some insider tips on parking and trail terrain.
No matter how many miles you plan to tackle on your hike, you'll want to step on the trail with the basic gear: appropriate clothing and footwear, food, water, and equipment like sunglasses, sunscreen, first aid kit, a map, and fully charged cell phone. Check out this guide to day-hiking the AT with a family.
Experienced hikers looking for a challenge can try the steep and rocky Dehart Dam Loop or the 16.7-mile Peters Mountain to Cove Mountain Shelter to PA 850 point-to-point trail that crosses over the Susquehanna River.

2. Kayak on the Susquehanna
The Susquehanna River's calm waters are ideal for kayaks and canoes, and offer unparalleled, 360-degree views of the region! Float under the Rockville Bridge, the world's longest stone arch railroad bridge or paddle up to one of the River's islands for a rustic picnic.
Blue Mountain Outfitters can get you set with a kayak or canoe rental, a detailed trip plan, and a shuttle back to your car or to a launch site. One of their favorite day trips is a 3-5 hour, 8-mile paddle from Duncannon to their shop in Marysville, or a 6-mile journey from Blue Mountain Outfitters to West Fairview. Even if you've kayaked before, they'll show you a quick video to orient you to the River and review necessary safety precautions and River regulations.
If the thought of kayaking on the Susquehanna River is daunting, opt for a float on one of our calm creeks. Cocoa Kayak Rentals of Hershey provides guided and unguided trips along 45 miles of the Swatara Creek, known to locals as the "Swatty." The Class I creek is gentle, scenic, and tree-lined, with an average depth of 1-3 feet, perfect for families and novice kayakers.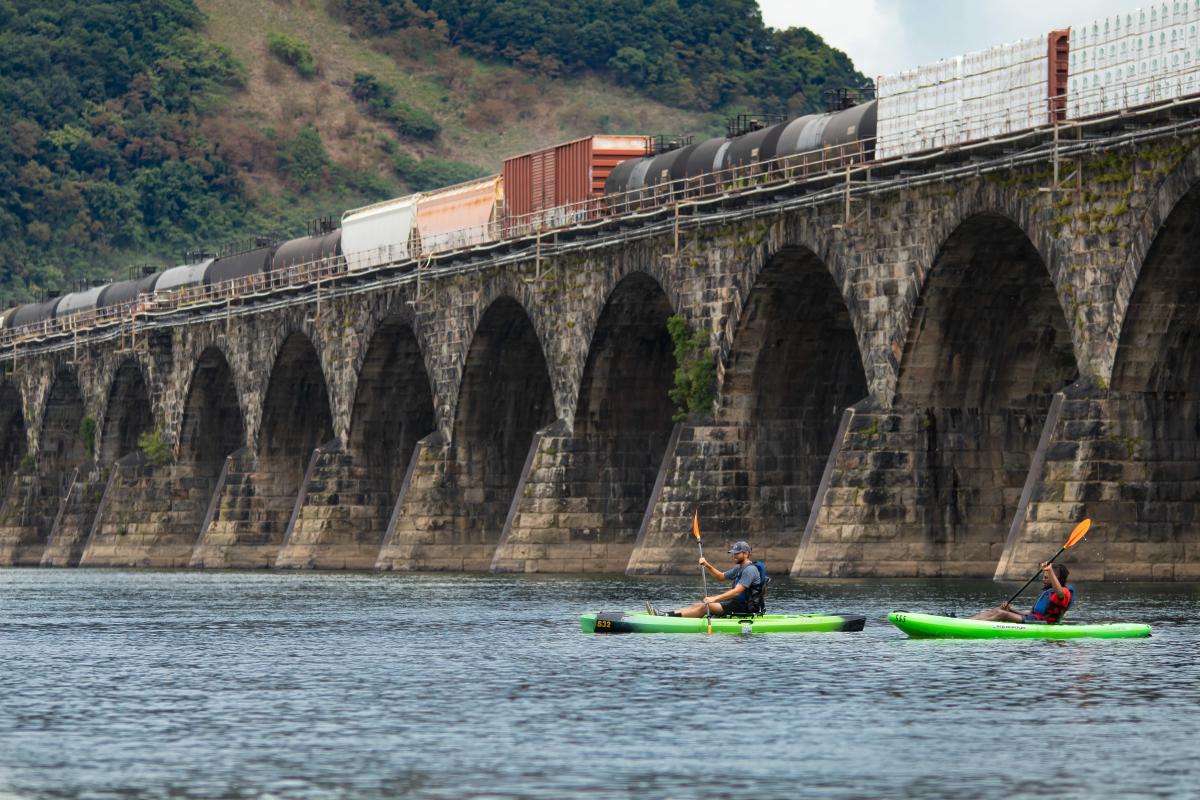 3. Zipline through the trees at Roundtop
Roundtop Mountain Resort is known to many for its powder white ski slopes, but in the warmer seasons, you can get your fill of adventure on their Vertical Trek Zip Line Tour. For anyone who has zip lined before, they know how thrilling it can be! This fully guided tour down the wooded mountainside takes about 2.5 hours to complete and includes 10 zip lines up to 400 feet long and 40 feet high. Trekkers should weigh between 70-250 lbs, be at least 10 years of age, and have the physical stamina to climb nets and ladders and walk over rugged terrain.
Roundtop also offers a summer Adventure Package that includes dual zip lines, a 600-foot super slide, 11-foot OGO balls, climbing towers, a 4,800-foot maze, a canopy crawl net and bridge course, bumper boats, and a scenic chairlift ride for epic Pennsylvania vistas.

4. Bike the Capital Greenbelt
If you like your adventure on wheels, our region has numerous biking paths for exercise and exploration. Cyclists who can handle a 20-mile loop should try the Capital Area Greenbelt in and around Harrisburg. With on-road sections and dedicated paved and gravel paths, you'll ride along the Susquehanna River, by the National Civil War Museum, and into recreational areas like Wildwood Park. Those who like to mountain bike will enjoy the Greenbelt's 5.2-mile Paxtang Parkway Loop with intermediate and expert sections. Hershey visitors can explore the 13.5-mile Jonathan Eshenour Memorial Trail through town.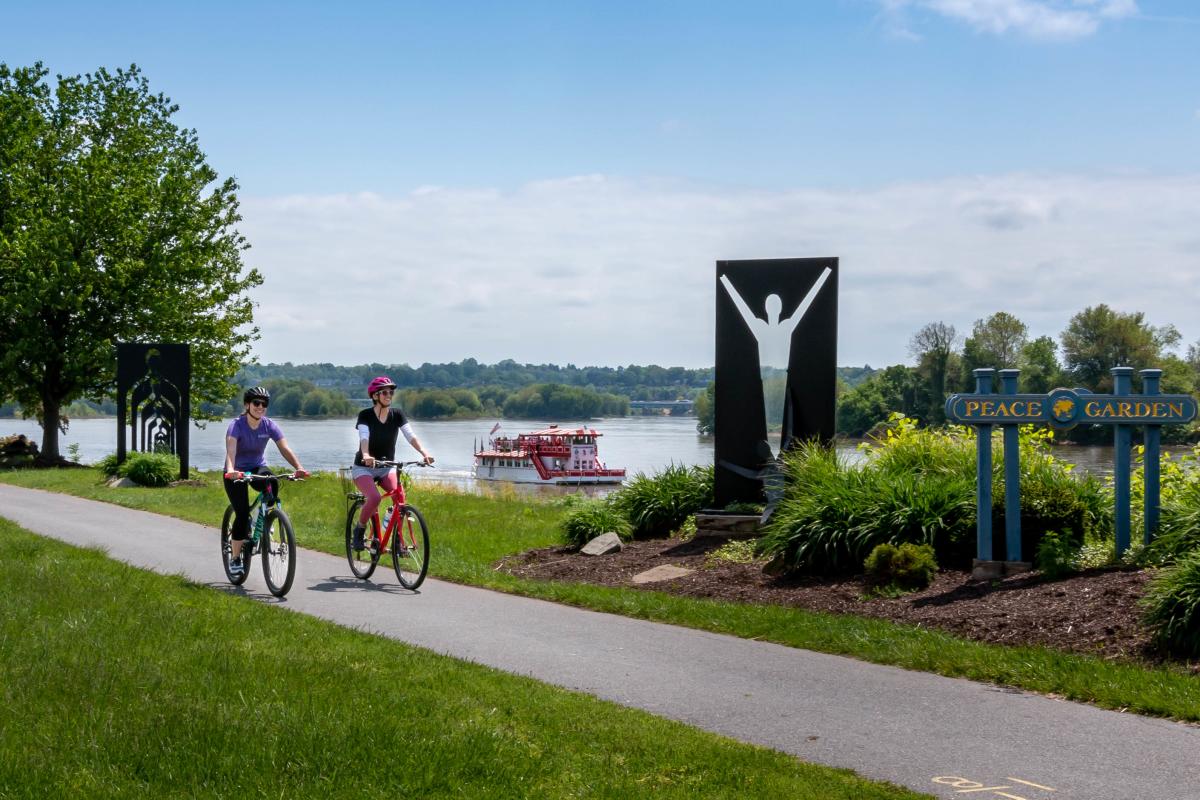 5. Take a Nature Walk at Wildwood
We mentioned Wildwood Park as a stop on the Capital Area Greenbelt, but it's a must-see for nature lovers. This 90-acre wetland marsh preservation area has numerous walking paths perfect for observing its natural inhabitants, including small mammals, birds, bugs, butterflies, and honeybees.
While most of the trails at Wildwood are smooth and level, there are a few quick nature walks for outdoor enthusiasts. Just off the moderate and hilly Wildwood Way Trail, you'll find the difficult and steep Tall Timbers Trail (dirt path) and the Fox Run Trail (bog bridge) which leads hikers through the Park's most pristine sections.
Before you go, stop at the Olewine Nature Center for some ecology fun. While the center's exhibits and activities teach kids about wildlife and conservation, you can ask the staff questions about the plants and animals you saw or reconnect with something you learned in science class.
After a day of adventure, trade your hiking boots for dancing shoes in downtown Harrisburg!