In the challenging times presented by the global Covid-19 pandemic, tourism as we've known it has changed dramatically. Still, many businesses and employees in an industry hit with a sudden and steep economic hardship found ways to give back. Hospitality and tourism professionals are in the business of doing. In the business of problem solving. In the business of being there when needed. This article will highlight several Visit Hershey & Harrisburg partners who shifted regular operations to new ways to serve their community. We know that there are more stories like these, and we will continually update this piece as we hear from our Partners.
 
Distilleries Produce Hand Sanitizer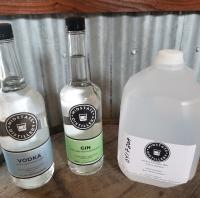 In these trying times, there's a different kind of spirit at our region's distilleries. Tattered Flag Brewery & Still Works & Midstate Distillery temporarily converted their operations to make hand sanitizer for health care workers and First Responders in their communities. The distillers produced hundreds of gallons of sanitizer, most of it donated or sold in small quantities to the public when store shelves were sold out. 



Fenicci's Raises $35K+ in 35 Days
Fenicci's of Hershey owner Phil Guarno said he needed something to keep his mind off of the uncertainty in the news. That "something" turned into more than $35,000 raised through a Go Fund Page. Every time contributions to the "Feed the Med Center Support the Restaurants" page reached a new $1,000 increment, Guarno purchased $1,000 worth of meals to the Milton S. Hershey Medical Center. With dining rooms closed, many restaurants and their employees are struggling financially. Guarno said this effort was a way to help the restaurant community he so dearly loves and provide meals for the healthcare workers dedicating so much energy on the front lines of a pandemic. The final fundraising tally was $37,217 before fees. $35K went to the restaurants, and Guarno donated $750 to the Hershey Area Food Bank.
Below: A Fenicci's of Hershey Facebook video post dated May 8 featuring a compilation of deliveries and scenes from the fundraiser.
Harrisburg Senators
While FNB Field's stands are quiet amidst baseball's pause in play, the Harrisburg Senators are giving back through raffles and special offers designed to support local charitable organizations and healthcare workers. 
Voucher Offer - Throughout April, fans could buy undated tickets or $10.00 of Sens Dollars to be used on anything in the park. The Senators matched each purchase with an undated voucher to be donated to a local healthcare worker. 
Voucher Offer #2 - A box seat voucher special featured two undated box seat vouchers good for 2020 or 2021 for $10.00. For each $10 pair purchased, the Sens Care non-profit donates $5 to the Central PA Food Bank.
Raffles - The Senators have offered up several pieces of signed memorabilia (ex: Bryce Harper signed baseball, Victor Robles signed bat) to benefit charities like the Central PA Food Bank and United Way of the Capital Region. 
Apparel - Senators "We Are In This Together" shirt sales benefit the Central Pennsylvania Food Bank.
Below: Examples of Harrisburg Senators social media efforts for initiatives supporting local charitable organizations and healthcare workers.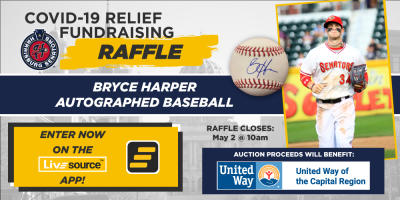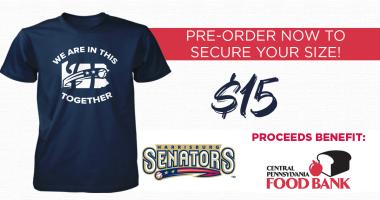 The Hershey Company - Mask Making and Product Donations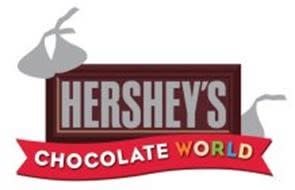 Milton S. Hershey championed building projects during the Great Depression in an effort to keep local families employed. That spirit of giving continues in this Covid-19 pandemic with several initiatives from The Hershey Company to support its employees and others in need.  According to a press release, The Hershey Company has: 
Committed over $1 million to convert some operations to manufacture face masks for employees, their families and the community.  
Donated more than $1 million of product to Convoy of Hope to support COVID-19 food security efforts. 
Donated product to hospitals across the U.S. to boost medical staff morale. Pallets of care packages with Hershey products have been sent to hospitals in communities where the company has manufacturing facilities and offices including Hershey, PA, Hazleton, PA, Robinson, IL, Stuarts Draft, VA, Memphis, TN, Bentonville, AR, Austin, TX, Atlanta, GA, Charlotte, NC, Denver, CO and Boulder, CO. 
Ongoing donation efforts to fulfill requests from various organizations including Cocoa Packs (in Hershey, PA) and Salvation Army Harrisburg (PA).
Supported a range of needs of the Penn State Milton S. Hershey Medical Center including providing sanitizer stations (10) from Hershey Company facilities that are closed and not in use, refill sanitizer for COVID-19 drive thru testing areas, personal protective equipment (masks, gloves, etc.) and logistics, warehouse space and staffing for receiving medical supplies

Hershey Lodge Donates Room Accommodations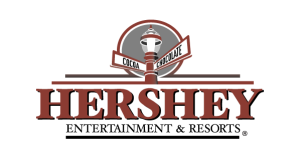 Spring is usually the time when The Hershey Lodge is buzzing with activity as families check in for visits to Hersheypark's Springtime in the Park or a walk through the tulip beds of Hershey Gardens. This spring, overnight stays are recharging opportunities for healthcare workers on the front lines of a global pandemic. With Covid-19 pressing healthcare workers everywhere into longer hours, the Lodge donated hundreds of rooms to employees of the Penn State Milton S. Hershey Medical Center. Instead of going home to family and loved ones who could be potentially exposed to harmful germs, many Med Center employees were able to travel the short distance to the Lodge for alternative housing. "This opportunity to help our local heroes represents just one way Hershey Lodge could thank the team at Penn State Health Milton S. Hershey Medical Center for doing so much for the people of our region," said Director of Communications for Hershey Entertainment & Resorts Kathleen McGraw. 
Throughout the pandemic, Hershey Entertainment & Resorts has also donated a variety of personal protective equipment including masks, gloves, and hand sanitizer to the Medical Center.
The Tweed Weasel Folk Art & Primitives LLC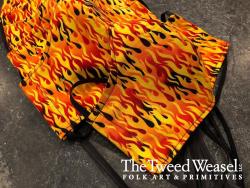 While their business and gallery closed to folk art and antiques buyers, The Tweed Weasel owner Tish Bachleda pivoted to apply her fabric-designing skills to now make washable face covers (masks). By the end of April, she had made more than 500 face covers -- all sold for small fee plus a portion donated to those who cannot afford to purchase one. Some buyers have also used the pay-it-forward approach to overpay and support even more who may need protection but cannot afford it. The non-surgical, tie-behind-your-head-style masks are in use at Lebanon's VA Center, local US Post Offices, a foster home, an animal care center, several essential business offices, convenience stores, and more. Tish is also now creating custom designs upon request.
The Hilton Harrisburg Delivers Free Meals to UPMC Pinnacle Harrisburg
Before the restaurants at the Hilton Harrisburg reopened for curbside pickup, its kitchen staff and other employees were busy making meals to be delivered to their neighbors at UPMC Pinnacle Harrisburg. More than 350 lunches and dinners were delivered over two days in April.  The Hilton, with the help of Dauphin County Human Services and Harrisburg Young Professionals, is in the process of planning donations for local families in need.
 
The Residence Inn & Suites Harrisburg North Delivers Free Meals To Emergency Services
On Wednesday, April 15th, the Residence Inn & Suites Harrisburg North provided 30 free box lunches to the Fire, Police and EMTs in Susquehanna Township as a thank you for their hard work. 
Troegs Small Batch Benefits Healthcare Workers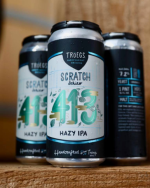 New scratch brews are always a draw for craft beer enthusiasts, but the latest offering from Troegs Independent Brewing deserves an extra round of applause. The Hershey brewery released 16-ounce cans of a limited small-batch IPA, with 100% of the proceeds benefiting the Hospitality Assistance Response of Pennsylvania (HARP) in its efforts to provide immediate emergency assistance to front-line hospitality industry workers as a result of the COVID-19 pandemic. The release sold out via pre-orders and curbside sales, raising $10,000 for HARP.
These stories are just some of the examples of how collective "heart" of tourism in Hershey & Harrisburg beats in our workforce. Hospitality and tourism professionals greet each day with the willingness to do for others, no matter the circumstance. 
Around the Region
Bailey Coach Disinfects First Responder Vehicles
Bailey Coach is used to moving people from one place to another for travel adventures and business trips. Cleanliness is always a top priority, and now the company is using its disinfecting tools to not only keep its own fleet pristine, but also help local first responders stay safe. In four weeks, the family-owned business disinfected more than 440 police, fire and ambulance vehicles free of charge.
In the News: Changing the face of a business to fight Covid-19 
###