If you want to make your trip as memorable as possible, we recommend filling it with new and unique experiences. Discover new ways to enjoy chocolate, get up close to exotic animals, and explore the heart of Harrisburg with this list of sweet activities you can only try in Hershey & Harrisburg!
Animal Encounters
These are close encounters…of the cute kind!
Give a Giraffe a Snack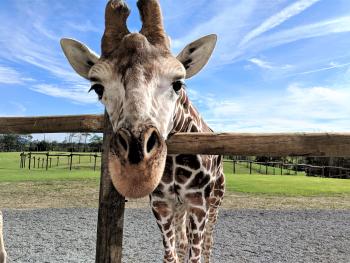 We have lots of tall attractions around here, from coaster hills and Capitol domes to…giraffes! Lake Tobias Wildlife Park is home to three reticulated giraffes – Spike, Bakari, and Tucker – who enjoy roaming around their three-acre pasture and saying hello to visitors. From an elevated feeding platform, you can feed the giraffes a snack, like vegetables or Acacia branches.
Pro Tip: Giraffes have a strict diet and are only able to accept treats a few times a day. If you have your heart set on this giraffe experience, check the park's giraffe feeding schedule before heading up to their area.
Go Behind-The-Scenes at ZooAmerica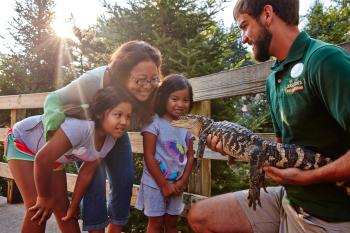 At ZooAmerica® North American Wildlife Park, be a zookeeper for a day and get up close to the animals with a behind-the-scenes tour, featuring exclusive access to non-public areas. Set your alarms for the Early-Bird Tour or stay after closing for an After-Hours flashlight adventure. You're in charge when it's snack time for the otters and bears. You can also interact with animals by holding a bird of prey or petting a scaly reptile. With the help of one of the zoo's naturalists, you'll learn about fascinating facts about select species and animal health.
Pro Tip: Many people don't realize that ZooAmerica is open year-round and accessible from Downtown Hershey.
Surround Yourself with Tropical Butterflies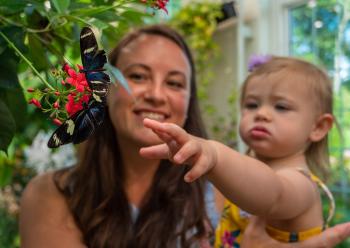 Inside the Tropical Butterfly Atrium at Hershey Gardens, you won't find garden variety butterflies! Among the colorful plants and soothing water features inside this tropical temperature-controlled atrium, observe hundreds of rare fluttering creatures from South and Central America, Africa, and Asia. In addition to the insects flying around, there are many more species in the chrysalis cabinet, where guests can get a rare glimpse at the pupal stage of a butterfly.
Pro Tip: Butterflies favor red, yellow, orange, pink, and purple flowers. Wear one of these color shirts to increase your chances of butterfly kisses!
Sweet Surprises in Hershey
There's more than one way to enjoy Hershey's Chocolate!
Be Wrapped in Chocolate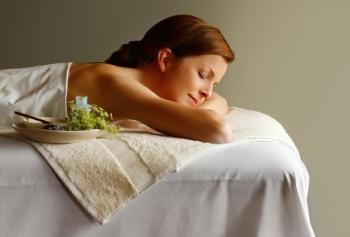 What if you could combine total relaxation with the sweet aroma of chocolate? At the ultra-luxurious Chocolate Spa®, pamper yourself with calorie-free chocolate massage treatment, chocolate-strawberry scrub and wrap, or anti-aging cocoa facial. Before or after your appointment, enjoy the steam room, sauna, indoor pool, jacuzzi, and fitness center, or simply kick back in a relaxation room with complimentary hot chocolate and fruit-infused water. The Spa also offers salon services, including manicures, pedicures, hair, and makeup so you can look and feel your best at dinner in The Circular®.
Pro Tip: Make a weekend out of it with an overnight package at The Hotel Hershey®, featuring deluxe accommodations, spa credit, and complimentary admission to area attractions.
Sample International Drinking Chocolates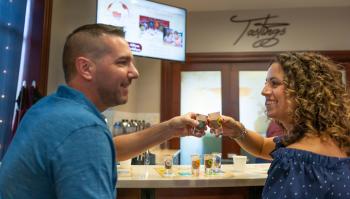 Did you know that most chocolate is made with a blend of cocoa beans from around the world? Hershey's Milk Chocolate uses a hand-selected mix of international beans to give it that iconic flavor, described as sweet, buttery, and complex. Single-origin chocolates, on the other hand, are made with beans from just one region, producing a distinctive artisanal flavor.
At The Hershey Story, The Museum on Chocolate Avenue, you can sip warm drinking chocolates from the world's finest cacao-growing regions. From the intense fruitiness of the sample from Tanzania to the sweet chestnut flavor from Ghana, you'll discover a flavorful world of chocolate.
Pro Tip: Sweeten your visit with a Chocolate Lab experience where guests can discover what ingredients to use when making chocolate and try their hand at pouring and decorating custom chocolates. Of course, these make delicious take-home treats!
Explore a Renowned Collection of Classic Cars
Car lovers young and old make the road trip to AACA Museum, Inc., Smithsonian-Affiliated museum with a pristine collection of classic cars, buses, motorcycles, and memorabilia. Reverse back in time with decade-themed exhibits from the turn of the century (the second to last one!) to the open roads along Route 66. They have the world's most extensive collection of Tucker automobiles, and their lower level features the nation's largest collection of vintage buses on display under one roof. You might even find a few vehicles with Hollywood ties like cars from HBO's Boardwalk Empire, Whitney Houston's limousine, a DeLorean Prototype, and the bus Jenny boards in Forrest Gump!
Pro Tip: Gearheads who need more speed can take a one-hour, guided, Behind the Scenes Tour inside AACA Museum's 15,000 sq. ft. storage garage. It usually holds 50-70 additional vehicles they couldn't fit into the current displays!
Unexpected Adventures in Harrisburg
Let us show you why Harrisburg is the coolest capital city, from its riverfront views to its breathtaking Capitol building.
Tour the Pennsylvania State Capitol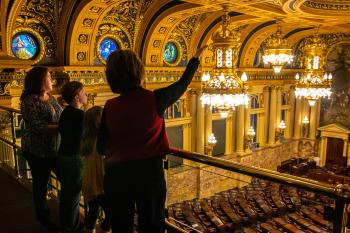 President Teddy Roosevelt said the Capitol building in Harrisburg was the handsomest building he ever saw. And we're not modest – we think he's right! On a free guided tour of the Pennsylvania State Capitol Building, you can marvel at the beautiful murals, handcrafted décor, marble architecture, gold adornments, and stained glass that make this statehouse dazzle. Your tour includes the galleries above the House and Senate Chambers and the floor of the Supreme Court (when they're not in session).
Pro Tip: Schedule your tour for the morning and grab lunch at one of the many restaurants around the Capitol. You'll find an eclectic mix of options from contemporary to international delights.
Explore Midtown Harrisburg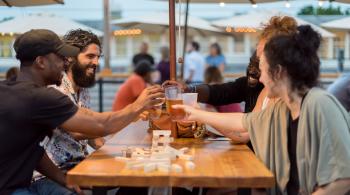 Midtown is the hip, cultural cornerstone of the city with a mix of bohemian vibes, today's trends, and a bit of history. Bibliophiles make the pilgrimage to visit Midtown Scholar Bookstore Café, a cozy shop packed floor to ceiling with new, used, academic, and rare books. Across the street, you'll find the diverse, historic Broad Street Market, the oldest continuously operating market house in the nation. From gourmet donuts and wood-fired pizza to fresh fruits and vegetables, there's no better place to explore the city's food culture, representing international vendors: Jamaican, Greek, Asian, just to name a few. At the Millworks, sample craft beer, enjoy mouthwatering meals made with local ingredients, and peek inside 25 on-site art studios. And Midtown has plenty of art, from the rotating exhibits at Susquehanna Art Museum to the daily indie and foreign flicks at the local art-house theater, Midtown Cinema.
Pro Tip: Time your visit with the monthly 3rd in the Burg, an exploration of the city's art, music, shopping, and more.
Dine on a Riverboat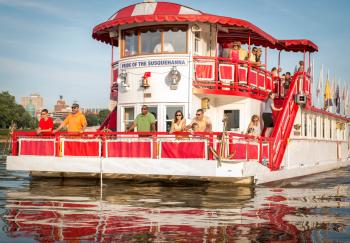 Take a relaxing sunset dinner cruise aboard The Pride of the Susquehanna Riverboat, one of the last remaining paddlewheel-powered vessels in the nation. From all points along the riverfront, you can see this red and white striped boat taking daily sightseeing cruises up and down the river. In the evenings, they are a unique venue for sit-down dinners with live music, wine and craft beer tastings, and even all-you-can-eat wings or Maryland blue crabs. Before or after dinner, head to the top deck for 360-degree sunset views.
Pro Tip: The Pride's dinner cruises have a limited number of seats available and often sell out, so buy your tickets early.