It all started with four friends who wanted to create a comfortable, fun spot to enjoy a nice glass of wine. From the patio and deck overlooking the vines, guests of The Vineyard & Brewery at Hershey can do just that. Beautiful days are made even sweeter with a selection of wine, beer, and ciders, rockin' live music, and spectacular scenery.
The Vineyard & Brewery at Hershey's Director of Operations, Lynn Day, shares how you can experience the vineyard and brewery, and a little about their beverages, too!
On the Deck
The laidback, have fun environment of the Vineyard and Brewery at Hershey is appealing and inclusive, where different kinds of people - locals and visitors, young and old, human and canine – come together to enjoy the day. On any given Saturday, you'll find friends gathered around picnic tables sharing a few bottles of wine and good conversation, families soaking up the sunshine on picnic blankets in the field, or bachelorette parties making a stop for a toast.
Just as diverse as their clientele, their weekly live music lineup includes crowd-pleasing genres like classic rock, alternative rock, and country. Sometimes regional bands provide day drinking background music and other times the acts take center stage, like at their summer festivals, where Everclear, Blues Traveler, Gin Blossoms, and Spin Doctors have taken the stage.
Not just a fair-weather friend, The Vineyard & Brewery at Hershey has a 4,000 square foot indoor event space for kicking back a glass year round. Each weekend something is happening somewhere on their 40-acre property, be it an Adult Prom, 80s Night, dueling pianos, or a puppy hugging event for charity.
Visitors should know that like many vineyards and wineries, the Vineyard & Brewery at Hershey doesn't have a kitchen. Some events have food trucks, but many days you're encouraged to pack an al fresco picnic lunch, even if it's picking up a pizza on the way.

On the Vine
It makes a difference to know where your wine comes from, and guests are encouraged to stroll through vines and discover a new appreciation for the grape juice in their glass. You can also get the VIP Tasting Experience where you'll pair a dry or sweet flight of wines with cheese, chocolate, fruit, and crackers, and learn about the winemaking process from one of their Vineyard Ambassadors. If you've visited before, come back again because you're sure to taste new varieties and seasonal selections.
Lynn recommends the Twisted Kiss, an award-winning semi-sweet blush that blends a sweet white Vidal and a dry red Chambourcin. Try Serenity, an estate blend of white varietals with unoaked Chardonnay and dry Riesling make up the base of this refreshing dry white. There's something for red wine fans, too, like the Firefly, a full-bodied red blend with Cabernet Sauvignon, Merlot, and dark fruit.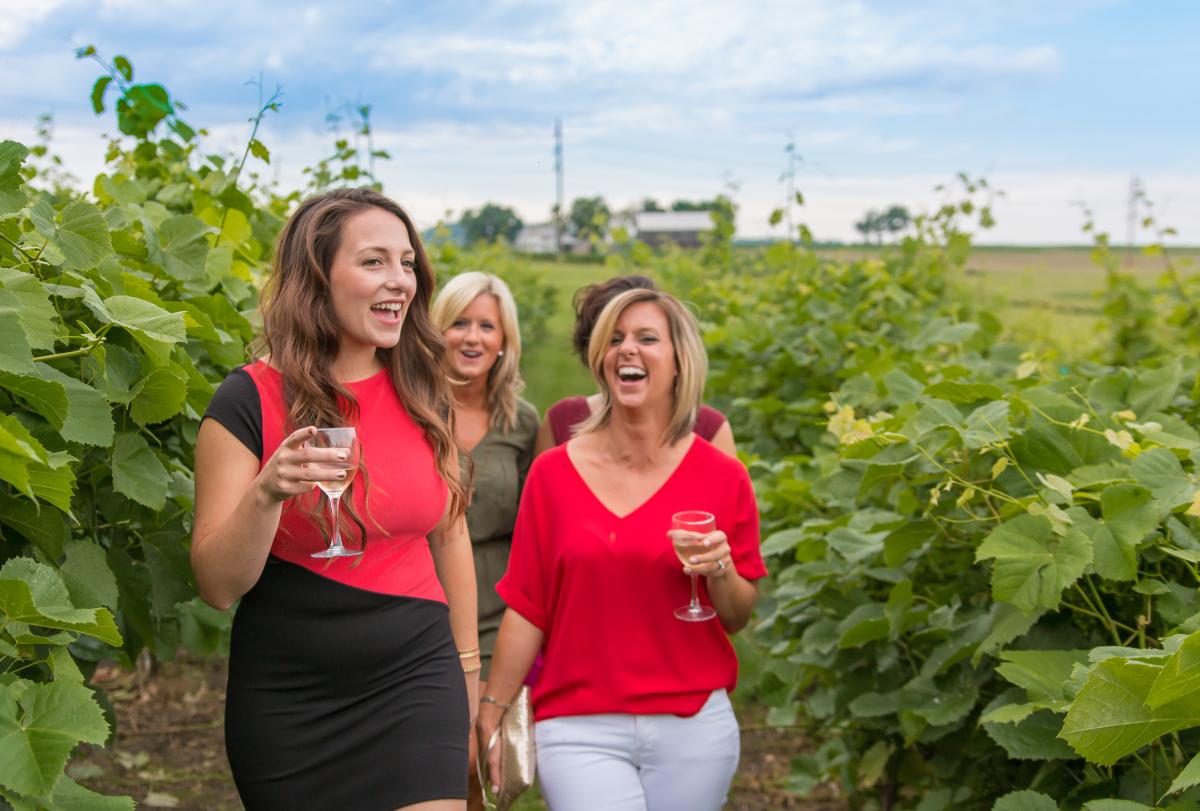 On Tap
While wine takes months before its ready to pour, The Vineyard & Brewery at Hershey's brewmaster Ryan can have a new batch of craft beer prepared in a couple of weeks. This short turnaround leaves room for creativity and experimentation. Their flagship beers include a classic Central PA Pale Ale, the loads-of-hops Hip Hop Hooray IPA, and the blueberry pomegranate wheat, Pom Beach. And just like their wines, it's likely that there's something new available that wasn't there on your last visit!

The DeCider
Finally, check out a unique line of artisanal hard ciders. Presidential Peanut Butter (peanut butter cider), Huzzah Honeycrisp (hard apple cider), and Straws and Stripes (strawberry apple cider), are always great choices for a toast!  
What began as a hobby and a lightbulb above the heads of a few good friends has become The Vineyard and Brewery at Hershey, a premier winery, craft brewery, and live music venue in the Hershey Harrisburg Region.