In the Hershey Harrisburg Region, we blend urban appeal with natural settings. Miles and miles of trails, acclaimed zoos and wildlife parks, and serene backdrops make a trip to see us a breath of fresh air.
Make a Furry Friend
The Hershey Harrisburg Region is proud of its collection of incredible creatures, both living under our care and roaming our forests.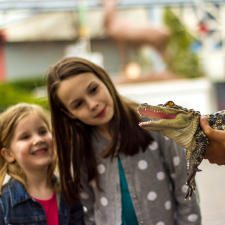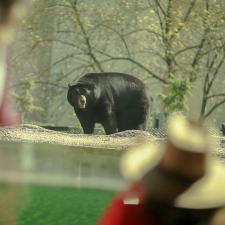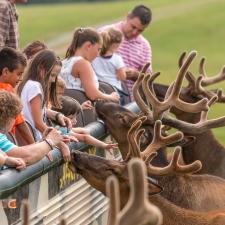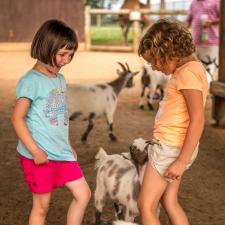 ZooAmerica
Take a break from riding the Great Bear® at Hersheypark® to observe a real black bear roaming its habitat or swimming in the pool. At ZooAmerica® North American Wildlife Park, you can study more than 200 creatures from five North American regions. Wandering the park, you'll see lynx and gray wolves from the Northlands, elk and mountain lions in Big Sky Country, alligators and snakes from the Southern Swamps, lizards and armadillos in the Great Southwest, and otters and owls from the Eastern Woodlands.
Through its conservation efforts, ZooAmerica is doing its part to make the world a better place, for us and the animals. For the future zoologists in the family, ZooAmerica offers Early Bird and After Hours tours taking you behind the scenes to meet some creatures or give them a snack!
Lake Tobias Wildlife Park
Just 20 minutes north of Harrisburg, you'll find an eclectic array of exotic animals at Lake Tobias Wildlife Park including lions, tigers, and bears (oh my!), plus unexpected inhabitants like bison, camels, and peacocks. What makes Lake Tobias so distinctive is that guests are encouraged to get up close and personal with the animals. Hop aboard one of their open-air safari cruisers and explore 150 acres of rolling hills and woodlands where the animals come right up to your bus to say hello. It's easy to understand an animal's habitat when you're in the middle of it, feeding them a carrot or two!
Afterward, socialize with some adorable furry friends in the Petting Zoo. These curious critters are well-behaved but have been known to nibble on a shirt from time to time! In addition to these interactive attractions, Lake Tobias is home to traditional zoo exhibits where you can see kangaroos, zebra, reptiles, birds, and monkeys. Before you go, stop in at the new J.R. Tobias Museum & Education Center to learn how this incredible park came to be.
Explore On Your Own
Trade your cell phones for scenic settings where the only tweets are from the birds.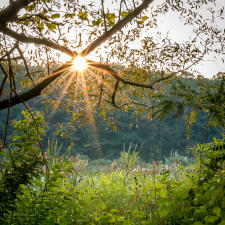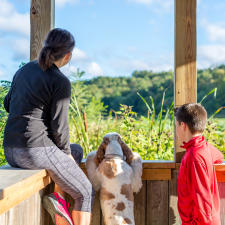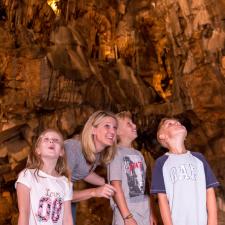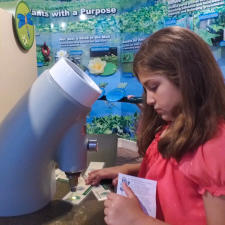 Wildwood Park
Discover a natural oasis surrounded by the city at Wildwood Park in Harrisburg. The 90-acre wetland marsh is an escape from the hustle and bustle and serves as a preservation area for the plants and animals within it. Wildwood has numerous walking paths and boardwalks, including a 3.1-mile loop around the park, ideal for those who aren't taking a vacation from exercise.
At Wildwood's Benjamin Olewine III Nature Center, families can learn about conservation and Pennsylvania wildlife through interactive exhibits. Wildwood Park often takes the classroom outdoors for educational walks where experts point out unique plants and curious critters along the way.
Echo Dell - Indian Echo Caverns
It's the region's favorite underground spectacle, Indian Echo Caverns, where visitors venture beneath the surface to admire a natural space that's been in the works for hundreds of millions of years. The caverns are filled with winding pathways, impressive rock formations, and fascinating ecological history. Winter, summer, rain or shine, the caverns maintain a 52-degree temperature and a constant supply of wonder and awe.
Echo Dell also has a goat petting zoo, a playground, and the Gem Mill Junction, where kids can become junior prospectors and mine for gemstones and fossils.
Ned Smith Center for Nature & Art
Wandering even further from town, you'll find more than 500 acres of rustic woodlands at Ned Smith Center for Nature & Art in Millersburg. With level trails for walking and biking to tough treks for avid hikers, the natural beauty of Pennsylvania has something for everyone. Step inside the Ned Smith Center and browse three spectacular art galleries featuring works inspired by nature and art created by the Center's namesake.
While you're visiting our parks and running our trails, remember to leave only your footprints!