From Memorial Day to Labor Day, The Sweetest Place on Earth® is also the Coolest Place on Earth. On a hot summer day, the 11-acre full water park at Hersheypark® is a watery oasis where you can chill out after working up a sweat rolling from coaster to coaster.
Whitecap Racer and Breakers Edge Water Coaster
Ready…wet…GO! Whitecap RacerSM is the longest mat racing slide in the world with two sets of colorful, looping tunnels. Compete against the family in 6-person heats and see how you stack up against all the riders at Hersheypark. Race again, and again, to beat your personal best by the end of the summer!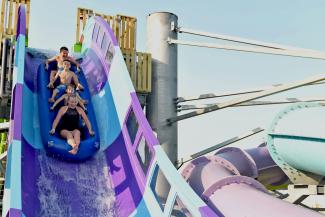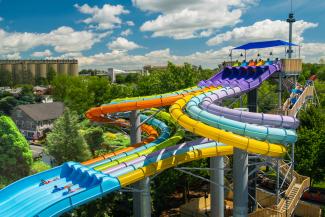 The newest (and wettest) coaster is Breakers EdgeSM Water Coaster a smooth, splash-filled ride where you'll rocket down hills, slide into tunnels, and glide around open-air turns on 4-person family rafts. Breakers Edge is the first HydroMAGNETIC coaster with flying saucer turns and the 14th coaster at Hersheypark.
Choose Your Splash
Keep the excitement level up with some high speed, super soaking Coastline Plunge slides that drop you into a splash pool, like the blue and orange Vortex which propels riders into a large bowl, swirling the raft down into its corkscrew center. The find thrills (and probably some spills) while you hone your surfing skills on the Waverider. And if somehow you find yourself still dry (hey, you could get lucky), get drenched on Tidal Force, one of the tallest splash-down rides in the world.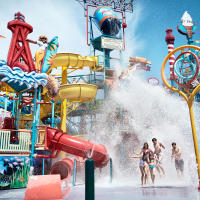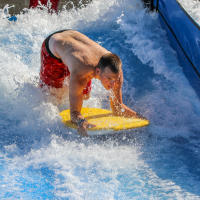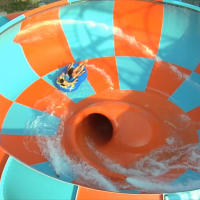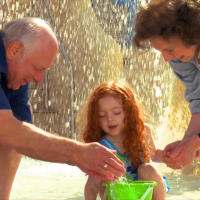 The centerpiece of The Boardwalk, East Coast Waterworks, is a seven-story-high water-play structure featuring seven body waterslides, nearly 600 different water play toys, and a whopping 54,000 gallons of wet and wild fun.The biggest splashes come courtesy of two huge tipping buckets that drench the guests who dare to stand below.
You can always slow it down with a lazy river ride on the Intercoastal Waterway, 1,360 feet of winding water and waterfalls. Take a dip in The Shore, The Boardwalk's 378,000-gallon wave pool with depths from zero to six feet. For the family's smallest splashers, there's Shoreline Sprayground and Sandcastle Cove complete with misters, bubblers, water jets, cannons, water curtains, and fountains, and Bayside Pier, the kiddie wave pool.

You can experience The Boardwalk At Hersheypark in style when you relax at one of the private cabanas. Rentals include all-day access, complimentary soda, bottled water, towels, beach bag, sunscreen, and exclusive access to the Intercoastal Waterway lazy river ride.
The Boardwalk at Hersheypark is included in your one-price admission to Hersheypark. At The Boardwalk, you'll find 13 food locations, 3 retail outlets, 4 changing areas, and lockers to secure your belongings while you splash. Proper swimwear must be worn on the attractions, including adults who accompany their toddlers in the children's play areas. Check out these FAQs to ensure you're prepared to play all day!
Pro Tip: Flip the script and head straight to The Boardwalk to start your hot summer day.