Cassel Vineyards of Hershey is known for their award-winning wines and ties to horse racing. A visit to Cassel is marked by the rich flavors of their estate wine and the experience in a pastoral, peaceful setting just five minutes from Hershey attractions.
Award-Winning Estate Wines
What's an estate wine? Cassel Vineyards' vintners, Craig and Chris Cassel, like to do things themselves. Making estate wine means they grow all their own grapes and produce their wines on the property.
"You get an authentic wine experience when you come to Cassel Vineyards. You're going to look out the window and see where we produce all of our grapes. You'll see our production area where the wine is made here on site." – Chris Cassel
Cassel Vineyards began in 2008 when they planted their first acre of vines. Today, they have 4,000 vines growing Cabernet Franc, Vidal Blanc, Chardonnay, Concord, Chambourcin, and Traminette grapes. It takes three years to plant and yield the fruit, so these varieties are carefully chosen based on Cassel's unique soil and growing conditions.
Cassel Vineyards makes 22 types of wine, including dry and sweet reds, whites, rosé, and port – something for every wine drinker palate. Cassel's Reserve wines are stored in French oak barrels for two years, yielding complex flavors. Fumé Blanc is a Vidal Blanc oak-aged for one year in Chambourcin barrels which give it a unique fire-red color. Cassel's port wines also are oak-aged and then fortified with brandy to generate that rich, smooth flavor. Chocolate Ruby Royale, or Chocolate Port, reminds us of chocolate-covered cherries and is the perfect treat for chocolate lovers visiting Hershey!
Did You Know? Winemakers have been oak-aging wine for centuries, but the Romans discovered the flavorful use of wooden barrels as a happy accident! Oak was an abundant resource in the forests north of the Mediterranean and offered a waterproof storage and transportation vessel. After years of use, the Romans realized the oak barrels smoothed the wine and imparted new qualities and flavors. (Vinepair.com)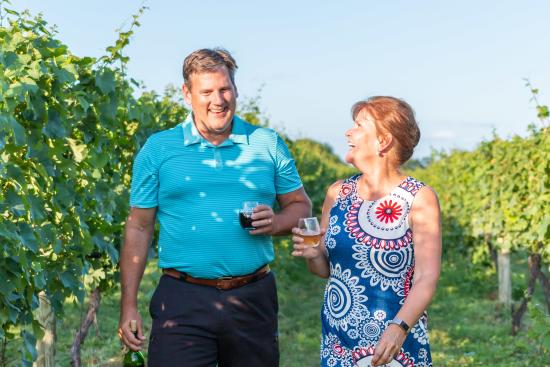 Cassel Vineyards has won more than a few awards for their wine. Medals from state, national, and international competitions decorate their wine bottles on display in the tasting room. Their Cabernet Franc Reserve recently won double gold at the Finger Lakes International East Meets West Wine Competition, going up against varieties from California, Oregon, and Washington.
To make award-winning wines, you need to understand the product you're producing. Craig and Chris are biology teachers by day, so winemaking in the evenings and summers is a perfect pairing with their passion for science.
Wine Tastings
The staff at Cassel Vineyards is friendly, welcoming, and knowledgeable, so don't be shy about telling them what you like. A wine flight tasting is $5, and you can choose three wines from their Select Reserve line or five wines from their Vinter's Choice selection. If you have a palate for dry wine, try the Winners Circle Red with a smooth balance of cherry, raspberry, black pepper, and oak. The semi-dry Finish Line White has aromas of honey, melon, and rose, while the semi-sweet Finish Line Red offers a full-boded cherry flavor. Sweet wine fans will enjoy the Red Silks Rosé with a full, fruity aroma and sweet/tart taste of citrus and pineapple. Cassel Vineyards also makes NextGen ciders and wine slushies and provides craft beer from Tattered Flag Brewery for those who prefer hops over grapes.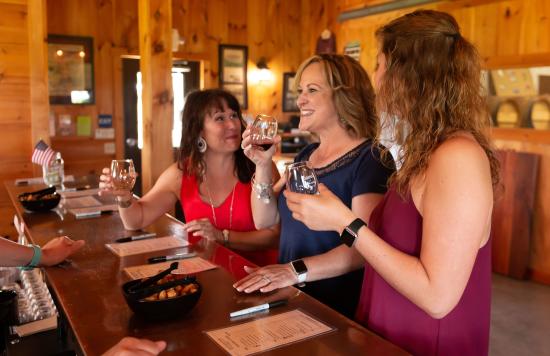 The Cassel Family Farm
For more than a century, the Cassels have used their 135-acre property for agriculture including purebred Chester White swine, Golden Guernsey cattle, and Shetland ponies. Today's Cassel family cultivators are the fifth generation to harvest the land to produce 40,000 bottles of wine a year.
The sights and sounds on your visit extend beyond the grapevines and clinking wine glasses. Just outside the tasting room, you'll see a few of the Cassels' horses. In addition to the vineyard, the Cassels use the property as a thoroughbred horse training facility with a turf course, a dirt track, and a swimming facility. The friendly horses you see are retired or active racehorses and broodmares who often come up to the fence to say hello. You might also see (and hear) the farm's roaming peacocks, guinea hens, ducks, geese, and show chickens.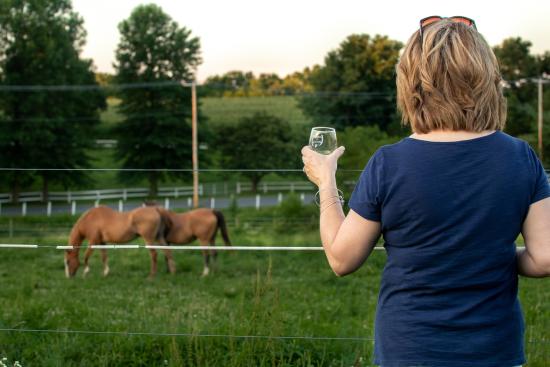 Live Music & Events at Cassel Vineyards
Find a seat on the patio or bring your own chairs and blankets for a relaxing evening on the lawn next to the grapevines. Cassel Vineyards hosts free live music every Friday and Saturday in the summer from 6:00 to 8:30 PM. You're welcome to pack a picnic or grab something from the food trucks on site.
"Cassel Vineyards has a relaxing atmosphere. Sit on our back patio, take a walk through the vineyard, pet the horses – there's so much to do. People usually come out with their whole family because it's an experience for everyone." – Chris Cassel

Convenient Location
Located in Hummelstown, the peaceful Cassel Vineyards of Hershey is just five minutes from Hershey attractions. If you're traveling into Hershey from I-81, you'll ride right past their street off Route 39. Cassel Vineyards is open for tastings, events, and take-home bottle shopping Thursdays through Sundays, from March to December.