From city stays to country getaways, discover the unparalleled hospitality of a bed and breakfast. The Hershey Harrisburg Region is home to several B&Bs filled with remarkable histories, unexpected amenities, charming style, and friendly innkeepers. From the moment you walk in their doors, you feel at home.Here are just a few of the reasons to opt for a bed and breakfast experience on your next visit.
1. Each bed and breakfast is distinctive and unique
We're guessing you've stayed in hotels and motels a few times in your life, and we're also guessing those stays were pretty similar to one another. No matter which hotel chain you collect rewards from, you're checking into a familiar experience. What a bed and breakfast offers is the exact opposite – a distinctive and unique accommodation, because each B&B is filled with character, history, and hospitality that's all its own.
B&B's are also great for giving visitors a sense of place. The Hershey Harrisburg Region is diverse with a mix of exciting, urban appeal and green, pastoral escapes. A place like the historic City House Bed & Breakfast offers guests a place to relax within the heart of downtown Harrisburg, just a few blocks from the Capitol building. Here you can take in the peaceful waterfront views of the Susquehanna River at breakfast on the veranda before setting off on foot to explore downtown Harrisburg!
2. The customer service is superb, and it's the little things that set your stay apart.
No other accommodation, short of staying overnight with your sister, offers the warm and welcoming atmosphere of a bed and breakfast. By design, there aren't hundreds of other guests, so the innkeepers have time to share a moment with you and set you up with everything you need. It might be accommodating dietary needs (gluten-free, vegetarian, vegan) for breakfast or booking you a table for dinner in downtown Hershey. With B&Bs, it's all about the little touches of hospitality like homemade treats for dessert and fresh flowers in your room. Despite its notoriety as one of Harrisburg's premier historic mansions, The Manor on Front Bed & Breakfast accommodates its modern clientele with smart TVs and complimentary Netflix to make you feel at home. Just not too much TV, okay? There's a lot to see and do here!
3. You get a hot breakfast– and it's GOOD!
Hotels offer breakfast, too, but not like the hearty, home-cooked meals at a B&B. After you wake up to the smell of coffee and bacon, join your fellow guests for a sit-down meal featuring a chef's selection of food to start your day off right. Frittatas, quiches, and strata made from local eggs, still-warm-from-the-oven loaves of bread and muffins, apple dumplings, Dutch baby pancakes, potato dishes, fresh fruit, bottomless juice, and of course, coffee. Just like their customer service, the innkeepers put extra care into a great breakfast. Hey, it's half of their name, right? As accommodating as ever, B&Bs can even wrap up your breakfast to go if you need to hit the road!
Communal meals with interesting folks are often part of the B&B package. If you're wary about chatting up other guests before you've had your first cup of coffee, check to see if your bed and breakfast of choice offers in-room dining, has breakfast tables for two, or multiple locations to enjoy your breakfast (i.e., out on the veranda in the summer months).
4. Relax in a bed less slept in.
If you like the roads less traveled, you should try a bed less slept in. While everyone else opts for the "Standard Room" you can make yourself at home in a suite with a four-poster bed, luxury linens, lavish comforters, charming quilts, or even an in-room fireplace. B&Bs are known for their distinctively decorated guest rooms that use old-fashioned décor to take you back to simpler times. Ornate rugs, antique sofas, Victorian lamps, and writing desks remind you that you're a guest and a friend spending the night in a home.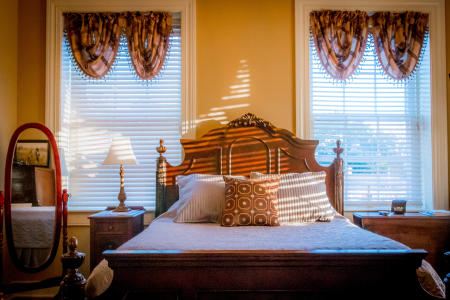 These vintage and country-chic touches shouldn't signal a void of amenities. Most B&Bs offer free Wi-Fi, flatscreen TVs with cable, and tons of perks like complimentary water, coffee, tea, and snacks any time of day! Carriage Stop Bed & Breakfast was built in the mid-1800s, but they're eager to show you to their in-ground pool complete with a rock slide!
The décor is just part of the story of a B&B. Most bed and breakfast inns have a history, and learning about the origins of the property make for excellent breakfast conversation. The main house at Speedwell Forge Bed and Breakfast dates back to 1760 and is listed on the National Register of Historic Places. You might have noticed the rooms at The Stone Manse Inn in New Cumberland are named after geologic minerals, and their Willemite Guest House was built in 1734 as a fur trader's cabin, adding the properties long history.
5. B&Bs offer plenty of room to stretch out
B&Bs provide ample opportunities for R&R. After you've settled your belongings into your room, you're always encouraged to make yourself at home! When was the last time you stayed in a hotel that had a library or a cobblestone courtyard? Stretch out in the common room, play a game of chess with a friend in the parlor, or sit next to the firepit with a glass of wine. Forget where you are for a moment while you're curled up on the couch with the pleasant scent and warm glow of a candle that smells like cookies. Many B&Bs are built on former farmland so you might find stables, gardens, ponds, and trails to explore. At The Inn at Westwynd Farm, there's plenty of room to roam. Say hello to their horses, goats, and alpacas or take some binoculars for bird watching around the property. In the summer, their rolling pastures host an evening light show of fireflies that'll remind you of warm nights as a kid.
6. All in all, it's a better value
B&Bs truly have everything you need, and more, and can you really put a price on this level of hospitality? Also, staying at a bed and breakfast is a chance to experience a destination in a unique way. While your friends are staying in cookie cutter rooms, you're given the opportunity to feel at home, stretch out, and enjoy your stay.