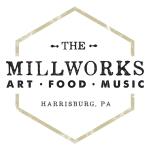 When we asked The Millworks owner Josh Kesler to sum up The Millworks Restaurant in Harrisburg's Midtown neighborhood, he laughed before defaulting to the logo: "Art. Food. Music." He laughed because he knows that even though that caption cuts to the heart of it, The Millworks is so much more. From the building process – the business' use of reclaimed materials from the old Stokes Millwork creates a truly authentic atmosphere – to the decisions on whose art will be displayed in the lobby Gallery, The Millworks is also about history, family and community.
Since its March, 2015 opening, the *free* (Double asterisk for emphasis, not sarcasm! How rare to be able to offer ample free parking in multiple lots within a stone's throw of a restaurant in a city setting?) parking lots around The Millworks have been comfortably full with guests looking to enjoy happy hours, family brunches, date nights, gallery browsing and live music.
Lots of restaurants have interesting art, but The Millworks DOES art. Guests enter the building through a featured artist gallery, and can wander through 23 artist studios before or after meals or cocktails. Watercolor, recycled materials, photography and more are created and/or sold in studios that occupy space on both the main floor and 2nd floor. Guests dining in the Biergarten on Saturday afternoons might glance through tall windows to see specialty workshops underway in a large community space.

Kesler and his wife, Rachael, say they are dedicated to working in collaboration with other Midtown destinations like The Broad Street Market, Midtown Scholar Bookstore, Susquehanna Art Museum and Midtown Cinema to help to bring the Midtown community together through family-friendly arts and entertainment programming and, of course, food! Children can mold their inner artist with tins of play dough that Rachael Kesler makes herself. And for out-of-town guests, Kesler cites The Millworks as a complete destination. Couples and families who travel from other parts of the state or places like Baltimore, Philadelphia and New Jersey can get a real sense and taste of Harrisburg's urban renaissance with a trip to The Millworks and its neighboring attractions.
For as bright a light that glows over the uniqueness of the arts & culture element, the menu certainly deserves a special spotlight of its own. The Millworks is committed to using locally-sourced "flavor-forward" ingredients to create a seasonally-changing menu that reflects the very best of the region's rich agricultural offerings.

After 6 months of focusing on mastering a locally-sourced dinner menu, The Millworks began serving lunch (Tuesday-Saturday from 11 am to 4 pm) in late September 2015. For more from Josh and a peek at The Millworks, check out the VIDEO below. Enjoy!