"Staycations" became popular a few years ago when times were tough and traveling expenses rose. But even now, sometimes the best ways to utilize your downtime is to explore your own backyard.
Here are my tips to making the most of a Hershey-Harrisburg area staycation:
1. Make a plan. It's way to easy to end up at the same old spots, or worse -- working from your laptop. Develop an itinerary before you hit the road.
VisitHersheyHarrisburg.org is a comprehensive planning tool to help you discover the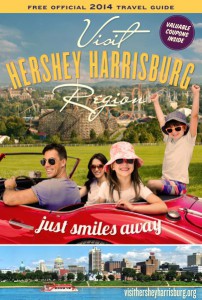 wealth of attraction, dining and hotel options throughout the region. Printed copies of The FREE Visit Hershey Harrisburg travel guide is available throughout the region at many hotels, attraction lobbies and visitors centers in Hershey, downtown Harrisburg and 3211 N Front Street, Harrisburg. Try the online version too by clicking the guide icon at the top left of VisitHersheyHarrisburg.org.
2. Hit the road! Traveling within 30-60 minutes of your home can open you up to a variety of new experiences you never knew were so close.
3. Consider a sleepover. Sure, you could drive home -- but it'll feel a little bit more like vacation if you stay the night.
4. Splurge a little. Whether it's that overnight stay at a fancy hotel, decadent spa service or a multi-course dinner at an upscale restaurant, being prepared to spend a little more than usual will make it feel more like vacation.
5. Unplug. Just because you're near home doesn't mean you're obligated to work, too. Leave the phones in the car (in the glove box) or in the hotel room safe, and remember what it was like before we were always connected. This, too, will help you feel more like you're on a true vacation.