There's no shortage of history in Hershey & Harrisburg. Discover the sweet story of Hershey's Chocolate, walk the hallways of the Pennsylvania State Capitol, marvel at turn-of-the-century automobiles, and envision the Battle of Gettysburg as you walk in a soldier's boots. While you're here, stop at a few of our museums, rich with history and ready to inspire you. In this guide, you'll find details on when to visit each museum and what to see while you're there!
Harrisburg Museums: Politics and Pennsylvania History
The State Museum of Pennsylvania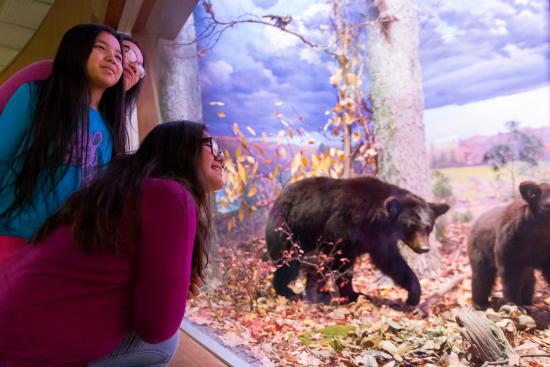 This historical treasure trove is the official museum of the Commonwealth of Pennsylvania and includes an impressive collection of Pennsylvania heritage. Feel small next to a pioneer wagon and the skeleton of a Mastodon. Or really, really small next to the 18-foot-tall William Penn statue in Memorial Hall! Turn back time with artifacts from the American Civil War, then take it way back with Archaeology, Anthropology, or Geology exhibits. A family favorite is Mammal Hall with its newly restored dioramas depicting the natural habitats of past and present Pennsylvania wildlife like elk, deer, bears, mountain lions, and bison. It'll take you and your family about 2-3 hours to explore the State Museum, not including an out-of-this-world show in the Planetarium.
Days open: Wednesday through Sunday, year round
Admission: $5 - $7 per person, plus military discounts.
Most Popular Exhibit: Mammal Hall. All 13 of the dioramas are based on real locations in Pennsylvania.
Did you know? The Museum's exhibit, The Pennsylvania Turnpike: America's First Superhighway, earned national recognition with a prestigious Award of Merit from the American Association for State and Local History (AASLH).
PA State Capitol Building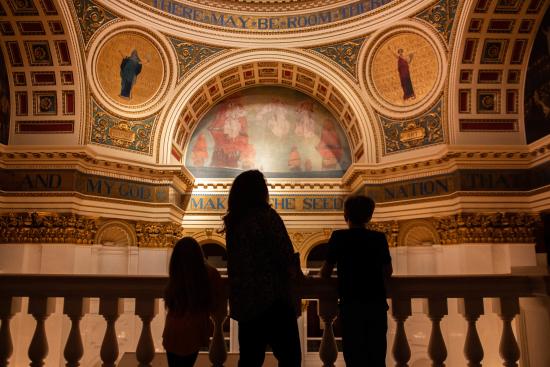 Heralded by President Teddy Roosevelt as one of the handsomest buildings he'd ever seen, the Pennsylvania State Capitol Building is a palace of art and history and a beautiful attraction for every visitor to experience. There's a palpable excitement in the air when you're inside the center of our state's government. You've seen its signature green dome as a centerpiece of the Harrisburg skyline, but on the inside its gorgeous Rotunda is adorned with intricate artwork and shaped by breathtaking architecture. You can take a free, 30-minute guided tour through the complex including stops in the House and Senate chambers and the Supreme Court. Before you go, visit the Capitol gift shop or the Welcome Center where you can learn something new about legislation through their interactive exhibits.
Days open: 7 days a week, year round, excluding some holidays
Admission: Free, including guided tours.
Most Popular Feature: The Capitol Rotunda is modeled after St. Peter's Basilica in Rome!
Did you know? You can explore the Capitol's public spaces on your own on weekdays when you follow along with their new Self-Guided Tour Mobile App. Or take a video tour anytime!
The National Civil War Museum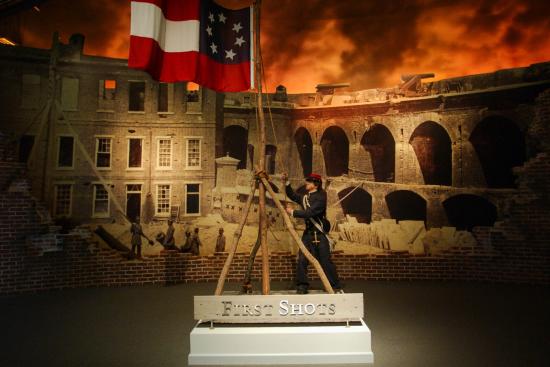 The National Civil War Museum in Harrisburg presents an unbiased glimpse into the most turbulent time in our nation's history using perspectives from both sides of the battlefield. To understand the emotion behind the war, you need to learn what the country was like before 1861. The first two exhibits "A House Divided" and "American Slavery: The Peculiar Institution" set the stage and illustrate the conflicts leading up to the First Shots at Fort Sumter in 1861. The Museum's vast collection includes more than 24,000 artifacts like uniforms, hats, weapons and artillery, manuscripts, documents, photographs, and other printed materials that illustrate the story of the Civil War. From the medical tent that depicts a battlefield amputation to the turning point of the war at Gettysburg, their exhibits are heartbreaking and inspiring at the same time.
Days open: 7 days a week, year round, excluding some holidays
Admission: $11 - $13 per person
Most Popular Exhibit: If you had the chance, what questions would you ask President Lincoln about the Civil War? The Meet Mr. Lincoln interactive exhibit allows you to pose questions about the war, politics, slavery, and his presidency to the man himself as well as the perspectives of those who knew him.
Did you know? Harrisburg played a vital role in the Civil War as a major rail hub for soldiers and materials. The Confederate Army of Northern Virginia attempted to capture the city twice, thwarted first in Sharpsburg, Maryland in 1862, and finally at Gettysburg in 1863.
John Harris – Simon Cameron Mansion
This historic home in Harrisburg housed two prominent Pennsylvanians: John Harris, Jr., the founder and namesake of Harrisburg, and Simon Cameron, Abraham Lincoln's Secretary of War and later, the U.S. Ambassador to Russia. On a guided tour of the John Harris-Simon Cameron Mansion, learn how Cameron transformed Harris' Georgian-style home into a Victorian mansion furnished with lavish décor from around the world, some of which is preserved and on display today.
Days open: Tuesday through Friday, March through December (by appointment only in January & February)
Admission: $6 - $8 per person, plus military discounts
Most Popular Feature: The solarium, added by Cameron, is a beautiful spot for natural light and its decorative wallpaper is original.
Did you know? Cameron had the floors lowered three feet into the basement to squeeze two 14-foot, ornate European mirrors into his parlor!
Fort Hunter Mansion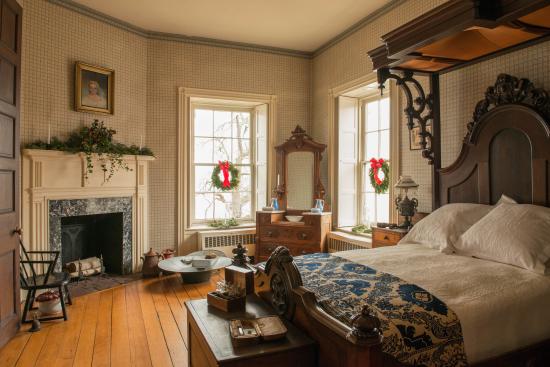 Fort Hunter Park is one of Harrisburg's most beautiful and picturesque green spaces, offering panoramic views of the Susquehanna River set against an abundance of Pennsylvania history. The Fort Hunter Mansion is the centerpiece of the property's history, serving as a private estate for several influential Harrisburg families. Fort Hunter was settled in 1725 as a war fort during the French and Indian War and later a self-sufficient frontier village with grist and saw mills, country store, tavern, blacksmith shop, a school and more. The property's largest building, the Centennial Barn, was established in 1876 as a home for owner John Reily's dairy cows.
Days open: Tuesday through Sunday, May through late December
Admission: $4 - $7 per person, plus military discounts.
Most Popular Feature: The mansion actually has three distinct parts: the original cabin in the middle, the grand front mansion, and the wooden rear building. It's fascinating to see its history through architecture.
Did you know? Fort Hunter's 40-acre property is open year round and is meticulously maintained. It's free to walk around on your own! From the grounds, you can see the Rockville Bridge, the longest stone masonry arch railroad bridge in the world!
Governor's Residence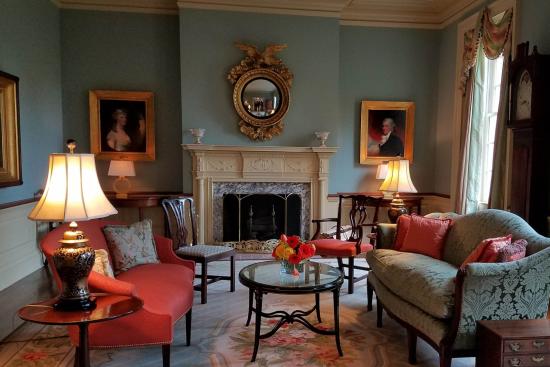 Although it's filled with Pennsylvania history and prized artwork, the Governor's Residence on Front Street is just 50 years old. This two-and-a-half story Georgian-style brick home was built in 1968 and includes several stately entertaining spaces, gorgeous gardens, and a spectacular view of the Susquehanna River. Governor Tom Wolf and First Lady Frances Wolf reside in York, but the Residence serves as a venue for official functions and dinners. So you can think of it as the embassy of Pennsylvania. Check out this video tour.
Days open: Tuesdays and Thursdays in April, May, June, July, September, and October
Admission: Free, but reservations are required
Most Popular Feature: Visitors can peek inside the private offices of the Governor and First Lady.
Did you know? The view of the Susquehanna River is beautiful, but the Residence has flooded several times. During Hurricane Agnes in 1972, then-Governor Milton Shapp and his wife had to be rescued by boat.
Pennsylvania National Fire Museum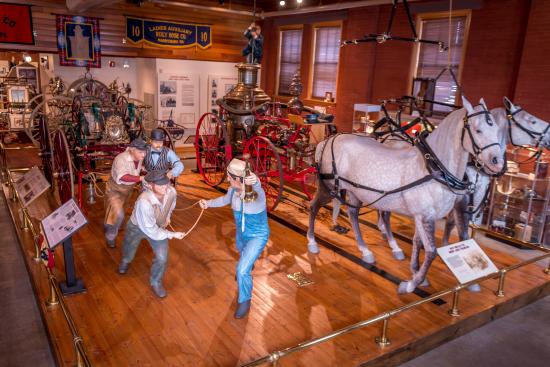 The Pennsylvania National Fire Museum occupies an 1899 Victorian firehouse, filled with precious artifacts, antique trucks, vintage helmets and parade hats, and all the bells and whistles (and alarms). While it's tough to imagine a time when firemen arrived on the scene in horse-drawn carriages, the lineage of firefighting as told through the museum's exhibits amazes its visitors. Don't miss the 1920s antique alarm system that alerted firemen when and where one of the city's pull-down fire alarm boxes was triggered. It still rings today! 
Days open: Tuesday through Sunday, year-round
Admission: $6 -$7 per person, plus military discounts
Most Popular Feature: The 1920s antique alarm system that alerted firemen when and where one of the city's pull-down fire alarm boxes was triggered still rings today! 
Did you know? The museum has one of the largest collection of parade hats, worn when volunteer firemen put aside their working helmets for decorative felt hats.
Lake Tobias Wildlife Park
Animal lover J.R. Tobias was known for keeping exotic pets. In 1965 he turned his passion into a reality with the opening of Lake Tobias Wildlife Park featuring adventurous safari tours. The Tobias family-owned park recently dedicated a museum to commemorate the life and wild spirit of the park's founder through video, photographs, artifacts, and interactive exhibits. You'll also find a tropical fish tank and aviary for exotic birds! Lake Tobias is just north of Harrisburg in Halifax and welcomes 170,000 park visitors each season.
Days open: 7 days a week, May through September, excluding some holidays
Admission: $8 - $15 per person, plus military discounts
Most Popular Exhibit: After you've toured the museum, honor the legacy of Tobias with a Safari tour, a memorable experience he wanted all visitors to have.
Did you know? The newest residents of Lake Tobias Wildlife Park are three lofty giraffes!
Hershey Museums: Chocolate, Cars & Caves
The Hershey Story, Museum on Chocolate Avenue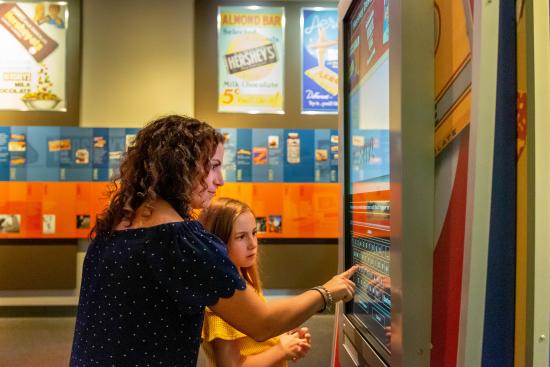 You know the chocolate, but how much do you know about Milton Hershey, the man behind the candy bars? From rocky road to riches to finding his formula for success, visit The Hershey Story, Museum on Chocolate Avenue to learn how Hershey's persistence and innovative spirit revolutionized chocolate making forever. Through archival photography and enduring factory equipment, get a glimpse of life inside his 1930s chocolate factory including a working machine for wrapping Hershey's Kisses. And of course, you can try some chocolate! Get a hands-on experience mixing the ingredients and decorating your own chocolate bar or sip a flight of warm drinking chocolates from around the globe. 
Days open: 7 days a week, year round, excluding some holidays
Admission: $9 - $13.50 per person, plus additional costs for the Chocolate Lab Class or Tastings. Discounts offered for military and guests of The Official Resorts of Hersheypark®.
Most Popular Feature: Many of the exhibits have touchscreens for an interactive look at the history of Milton Hershey.
Did you know? Cuba has a town named Hershey, too! Milton Hershey built Hershey, Cuba, a model town that supported a sugar mill and refinery.
Hershey-Derry Historical Society & History Museum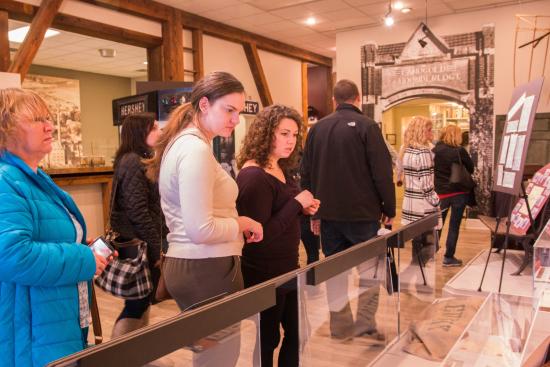 What was Hershey before Milton Hershey came to town? The history of Derry Township, the municipality of Hershey, dates back to the area's first inhabitants, the Native Americans, and the eventual Scotch-Irish and German settlers who established Derry Township. Step back in time to the area's earliest communities at the Hershey-Derry Historical Society and History Museum. Kids can even experience history first hand with an interactive exhibit of an 1830s general store and home.
Days open: Monday, Wednesday, Friday, and two Saturdays a month, year round
Admission: $2 - $4 per person
Most Popular Exhibit: The Veterans Exhibit features personal belongings of Major Dick Winters, a decorated U.S. Army veteran who commanded the men of Easy Company whose stories were dramatized for the HBO miniseries Band of Brothers.
Did you know? The Hershey Bears® AHL hockey team used to be the B'ars. The museum's collection includes items on loan from former players that tell the history of the AHL's most storied and successful franchise.
AACA Museum, Inc.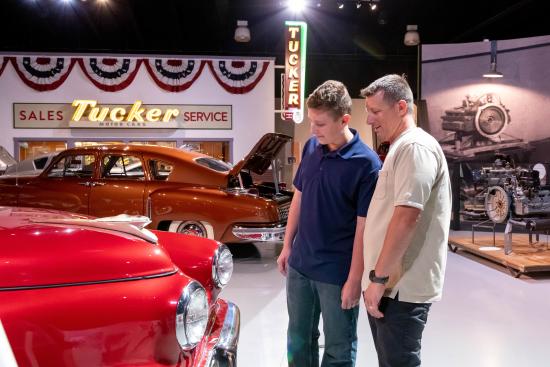 Car lovers young and old descend on the AACA Museum to marvel at the collection of pristine automobiles, buses, and motorcycles on display. The museum is recognized by the Smithsonian as an Affiliate Museum, an extremely rare honor that speaks well of the love and care for their automobiles. Their decade-themed exhibits take you on a road trip back in time starting with century-old cars in front of a panoramic painting of Hershey in the 1920s and leading you on a journey out west via Route 66 history. That's not all - their lower level has the nation's largest collection of vintage buses on display under one roof!
Days open: 7 days a week, year round, excluding some holidays
Admission: $9.50 - $12.50 per person
Most Popular Exhibit: The Cammack Gallery features the World's Largest Collection of Tucker Automobiles and artifacts. Just 51 Tuckers were built by hand in Chicago in the 1940s. Get behind the wheel of an interactive vehicle – a perfect family photo op!
Did you know? AACA has a few celebrity vehicles in its collection including Whitney Houston's 1986 Rolls Royce limousine and cars used in the filming of the HBO series Boardwalk Empire.
Hershey Theatre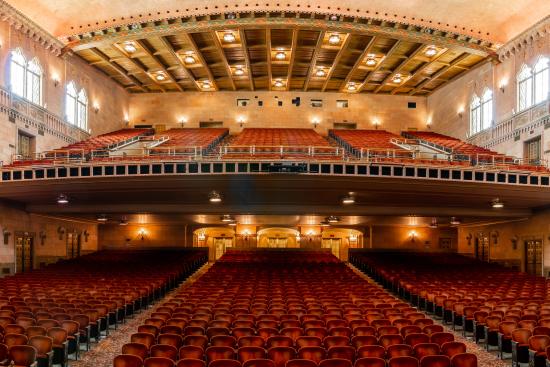 Hershey Theatre isn't a museum in the traditional sense, but it's beautifully adorned with Hershey history and is heralded as "The Most Impressive Theatre in Pennsylvania." Even if you don't have tickets to see a show, you can book a Spotlight Tour and pull back the curtain on the building's secrets that combine history, community, architecture, and the arts. The Hershey Theatre recently underwent a restoration that brought back its 1930s opulence.
Days open: Spotlight tours offered Fridays year-round, except holidays and show days, and Sundays Memorial Day through Labor Day
Admission: $6 - $10 per person
Most Popular Feature: The Theatre's symbol is a lion. Can you find all the lion head carvings throughout the auditorium?
Did you know? The Hershey Theatre was built between 1929 and 1933 as part of Mr. Hershey's "Great Building Campaign" of the Great Depression, which also produced such Hershey landmarks as The Hotel HersheySM, the Hersheypark® Arena, and the Hersheypark® Stadium.
Echo Dell - Indian Echo Caverns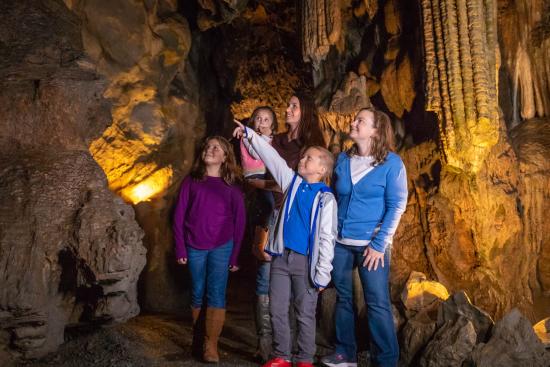 The caverns of Echo Dell – Indian Echo Caverns are a different kind of museum, preserving the history of our region inside limestone caves that date back 440 million years. Today, you can walk in these underground caverns filled with impressive rock formations, spacious rooms, and a picturesque, peaceful lake. The first visitors to the Caverns most likely were the Susquehannock Indians who used the cave as a dwelling place during the harsh winter and sweltering summer. While you're at Echo Dell, round out your visit with gem mining and spend some time with the adorable animals at the petting zoo.
Days open: 7 days a week, year round, excluding some holidays
Admission: $12 - $18.50 per person
Most Popular Feature: There's so much stunning natural architecture to behold, but visitors are particularly drawn to the serene underground lake.
Did you know? The temperature inside the caverns is always 52 degrees, making it a warm attraction in the winter and a place to cool off in the summer!
Pennsylvania State Police Museum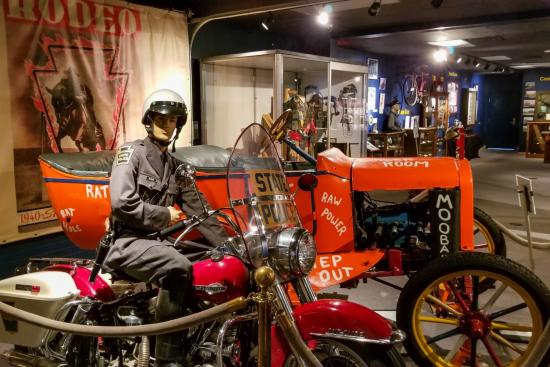 Those familiar with police history know that the Pennsylvania State Police (PSP) is the oldest organization of its kind in the country, and one of the most highly regarded. The PSP Museum preserves its history through archival documents, photographs, and footage, and the stories of some of the state's most notorious criminal cases. Their collection includes restored police cruisers and motorcycles, as well as firearms and uniforms owned by those who served.
Days open: Monday through Saturday, year round, excluding some holidays
Admission: $4 - $7 per person for self-guided tour; $5 - $10 per person for guided tour (must book in advance)
Most Popular Exhibit: The Camp Hill Prison riots made national news in 1989, and you can stand behind a set of bars recovered from the facility.
Did you know? The Pennsylvania State Police formed in 1905 as a response to the violence that erupted during The Great Anthracite (Coal) Strike.
"A visit to a museum is a search for beauty, truth, and meaning in our lives. Go to museums as often as you can." — Maira Kalman, artist