Time ticks a little slower in Hummelstown, Pa., despite the large clock on Main Street. Hummelstown is filled with charming shops, delicious restaurants, and unique attractions. Picturesque brick sidewalks link the stops, adding to its quintessential small-town feel. It's off the beaten path, but still right next to the path, located just minutes outside Hershey.
Charming Shops on Brick-Lined Streets
Downtown Hummelstown has an array of shops filled with handmade goods and unique treasures, and local owners who are eager to welcome visitors curious about their collections.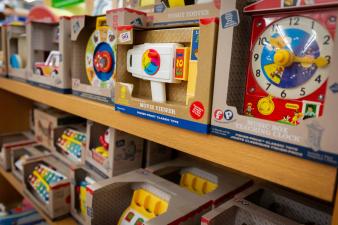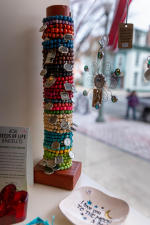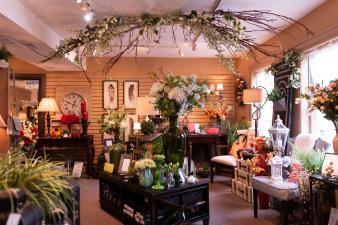 Shop small at Toys on the Square with its impressive selection of screen-free toys and games. Their stock of unusual toys makes it a perfect place to find a gift for the child who already has everything. 
Rhoads Hallmark & Gift Shop's impressive, 15,000-square-foot space is filled with home décor, greeting cards, soaps, candles, handbags, jewelry, clothing, and a marketplace of independently-owned and crafted products and snacks. 
Unique Eats
From Central PA's best wings to historical buildings, see what Hummelstown's chefs are cooking up at the restaurants the locals rave about!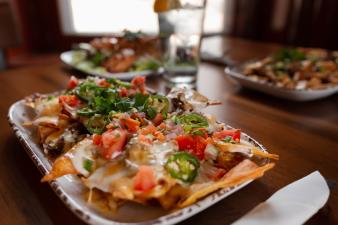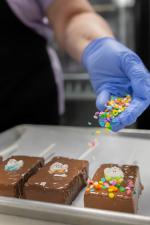 If you've made your way to the Hershey area to revel in chocolate glory, you'll also want to visit Chocolates by Tina Marie for a selection of more than 30 small-batch artisan chocolates and retro candies.
Stop by the historic Warwick Hotel which has called Hummelstown home since the 1790s. Today, you'll find a delicious selection of lunch and dinner options including impressive salads, sandwiches, and share-ables.
Fuel your visit with some finger-licking good food at this smokin' barbeque joint, Forrest's Feed Co., featuring savory upscale smoked meats smothered in homemade sauces.
Proudly touting the title of best pizza in the Hershey area, Jo Jo's Pizza and Restaurant offers a full menu of Italian delights and delivers to local Hershey hotels.
Cool off at Rita's Italian Ice with a signature "gelati," a delightful layered treat of made-fresh-daily Italian Ice and rich, creamy custard.
Attractions Across Town
Hummelstown has lots to offer above ground – and below!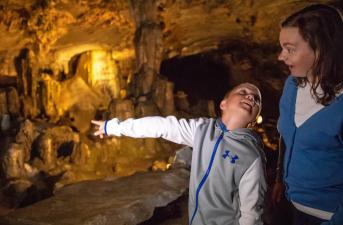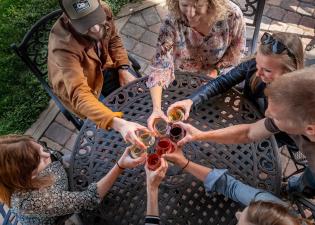 At Echo Dell – Indian Echo Caverns, you can do a little spelunking on a 45-minute tour of the caverns, an underground natural wonder filled with breathtaking geological formations and a lake.
About 10 minutes from Hummelstown's square, Cassel Vineyards offers tastings of their award-winning wines at their sprawling property where horses roam nearby.
Cozy Places to Stay
Marked by friendly service and affordable prices, these hotels and accommodations are off the beaten path but still close to the area's best activities.

The Inn at Westwynd Farm is a charming bed and breakfast situated on a horse farm with idyllic country views, colorful gardens, and 11 luxurious rooms. Whether you're here to explore Hummelstown or adding a visit to your Harrisburg or Hershey trip, you'll find the accommodations in Hummelstown packed with perks. Hummelstown is conveniently located and close to it all, and when you lodge off the beaten path, you'll find better prices. As you might have guessed, this small town's friendly faces add a little something to your stay. Find your favorite brand or choose the best location from the map below.
Sample Itineraries to Experience Hummelstown
Hummelstown for Families
Between the toy shops, sweet treats, and attractions, you might have guessed that Hummelstown is a family-friendly destination! Spend a few hours with the kids enjoying the day and making memories.
Half Day Afternoon: Attractions, Shopping, Food, Treats
Indian Echo Caverns (2 hours)
Toys on the Square (30 mins to 1 hour)
Jo Jo's Pizza (30-45 mins)
Rita's Italian Ice (15-30 mins)
Chocolates by Tina Marie (15 mins)
​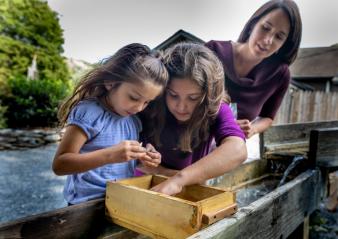 Hummelstown for Adults & Couples
Our visitors always ask us how they can experience a place like a local. Well, Hummelstown residents tend to greet everyone like an old friend. Shop a little, eat a little, live like a local!
Half Day Morning: Shopping, Food, Wine
Rhoads Hallmark & Gift Shop (30-45 mins)
Chocolates by Tina Marie (15 mins)
Forrest's Feed Co. (30-45 mins)
Cassel Vineyards (45 mins to an hour, or until the wine is gone!)
​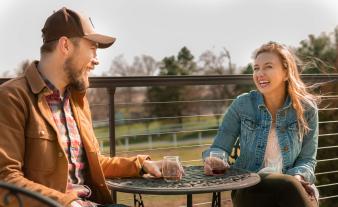 Getting to Hummelstown
Hummelstown is off the beaten path but still right next to the path, located 5 minutes from Hershey, 10-15 mins from Harrisburg, with easy highway access.
The large clock on Main Street keeps time for its residents and visitors, but when you're in Hummelstown, you'll find that time ticks a little slower.