Thanksgiving and Christmas are two special days in a season of celebrating and indulging! Everyone makes allowances this time of year for an extra helping of dessert and delicious cocktails to cheers with loved ones. In the Hershey Harrisburg Region, you can tell it's the holidays by the seasonally-inspired treats offered by our creative chefs!
Delectable Desserts
Desserts, Etc. in Hershey
At Desserts, Etc. in The Hershey Pantry, their pastry chefs use traditional holiday flavors to create surprising sweet treats, like a cheesecake that swaps the cherries for cranberries, or one that uses eggnog-infused cream cheese! Just one bite of the 'Chocolate Peppermint' cheesecake will have you in the Christmas spirit, with its brownie crust and peppermint filling, topped with whipped cream, ganache, and peppermint candy pieces. Skeptical that the ever-popular pumpkin flavor has a home in Hershey? The 'Chocolate Pumpkin' cheesecake will change your mind!
Ad Lib Craft Kitchen & Bar
Housed in the lobby of the Hilton Harrisburg downtown, Ad Lib Craft Kitchen & Bar, and sister restaurant, 1700 Degrees Steakhouse, complement their food menus with house-made desserts. With offerings like the 'Caramel Apple Bread Pudding,' 'Maple Crème Brulee,' and 'Pear and Cranberry Galette,' you won't want to pass on dessert.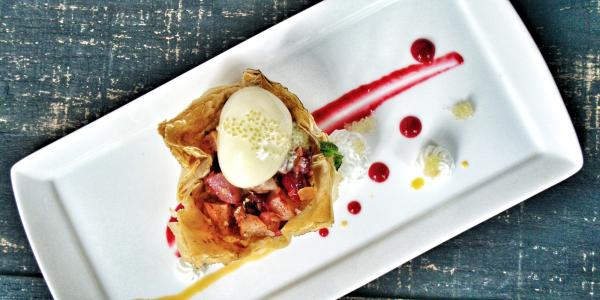 Surprising Sips
The Mill in Hershey
Made to order with fresh ingredients and premium spirits, The Mill in Hershey harnesses fall and holiday flavors for happy hour or as a complement to your meal. A unique take on a traditional drink, their 'Pumpkin White Russian' adds a house-made pumpkin puree to the mix. They also pop the cork for their 'Autumn Spritzer' with champagne, caramel vodka, apple cider, and brown sugar.
Greystone Public House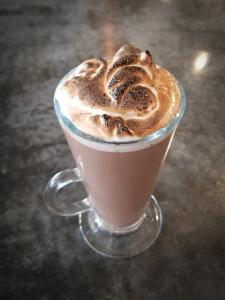 Cheers with a handcrafted cocktail! The mixologists at Greystone Public House have a collection of recipes with unique seasonal ingredients to create their winter drink menu. The 'Local Fig' uses a house-infused vanilla and fig whiskey with honey syrup, walnut bitters, and a rosemary sprig topping. From their kitchen, try a glass of 'Hot Spiced Local Apple Cider' or a mug of 'Hot Chocolate,' made fresh on their stovetop and served with a dollop of toasted marshmallow fluff. For extra warmth, they can add some holiday 'spirits'!
Appealing Appetizers
Arooga's Grille House & Sports Bar
Looking for something with a little kick? The chefs behind Arooga's award-winning wing sauces are bringing back a local holiday favorite, 'Cranberry Habanero wing sauce'! You can order up this sweet and spicy sauce on a basket of chicken wings, but we're told it pairs well as a sauce on pulled pork sandwiches and wraps!
Harvest at The Hotel Hershey®
Where else but Hershey, PA, can you find 'Chocolate BBQ Sauce'? While chocolate is a year-round ingredient in Hershey, PA cooking, the chicken wings in Chocolate BBQ sauce is a decadent starting plate for a delicious meal at Harvest at The Hotel Hershey®.
Tastes and Memories of Christmas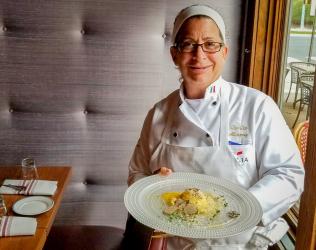 Mangia Qui Ristorante
Each of us has a food that reminds us of the holidays! Rosemarie "Qui Qui" Musarra, Executive Chef at Mangia Qui in Harrisburg, is recreating an Italian dish that's near-and-dear to her heart. Her dish 'Raviolo San Domenico' is one large ravioli cooked with an egg yolk in the center and garnished with black truffles, truffle oil, and chives. The dish is simple to prepare with a bit of care to ensure the yolk is cooked to perfection.
Just plating the dish, Chef Qui said that it feels like Christmas! It was a family tradition to order the Raviolo on Christmas Eve at San Domenico, a now-closed Italian restaurant in New York City. 
Christmas Day-Of Meals
Are you staying with us for Christmas? Our area's restaurants have put together special day-of holiday menus and buffets with all the trimmings!