The weather is getting cooler, the leaves are slowly turning colors, and pumpkin everything is on the shelves. No other season packs in so many quintessential things to do: pumpkin picking, Halloween costumes, hayrides, wineries, fall activities for kids – to name a few. Do it all and more in the Hershey Harrisburg Region with this fall "to-do" list that's easy as pie to complete!
1. Go trick or treating
We're the neighbors with the good candy! At Hersheypark In The DarkSM, children can get dressed up for Halloween and follow the Trick or Treat Trail. The fun begins in Hershey's Chocolate World Attraction and continues into Hersheypark where you'll find life-sized candy bars in capes! The trick-or-treaters in your neighborhood are counting on you to bring home some delicious sweets from Hershey. At the candy store at Hershey's Chocolate World Attraction, you'll find an incredible selection of chocolate. Give the 'Best Costume' winner a 5-lb Hershey's Chocolate Bar!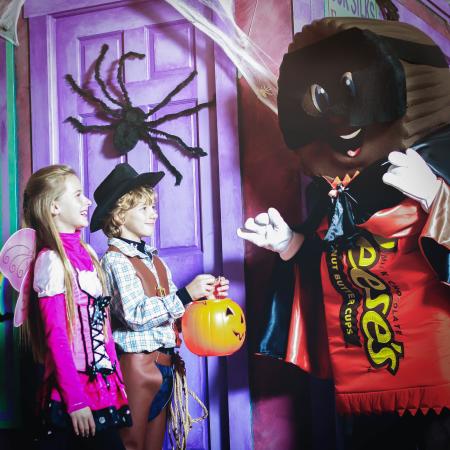 2. Ride "roller ghosters"
This time of year, 13 is a lucky number when you're talking about riding 13 "roller ghosters" in the dark at Hersheypark In The Dark. Bonus activity: Bring your flashlights for a special tour of the Creatures Of The Night® in ZooAmerica®.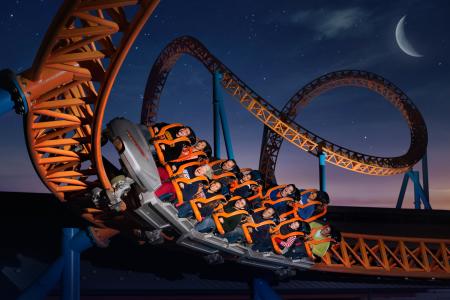 3. Go 'leaf peeping'
There's no doubt fall is the most colorful time of year, and our foliage is a feast for the eyes! Enjoy it on your drive into town, on a city stroll, or from the top of the Kissing Tower®. Enjoy the crisp fall air from the top deck of The Pride of the Susquehanna Riverboat, offering weekend cruises through October!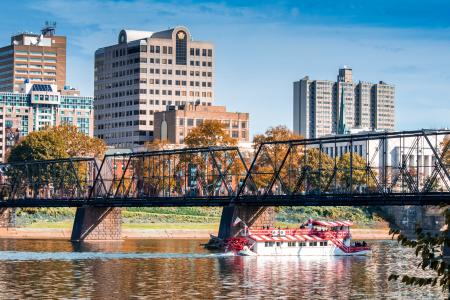 4. Have s'mores by the campfire
There's no better place to enjoy everyone's favorite campfire treat than in the place that made s'mores possible – Hershey, PA. Stay overnight under the stars! Our campgrounds have tent sites, RV hookups, and cozy cabins to meet anyone's level of camping expertise. If you're taking your s'mores to go, impress your friends at home when you break out unique s'more mix-ins, like a Reese's Peanut Butter Cup, York Peppermint Pattie, or a Hershey's Cookie Layer Crunch, for an extra crispy bite!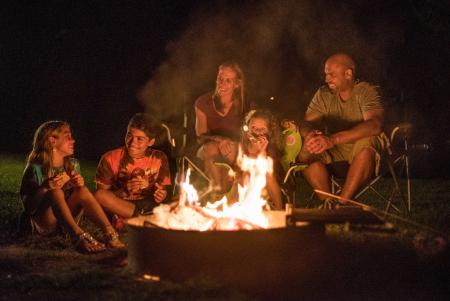 5. & 6. Visit a pumpkin patch & go apple picking
Local farms like Strites Orchard invite families to their fields to pick a plump pumpkin from the patch or collect apples straight from the branch. What will you do with a bushel of apples? Well, you can make pies, apple cider, apple donuts, caramel apples… The list goes on!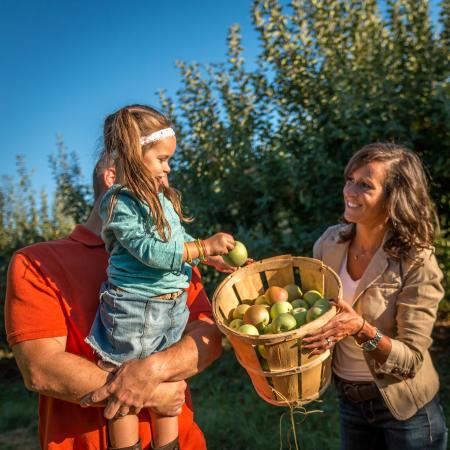 7. Indulge with a slice of pie
Fall pies > pies other times of the year. Using the best of the aforementioned apples, pumpkins, and seasonal fruit, our bakeries serve up little slices of heaven. Pick your favorite flavor at The Hershey Pantry or get a flash-frozen pie from Strites Orchard to take and bake at home!
8. Have a pumpkin-flavored coffee
Some people wait all year long to enjoy pumpkin spice season! Stop by one of our region's cozy cafes and coffee shops for a pumpkin-spiced drink to keep you warm while you sightsee!

9. & 10. Enjoy a hayride and corn maze
These classic fall activities are just a short trip south of Harrisburg at Cherry Crest Adventure Farm. Take the Farm Tour Wagon Ride, a 20-minute behind-the-scenes tour of the property before tackling their most a-maize-ing attraction: the sprawling 5-acre corn maze with 2.5 miles of paths, clues, and Kernels of Knowledge! It'll take you about an hour to navigate the world's most dynamic and interactive corn maze, but they haven't lost anyone yet!  
11. Visit a vineyard
Did you know winemakers harvest their grapes in the fall? This time of year is perfect for touring our region's plentiful vineyards and wineries who have picturesque countryside and mountain views. Not sure where to start? Try the Hershey Harrisburg Wine Country's Cornucopia Wine Quest. We recommend stocking up on some bottles for winter!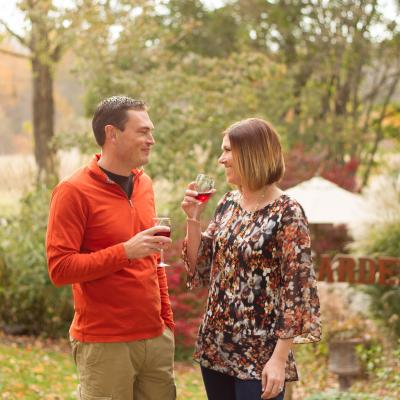 12. Attend a fall festival
Apple harvests, pumpkin parties, and heritage festivals. Just about every weekend in the fall has an autumn adventure for you. Check our Events Calendar to find out what's going on while you're here.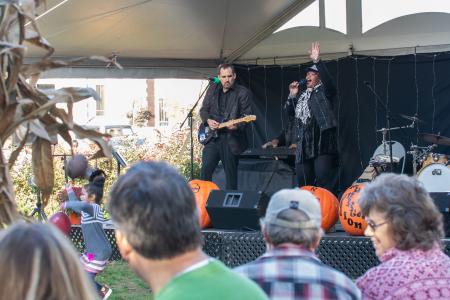 13. Do some fall shopping
Find rustic décor and treasures to give your home that cozy fall feel or purchase local artwork that'll bring the season's colors into your living room. Pick a fall candle, browse sweaters and boots, or start your holiday shopping at one of our small shops, antique stores, malls, and outlets.
14. Take a hike
There's no better place to enjoy the multi-colored masterpiece than under a canopy of falling leaves. From challenging day hikes that culminate in gorgeous panoramic views to nature walks where spotting the wildlife is just as exciting as the pretty leaves, take a hike while you're here.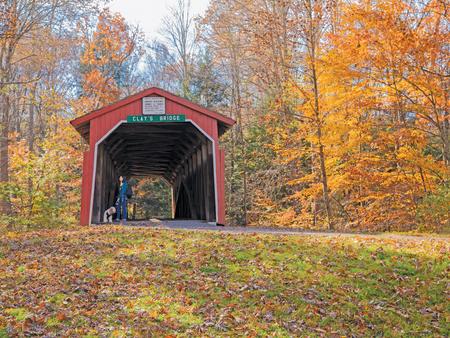 15. Taste seasonal chef specialties
Our farm-to-table restaurants build their menus from the best of what's in season. Since fall is the most fruitful time of year for foodies, you'll find plenty of delicious, unique dinners to satisfy your palate.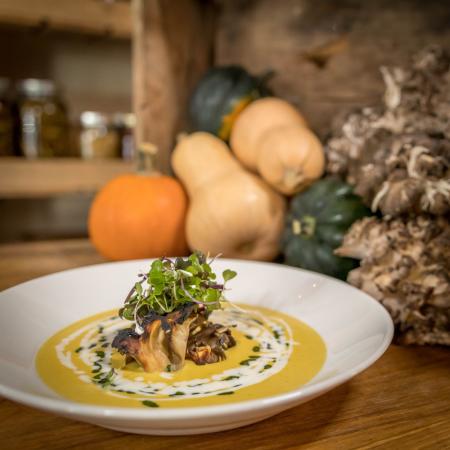 16. Drink pumpkin beer
Just like the chefs, our brewmasters have seasonal selections on tap that'll have you taking a big swig of fall. Tröegs Independent Brewing released Master of Pumpkins, an impressive 7.5% ABV brew that's naturally fermented and subtly spicy with notes of cinnamon, clove, ginger, and nutmeg. At The Millworks, sample their Apple Spiced Saison brewed with sweet apple cider that compliments the spice of the Saison. Zeroday Brewing Company has a Chai Novelty IPA, brewed with chai spices and milk sugar that reminds us of a creamy, delicious chai latte, but in beer-form!
17. Stay at a B&B
There's something about B&Bs that elicit cozy, warm feelings that pair well with the cool, crisp fall air. Find a modern bed & breakfast in the city or a countryside abode near a stable. For those looking to avoid the hustle and bustle of a hotel, a quaint B&B is a perfect choice for your getaway.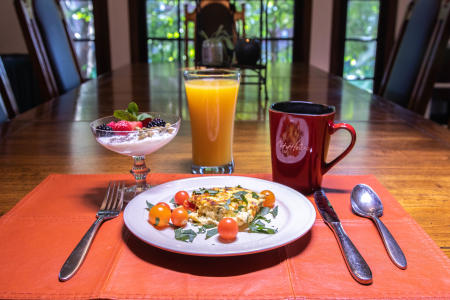 18. Visit a farmer's market
Skip the supermarket and bring home farm-fresh produce, essential ingredients for any fall-flavored dish. Look for PA Preferred products which are our state's highest, quality agricultural goods. Some of our favorite markets are Broad Street Market (Thurs. through Sat.) and Farmers Open Air Market at the Farm Show Complex (Tues. & Fri.)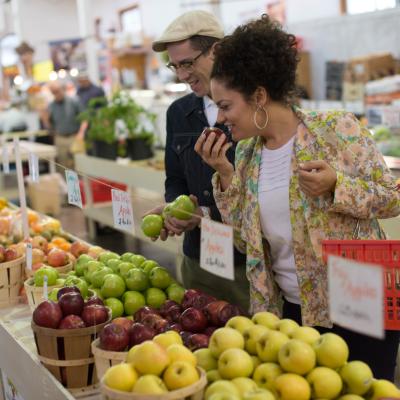 19. Take your holiday card family photo
While the leaves are pretty and your family's wearing their best outfits, arrange a quick photoshoot to get the perfect portrait for your holiday greeting cards. Hershey Gardens and Fort Hunter, are great starting points, and here's a list of our favorite photo op spots.
We're looking forward to fall, family fun, foliage, festivals, farms, and fresh food!