The Harrisburg music scene has exploded in recent years. Bands and artists of all types and renown are making their way through our capital city. Some venues and institutions, like Harrisburg Symphony Orchestra and the Whitaker Center, have been around for years, but smaller venues like the River City Blues Club and Millworks have recently opened, expanding Harrisburg's musical palate. Many of the newer venues are also restaurants, so it's never been easier to enjoy the best Harrisburg live music available.
Music comes in many forms, and so do our ideas about what makes an evening truly magical. Whether you want to dance along to the beat of the latest pop hit, rock out to screaming guitars or share a romantic evening with the classics from a by-gone era, the Midstate has a venue that is excellently paired to your tastes.
With that in mind, we've collected a list of the best music venues in Harrisburg, PA. Some host America's largest bands, others invite touring artists still trying to make it big and others focus on Harrisburg's excellent local music.
We've highlighted each venue's romantic advantages and included a quick reference guide to make planning a little easier. We've also mixed up our selections to feature a wide variety of venues – some have been around for a while and others are brand new. Some host enormous crowds while others offer a more intimate setting. Regardless of your musical preferences, one of these venues is sure to be the perfect setting for your next date night.
Harrisburg Midtown Arts Center
Often referred to as either HMAC or the Stage on Herr, this venue in the heart of Midtown Harrisburg hosts a diverse music scene. An excellent array of jazz, rock, and pop artists have all graced the stage at one point or another.
Most of the concerts focus on presenting smaller, independent touring artists, often supported by local openers. In addition, HMAC offers karaoke nights and hosts other cultural events, like stand-up comics and performance art.
Adding to the date appeal, HMAC recently opened its new Kitchen and Gallery Bar, providing Southern fare in a fast-casual environment. The bar was designed for diners looking for a relaxing dinner and people who want to grab a quick bite before a show. If you want to get straight to the drinks, there's a bar next to the stage as well.
HMAC is a great place for couples who want to let loose, have a few drinks, and soak in some lively Harrisburg local music.
Specifics:
Musical Style: Diverse, with an emphasis on rock and pop
Food/Drinks: Yes
Age Requirements: Under 21 only admitted with a guardian
Parking: Street only. Metered until 7pm Monday thru Saturday
Average Ticket Cost: $5-$15
Whitaker Center
Stage events at the Whitaker Center are hosted at the Sunoco Performance Theatre, a modern and inviting concert hall in Downtown Harrisburg. With accommodation for 700 guests, there isn't a bad seat in the house, and both lighting and sound are state of the art.
The Center focuses on bringing in performers who appeal to a wide range of tastes, but shows skew toward classic rock, folk, and classical music. The Whitaker Center is surrounded by a wide range of other downtown attractions, such as up-scale restaurants and cocktail lounges.
A night at the Whitaker Center can easily be paired with dinner before a show and drinks afterwards, but be sure to buy your tickets ahead of time. The venue is intentionally intimate, so events are prone to selling out.
Specifics:
Musical Style: Classic Rock, Folk and Classical
Food/Drinks: None on sight, but in close proximity to downtown bars and eateries
Age Requirements: All ages
Parking: Street parking and downtown parking garages. Metered until 7pm Monday thru Saturday
Average Ticket Cost: $25-$75
Harrisburg Symphony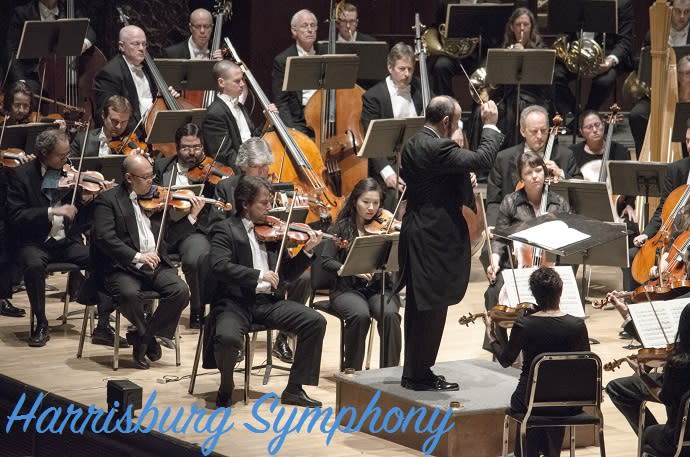 We're fortunate to have a symphony orchestra of such high quality in a city the size of Harrisburg. Directed and conducted by the highly-acclaimed Stuart Malina, the Harrisburg Symphony Orchestra has been performing since the 1930s. Most of the symphony's concerts take place within the gorgeous Forum, a sight worth seeing in its own right, complete with geographic murals and stunning art-deco fixtures.
If you're looking for a classy date, this is the perfect option. Local restaurants, including Bricco, Stocks on 2nd, Carley's, Mangia Qui, and Lancaster Brewing Company, offer special discounts when you present your concert tickets, making a sophisticated evening a little easier on the budget. Consider enjoying a romantic meal at one of these superb eateries before heading over to one of the best live music venues in Harrisburg.
Specifics:
Musical Style: Classical
Food/Drinks: Light concessions
Age Requirements: All ages
Parking: Street parking and Walnut St. Garage. Metered until 7pm Monday thru Saturday
Average Ticket Cost: $15 - $82 for individual tickets; $50-$350 for subscription tickets
Italian Lake Concert Series

You can't go wrong with free Harrisburg concerts for couples. Hosted by Harrisburg Young Professionals, this free Harrisburg summer concert series takes place along the picturesque Italian Lake in Uptown Harrisburg. Featuring locally and nationally renowned jazz and classical performers, this family-friendly, relaxed atmosphere lets you enjoy world class music without all the trappings of the concert hall.
Bring your own blanket or lawn chair, or sit on the grass and take in the beautiful setting and sounds. This is a perfect option for couples looking to share a romantic picnic or get a little cozier than they might be able to in a theatre.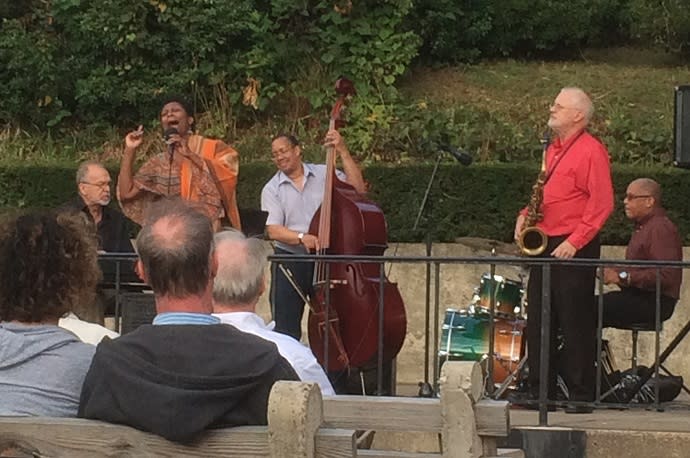 Make sure to check the calendar ahead of time because there's typically only one concert per month during the seasonable part of the year. If your idea of the perfect date is a picnic accompanied by a romantic serenade, this outdoor musical event is worth penciling onto your calendar.
Specifics:
Musical Style: Classical and Jazz
Food/Drinks: Pack your own
Age Requirements: All ages
Parking: Free street parking
Average Ticket Cost: Free
Giant Center
If you want a national act with a full-production sound and light show, grab some tickets to the Giant Center. If a top 40 artist is coming through the Midstate, this is where they'll stop. Rappers, country singers, and hair metal bands alike make their way to the Giant Center.
The arena is just a few doors down from Tröegs Brewery, one of the nation's most acclaimed microbreweries. Remember that before a concert, you won't be the only ones looking for a beer and a bite to eat, and the brewery can get quite busy. If you don't want to brave the crowds at Tröegs, there are concessions, including beer, available at the venue. This isn't the most classically romantic venue on the list, but if you're both music lovers and your favorite band is stopping by, you will not be disappointed.
Specifics:
Musical Style: Rock, Country, Pop
Food/Drinks: Concessions
Age Requirements: All ages
Parking: Charged parking
Average Ticket Price: $30-$150
Hersheypark Stadium
Like the Giant Center, Hersheypark Stadium hosts some of the largest touring acts that come through the Midstate, but there's something special about taking in a summer concert under the stars. All summer long, the sound of the biggest bands on the planet fills the night sky.
Unlike the Giant Center, tailgaters can arrive early and hang out, grill and share a few beers before the show begins. If your idea of the perfect date is a night of high-decibel arena rock, Hersheypark Stadium is the region's best. Make sure to dress for the weather and maybe pack a pair of ear plugs. This is definitely a venue for the couple who likes their music loud.
Specifics:
Musical Style: Rock, Country, Pop
Food/Drinks: Concessions
Age Requirements: All ages
Parking: Charged parking
Average Ticket Price: $40-$150
River City Blues Club
One of the newest music venues in Harrisburg, the River City Blues Club aims to please a specific type of music fan. River City is inspired by the smoky blues halls of the past, where all of life's pains were channeled through a guitar and a stiff drink.
Booking both local artists and nationally acclaimed blues singers, this is a small venue that is tapping into a big piece of musical history that is still very much alive. True to form, the bar boasts a large whiskey selection that pairs perfectly with the club's soul-inspired food menu.
If the sultry sounds of the Delta are your idea of romance, River City is one of the premier music venues in Harrisburg for couples.
Specifics:
Musical Style: Blues
Food/Drinks: Yes
Age Requirements: 21+
Parking: Free on-site
Average Ticket Cost: Free-$15
Millworks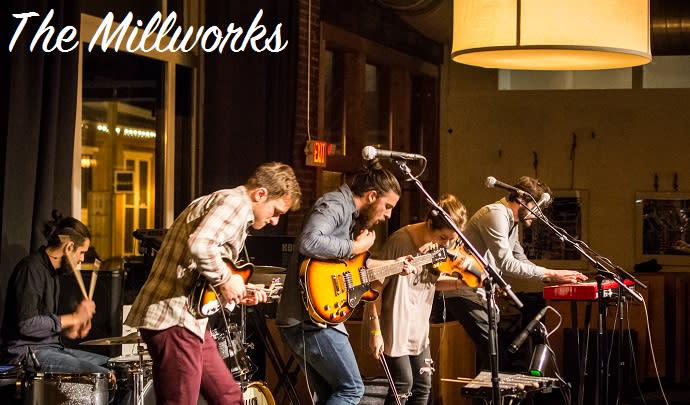 Millworks recently opened in Midtown Harrisburg. A farm-to-table restaurant located right next to the Broad Street Market, Millworks boasts an artisan menu along with a well-stocked bar highlighting local beers and spirits. The building also hosts a gallery and studio spaces for Harrisburg area artists.
Visual art and food is Millworks' primary focus, but it's also committed to bringing in interesting musical artists that match its independent aesthetic. The bands that play at Millworks are the type that music bloggers rave about but are still under the mainstream radar.
Visit Millworks to try one of Harrisburg's most intriguing new eateries. Combining a show with dinner is the perfect way to try something new.
Specifics:
Musical Style: Indie, Rock, Pop
Food/Drinks: Yes
Age Requirements: 21+
Parking: Free on-site
Average Ticket Cost: Free
Abbey Bar
Located above the Harrisburg Appalachian Brewing Company location, the Abbey Bar has been a mainstay in the Harrisburg music scene for over a decade. With a focus on more jam-oriented rock music, shows tend to be high energy, perfect for a couple who doesn't mind a little ringing in their ears when they head home.
The bar serves a number of its own beers along with a number of famed imports and spirits. It's a great place to take in a hard-rocking show while sharing a couple of good drinks. Food is primarily served downstairs, so it's easy to arrive a little early and share a good, American pub-style meal.
If you visit Abbey Bar, finish your conversations before the music starts because once it begins, you won't be able to do much talking.
Specifics:
Musical Style: Rock, Jam-band, Reggae, Dance
Food/Drinks: Yes
Age Requirements: 21+
Parking: Free on-site
Average Ticket Cost: $5-$15
Market Square Concerts
This classical concert series brings the intimate artistry of chamber orchestras to the Midstate. The Harrisburg Symphony tackles the great orchestral pieces of our time at an impressive scale, but chamber ensembles that consist of a handful of musicians grant you the chance to get more personal with a performance.
Market Square rotates its concerts through a number of locations, such as:
Market Square Presbyterian Church
Temple Ohev Sholom
The Whitaker Center
Harrisburg Area Community College's Rose Lehrman Arts Center
These smaller venues are perfectly suited for presenting chamber music with their close seating and intimate size. The performers are world renowned, often hailing from abroad or at a residency at some of music's most revered institutes.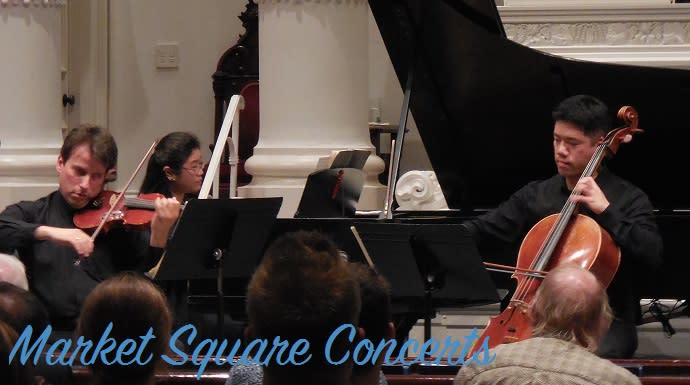 Like the Harrisburg Symphony, certain local restaurants offer a discount when you present your concert ticket. So dress up, enjoy an elegant meal, and spend a romantic evening with some of the best compositions played by the world's greatest musicians.
Specifics:
Musical Style: Classical
Food/Drinks: No
Age Requirements: All ages
Parking: Varies according to site
Average Ticket Cost: $35
Enjoy the Best Live Music in Harrisburg for Couples
From blues to country, classical to rock, whatever your tastes, the Harrisburg, PA music scene is helping put this small city on the musical map. Bands from all over the world are stopping in the Midstate, and a blossoming music scene is perfect for couples wanting to share a memorable date.
Regardless of the music you prefer, we hope our guide to Harrisburg's music scene has made planning your perfect date night a little easier. There's no need to limit yourself to one good idea. As bands and artists come and go, Harrisburg music venues will continue to evolve. And so too will your relationship. Here's to hoping that your relationship keeps going strong so that you can spend a lifetime exploring the Midstate's music scene with the person you love.