If you haven't had the chance to see the Pennsylvania State Capitol Building, Christmas is a wonderful time to visit! In the already beautiful Capitol Rotunda, you'll find a towering tree and holiday decorations inside and out. It's like our own little Rockefeller Center Christmas celebration. 
The Tree 
The 2022 tree will be lit in early December! The centerpiece of Christmas at the Capitol is a Douglas Fir tree donated each year by the Pennsylvania Christmas Tree Growers Association. Upon entering the Capitol Rotunda, you can smell the fresh pine needles, a scent that is distinctly Christmas! 
The tree gets its sparkle from more than 800 LED light bulbs that shine brightly while conserving energy. Its 500 ornaments are designed by the area's senior citizens and preschool children, adding a touch of local handiwork to the display.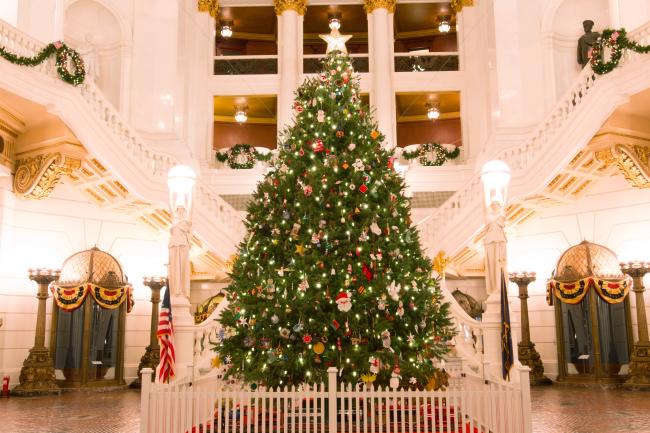 In early December each year, Governor Tom Wolf hosts a tree lighting ceremony, a Harrisburg tradition, where he'll officially flip the switch to Christmas.   
Throughout the holiday season, visitors can enjoy a serenade of carolers and choirs performing on the steps behind the tree. The Capitol also celebrates the Jewish holiday, Hanukkah, the Festival of Lights, by lighting Harrisburg's largest menorah. 
Take a Tour 
While you're here celebrating the holidays, we recommend a stroll through the Capitol building on a guided tour that's offered free of charge and several times daily. As you explore, you'll learn about the Capitol's artistic and architectural highlights and the history of the building that President Theodore Roosevelt called "the handsomest building" he'd ever seen. The Capitol has a famous collection of stained glass windows, indoor and outdoor sculptures, and impressive murals and paintings.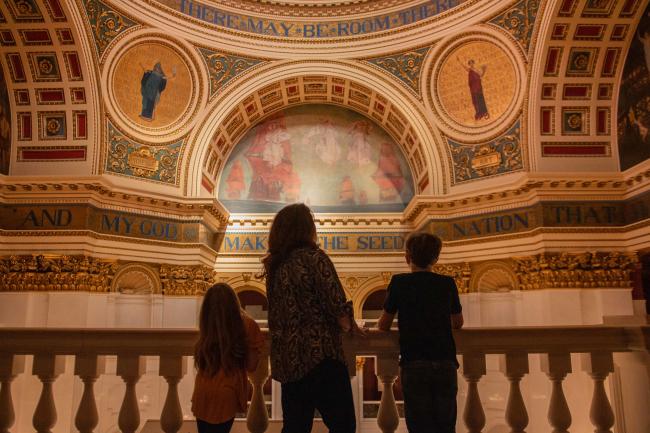 In the Welcome Center in the East Wing, embark on a self-guided and interactive journey through Pennsylvania history and the legislative processes of the Commonwealth. There are wheels to crank, buttons to push, videos to see, and even trivia answers to stomp on! Sit in the seats of our Pennsylvania legislators as you learn about the voting process and how a bill becomes law, while the kids marvel at the Commonwealth statue, modeled after the golden figure atop the Capitol dome yet made entirely of yellow LEGO® bricks.
Make the Capitol building a stop on your Hershey Harrisburg Region holiday tour!