If you're visiting us over the weekend but can't imagine missing the big game, we have several MVP sports bars to try! Robust casual food menus with burgers and wings, impressive craft beer lists, and dozens of screens broadcasting the big game and every other kind of sport. Game on!
Boro Riverview
Menu | Location | Gotta Try: Their wings
Here you'll find the best wings in town (seriously, they won "Simply the Best" wings in Harrisburg Magazine's 2018 reader poll) that pair perfectly with a gorgeous view of the Susquehanna River from their patio. The trophy-winning Boro Wings come with generous sauces and/or zesty dry rubs so get creative: Medium Old Bay, Honey and Hickory, Mango Habanero to name a few! They've also got a lineup of specialty burgers made with Certified Angus Beef®. The Bo Schembechler burger comes with American cheese, bacon, and a fried egg, the Tom Brady includes grilled ham, tomato, bacon, Cheddar cheese, and BBQ sauce, and the Jon Runyan arrives topped with pulled pork, fried pickles, and your choice of cheese!
"Go for 2": There's a second location in Hummelstown, just a few mins outside Hershey!
Arooga's Draft House & Sports Bar
Menu | Location | Gotta Try: Arooga-Style Wings or Arooga's Crab Pretzel
There was a time when there was just one Arooga's around here, but their impressive menu, energetic atmosphere, and world-famous wings spawned more than a dozen locations. You'll find this Second Street spot in the heart of downtown Harrisburg, with tables spilling onto the streets and the most robust tap selection of any Arooga's restaurant. So what's on the menu? Pretty much anything you can think of: huge salads, juicy Wagyu burgers, bolis, handhelds, fajitas, liquor pitchers, and creative cocktails using their own Sagoora Premium Vodka (see what they did there?). The heart of their menu is their award-winning wing sauces from the National Buffalo Wing Festival including their Hot, Hickory Smoked Honey BBQ, Kangarooga, and their cult favorite, Almost Everything. Order them Arooga-style over a bed of fries and enjoy the game!
"Official Review": Arooga's was named Harrisburg Magazine's 'Reader's Choice' for Appetizers and 'Simply the Best' Sports Bar!
The Bears' Den
Menu | Location | Gotta Try: A Signature Burger
Homebase for Hershey Bears® hockey fans, The Bears' DenSM at Hershey LodgeSM is unlike any restaurant in town. The floor looks like a rink, the round tabletops resemble pucks, and jerseys and memorabilia line the walls, making this an essential stop for any hockey fan. When it's not hockey season, they'll broadcast all kinds of sports on their 28 screens or the 7' by 12' HD video wall! Their hockey themed-menu includes 'Power Play' loaded grilled cheese sandwiches, 'Bench Strength' entrees, 'Left & Right Wingers' jumbo chicken wings, and because you're in Hershey, 'Overtime' chocolate desserts. Their Signature Burger line up includes mouthwatering options like a Mac and Cheese Burger, a Chocolate BBQ Pulled Pork Burger, and for the very hungry, The Grizzly, a 12oz. Signature Beef Burger with smokehouse bacon, blue cheese, lettuce, tomato, and onion on a grilled onion brioche bun.
"Extra Point": They also serve breakfast with an impressive buffet and M-T-O omelets!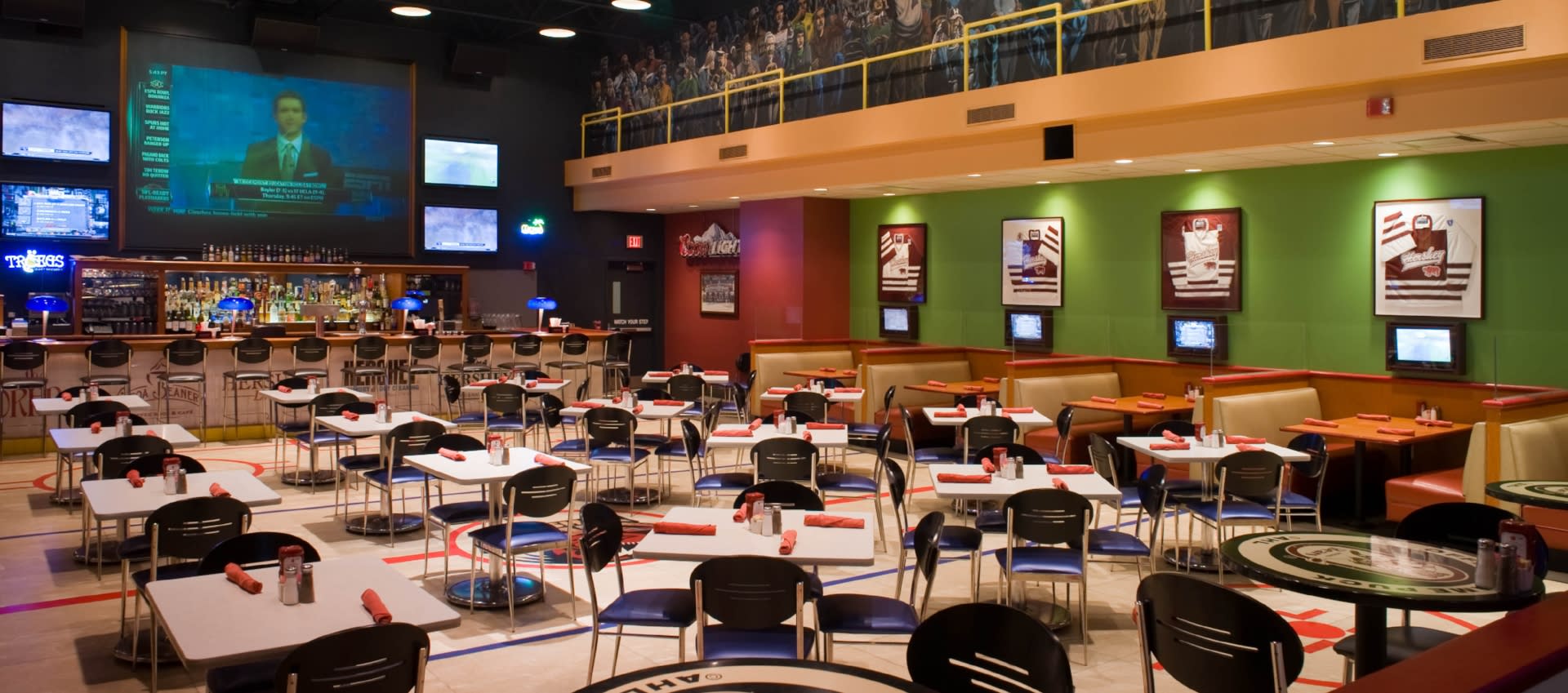 Hollywood Skybox Sports Bar
Menu | Location | Gotta Try: Hollywood Fries
It's your best bet for a good time at the Hollywood Skybox Sports Bar at the Hollywood Casino at Penn National Race Course. Their menu includes a 'Starting Line-Up' of casual appetizers like crispy pickles, nachos, quesadillas, pretzels, and Signature Hollywood Fries. Choose one of their loaded, shareable selections like Philly Cheesesteak Fries, Crab Fries, or Buffalo Chicken Fries. Pizza and boli lovers will enjoy their house-made dough, and hearty food fanatics can score big with one of their entrees including steaks, salmon, and crab cakes.
"Post-Game": If your team didn't win, maybe you still can! Head to the casino floor to try your luck on thousands of video slot and poker machines and dozens of table games.
Rookie's Craft Burger Bar
Menu | Location | Gotta Try: One of the Best Burgers in the 'Burg!
How do you like your burger? Chances are Rookie's has a selection for you, and a few you didn't know would become your favorite. The Bronco Burger is piled high with Monterey Jack and Cheddar cheese, onion rings, bacon, and honey BBQ sauce, the Olympian includes Greek Feta cheese, tomato, and red onion, and the Double Dribble layers two patties, three cheeses, and several slices of bacon. For those looking for lean protein, they have marinated chicken breast sandwiches like the Grand Slam topped with Provolone and Parmesan cheeses and marinara sauce. We can't imagine you won't find something you like, but you're welcome to build your fantasy team of toppings for your burger. The Rookie's menu also includes wings, appetizers, sandwiches, salads, wraps, entrees, and you-pick pasta creations!
"Cheering Section": Bring your teammates because Rookie's offers buckets of wings from 36 to 96 pieces with up to three sauces!
Grill 22
Menu | Location | Gotta Try: Wings or a Sandwich
One of Harrisburg's newest restaurants, Grill 22 has a crowd-pleasing menu including wings, thin crust pizza, sandwiches, and entrees. It can be tough to choose between a Cuban sandwich, a Greek wrap, Bangers and Mash, and a Pittsburgh salad, but you're sure to find something delicious. Their wings come with house-made sauces ranging from Mild to Facemelter. The Grill 22 Blend includes sweet BBQ, but just a splash of that Facemelter sauce which is enough to have your eyebrows sweating. If you can't find a seat at the bar, pick a booth or table while still being nearby one of their many TVs.
You might be from the Visiting Team, but we welcome you like a local!