Agritourism is where farms meet fun! While most of our bustling region is urban and suburban, we have our share of agricultural experiences to entertain and educate. Our proximity to farmland, fields, and vineyards offer visitors a chance to try locally grown food, handcrafted wine, beer, and spirits, and more. Check out this list of agritourism ideas for your next visit!
1. Pick Your Own Farms & Orchards
Sure, there are apples at the grocery store, and to some, it might seem a bit odd to take a drive to pick your own fruit. For others who grew up near farms or those who are eager to learn more about where their food comes from, pick-your-own farms and orchards are just the ticket! What's in season? In the summer, you can pick berries and peaches. In the fall, its apples and pumpkins.
Our Picks:

2. Shop at a Farmers Market
You can still enjoy the fruits of our region when others do the picking for you! Visit one of our bustling farmers markets and shop the best of what's in season. In addition to fresh and organic produce, you'll find locally made products like jelly, jam, hot sauce, pasta sauce, salsa, honey, whole bean coffee, BBQ sauce, maple syrup, nut butters, salad dressing, spices, artisan pickles, baked goods, pastries, and more. On your way out of the region, keep an eye out for roadside produce stands as another way to try our flavorful fruits and veggies!
Our Picks:

3. Stay at a Country B&B
Swap your concrete jungle for serene country life when you stay at one of our region's pastoral bed and breakfast locations. Rural accommodations provide the ultimate R&R with plenty of room to stretch out and enjoy the country settings. At The Inn At Westwynd Farm, take a morning stroll with coffee in hand to greet dozens of animals who live on the grounds including horses, goats, and alpaca. Horse enthusiasts can take a seat near the riding ring and watch the horses train.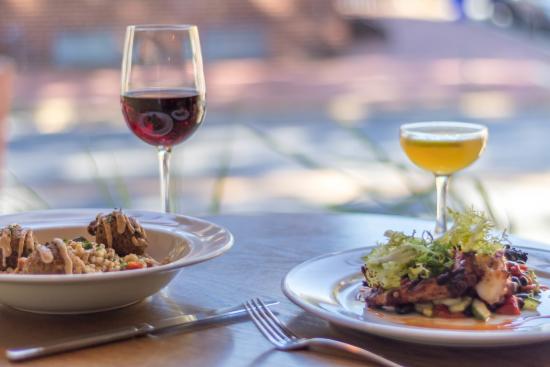 4. Savor Farm-To-Table Food
If you're not picking your own food, from the field or the produce stand, the next best thing is to have our chefs prepare and plate it for you! Farm-to-table restaurants in Harrisburg and Hershey use our region's seasonal harvest to create inspired, flavorful menus that bring farm freshness to you. From fresh herbs for cocktails to sustainably farmed smoked meats, there's nothing better than tasting the flavor of our region.
Our Picks:

5. Visit a Vineyard
Most people don't think of vineyards as farms, but truly, that's what the winemakers are doing – growing and harvesting grapes! You can walk through the vines, ask the growers about their cultivation, and of course, try samples of the products grown just steps from the tasting room. While you enjoy the flavors in your glass, kick up your feet and enjoy sprawling views of the grapevines and countryside. Cassel Vineyards and Armstrong Valley both have horses and other animals that roam the property, adding to that farmland ambiance.
Our Picks:

6. Sample Local Craft Beer and Cocktails
While we don't offer guided tours of our barley and cornfields, you can sip and sample craft beer and spirits made nearby. With so many craft beers and so little time, our craft breweries use local grains and fruit to infuse their brews with superb flavor. Meanwhile, our distillers produce small-batch vodka, whiskey, and gin with locally grown, non-GMO corn, molasses, and other ingredients.
Breweries – Our Picks:
Distilleries – Our Picks:

7. Visit a Petting Zoo
In addition to farms, our region has a few petting zoos where you can get up close and personal to docile, friendly farm animals. Goats, sheep, alpaca, camels, and countless birds, including peacocks, chickens, and turkeys, are eager to say hello!
Our Picks:

8. Mark your calendars for the Pennsylvania Farm Show
Perhaps there's no better place and time to celebrate agriculture than the Pennsylvania Farm Show, held each January at the Pennsylvania Farm Show Complex & Expo Center in Harrisburg. As the largest indoor agricultural exposition in the country, the PA Farm Show welcomes half a million visitors for shows, competitions, demonstrations, exhibits, vendors, shopping, thousands of animals, and one giant butter sculpture! Save the date: January 4-11, 2020
9. Visit Cherry Crest Adventure Farm
This outdoor seasonal attraction has combined farming and family fun for decades, offering more than 50+ farm-tastic activities. Wagon rides, slides, chick hatchery, pedal carts, tractor pull, corn barn, apple blasters, and dozens of adorable farm animals. Their signature activity is their Amazing Maize Maze, one of the top five corn mazes in the world! Cherry Crest is open spring, summer, and fall with different activities for each season.
10. Experience Amish Life
The Amish continue to fascinate visitors and are one of Pennsylvania's most popular tourist activities. While the Hershey Harrisburg Region is mostly urban and suburban, Amish farms are not far away! Just 20-30 minutes south of Harrisburg, you'll find Amish farms and attractions designed to share with visitors the history and experiences of farm life. Take a step back to a simpler time to experience the Amish way of life.
Our Picks:
Here, you can pair city sights with country experiences!