Find the top winter attractions and holiday experiences in the Hershey & Harrisburg Region for 2019. This post is continually updated as new information becomes available so check back often.
You can also see these and more holiday-themed attractions and deals on our blog Holiday Happenings.
HERSHEY
Originally released by HE&R on 9/4/19 - Tis' the season for festive lights, roller coasters, live reindeer and hot chocolate in The Sweetest Place On Earth as Hersheypark Christmas Candylane holiday attraction tickets are now on sale. Beginning Nov. 15, Hershey, Pa. will be aglow with sweet attractions and holiday cheer planned through the end of the year.Town-Wide Events Include Hersheypark Christmas Candylane, Hershey Sweet Lights And More. MEDIA CONTACT FOR HERSHEY ENTERTAINMENT & RESORTS: Amanda Polyak at amspolyak@hersheypa.com or 717-520-5158. Note to Editors: Photos can be downloaded via this Dropbox link. Some information below has been edited by VHH for space and formatting. 
Hersheypark Christmas Candylane
Nov. 15 thru Jan. 1, 2020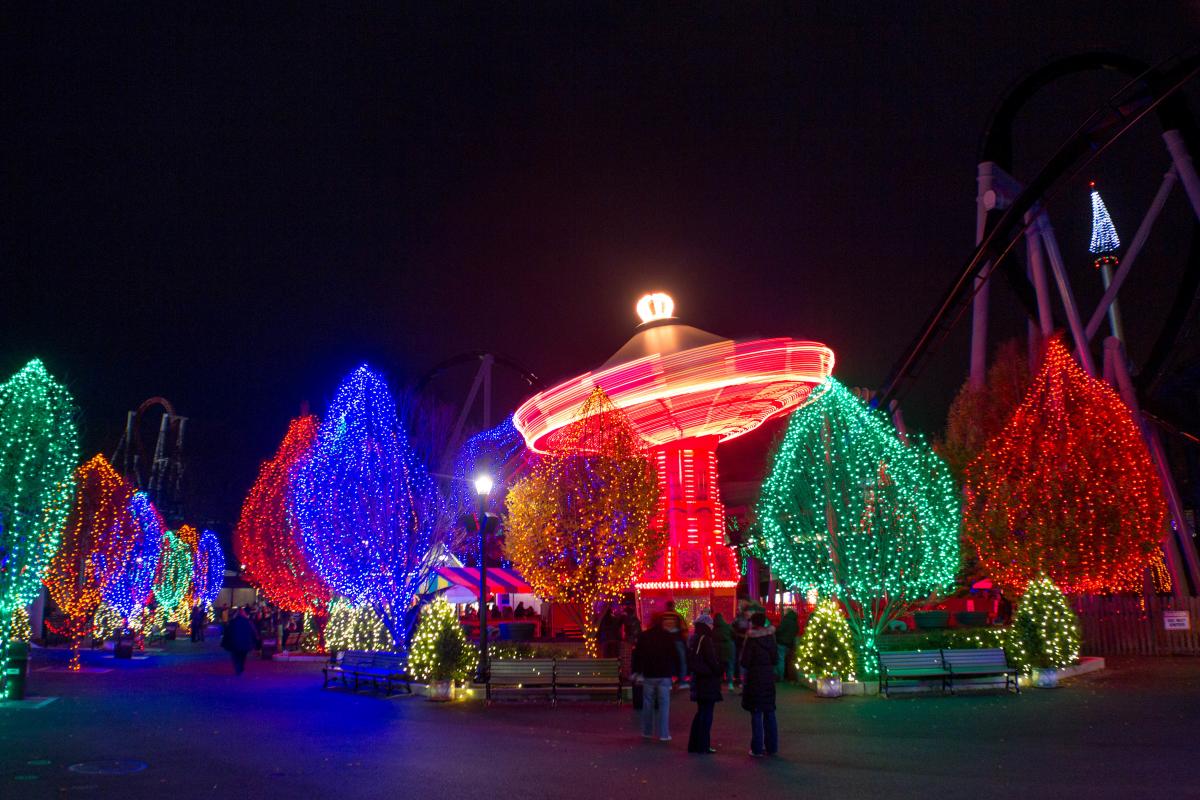 Hersheypark Christmas Candylane features family friendly rides and several roller coasters (weather permitting) with NEW Reese's Cupfusion attraction for 2019.
More than four million sparkling lights will deck the halls of Hersheypark amusement park, including the guest-favorite NOEL light show choreographed with holiday music.
Santa and his reindeer will make a special stop at Hersheypark Christmas Candylane.
This is the only place in the Northeast where families can get an up-close look at all nine live reindeer, including Rudolph, during all hours of operation.
Entertainment will include "The Littlest Tree" holiday show inside the heated Chevrolet Music Box Theatre.
Photos with Hershey Characters in a heated indoor area.
Signature hot chocolate will be available for purchase plus other sweet treats. 
Hershey Sweet Lights
Nov. 15 thru Jan. 1, 2020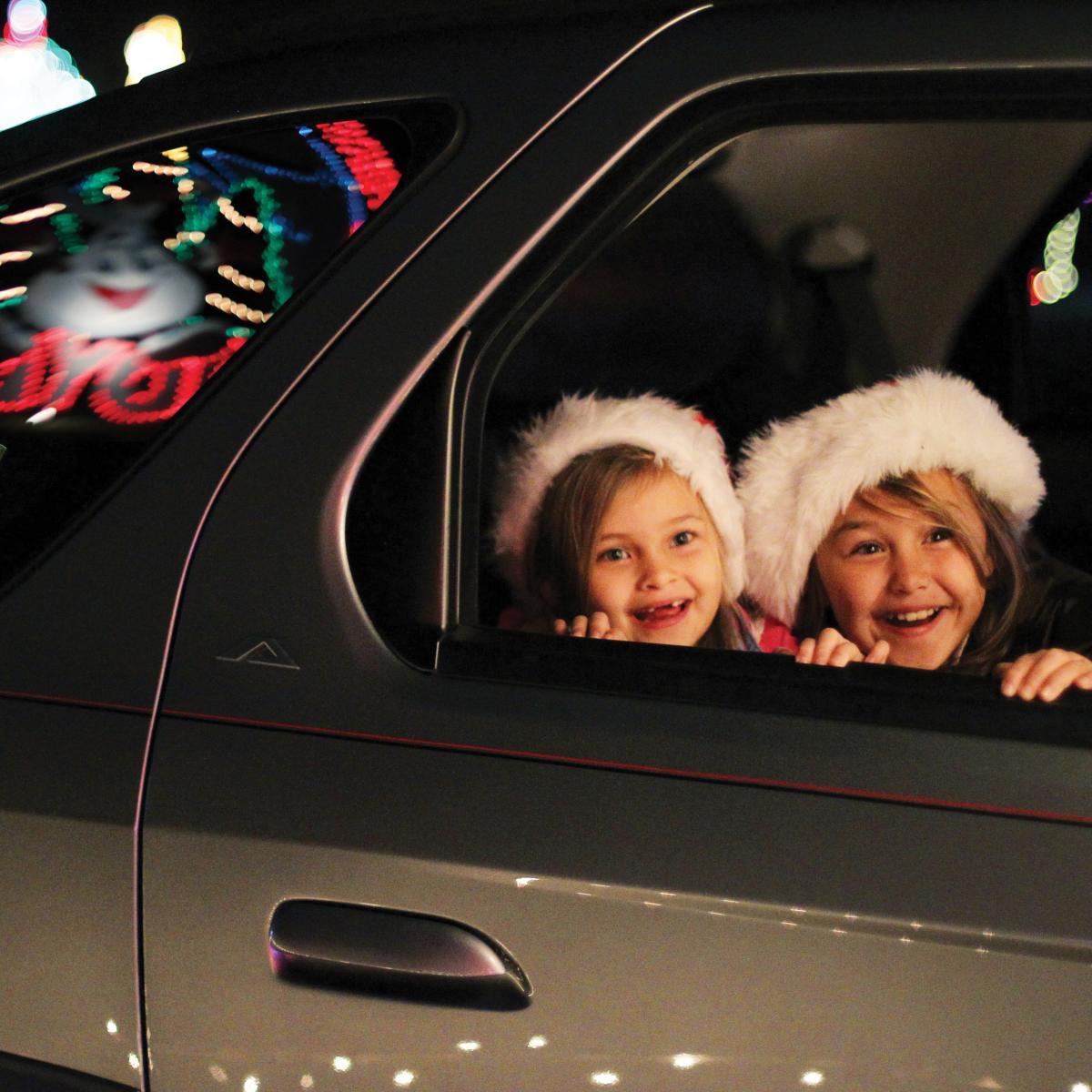 Families can revel in nearly 600 illuminated light displays.
Displays are viewed from the comforts of your cars.
Drive-thru displays stretch for two-miles through a wooded trail.
Attraction includes holiday music available on your car radio.
The Hotel Hershey + Hershey Lodge + Hersheypark Camping Resort
Visitors can stay overnight at The Official Resorts of Hersheypark for a sweet holiday getaway.
Guests enjoy free resorts benefits like complimentary front gate shuttle service to and from Hersheypark.
Free admission to Hershey Gardens and The Hershey Story Museum Experience. 
Breakfast with Santa and Hersheypark Christmas Candylane packages during the holiday season.
The Hotel Hershey will also offer a Lunch with Santa package.
All packages include deluxe accommodations, admission to Hersheypark Christmas Candylane and Hershey Sweet Lights, plus various dining experiences.
The Hersheypark Christmas Candylane package includes a milk and cookie delivery.
Overnight guests of Hershey Lodge will receive exclusive access to Hershey's Water Works at Hershey Lodge indoor pool complex.
Hersheypark Camping Resort campground is also open to guests year-round and features two-bedroom deluxe log cabins, perfect for the holiday season.
Deluxe Cabins sleep up to seven guests and provide campers with amenities such as heat, bathroom with a shower, kitchenette, dining area and living room area with a sofa and TV.
GIANT Center + Hershey Theatre Shows
Nov. + Dec. 2019
Nov. 1-3: A Bronx Tale at Hershey Theatre
Nov. 6: Disney Junior Holiday Party at Hershey Theatre
Nov. 6: Slayer at GIANT Center
Nov. 8-9: Menopause the Musical at Hershey Theatre
Nov. 10: Bill Maher at Hershey Theatre
Nov. 17: Colin Mochrie & Brad Sherwood: Scared Scriptless at Hershey Theatre
Nov. 21-24: Jurassic World at GIANT Center
Nov. 22: Goo Goo Dolls at Hershey Theatre
Nov. 24: Straight No Chaser at Hershey Theatre
Dec. 3-8: Once On This Island at Hershey Theatre
Dec. 10-11: The Elf On The Shelf: A Christmas Musical at Hershey Theatre
Dec. 13: Trans Siberian Orchestra at GIANT Center
Dec. 14: Hershey Symphony: Holiday Spectacular at Hershey Theatre
Holiday Dining in Hershey
There is no better place to eat, drink and be merry than The Sweetest Place On Earth.
Seasonal menus and special Thanksgiving and Christmas dining options are available.
ZooAmerica North American Wildlife Park
The 11-acre zoo that cares for more than 200 animals is open year-round.
Two educational programs are offered during the holiday season.

Wild Winter Treats (Select days in December): Zoo guests can watch the animals enjoy a special winter treat. 
Wild Winter Adventures (Morning and afternoon sessions on select days in December):
Participants will learn how animals survive the cold, participate in making animal enrichment activities, enjoy a snack, visit the reindeer in Hersheypark, and more.
Pre-registration is required.
Spas in Hershey
www.MeltSpa.com
www.ChocolateSpa.com 
Both MeltSpa by Hershey day spa and The Spa At The Hotel Hershey resort spa will offer collections inspired by the season.
Make an appointment now to relieve the hustle and bustle of the holidays.
Individual treatments and packages are available.
The Hershey Story Museum
Little Elves Workshop

Select dates from Nov. 23 thru Dec. 31 from 10am - 2pm.
Participants will roll, cut and decorate a holiday ornament using chocolate clay, icing and ribbon.
They can also decorate a box to hold the keepsake. 
Sensory-Friendly Little Elves Workshop

Nov. 23 and Dec. 28 from 9 to 10am.
Guests with sensory-related sensitivities and their families or caregivers are invited to roll, cut and decorate a holiday ornament made of chocolate clay.
They may also play with vintage toys and take a photo against a wintry backdrop.
Snowball Saturdays

Dec. 7, 14, 21 at scheduled times between 10am - 2pm.
Kids will have a blast participating in a friendly indoor snowball fight during this holiday event.
Children can also visit with the Hershey Bears hockey mascot and hear stories about wintertime fun. 
Holiday-Themed Chocolate Lab Classes

Nov. 16 thru Jan. 1, 2020 at various times.
Visitors will learn about the history of chocolate and chocolate-making process during holiday-themed chocolate lab classes.
A purchased ticket is required and individuals must be at least 5 years old to enter the lab. 
New Year's Eve Countdown

Dec. 31 from 11am to 3pm.
Kids can celebrate New Year's Eve during the day.
Event includes Hershey's product characters and "bubble wrap stomps" at 11am, 1pm, 3pm.
Hershey Gardens
The Christmas Tree Showcase at Milton & Catherine Hershey Conservatory

Nov. 23 thru Jan. 1, 2020.
Times: 9am - 5pm.
The Welcome Pavilion and Butterfly Atrium will also be decorated for the holidays.​
A stunning 14-foot poinsettia tree will take center stage.
Each tree will be exquisitely decorated by a different local florist.
Each tree will feature a variety of tree decorating styles and themes.
Crafty Christmas Creations at the Education Center in The Children's Garden

Select dates from Nov. 23 thru Dec. 31, 2019
Times: 11am - 2pm.
Families can enjoy some fun holiday craft making.
Includes a special display of trees decorated with ornaments made by local students.
Visit with Santa at Educational & Horticultural Wing of the Milton & Catherine Hershey Conservatory

Dec. 7 and 14, 2019.
Times: 11am - 2pm.
Hershey's Chocolate World Attraction
www.Hersheys.com/ChocolateWorld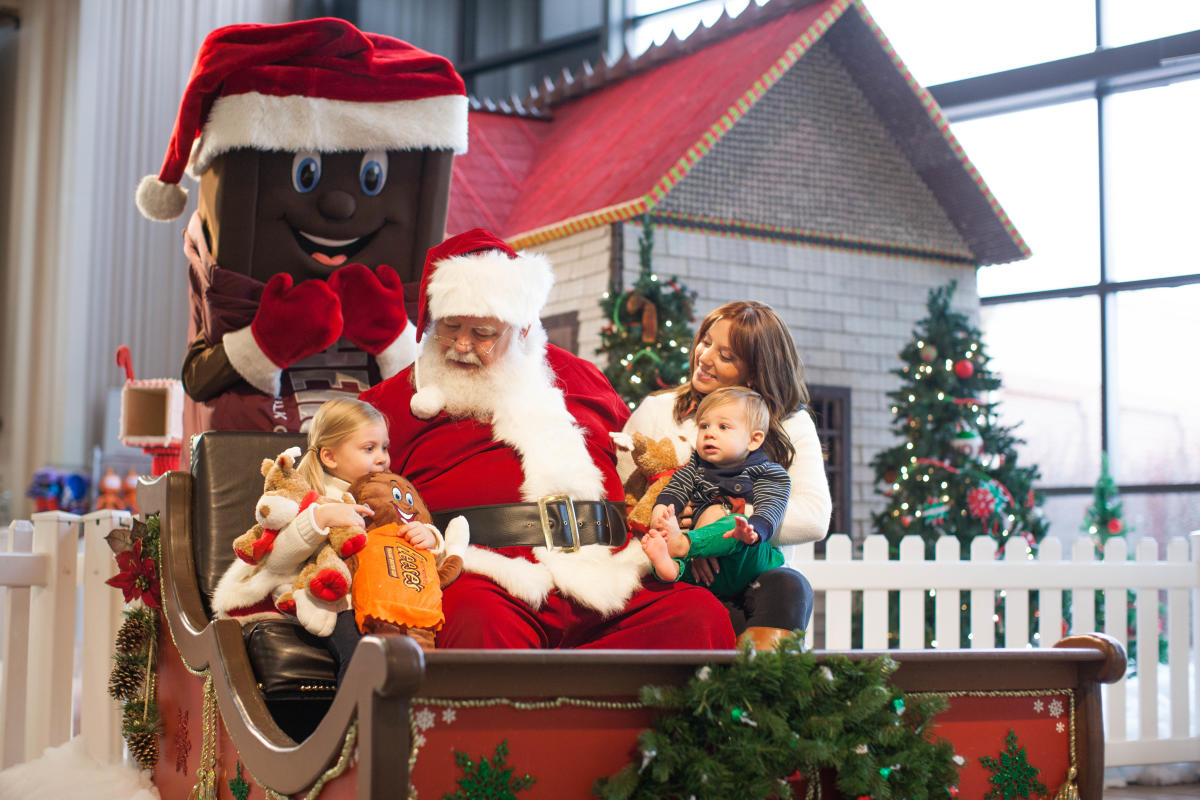 Breakfast with Santa

Nov. 16-17, 23-24 and 29-30, and Dec. 1, 7-8, 14-15 and 21-22
Times: 7:15am to 9am.
Families can start the day in a merry way by joining Santa and Mrs. Claus for a warm breakfast buffet.
Featuring signature Hershey's items like chocolate chip pancakes.
A portrait with Santa.
Children's gift from Santa.
Cookie decorating station.
Amazing Candy Machine experience.
Visits from the Hershey Characters.
4D Chocolate Mystery Show will also be included in this seasonal event.
Sweet Lights Trolley

Select dates and times in Nov. + Dec.
Guests of all ages can journey through Hershey Sweet Lights on board an old-fashioned trolley.
Experience complete with chocolate, carols and creative commentary from the conductors.
Holly Jolly Trolley

Select dates and times in Nov. + Dec.
Features caroling, jingling and special surprise guest appearance by Santa.
Hershey's Holiday Chocolate House

Nov. 15 thru Jan. 1, 2020
During operating hours: See website for details.
The annual Hershey's Holiday Chocolate House supports the Children's Miracle Network.
This unique display is decorated entirely with Hershey's chocolate and confections. 
For additional information, hours, ticket offers and pricing for all holiday happenings in Hershey, please visit www.HersheyPA.com.  
Note to Editors: Photos can be downloaded via this Dropbox link.  
About HE&R: Hershey Entertainment & Resorts (HE&R) is a world-class entertainment and hospitality company dedicated to preserving the legacy of Milton S. Hershey. Founded in 1927 by Milton S. Hershey, HE&R and its subsidiaries own and/or operate the Hersheypark amusement park, Hersheypark Arena & Stadium, ZooAmerica North American Wildlife Park, Hershey Bears AHL Hockey Club, GIANT Center arena, The Hotel Hershey luxury resort, Hershey Lodge resort and convention center, Hersheypark Camping Resort campground, The Spa At The Hotel Hershey resort spa, MeltSpa by Hershey day spa, Hershey Country Club and Hershey Golf Collection, Hershey Nursery, and Hershey Laundry & Dry Cleaning. For additional information about HE&R, visit www.HersheyPA.com. © 2019 Hershey Entertainment & Resorts Company. All words, designs, and phrases appearing in bold, italics, and/or with the symbol ®, SM, or TM are trademarks owned or used by Hershey Entertainment & Resorts Company under license or with permission. All other trademarks are owned by their respective owners. All rights reserved. Hershey Entertainment & Resorts Company is proud to help fulfill the dream of our founder, Milton S. Hershey, by providing value to Milton Hershey School® in its mission of helping students lead happy, healthy, and fulfilling lives - just as Mr. Hershey intended. Learn more at mhskids.org. 
Whitaker Center for Science & the Arts

House Party!
Kunkle Lobby and Select Medical Digital Cinema
Nov. 2, 2019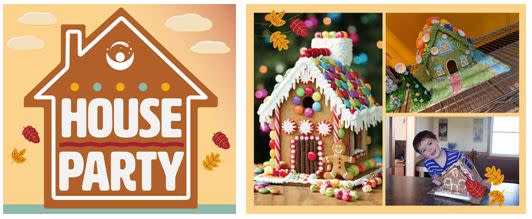 Ticket includes the following activities:
Bounce House/Dance Party
Gnomeo and Juliet 3D with Popcorn & Soda
Gingerbread House STEM Activity
Get more details using link above.
Gingerbread House Display & Contest
Harsco Science Center
Register by Nov. 19, 2019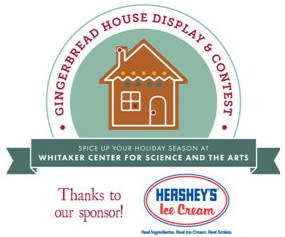 Call for entries for Whitaker Center's 3rd Annual Gingerbread House Display & Contest.
Register no later than Nov. 19, 2019.
Gingerbread houses will be on display throughout Whitaker Center's lobby beginning Nov. 21 thru Jan. 7, 2020.
Space is limited, so please register early.
Houses can be constructed of any edible materials.
Please visit the website for more info on construction guidelines, drop off dates, etc. 
Whitaker Wonderland
Harsco Science Center
Nov. 21 thru Jan. 6, 2019
See Complete Listing of Wonderland Experiences + Events
A fun indoor winter holiday exhibit for the whole family.
Take a few laps around the sock skate rink.
Check out the snowball pit.
Snowman Build - New This Year!
Don't miss this fun indoor winter experience!
The Polar Express
Select Medical Digital Cinema
Nov. 23 thru Dec. 15, 2019
No holiday season is complete without a viewing of The Polar Express.
Experience this movie in the cinema with a four-story screen and immersive sound quality.
A Motown Christmas
Sunoco Performance Theater
Nov. 26 at 7:30pm
The Motown Experience is an all-star lineup of world class vocalists drawn from the ranks of the legendary groups that made many of these hit timeless classics.
This dynamic vocal group is assembled from members of:

The Capitols (Cool Jerk),
The Miracles (Rock & Roll Hall Of Fame and Hollywood Walk Of Fame Inductees) and
Former members of The Temptations.
Get The Led Out
Sunoco Performance Theater
Dec. 5 thur 7, 2019
Get The Led Out (GTLO) has captured the essence of the recorded music of Led Zeppelin and brought it to the concert stage.
The Philadelphia-based group consists of six veteran musicians intent on delivering Led Zeppelin live, like you've never heard before.
Utilizing the multi-instrumentalists at their disposal, GTLO re-create the songs in all their depth and glory with the studio overdubs that Zeppelin themselves never performed.
Harrisburg's 46th Annual Candlelight House Tour
Sunday, Dec. 8, 2019 -- One-Night Only!
Tickets are available at www.HistoricHarrisburg.com (while supplies last!)
Tickets are typically $20/pp in advance & $25/pp Day-Of-Tour.
Organized by The Historic Harrisburg Association since 1973.
Oldest & Largest Tour of its kind in the Mid-Atlantic Region.
Tour some of Harrisburg's most impressive homes and historic buildings.
In 2018 more than 1,200 people attended this one-night only event.
PA Capitol Complex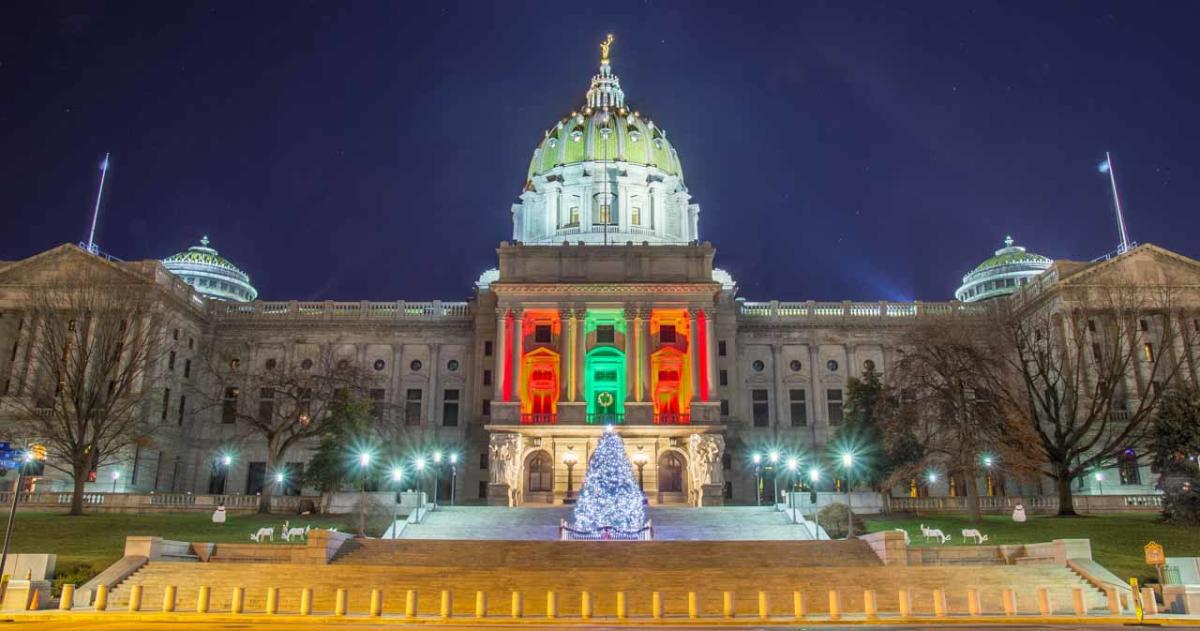 This "Palace of Art" truly sets the tone for a visitor's experience in Harrisburg during the holidays.
The Main Rotunda features an enormous 20-foot-tall Douglas Fir Tree with over 800 LED lights and 500 handmade ornaments.
Harrisburg's Largest Menorah to Celebrate Hanukkah – Festival of Lights.
Welcome Center includes a year-round Interactive Learning Center with a Lego Capitol model.
Harrisburg's Annual Holiday Parade
Nov. 23, 2019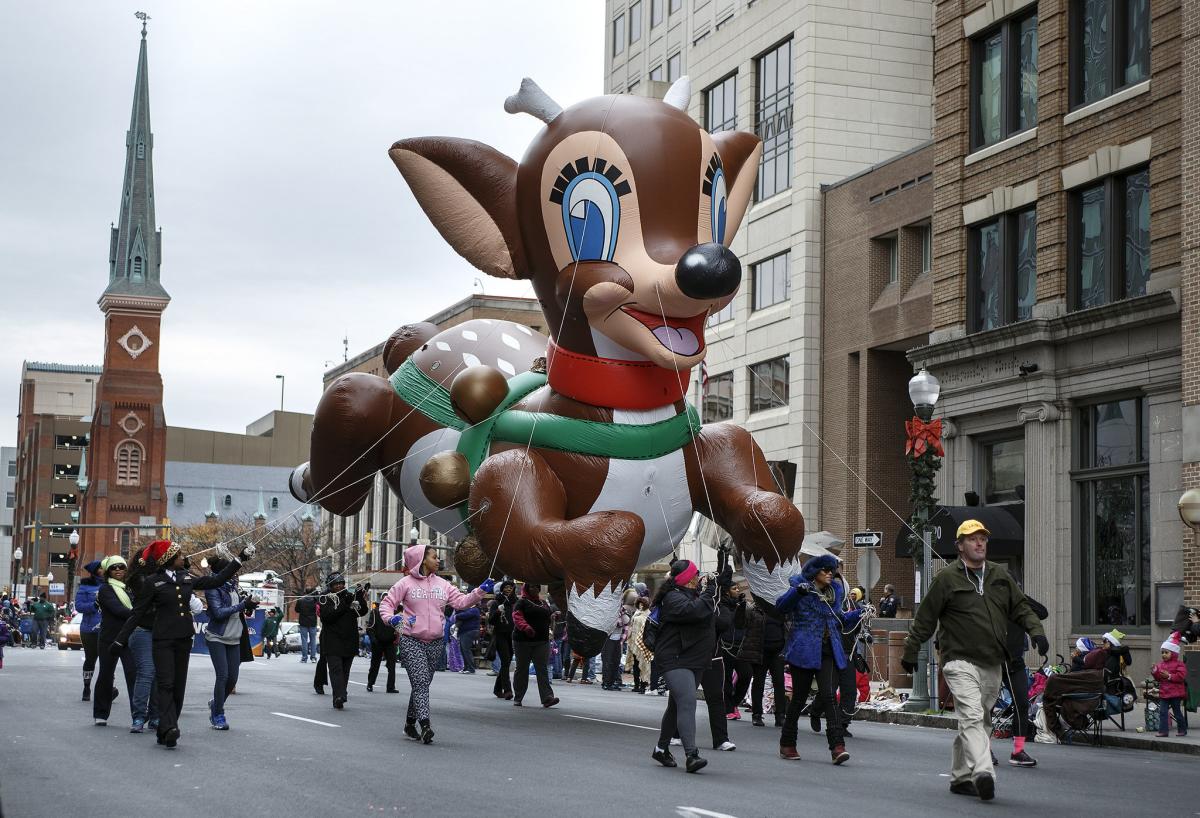 The City of Harrisburg proudly presents the annual Holiday Parade in Downtown Harrisburg.
This free parade features floats, giant parade balloons, marching bands, dance and step team performances and more.
Following the parade, Strawberry Square hosts the awards ceremony at 3pm.
Meet Santa and enjoy complimentary cookies and hot chocolate, while supplies last.
New Year's Celebrations
City of Harrisburg New Year's Eve Celebration
See more at www.ExploreHBG.com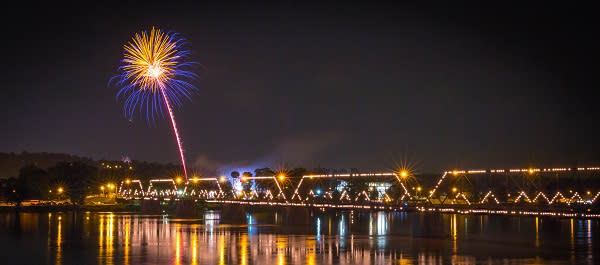 The City held its first New Year's Eve Celebration in 1989.
Today the celebration still features an 8-foot Strawberry being lowered from the rooftop of the Hilton.
Check the City website for details on this year's event.
State Museum of PA – Noon Years Celebration
See more at State Museum website.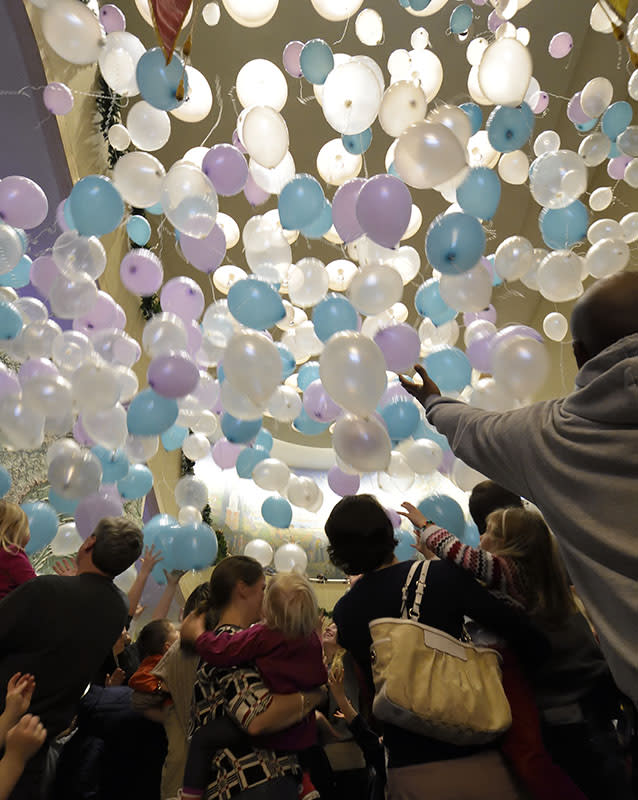 Family-Friendly Event to ring in the New Year.
Crafts, Dance Party, and Snacks.
Firefly & Balloon Drop held at noon.
Celebration included with general admission to the museum.
Check museum website for more deails at StateMuseum.org.
Whitaker Center – New Year's Eve Kids' Party
Popcorn Hat Players countdown to Noon instead of Midnight.
Event inside Sunoco Performance Theatre at the Whitaker Center.
See Whitaker Center website for more details on this year's celebration.