We've highlighted a number of nostalgic places that seem to be frozen in time. Perfect for stories around Daylight Saving Time when turning the clocks ahead in the Spring or turning them back to Standard Time in the Fall.
Daylight Saving Time (DST) is the practice of advancing clocks during summer months so evening daylight lasts longer, while sacrificing normal sunrise times.
Typically, regions that use DST adjust clocks forward one hour close to the start of spring (Spring Ahead) and adjust them backward in the autumn (Fall Back) to standard time.
Since 2007, most of the U.S. and Canada observe DST from the second Sunday in March to the first Sunday in November, almost two-thirds of the year.
It is often referred to incorrectly as "Daylight Savings Time" with people adding an "s" to Saving.
The southern hemisphere observes DST in the reverse order of the northern hemisphere. DST is not observed near the equator because sunrise times do not vary enough to deem it necessary.
Benjamin Franklin, publisher of the old English proverb "Early to bed, and early to rise, makes a man healthy, wealthy and wise," is often mistakenly cited as "the inventor of daylight saving time" because of a satirical letter he anonymously published in 1784 during his time as an American envoy to France. The letter suggested Parisians economize on candles by rising earlier to use morning sunlight. Historians deny this claim Franklin started it based on this letter because there was no "standardized time" recognized in Europe at that time.
April 30, 1916: The German Empire and its World War I ally Austria-Hungary were the first to use DST as a way to conserve coal during wartime. Britain and its allies, along with other European countries soon followed suit with Russia and a few other countries enacting it the following year. 
1918: The U.S. adopted DST.
DST was basically abandoned following WWI with some exceptions in Canada, UK, France, and Ireland - but was brought back during World War II.
1970's: DST became widely adopted throughout North America & Europe as a result of the 1970's energy crisis.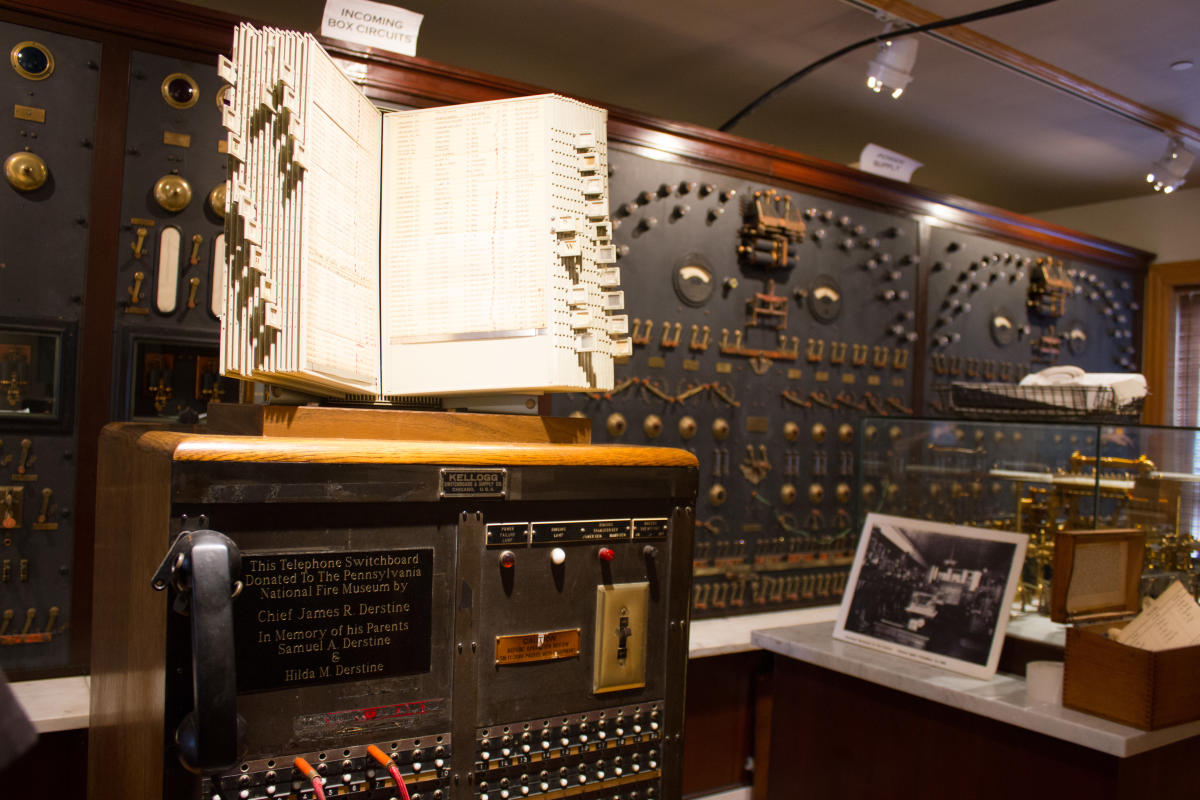 The Pennsylvania National Fire Museum, located in an 1899 Victorian Fire House, features displays from the Hand and Horse-drawn era to motorized apparatus from 1911 through 1947.
Learn the interesting facts about this service and how things we take for granted today like fire alarms and hydrants evolved over the years. Includes fire safety education for children and an operational Gamewell Alarm Room that dates to the 1800's (pictured above).
TripAdvisor users ranked this #14 for "Top Things to do in Harrisburg" (2017).

The 250-year-old mansion, built in 1766 by the founder of Harrisburg, John Harris, Jr., sits along Front Street overlooking the Susquehanna River.
In 1863, it was purchased by Simon Cameron, Lincoln's first Secretary of War, who transformed the Georgian house into a stylish Victorian mansion and lived there until his death in 1889. The home became the headquarters of the Dauphin County historical society in 1941. 
TripAdvisor users ranked this #24 for "Top Things to do in Harrisburg" (2017).
SEASONAL: The Mansion is closed from the end of December thru the end of April. Check web site listing for current dates & times of operation prior to visiting.
Experience life in Victorian times with professionally guided tours of Fort Hunter Mansion and connect to the natural beauty at the 40-acres park along the scenic Susquehanna River.
Experience bygone days when everything was homemade and learn how the upper class lived in Harrisburg dating back to 1725.
This site includes 10 structures listed on the National Register of Historic Places and remnants of the old Pennsylvania Canal Trail with a free walking tour brochure, museum shop, and picnic areas.
TripAdvisor users ranked Fort Hunter Park & Mansion #3 for "Top Things to do in Harrisburg" (2017).
Annual Event: Fort Hunter Day in September
Each September, for one day only, park officials close Front Street which runs through the park and transforms the entire area back to an era before automobiles. This FREE annual autumn festival features many activities for the kids including children's crafts and games, pony rides, hay and carriage rides, live music, and extensive craft show, with food and quilt displays. There are also demonstrations on making apple butter, hand-churning butter, tapping trees for maple syrup, and more.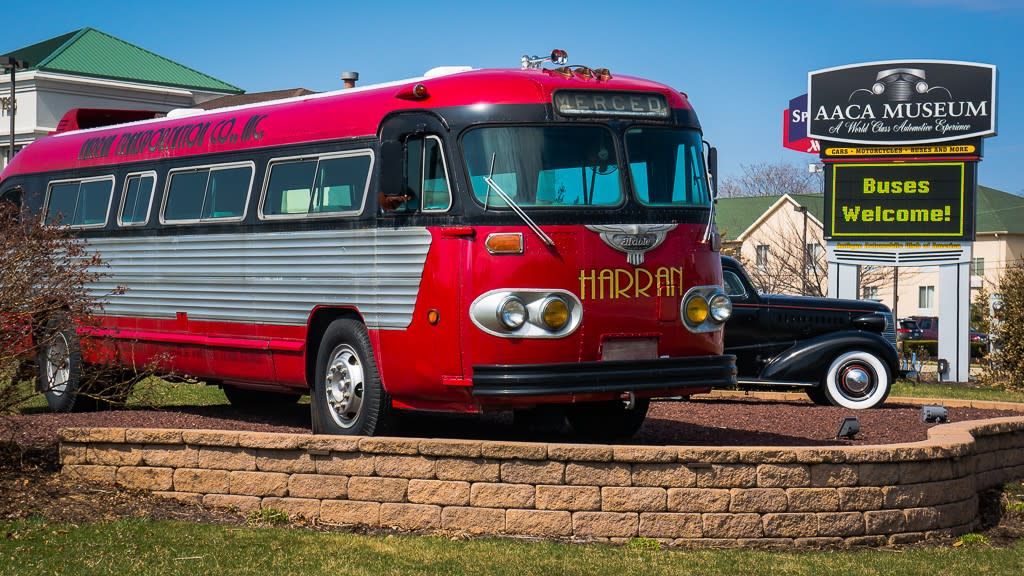 Cruise through time with antique automobiles, buses, motorcycles and memorabilia in a themed setting that travels from New York to San Francisco over eight decades.
Changing exhibits and events always provide something new to see and do-fun for all ages. The Antique Automobile Club of America is A World Class Automobile Experience, in association with the Smithsonian Institution.  
TripAdvisor users ranked this #3 for "Top Things to do in Hershey" (2017).
Historic Transportation Exhibits (Canal, Rail & Ferry) - Millersburg, PA
The quaint historic community of Millersburg, nestled along the Susquehanna River just 25 miles north of Harrisburg, radiates out from a Victorian Market Square Park featuring a Gazebo dating back to 1891.
Displays throughout the small river town relate a long and lucrative history highlighting how the community & the technology of transportation evolved through the past 200 years. 
Visitors can travel back in time to the 17th century at the Wiconisco Canal display in MYO Park, which is today a natural area with a recreational trail, or at the restored Queen Anne style two-story brick passenger railroad station from 1898 which today houses the town's information center and chamber of commerce.
In 2006, the Millersburg Ferry Boat system which traces its roots to 1817 and is still in operation today, joined the rail station on the National Historic Register.
Millersburg Ferry Boat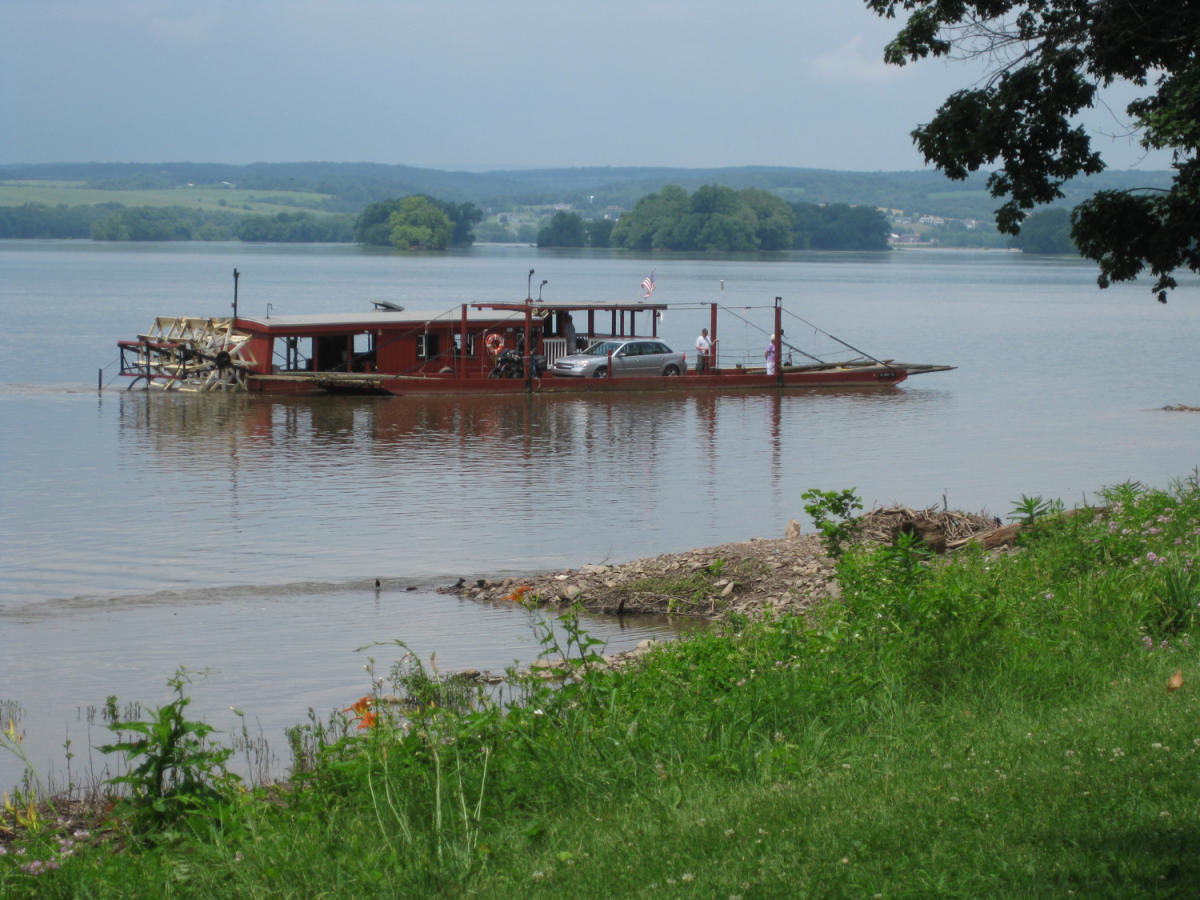 SEASONAL: Check the web site listing for current dates & times of operation. This experience is also dependent on weather conditions and water-levels.
Millersburg is home to the last known all-wooden double stern-wheel paddle boats believed to be operating in this country and the last operating ferry on the Susquehanna River. 
The Millersburg Ferry Boat, also known as Kramer-Crow Ferry, is the oldest transportation system in Pennsylvania and continues to take both riders and vehicles a mile across the Susquehanna River between Millersburg in Dauphin County and Buffalo Township in Perry County.
When this service began in 1817, the Millersburg ferries were poled across the Susquehanna River by hand; a method of propulsion that ended in 1873 after being replaced by a steam-powered side-wheeler called the Enterprise. Gasoline engines replaced this even later.
There were periods, during the long history of the ferry, that the volume of traffic required as many as four ferryboats on the line.
Today, two boats named the Falcon & the Roaring Bull each carry a maximum of four cars plus passengers and provide a uniquely scenic and relaxing ten to twenty-minute ride.
The ferry operates daily from dawn to dusk connecting routes 11/15 and 34 on the western side of the river to routes 209 and 147 at Millersburg on the eastern shore.
It travels in water depths of about four feet on a course over 1-mile long.
The ferry does not transport RV units or motor coaches and only has limited seasonal hours.
Always check the web site for current dates & times for operation prior to visiting.
Go deep into coal country – literally, on a guided tour of a real anthracite coal mine that closed in 1931.
Open coal cars carry guests 1,800 feet deep into Mahanoy Mountain where they learn from experienced guides who were at one-time miners themselves.
Bring a jacket or sweater for the 35-minute tour as the temperature underground is a constant 52 degrees.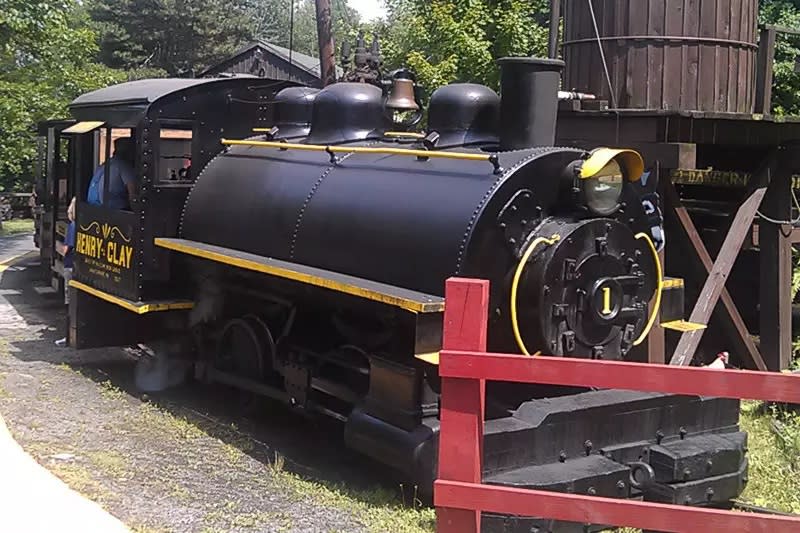 SEASONAL: This attraction is open April thru October. Check the web site listing for current dates & times of operation before visiting.
Above ground guests can experience a scenic train ride on an old-fashioned narrow-gauge stream locomotive named the Henry Clay (pictured above).
This is a steam saddle tank engine once used to haul coal cars and is referred to as a "lokie" or small locomotive even though it weighs 30 tons.
The Pioneer Tunnel Coal Mine & Narrow-Guage Railroad is located approximately 60 miles northeast of Harrisburg.
This is the premier facility for historical research on U.S. Army history dedicated to "Telling the Army story...one Soldier at a time."
The expansive campus, located 22 miles west of Harrisburg, includes the Visitor & Education Center, the U.S. Army War College Library, U.S. Army Military History Institute, and Army Heritage Trail.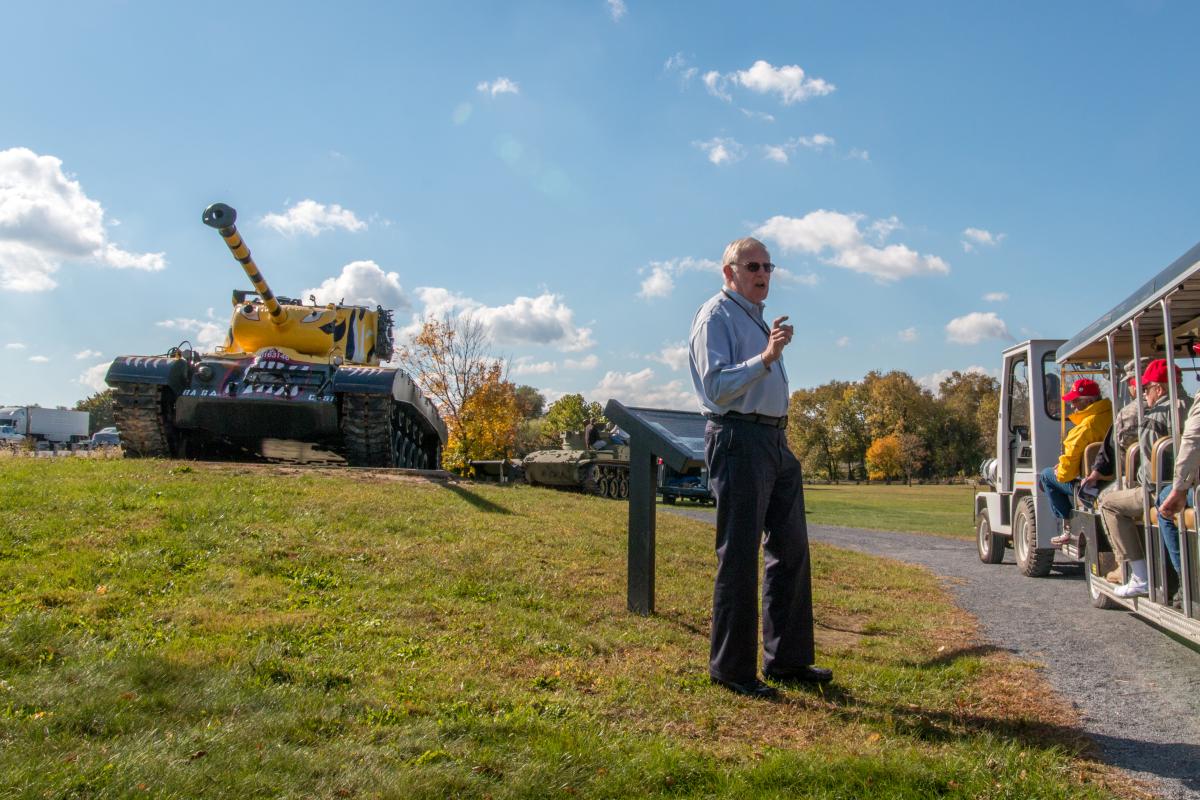 The Army Heritage Trail (pictured above) is a mile-long walking path connecting military history through interactive and full-scale military exhibits including a Cobra helicopter, Civil War encampment cabins, WWI trench system and more.
The trail is open dawn to dusk every day; exhibits on the trail are open during normal business hours, weather permitting.
The Center includes interpretive and interactive exhibits and the research library & archive.
The Visitor & Education Center is dedicated to educating visitors about the culture and experiences of American soldiers featuring special exhibits, an interpretive gallery, museum store, cafe, and multipurpose rooms for events, lectures and workshops.
The main gallery features the exhibit, "The Soldier Experience," highlighting the history of the U.S. Army from the Spanish-American War to current missions as well as a changing gallery.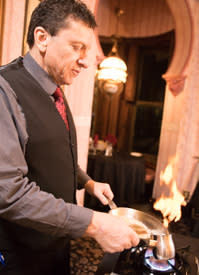 There aren't many places in Pennsylvania where you can dine in a 1755 brownstone mansion that is listed on the National Register of Historic Places.
But since 1970 there has been Alfred's Victorian Restaurant in Middletown, where Alfred Pellegrini and his family have been serving up Italian classics and succulent seafood with specialties like the flaming Victorian salad.
The property features original fixtures, immaculately detailed decorative woodwork, and stained-glass windows. 
Some of the staff's menu favorites are the portabella with roasted garlic and gorgonzola, and Mediterranean crab dip with feta and stone crab claws with creamy mustard sauce.
Get nostalgic with the White Rose Motel located just one-mile from Hersheypark. Guestrooms feature mini-fridges, microwaves, coffeemakers, free Wi-Fi and DVD players, plus cribs upon request.
The motel also offer two-bedroom cottages for rent, which have full kitchens and separate living and sleeping areas to help families feel right at home.
The outdoor pool is great for cooling off after a long day, too. Nearby restaurants include "What If of Hershey" and the "Hershey Pantry."
Named 10 Best Hershey Hotels for Families by Family Vacation Critic. TripAdvisor users ranked this #2 of 25 "Hotels in Hershey" (2017).
For that vintage family vacation experience, visitors are transported back in time at this quaint family-run motel located in the heart of Hershey.
The Simmons family matriarch, Grandmother Mary, has owned and operated the Simmons Motel in Hershey, PA, for over 50 years. And she is a stickler for maintaining clean, comfortable, air-conditioned rooms for all her guests.
The Simmons Motel has 31 units: 16 motel rooms as well as 9 apartments and 6 suites situated in 3 separate historic Hershey homes.
The Simmons Motel is both family-oriented and group-friendly with 2 & 3-bedroom apartments with full-size kitchens and private baths. Many of their rooms have connecting doors which families find convenient for their needs. 
TripAdvisor users ranked this #18 of 25 "Hotels in Hershey" (2017).
The Manor on Front consists of two beautifully restored mansions named "The Ledgestone" and "The Mary Sachs" located on North Front Street, overlooking the Susquehanna River.
The properties are among the Academy Manor District, known for the wide array of 20th century mansions.
Both properties have been beautifully renovated to showcase period details against a tailored, elegant interior, surrounded by a lush campus of mature trees with river views and gorgeous sunsets.

The Ledgestone is a 1920's revival Tudor mansion (pictured above), while The Mary Sachs is a colonial-style limestone mansion.
The Riverfront Park is adjacent to the properties with over 10-miles of park-like settings along the Susquehanna River for running, bicycling, skating & walking. Local restaurants, shopping and galleries are a short jaunt away. 
TripAdvisor users ranked this #2 of 7 "B&B & Inns in Harrisburg" (2017).
This is a farmhouse from 1825 located just 4-miles from Hersheypark and Hershey attractions; featuring eight (8) guestrooms each decorated uniquely.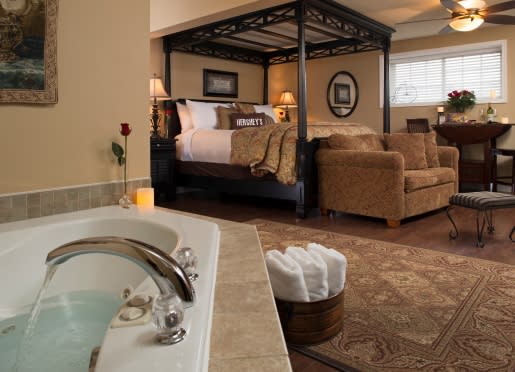 Private baths, TV/DVD or VHS, AC, all-season fireplaces, Jacuzzis, some with a private entrance, two-acres of lovely gardens with gazebo, delicious full garden enclosed porch breakfast, afternoon refreshments, and Wi-Fi. 
TripAdvisor users ranked this #1 of 3 "B&B & Inns in Hershey" (2017).
###