We've rounded up a number of connections between U.S. Presidents & the Hershey & Harrisburg Region. Perfect for Presidents Day in February or Election Day in November.
Abraham Lincoln (#16) – Inaugural Journey Visit: Harrisburg 1861
On February 21, 1861, the night before he arrived in Harrisburg, President-elect Lincoln (#16) had been informed of a plot to assassinate him when he passed through Baltimore.
Over the objections of his aides, he went ahead with his scheduled events on February 22, since it was Washington's Birthday.
He agreed, however, to return in secret to Philadelphia from Harrisburg after fulfilling his commitment to Governor Andrew Curtin.
From there, he planned to travel to Washington unannounced in order to elude the mob in Baltimore.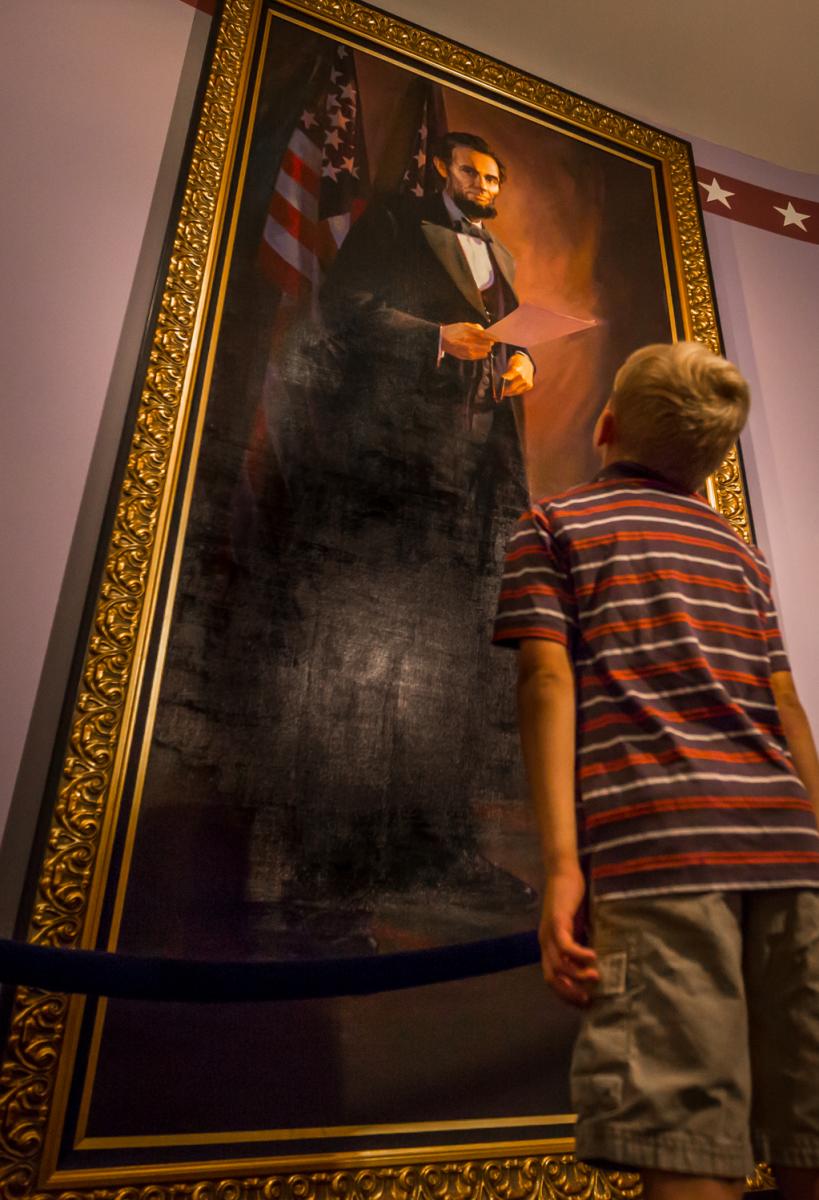 Newspapers estimated that thousands of people turned out to view the President-elect when he arrived at the state capital at 1:30 p.m. He was driven into town from the train station in a beautiful carriage drawn by six "elegantly comparisoned grey horses."
He went to the Jones Hotel, located on the southeastern corner of Market and Second streets, where event planners had erected an arch across from the hotel entrance that was lined with small American flags and featured a large banner that read: "Welcome President to our Capitol [sic]."
Governor Curtin and President-elect Lincoln then briefly addressed the crowd from a balcony outside of the hotel. "If my own strength should fail," Lincoln said dramatically, "I shall at least fall back upon these masses, who, I think, under any circumstances will not fail."
Theodore Roosevelt (#26) – PA State Capitol Building Dedication: Harrisburg 1906
On October 4, 1906, when U.S. President Theodore Roosevelt (#26) attended the dedication of Pennsylvania's $13 million capitol building, he said, "This is the handsomest building I ever saw."
Visitors today can take a free 30-minute tour of this National Historic Landmark to see exactly why this complex is called a "Palace of Art."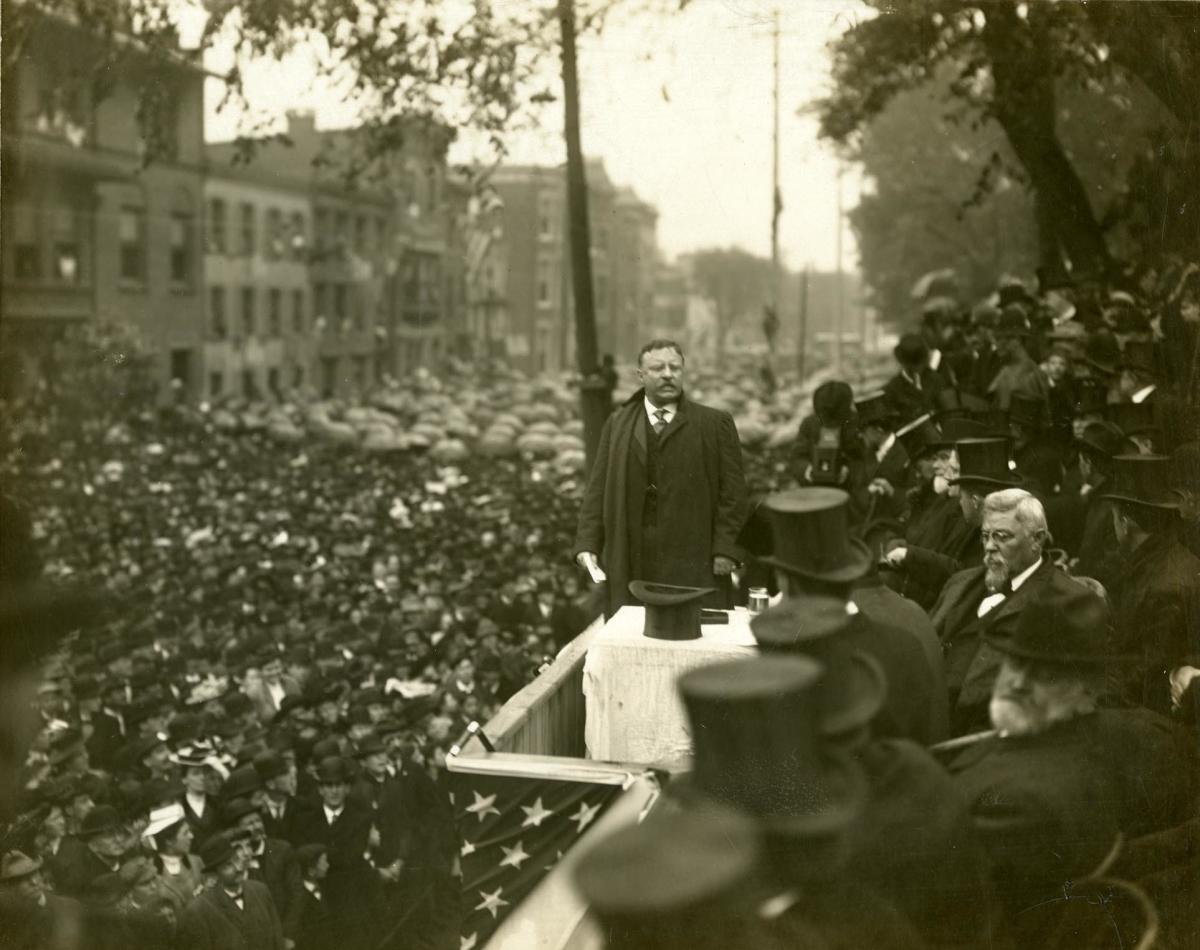 Massive bronze doors open to a main rotunda's grand imperial staircase similar to the one in the famous Palais Garnier (Paris Opera House) in Paris, France. Guided tours reveal the stunning artwork, craftsmanship, and various Renaissance designs capped by a spectacular dome, a 1/3 scale replica of St. Peter's Basilica in Rome.
Guides also pay particular attention on the tour to the paintings in the Supreme Court Chamber by Violet Oakley, the first American woman to receive a public mural commission.
FREE Guided Tours are offered every half-hour from Mon-Fri between 8:30am-4pm; Sat-Sun & most holidays tours are offered at 9am, 11am, 1pm, 3pm.
Always recommended to call ahead to check tour availability. Reservations Line: (800) 868-7672. Web: www.pacapitol.com. Contact Jill Fetter, Director of Capitol Visitors Services at 717- 329-9761, JFetter@os.pasen.gov.
TripAdvisor users ranked this #1 for "Top Things to do in Harrisburg" (2017).
Dwight D. Eisenhower (#34) – 4 Visits: Hershey in 1953, 1960, 1963, 1964
President Eisenhower came to Hershey four times that have been recorded in the local history.
The first time, October 13, 1953, was to formally celebrate his 63rd birthday at an event held at the Hershey Sports Arena, Hershey Stadium, and a circus tent borrowed from the Ringling Brothers-Barnum & Bailey Circus.
A crowd of 12,000-14,000 gathered in the Hershey Stadium to sing Happy Birthday to the president and 6,000 guests later attended a $100 per plate dinner served under the big top tent and enjoyed cake & ice cream for dessert in the arena.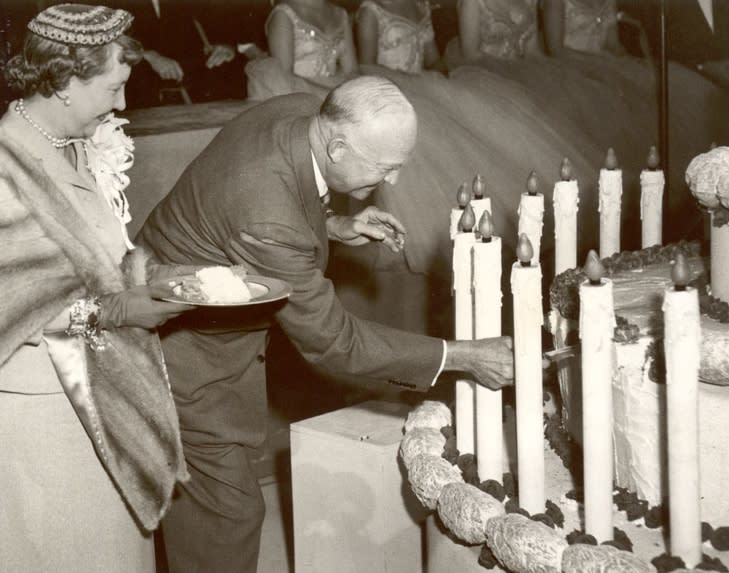 A ceremonial "prop" cake (pictured above) was created measuring 9 feet wide by 6 feet high with 63 electric candles.
In 1960 he returned for a dinner at The Hotel Hershey with VP Richard Nixon.
In 1963, he returned again to the Hotel Hershey for a "Stag" dinner where he invited scholars, business and cultural leaders to gather and discuss issues and ideas.
The last time he formally visited was in 1964 to moderate a Summit of GOP leaders following the Republican Presidential Nomination Convention in San Francisco where Barry Goldwater received the nomination for the Republican Party.
John F. Kennedy (#35) – 2 Visits: Harrisburg in 1960 & 1962
President Kennedy first visited Harrisburg as the Democratic nominee for president in September 1960 and addressed a crowd of 7,000 in Harrisburg's Market Square and later that evening gave a televised speech at the Zembo Shrine with an estimated live audience of 9,000 people attending a $100 per plate dinner in 90-degree heat.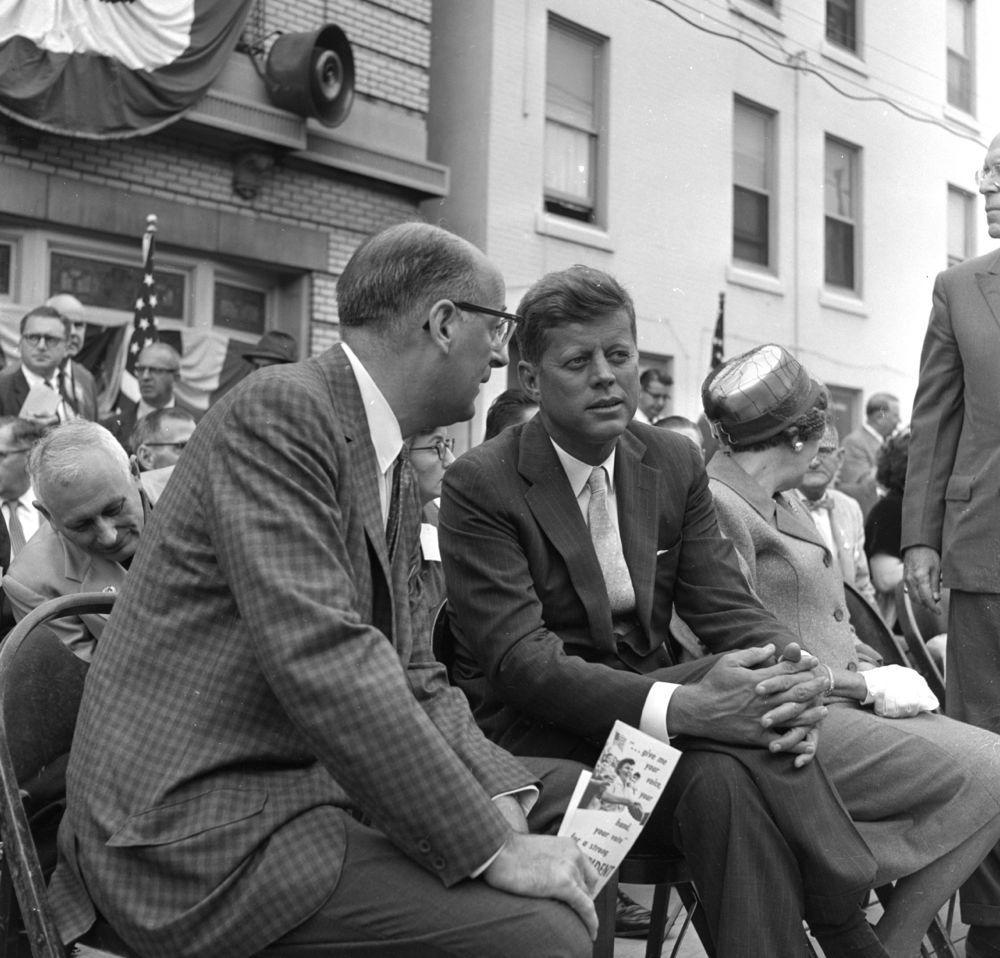 In 1962 Kennedy again visited the city and gave a speech to 10,000 people at the PA Farm Show Complex as part of a campaign tour to support Pennsylvania Democratic candidates.
Fourteen months after that last visit Kennedy was assassinated in Dallas, Texas at the age of 46.
George W. Bush (#43) - The DeCider Series of Presidential Hard Ciders at The Vineyard & Brewery at Hershey
The Vineyard & Brewery at Hershey are producing an entire line of hard ciders that may have first been inspired by George W. Bush (#43) who famously referred to himself in April 2006 as "the decider" when defending why he would not fire Donald H. Rumsfeld as the secretary of defense.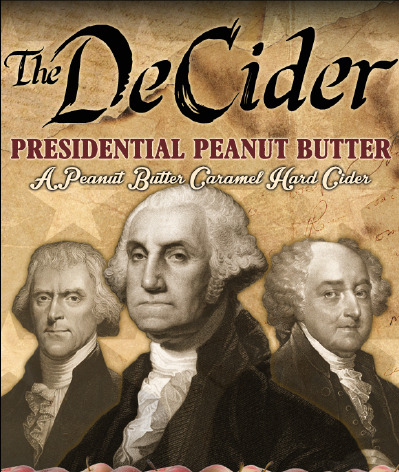 Likewise, winemaker L. Paul Vezzetti has declared he is the decider and he decides what's best for the vineyard's new expanded brand of hard ciders that now includes Presidential Peanut Butter with caramel and apple; Huzzah Honeycrisp with PA Honeycrisp apples; and Articles of ImPearment with tones of vanilla and bourbon in a pear cider.
The Vineyard & Brewery at Hershey use apples grown in Pennsylvania for all of their delicious hand-crafted ciders.
The four founding fathers of this winery & brewery based their vision on the principle that enjoying a fine bottle of wine or a cold craft beer is meant to be a shared experience with family and friends.
Located at 598 Schoolhouse Road, Middletown, PA 17057, Tel: 717-944-1569, Email: info@vineyardathershey.com and www.vineyardathershey.com. Twitter @VineyardHershey & @BreweryHershey. Contact: Jason Reimer, Co-Owner/President, 717-386-0665, Jason@VineyardAtHershey.com or Mike Wilson, Co-Owner/VP of Media & Communications, Michael.R.Wilson@live.com.
###