Tourism Bureau and Regional Tourism Partners Honored with "Best of PA Awards" from readers of statewide industry publication.
HARRISBURG, PA (Oct. 5, 2017) — The following organizations were recognized as winners and nominees or "Runners-Up" during the 2nd Annual Pennsylvania Meetings + Events Readers' Choice Awards for 2017.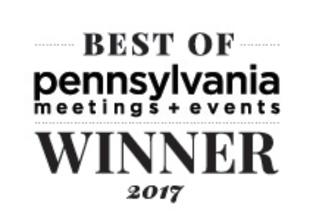 Read the full article in FALL 2017 Issue of PA Meetings + Events Magazine
Best of PA 2017 Winners
The following represent those from the Hershey & Harrisburg Region.
Visit Hershey & Harrisburg for Best CVB (Population Area Under 300k)
Noteworthy: Visit Hershey & Harrisburg bested Destination Gettysburg and Lackawanna County CVB
"It may sound cliche, but the individuals on our sales team are this bureau's greatest asset for planners," says Audrey Bialas, sales director for Visit Hershey & Harrisburg. "An organization can present a menu of services to planners with all the latest bells and trendy whistles and add-ons that they throw in to appear competitive, but in my two decades of sales it always comes down to the experience, knowledge and attitude of the person handling your meeting or event that makes or breaks your overall experience when hosting an event in a particular destination. Our team comes with over 100 years of collective professional experience in the meetings, events, and group tour business." 
Hershey Lodge for Best Hotel with Meeting/Event Space (more than 200 guest room)
Noteworthy: The Hershey Lodge bested The Ritz-Carlton Philadelphia and The Logan Philadelphia in this category.
Larger meetings are never a problem for this resort, where 665 guest rooms and suites provide a welcome respite from a meeting or conference. The resort has 100,000 square feet of meeting space, with plenty of unique spaces including the Great American Hall, and the team-building opportunities are seemingly limitless (with access to three golf courses and a ropes course, and even chocolate-themed adventures). A coffee shop, two casual restaurants and a gourmet restaurant are located within the Lodge. Add a team of on-site certified meeting professionals, and meetings are, well, sweet here. Of course, there's always Hersheypark for rides and attractions as well as the Four-Diamond Hotel Hershey with its many amenities. (PA Meetings + Events Magazine – FALL 2017 Issue, pg. 29)
Warehouse Hotel at The Nook for Best Hotel with Meeting/ Event Space (fewer than 200 guest rooms)
Noteworthy: Spooky Nook Sports and Warehouse Hotel are located in Lancaster County, but they are active Partners In Tourism with Visit Hershey & Harrisburg.
It may be connected to the nation's largest indoor sports facility, but the Warehouse Hotel at The Nook stands on its own two feet. You named it the Best Hotel with Meeting/ Event Space (Fewer than 200 Guest Rooms). The Warehouse Hotel is indeed that—a converted warehouse transformed into a sleek, modern hotel. The décor is largely repurposed (packing crates double as wall décor). The Warehouse features stylish guest rooms, a hip restaurant (Forklift and Palate, see page 30 for more on that), and a 60,000-square-foot fitness center, among other amenities. "With 700,000 square feet under one roof, our large group areas, trade show space and traditional meeting space is packed with areas that can be tailored from grand to intimate. Add in our full range of in-house catering, and various on-site dining options, and this is why guests and meeting attendees keep coming back," says Brittney Hemperly, sales manager (PA Meetings + Events Magazine – FALL 2017 Issue, pg. 29)
Forklift & Palate at Spooky Nook for Best Restaurant with Private Dining Space
Forklift & Palate, tucked inside the Warehouse Hotel, wins for Best Restaurant with Private Dining Space. The interior echoes the hotel's industrial chic sensibility with tables crafted from repurposed wood. "The refurbished materials and lighting create a warm, relaxing environment," says Jenna Martin of Forklift & Palate. The size is impressive in its own right, with seating for as little as 10 and up to 600 for private events. And the food? "It's a home run," adds Martin. The menu changes seasonally and spotlights many Lancaster County ingredients. (PA Meetings + Events Magazine – FALL 2017 Issue, pg. 30)
Spooky Nook Sports for Best Meeting/Event Venue (No Hotel)
Events can really be a ball when you turn to Spooky Nook Sports, selected as the Best Meetings/Events Venue (No Hotel). "We offer everything under one roof—restaurant, team-building packages, formal banquets or receptions and a lot of flexible, unique meeting and event space throughout the entire facility," says Danielle Work, sales manager. Spooky Nook Sports is the largest indoor sports facility in North America and offers everything from indoor climbing and soccer to field hockey and flag football, but "we have so much more to offer than just sports," adds Work. (PA Meetings + Events Magazine – FALL 2017 Issue, pg. 33)
Honorable Mentions
Those from the Hershey & Harrisburg Region who were "Nominated" or "Runner-Up" in the following categories
Appalachian Brewing Company (ABC) for Best Brewery with Event Space (nominated)
Vineyard & Brewery at Hershey for Best Winery with Event Space (nominated)
JDK Group for Best Meeting/Event Planning Company (nominated)
Premiere #1 Limousine Service for Best Transportation Provider (nominated)
###
MEDIA INTERVIEWS                                                                                       
Mary Smith, President & CEO of Visit Hershey & Harrisburg is available for media interviews regarding the contents of this news release. Please try to make interview requests at least 12-hours in advance. The bureau will make every effort to accommodate all interview requests. Contact Rick@HersheyHarrisburg.org or cell 717.884.3328.
ABOUT VISIT HERSHEY & HARRISBURG                                                    
Visit Hershey & Harrisburg is the official non-profit partnership-based Destination Marketing Organization (DMO) leading economic growth through destination sales, consumer marketing, public relations, and tourism development in Dauphin County, Pennsylvania. The organization, accredited by Destination Marketing Association International (DMAI) since 2010, is committed to actively marketing the tourism assets in the Hershey & Harrisburg Region to business and leisure travelers both domestic & international. The bureau also leads regional sales efforts to attract meeting & event organizers, sporting event producers, and group tour leaders. For more information go to VisitHersheyHarrisburg.org or call 877-727-8573.