2017 Bronze Anvil Award of Commendation recognizes bureau's "Tourism In Your Town" advertorial series highlighting how a local DMO supports economic growth.
HARRISBURG, PA (May 1, 2017) — The Hershey Harrisburg Regional Visitors Bureau (HHRVB) today announced the series of advertorials it published in TheBurg magazine throughout 2016 entitled "Tourism In Your Town – How a DMO Drives Economic Growth in the Hershey Harrisburg Region" earned a Bronze Anvil Award of Commendation from the Public Relations Society of America (PRSA).
The bureau's five-part series on the inner-workings of the local Destination Marketing Organization (DMO) appeared in the region's leading monthly lifestyle magazine TheBurg. The publication was selected for its readership demographic and regular editorial content featuring local tourism experiences, dining, events, recreation, and entertainment.
The goal of the series was to raise the general awareness of the HHRVB within the region and educate readers on the important role this non-profit sales & marketing organization serves in leading economic growth for the region through destination marketing and tourism development.
The series addressed five (5) topics related to the HHRVB and the local tourism industry: Social Impact, Destination Marketing & Tourism Development, Economic Impact, Services, and Leadership. See more detail on each of those topics below.
PRSA announced all the winners for the communication industry's esteemed Bronze Anvil Award which represent the best in public relations programs demonstrating creative tactics, according to the organization's statement. This year's list comprises 43 Bronze Anvil winners and 94 Bronze Anvil Award of Commendation winners.
"The PRSA Bronze Anvil reflects some of the most dynamic tactics used by today's public relations professionals," said Joseph Truncale, Ph.D., CAE and CEO of PRSA. "Bronze Anvil represent targeted programs that articulate and amplify some of the most memorable media campaigns of the past year."
For more than 45 years, the Bronze Anvil Awards have celebrated the "best of the best" in public relations tactics. These tactics — whether a media relations program, website, annual report, podcast, blog or use of social media — are the hardworking parts of any successful public relations program.
The bureau reported the series of advertorials resulted in a noticeable spike in calls from local businesses inquiring about Partnership information when the articles appeared, and the bureau's leadership received positive feedback on the articles from local business leaders, public officials, bureau Partners, and other tourism stakeholders in our region.
"We were initially very happy with the results of this initiative and then even more thrilled with news of the award," said Rick Dunlap, Director of Public Relations for HHRVB. "This was our first attempt to use a series of advertorials in a local publication to advocate for the local tourism industry and to raise awareness of the important role a destination marketing organization plays in the region's economy."
The bureau normally does not rely on paid placement for our local messaging, according to Dunlap. But using the advertorial approach allowed them to develop the series of individual articles under a common theme, with the freedom to make each article more in-depth on specifics.
"This approach allowed us to really tell our story with more depth," said Dunlap. "Each article drilled down to the core of how our organization provides value to this community and how we function as an economic driver. So from that perspective, we think the strategy and tactics achieved our goal. And that is why PRSA recognized this campaign with their Bronze Anvil Award this year."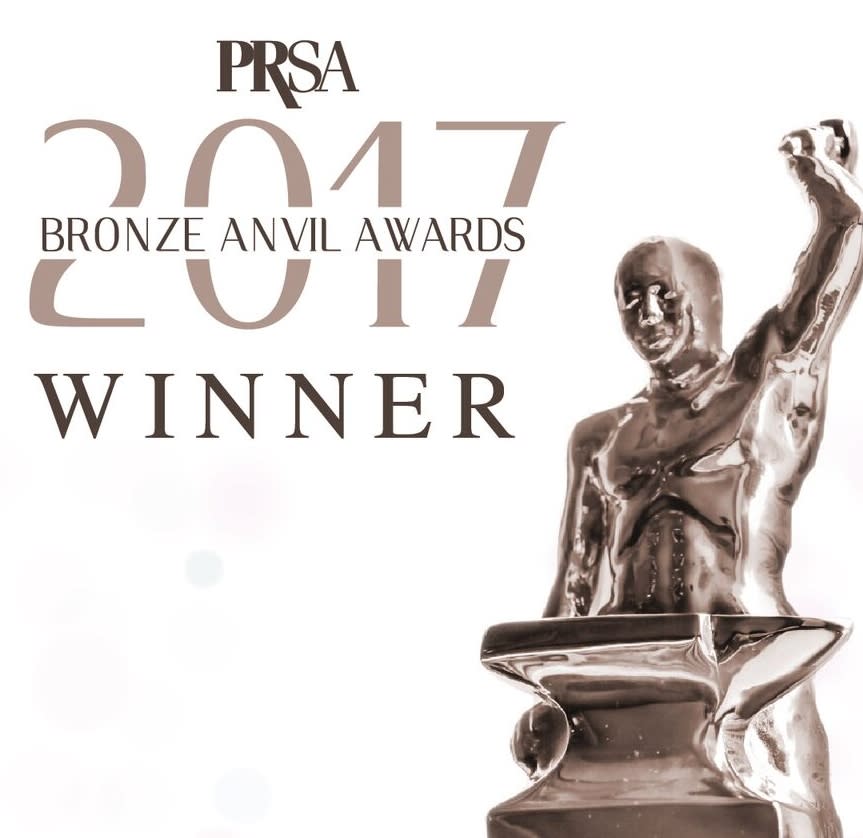 SOCIAL IMPACT: Quality of Life from Local Tourism
"How Tourism Drives Our Quality of Life: HHRVB has fueled this engine for a decade"
The first article in the series had to connect the local reader to the local tourism industry on a personal level. We accomplished this by relating how their current quality of life in this region would be negatively affected without the amenities, services, and attractions that are heavily supported by the region's thriving tourism industry.
DESTINATION MARKETING & TOURISM DEVELOPMENT: Sports & Events Authority
"How Investing in Sports & Events Scores Big for Our Region's Economy" 
The second article relates the extensive research and strategic planning behind the bureau's recent launch of a Sports & Events Division. This article positioned the bureau as a leader in tourism development and touched on our Sales function, which tends to be our most overlooked or undervalued function publicly as a regional DMO.
ECONOMIC IMPACT: PA Tourism Economic Impact Report for HHR
"Crunching the Numbers for Tourism in the HHR"
This two-page spread repurposed the latest results of the PA Tourism Economic Impact Report issued by the PA Tourism Office. We relied heavily on infographics to clearly communicate the important impact local tourism has on our region's economy including jobs & salaries, state & local tax revenue, and average daily spending.
SERVICES SPOTLIGHT: SALES
"The Wins in Our Sales: Regional Visitors Bureau reports annual results emphasize Sales"
The fourth article repurposed content from HHRVB's Annual Report & Annual Meeting to highlight the organization's achievements for the year. We emphasized the Sales results above other departments to elevate that service which is often the least recognized or undervalued function by partners and local stakeholders.
LEADERSHIP: LOCAL COLLABORATION & TOURISM DEVELOPMENT
"The Art of Conducting Tourism Development: How a Regional DMO orchestrates collaboration among competitors"
The final article explains how HHRVB, as a uniquely non-competitive entity, effectively orchestrates cooperative sales, marketing, and communications programs among local competitors. The positive results reported in the story demonstrate how these successful collaborations produce a greater economic return for the regional economy than any effort by individual businesses.
###
MEDIA INTERVIEWS
Mary Smith, President & CEO of the Hershey Harrisburg Regional Visitors Bureau is available for media interviews regarding the contents of this news release. Please try to make interview requests at least 12-hours in advance. The bureau will make every effort to accommodate all interview requests. Contact Rick@HersheyHarrisburg.org or cell 717.884.3328.
ABOUT THE HERSHEY HARRISBURG REGIONAL VISITORS BUREAU
The HHRVB is the official non-profit partnership-based Destination Marketing Organization (DMO) leading economic growth for Pennsylvania's Hershey & Harrisburg Region through destination marketing and tourism development. The organization, accredited by Destination Marketing Association International (DMAI) since 2010, is committed to actively marketing the tourism assets in Dauphin & Perry County to business and leisure travelers both domestic & international. The bureau also leads regional sales efforts to attract meeting & event organizers, sporting event producers, and group tour leaders. For more information go to VisitHersheyHarrisburg.org or call 877-727-8573. Media can use #HHRVB and #HHRVB4Media when tagging stories and social media posts related to the region.
About the Bronze Anvil Award
For more than 45 years, the Bronze Anvil Awards have celebrated the "best of the best" in public relations tactics. These tactics — whether a media relations program, website, annual report, podcast, blog or use of social media — are the hardworking parts of any successful public relations program. This year's list comprises 43 Bronze Anvil Winners and 94 Bronze Anvil Award of Commendation Winners. To view the complete list of Bronze Anvil Award winners please visit the event website.  
ABOUT THE PUBLIC RELATIONS SOCIETY OF AMERICA
PRSA is the nation's largest professional organization serving the communications community.  The organization's mission is to make communications professionals smarter, better prepared and more connected through all stages of their career.   PRSA achieves this by offering its members thought leadership, innovative lifelong learning opportunities to help them develop new skills, enhance their credibility and connect with a strong network of professionals.  The organization sets the standards of professional excellence and ethical conduct for the public relations industry.  PRSA collectively represents more than 30,000 professional members comprised of communications professionals spanning every industry sector nationwide and college and university students who encompass the Public Relations Student Society of America (PRSSA). Media can contact Annmarie Gioia, Director, Integrated Communications at PRSA at Annmarie.Gioia@prsa.org or 212-460-0307.