New 23-acre area of Historic Amusement Park to feature arrival experience, coaster, restaurants and retail.
Media Notes
The content below is an edited version of press materials distributed by Hershey Entertainment & Resorts (HE&R) on Oct. 3, 2018.
For more information on this announcement media should contact Quinn Bryner, Director of Public Relations and Strategy at HE&R at 717.534.8969 or qucbryner@HersheyPA.com.
Media can download additional Broll, Embeddable Video, and Renderings from the online press kit provided by HE&R.
(Hershey, PA - Oct. 3, 2018) - Hersheypark officials today announced a $150 million expansion that will transform the entrance to the historic amusement park located in PA's Hershey & Harrisburg Region. Opening in summer 2020, Hershey's Chocolatetown is a new development within a 23-acre region at Hersheypark where guests can eat, play, shop and gather year-round.
Hershey's Chocolatetown will feature several marquee elements:
New Arrival Experience and Front Gate
15th Coaster - Fastest, Tallest, Longest, Sweetest
Restaurant, Bar & Patio - Largest full-service themed restaurant in Hershey
Ice Cream Parlor and Confectionary Scratch Kitchen
2,200-square-foot Starbucks® Store
Largest Kettle Corn location at Hersheypark
One-of-a-Kind KISSES Fountain
A new home for the Carrousel, turning 100 years old next year
Flagship Store with the largest collection of Hersheypark merchandise.
The investment of $150 million dollars into the 23-acre Hershey's Chocolatetown development represents the largest capital investment and most significant expansion in the history of the Hershey Entertainment & Resorts company.
Construction is slated to begin in January 2019 and Hersheypark will remain fully operational during the 2019 season as Chocolatetown comes to life for the summer of 2020.
One of the most dramatic changes to Hersheypark will be the new welcome experience and a new front gate. The arrival at Chocolatetown will create a unique sense of place and seamless passageway between Hershey's Chocolate World and Hersheypark. 
Hersheypark plans to add its 15th coaster as part of Chocolatetown - its longest, tallest and fastest to date with details coming next summer. The iconic Carrousel, turning 100 next year, will have a new home in Chocolatetown, along with a signature KISSES Fountain and Hershey's Character experiences.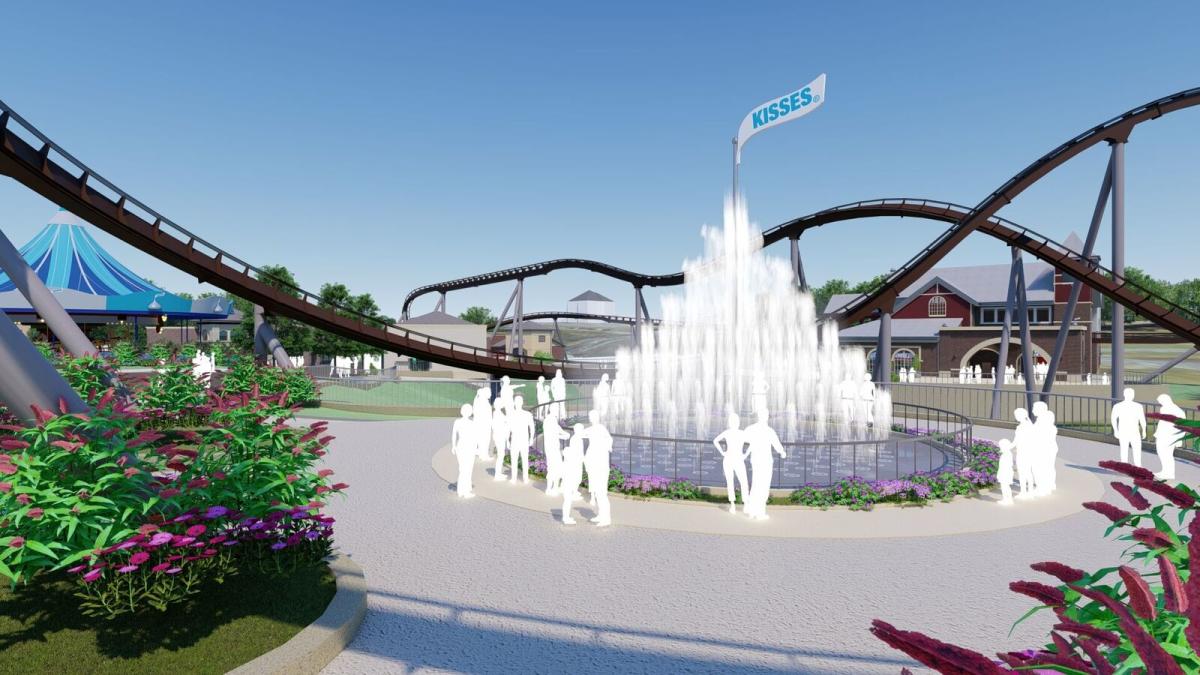 Hershey's Chocolatetown will offer more than five locations to eat, drink and gather, including the largest themed restaurant, bar, and patio in Hershey with one-of-a-kind views of Hersheypark. Open year round, this full-service restaurant and bar will feature a second-story patio & bar and offer an innovative menu with hints of chocolate, craft cocktails, and signature desserts.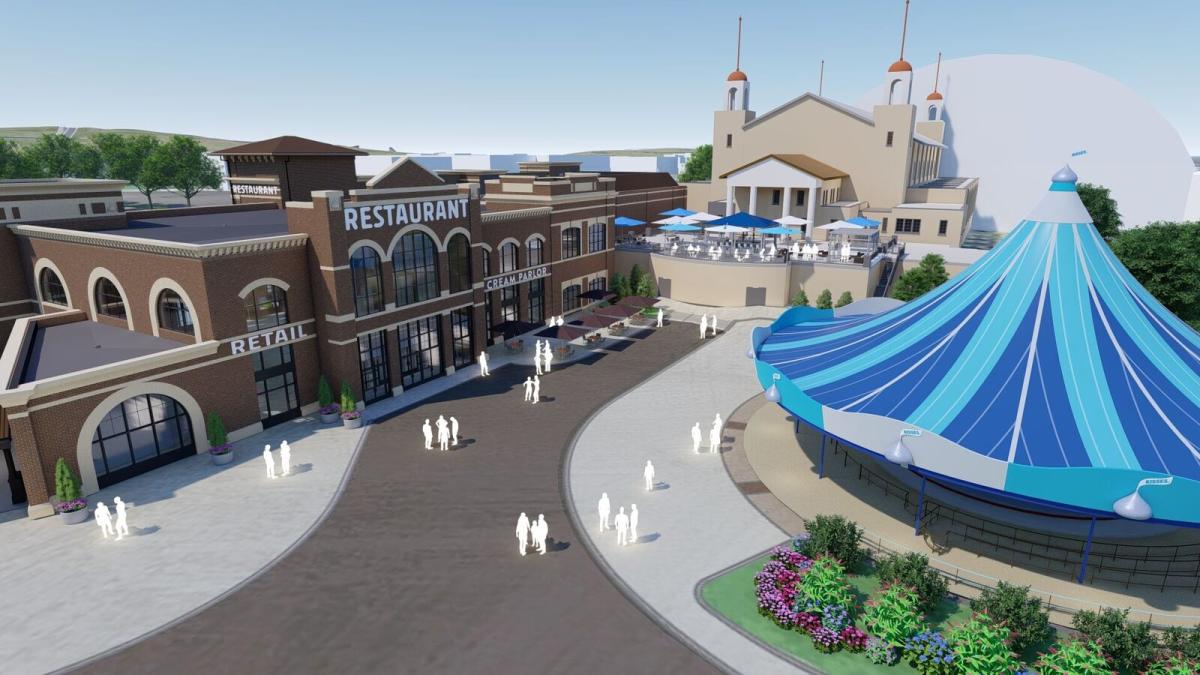 Other sweet experiences in Chocolatetown will feature an ice cream parlor with personal ice cream-ologists serving up exclusive ice cream creations. A new confectionary scratch kitchen will invite guests to watch the candy makers at work. Other welcome additions to Chocolatetown will be a full-service 2,200-square-foot Starbucks® store, with indoor and outdoor seating areas, and the largest kettle corn location at Hersheypark.
Finally, a new 10,000-square-foot flagship retail experience will feature the largest collection of apparel, personalized souvenirs, and toys exclusive to Hersheypark. In addition, guests will enjoy interactive boutique shopping experiences.
Guests can experience a virtual rendering of Hershey's Chocolatetown here and learn more about the next chapter of Hersheypark at www.hersheypark.com/chocolatetown. Construction will begin in January 2019 with updates and details shared over the next 18 months via the website and hashtag #HPChocolatetown.
###
About HE&R: Hershey Entertainment & Resorts (HE&R) is a world-class entertainment and hospitality company dedicated to preserving the legacy of Milton S. Hershey. Founded in 1927 by Milton S. Hershey, HE&R and its subsidiaries own and/or operate the Hersheypark amusement park, Hersheypark Arena & Stadium, ZooAmerica North American Wildlife Park, Hershey Bears AHL Hockey Club, Giant Center arena, The Hotel Hershey luxury resort, Hershey Lodge resort and convention center, Hersheypark Camping Resort campground, The Spa At The Hotel Hershey resort spa, MeltSpa by Hershey day spa, Hershey Country Club and Hershey Golf Collection, Hershey Nursery, and Hershey Laundry & Dry Cleaning. For additional information about HE&R, visit www.HersheyPA.com.
© 2018 Hershey Entertainment & Resorts Company. All words, designs, and phrases appearing in bold, italics, and/or with the symbol ®, SM, or TM are trademarks owned or used by Hershey Entertainment & Resorts Company under license or with permission. All other trademarks are owned by their respective owners. All rights reserved.
Hershey Entertainment & Resorts is proud to help fulfill the dream of our founder, Milton S. Hershey, by providing value to Milton Hershey School, the largest home and school in the world, as it continues to provide opportunities for children in need.