Harrisburg's Broad Street Market is alive and growing, with an influx of new vendors taking up residence just this past year amidst decades-old market mainstays. Once known as the "Dutch Fair" because of its predominantly Amish and Mennonite vendors, the market has evolved into a twenty-first-century culinary mecca, with cuisine from around the globe, cutting-edge fare and organic goods mingling with broasted chicken, shoo fly pie and baked lima beans in a perfect marriage of past, present and future.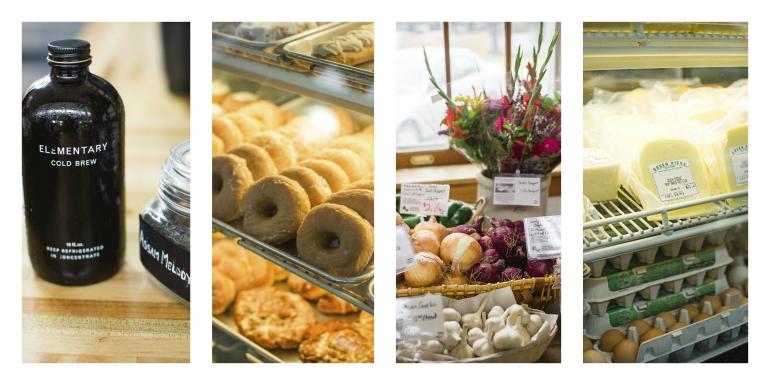 Located just three blocks north of the Capitol Complex, the market was founded in 1860 and has the distinction of being the oldest continuously operated market house in the United States. Today, two buildings—the "Stone Market" house and the "Brick Market" house—are home to 27 vendors (expected to grow to 29 by September's end) offering up breakfast, lunch and dinner; sweet and savory snacks; whistle-wetting hot and cold beverages; fresh meats and produce; custom-designed jewelry; and even something for man's best friend. Join us as we take a look at the businesses both old and new that are at your service Thursday through Saturday. One word of advice: when you visit, come hungry!
Established Vendors
Apple Dumpling's, Etc.: With a name like this, you know you're in for a treat. Find an endless array of fresh-baked goodies, including cheesecakes, cookies, brownies and yes, apple dumplings, at this brick building bakery. Also on the menu: a rainbow of colorful smoothies, topped with just the right amount of whipped cream.
Candy Scramble: Visit this stand in the brick building to stock up on chocolates, caramels, seasonal sweets and candies from your youth (MaryJanes!), sold in bulk so you can purchase just the right amount. Fudge, chocolate-covered strawberries, fresh-baked sticky buns, danish and more will also tempt your sweet tooth. Peanuts, cashews and other nuts are available for those who prefer more savory pleasures.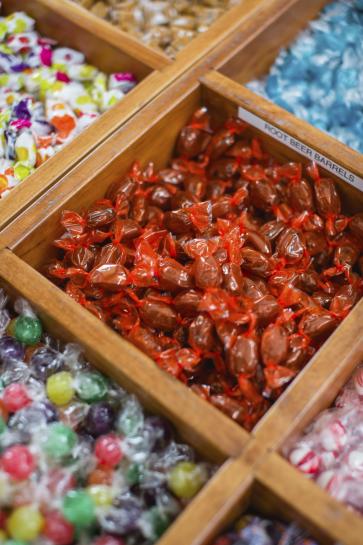 Fisher's Bakery and Fisher's Deli: The oldest at the market, these brick building businesses have been owned by the same family for nearly three decades. There's always a line at lunchtime for one of the freshly made subs and sandwiches, but it's well worth the wait. It will just give you some time to decide which baked good (donuts, eclairs, cookies, cakes, pies, muffins and sticky buns—Fisher's has it all!) you'd like to take home. Also available are hot menu items such as chicken pot pie and mac & cheese, soups, a salad and fresh fruit bar, smoothies, milkshakes and ice cream.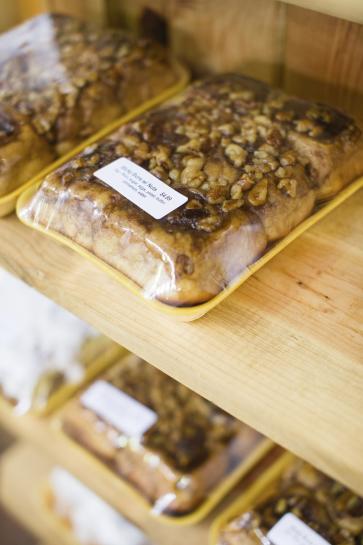 Golden Gate: Noodles and rice are the name of the game at this Asian-inspired spot inside the stone building. Vietnamese rice noodle soup (beef, shrimp, chicken or tofu), lo mein, stir fry and fried rice are served up side-by-side with kimchi-laden ramen and Korean-style BBQ. Go ahead, add a dumpling, egg roll or spring roll on the side!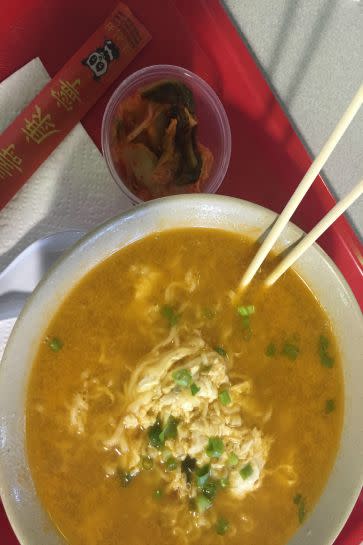 Hummer's Meats: This fifth-generation, family-owned business located in the brick building is your source for fresh and smoked meats, lunch meat and domestic and imported cheese. Locally raised pork is cut fresh daily, the sausage is homemade, hams are wood-smoked and sugar-cured with no water added and the bacon is hand-trimmed. Hungry yet?
Kabob House: True to its name, kabobs dominate the small but mighty menu at this brick building spot. Have your choice of garlic shrimp, ginger teriyaki beef, honey BBQ chicken, kielbasa or spicy peanut pork, served as a meal with mixed veggies and fried rice or as a kabob. (We suggest kabob—it's more fun that way.) If kimchi's on the menu the day you visit, do yourself a favor and be sure to order it!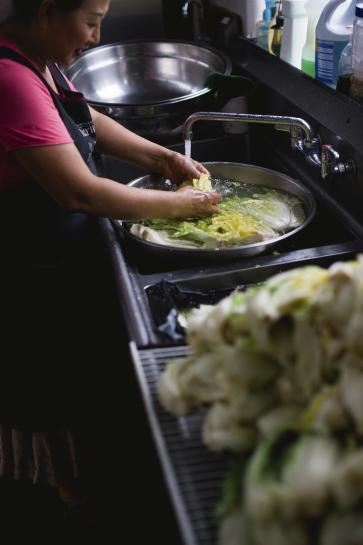 Lebanon Valley Meats: Only the highest quality pork and beef products are on offer at this brick building stand. Fresh and smoked products cut daily are a carnivore's delight, including pork chops, pork roasts, slab bacon, pre-sliced bacon, T-bones, top round, chicken steak, boneless short ribs, beef ribs, beef roasts, London Broil and so, so much more. Scrapple, pan pudding, cheese and tub butter are also available.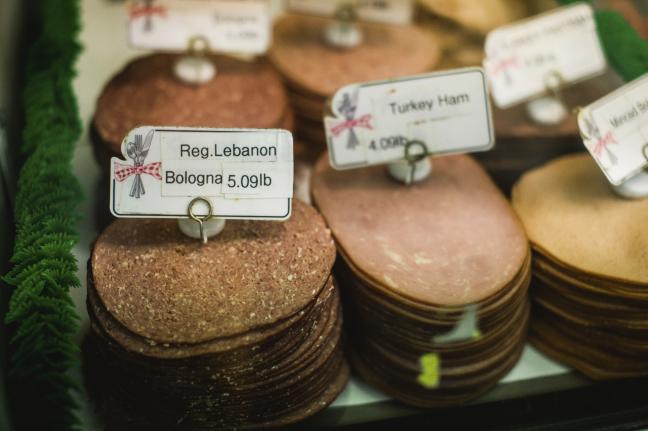 Lil's Pretzels: These are not your average soft pretzels. The menu includes hand-stuffed pretzel rolls for both lunch and dinner in choices like ham, egg and cheese; steak, egg and cheese; grilled chicken and spinach; and Cajun crab. Pretzel traditionalists can have their pick of regular, cinnamon sugar, garlic or sour cream & onion. Wash it all down with fresh-squeezed strawberry lemonade! Find Lil's, under the same ownership as Candy Scramble, in the brick building.
Peach Ridge Produce: Get pickled at this spot inside the brick building for fresh, in-season fruits and veggies that also boasts an amazing Pickle Bar, with a variety of fermented treats including traditional dill, sweet, hot and horseradish. Be daring and mix the sweet and the hot to create your own flavor sensation. Also to try: strawberry and blueberry cream cheese spreads, yogurt parfaits and fresh-squeezed juices.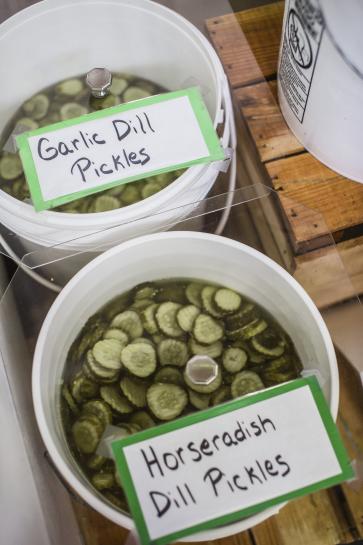 Porter's House: Take a Caribbean vacation without leaving Central Pennsylvania when you visit this stone building stand. On the menu: authentic Jamaican cuisine featuring coco-bread, oxtails, jerk chicken and pork, fried plantains, curried goat, rice & peas and more. Up your breakfast game and try the stand's Ackee and Cod.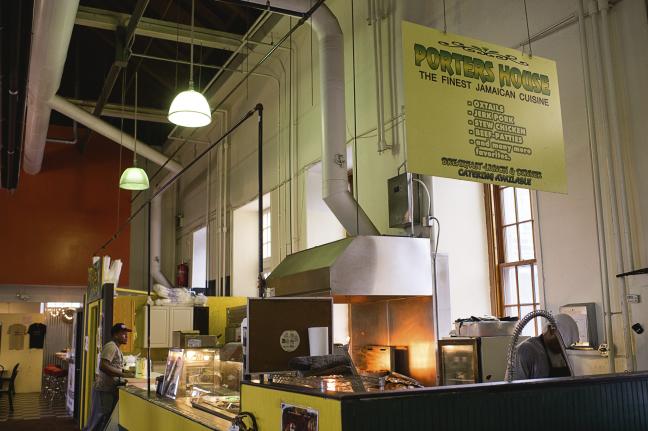 Rosetta's Chilidog: Get your walking tacos with chili and cheese here, in addition to chili dogs and chili sausage. Other specialties include gumbo, crab soup and an amazing sweet potato pie. Find the stand in the market's stone building.
Smucker's Chicken: Fresh is the word at Daniel Smucker' family-owned stand in the brick building that specializes in poultry (whole chickens and turkeys, as well as chicken and turkey cut parts and smoked turkey wings and legs) and a deliciously tempting assortment of hot dishes, including broasted chicken, bacon-wrapped chicken livers, potato wedges, buffalo chicken hot bites, nachos and mac & cheese.
Tep's Fresh Seafood: At Tep's, located inside the stone building, all fish is cleaned at your order for you to take home to cook, or let them cook it for you! Whiting, trout, blue fish and shrimp are a few of the freshly prepared offerings. Don't skip the side dishes; you know you need that side of greens and yams.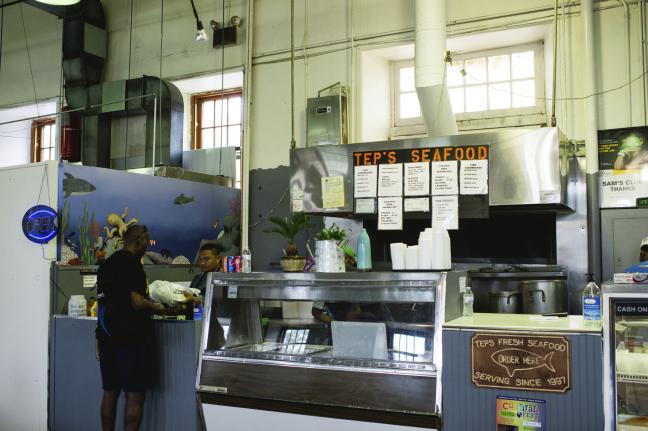 Two Brothers BBQ: In a typical weekend at their brick building stand, Two Brothers serves over two tons of food. Now that's a lot of BBQ. Look for Leon and his sons, David and Melvin ("the two brothers"), cooking up and serving rotisserie-made chicken, beef, ribs, pork, baked and sweet potatoes, vegetables, baked beans, mac & cheese and more. Pick up a bottle of their sweet & smokey sauce to take home, too!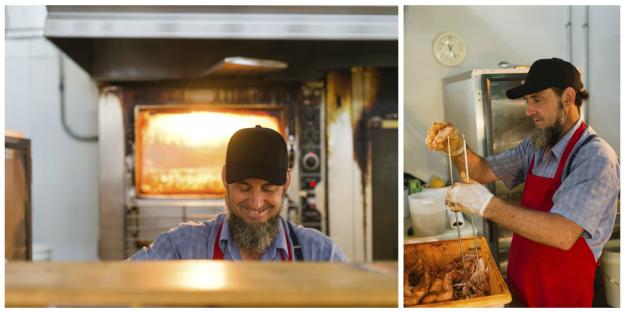 Ying's Custom Jewelry and Asian Boutique: The market isn't just about food, you know. You'll also find quite a selection of gorgeous jewelry, designed by Ying Ren and made with coral, pearls, jade and crystals, at this stand in the brick building. Other treasures include lucky bamboo, imported silk sleepwear and fountains.
New to the Market
Abrams & Weakley: Pets are people, too! Pick up a treat for your four-legged friend from this locally owned, independent natural pet food and pet supply purveyor in the brick building, whose original location still stands, after 30 years, on N. 6th Street in Harrisburg. Expect nothing but the best service and products from the 'Burg's #1 animal-lovers!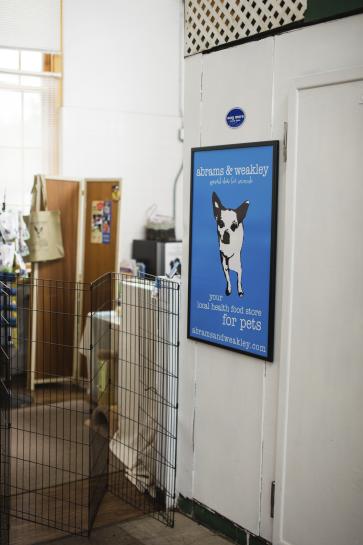 Elementary Coffee Co.: Owner Andrea Grove-Musselman, sole proprietor/barista, roasts the beans herself at this caffeine-infused spot inside the brick building (her Brew Thru window serves sidewalk customers as weather permits). Each week's menu of espresso, cappuccino, latte, cold-brew and more highlights a single-origin coffee blend from Central/South America, Indonesia and Africa. Andrea recently added locally made biscotti to her offerings, just perfect for dipping in your morning cup o' Joe.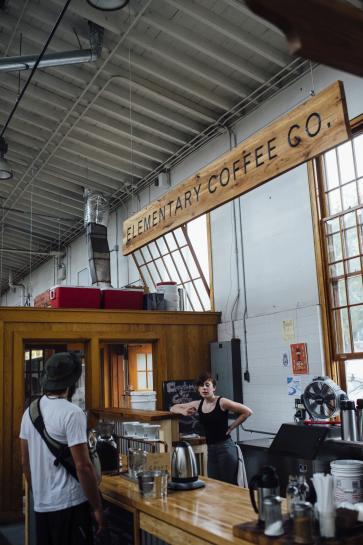 Evanilla: Go ahead, we dare you. Just try to say no to one of Eva Burchfield's gourmet donuts while passing through the brick building. Classic cinnamon sugar, powdered sugar, glazed and plain donuts share space with six changing gourmet flavors, all made on-site by Lazarus, Eva's 30-year-old donut-making machine. Oh, and in case that's not enough, try the donut sundae, tantalizing piled high with Urban Churn ice cream, whipped cream, chocolate sauce, sprinkles and a cherry.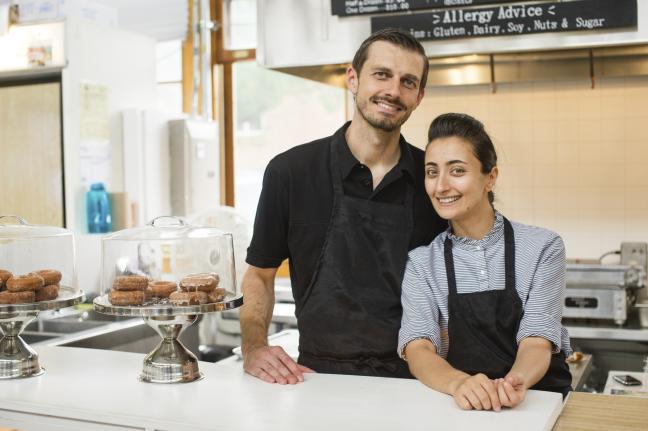 Green Ridge Acres: New to brick building, this stand carries an incredibly diverse selection of organic and all-natural goods, including produce, free-range and grass-fed meats, locally produced snacks, bulk nuts and dried fruits, fair trade coffee, fermented veggies, raw milk and cheese, homemade ice cream and organic herbs and spices. For a real treat, bring home one of the on-site-made nut butters, and be sure to check out daily home-made soup (beef noodle—yum!) and sandwich specials.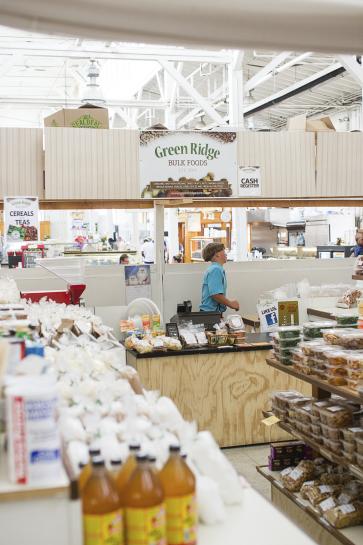 JB Kelly Seafood Connection: Owner John Kelly IV drives to Maine to bring seafood back to Harrisburg. That's how committed he is to selling the freshest, highest-quality clams, scallops, crab, lobster, salmon, shrimp, snapper … you name it, John gets it directly from the fishermen and keeps it affordable by cutting out the middleman. Does it get any more fresh than that?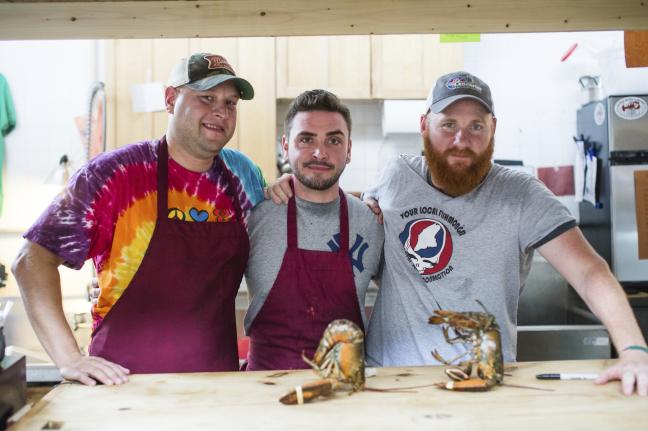 Mad Dash Artisan Grilled Cheese: Husband-and-wife owners Julian and Jessica Boryszewski have expanded their local food truck business into the market's stone building to bring gourmet grilled cheese creations to the hungry masses. Creatively ooey-gooey selections have included mac & cheese grilled cheese, BLT grilled cheese, buffalo chicken grilled cheese and pizza grilled cheese. Save room for a milkshake, orange creamsicle or cappuccino slushie on the side.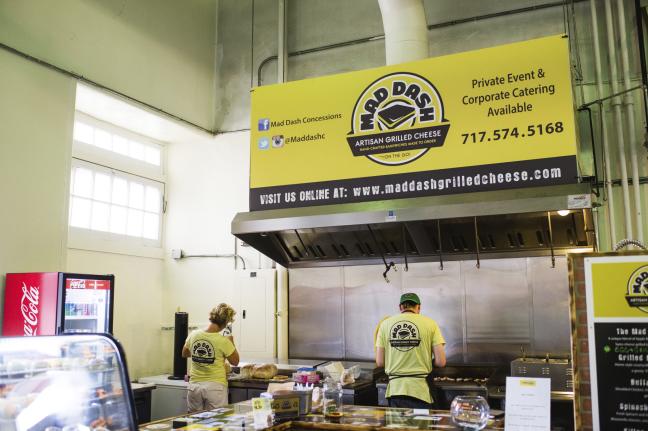 Popped Culture: Recently arrived at the market is this socially responsible snack food business, the brainchild of POPrietor Mark Wieder. For every bag of artisanal popcorn or kettle corn you buy—available in creatively sweet, spicy, earthy and buttery flavor options like apple chai, coconut lime and rose petal brown butter—Popped Culture donates one to a child in need. Earlier this summer Mark donated 125 bags!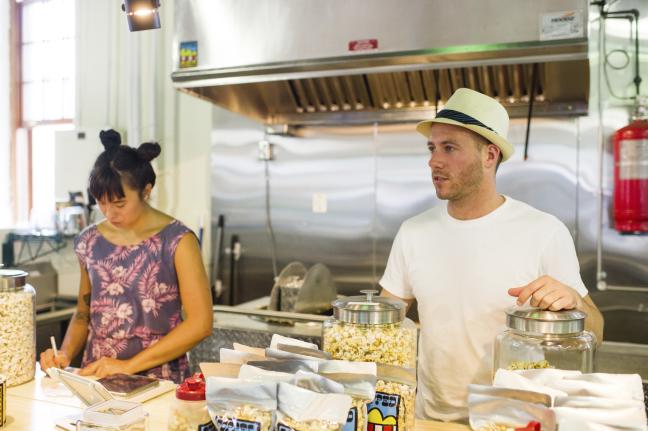 Radish & Rye Food Hub: The name says it all. This brick building spot is truly a hub for a seasonally changing cornucopia of vegetables, fruit, cheese, sauces, honey, baked goods, meats, eggs, dairy and more sourced directly from local farmers and vendors. Consider this local food-driven mission a source of inspiration for meal prep!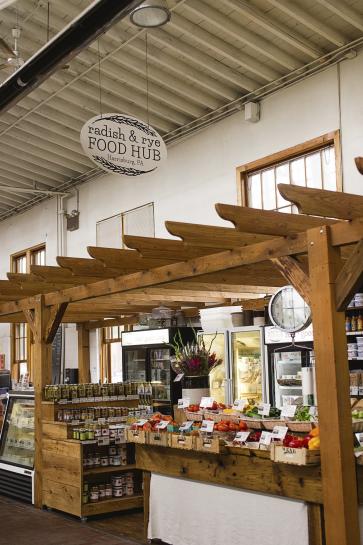 Soul Burrito: This far-from-ordinary spot for burritos, family-owned and -operated by Obi and Nicole Linton, adds a global flair—and a whole lot of soul—to its menu offerings. Go South of the Border with a marinated grilled chicken burrito kissed with sweet and spicy jerk sauce, or try The Treehugger, jam-packed with local veggies fresh from the market. You can also get any selection as a bowl, salad, nachos or taco. For a real treat, add Soul Burrito's famous oven-baked mac & cheese for just $3 more.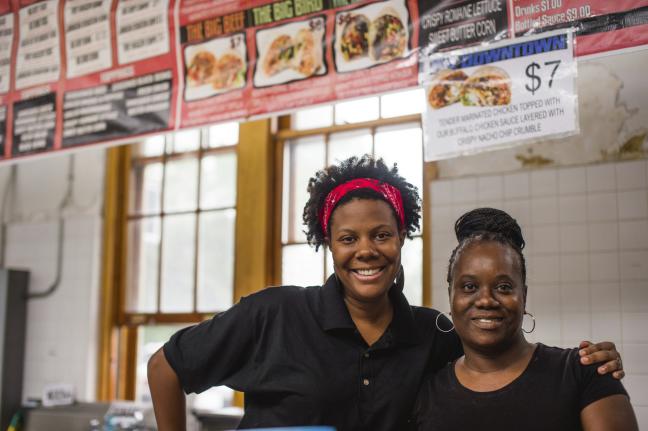 Sugar Whipped: Sharing a space with Mad Dash in the stone building is this from-scratch bakery, which whips up cupcakes and full-sized cakes using fresh, local free-range eggs, milk and butter from Lancaster. Vegan, sugar-free and gluten-free items are also on the menu. This fall, look for french toast maple, honey lavender and (of course) pumpkin treats—and don't forget to try a whoopie pie!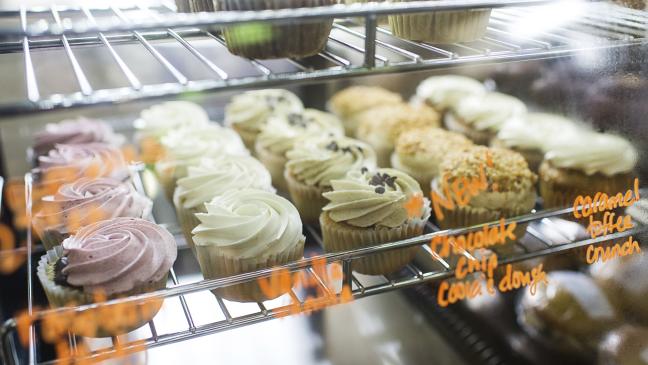 Coming Soon!
Look for these new vendors, arriving in September:
Fig Tree: Look for paninis and pizza at this Italian market, which will also sell imported specialty items ranging from cold-pressed olive oil to charcuterie.
Visit the Broad Street Market, located at 1233 N. 3rd Street in Harrisburg, from 7 a.m.–6 p.m. on Thursday and Friday and from 7 a.m.–4 p.m. on Saturday. The market has 200 free parking spaces around the property, including two parking lots. Street parking is also available and is free on Saturdays. Stay up-to-date with the latest market happenings, including live music, performances, demonstrations and more, by following Broad Street Market on Facebook and Twitter.
Whether for an evening, a long weekend or an extended vacation, Visit Hershey & Harrisburg and rediscover this vibrant dining and nightlife destination's energized bar and restaurant culture, featuring artisan fare by award-winning chefs (fine dining, casual, family-friendly, farm to table and more), killer cocktails by top-notch mixologists, breweries & wineries, year-round events and much, much more!
Content provided by Dish Works author Michele Kornegay. Photography provided by Alexandra Whitney Photography.