UPDATED: 2/24/20 - View the ongoing list of new attractions, expansions, and experiences coming to PA's Hershey & Harrisburg Region in 2020.
New Chocolatetown at Hersheypark 2020
Hershey Entertainment & Resorts announced they are opening "Chocolatetown" at Hersheypark in 2020. The new 23-acre area expansion is the largest in the company's history and represents an estimated $150 million investment into this iconic American park opened on May 30, 1906, by chocolate entrepreneur and founder Milton S. Hershey.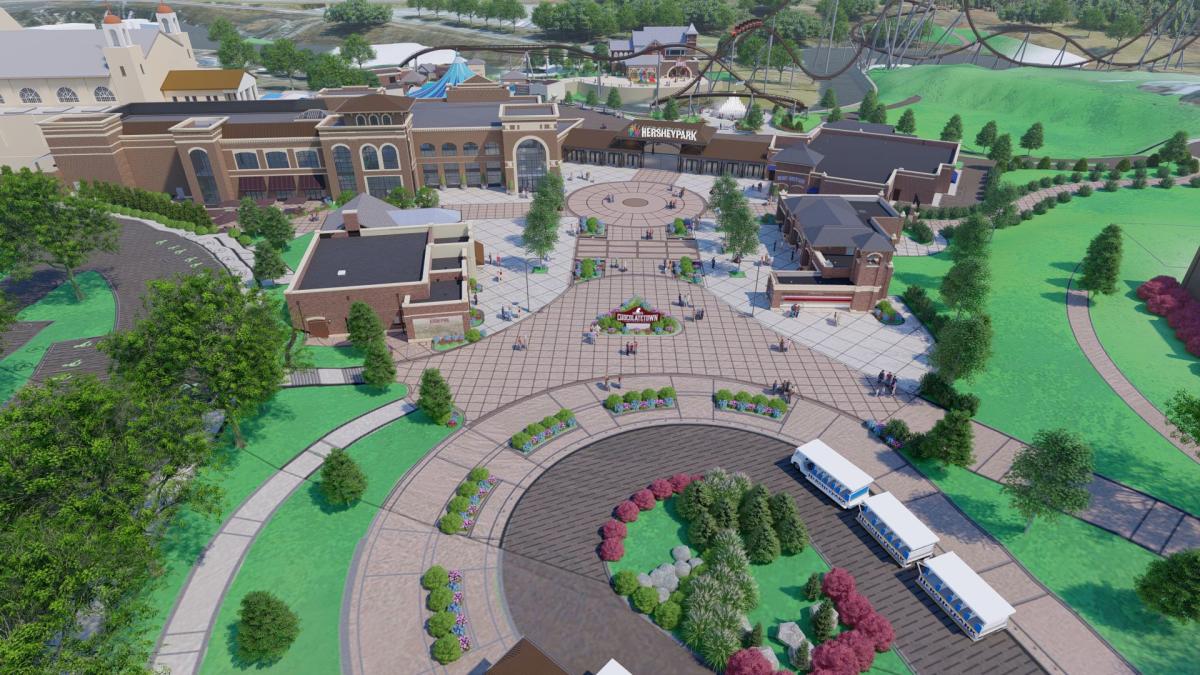 Hershey's Chocolatetown is a new region at Hersheypark where guests can eat, play, shop and gather year round with some of the following highlights announced by park officials.
New Arrival Experience
A new front gate and entrance plaza honoring the legacy of our founder, Milton Hershey, will welcome guests with a view of an iconic ​Kisses fountain for that perfect photo of fun and chocolate.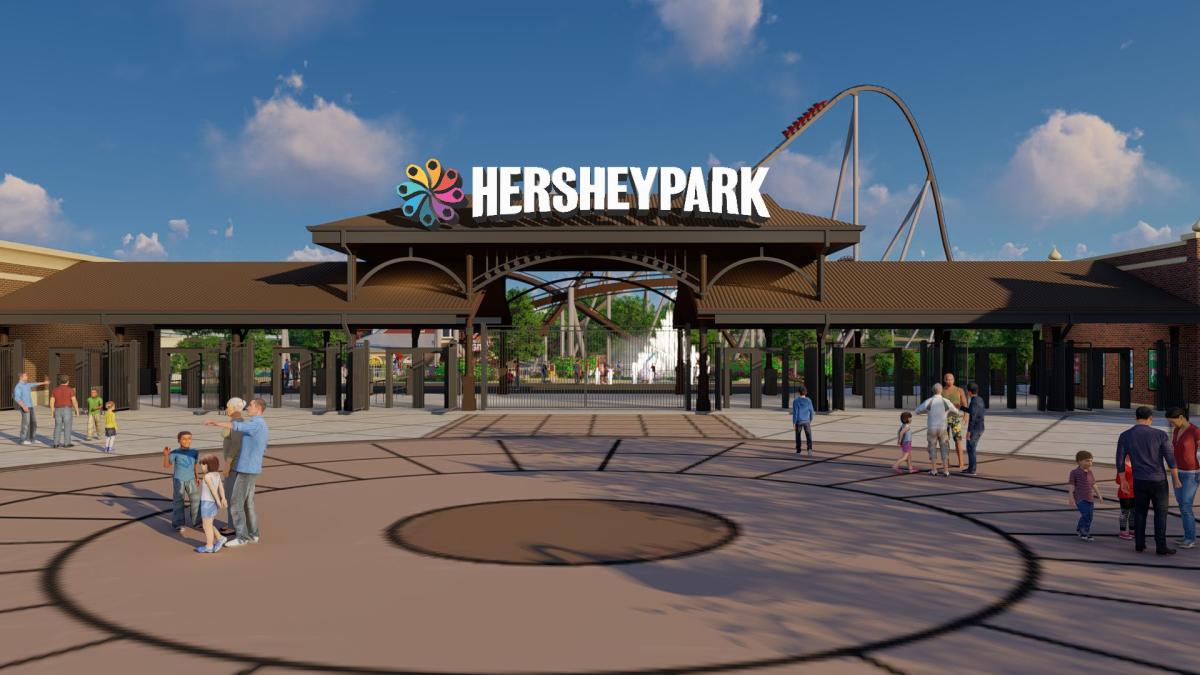 Hersheypark's 15th coaster will be the park's tallest, fastest, and longest coaster, merging fun and iconic ​Hershey ​brands to provide a unique and thrilling roller coaster experience only found in Hershey, PA.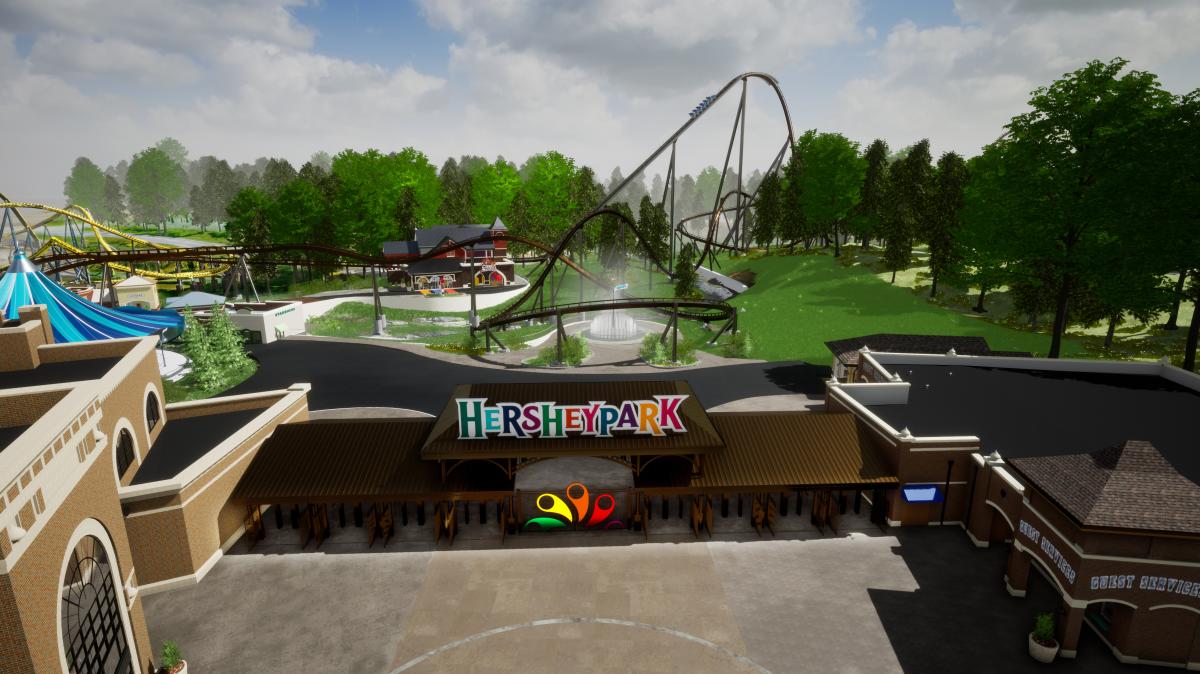 Restaurants + Retail
Hershey's Chocolatetown​ will also offer more than ​five locations to eat, drink and gather​, including: ​
The Chocolatier Restaurant, Bar + Patio
The largest themed restaurant in Hershey with one-of-a-kind views of Hersheypark and Candymonium.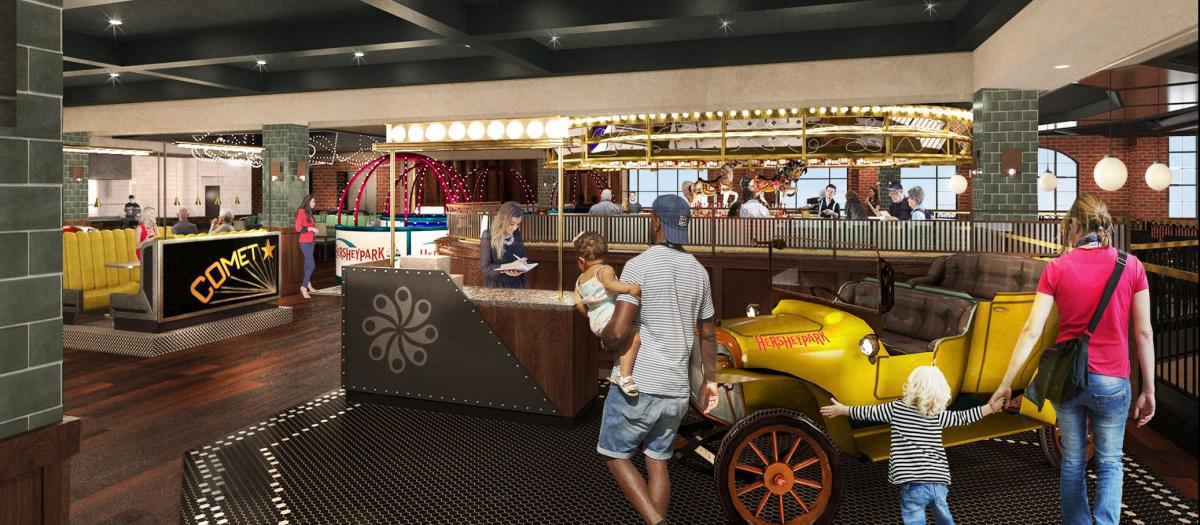 Milton's Ice Cream Parlor
Featuring personal Ice Creamologists serving up exclusive ice cream creations.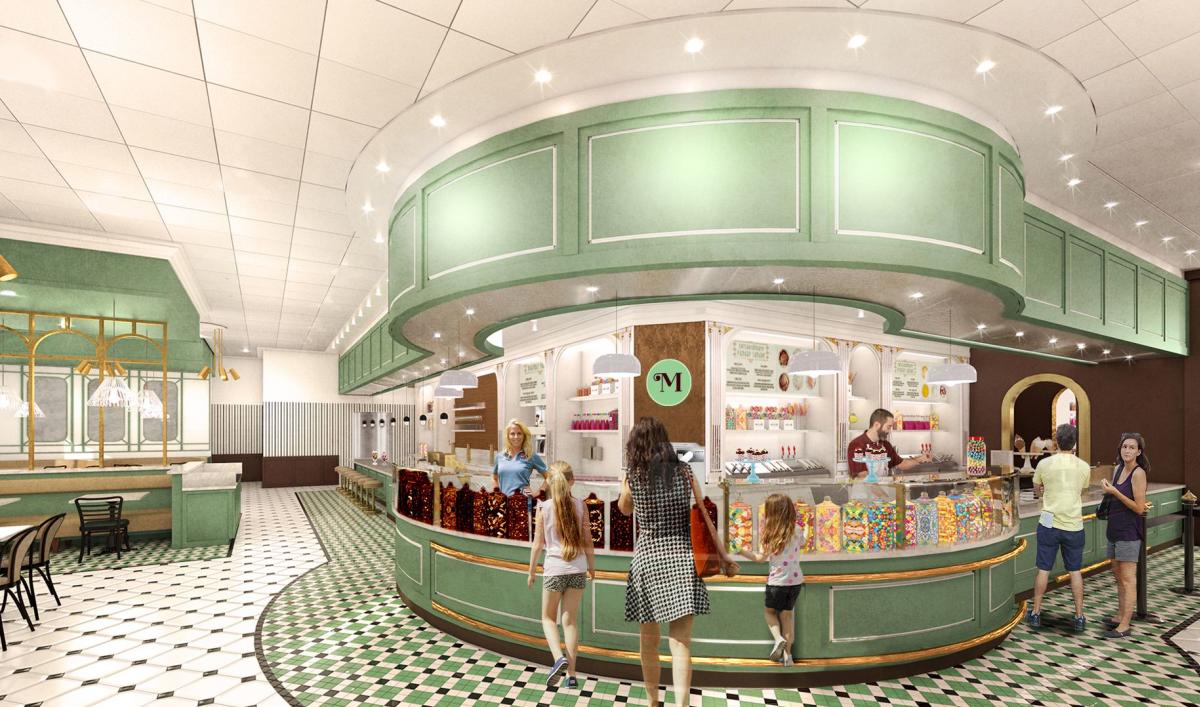 The Sweeterie
New scratch confectionery kitchen where guests can watch the candy makers at work.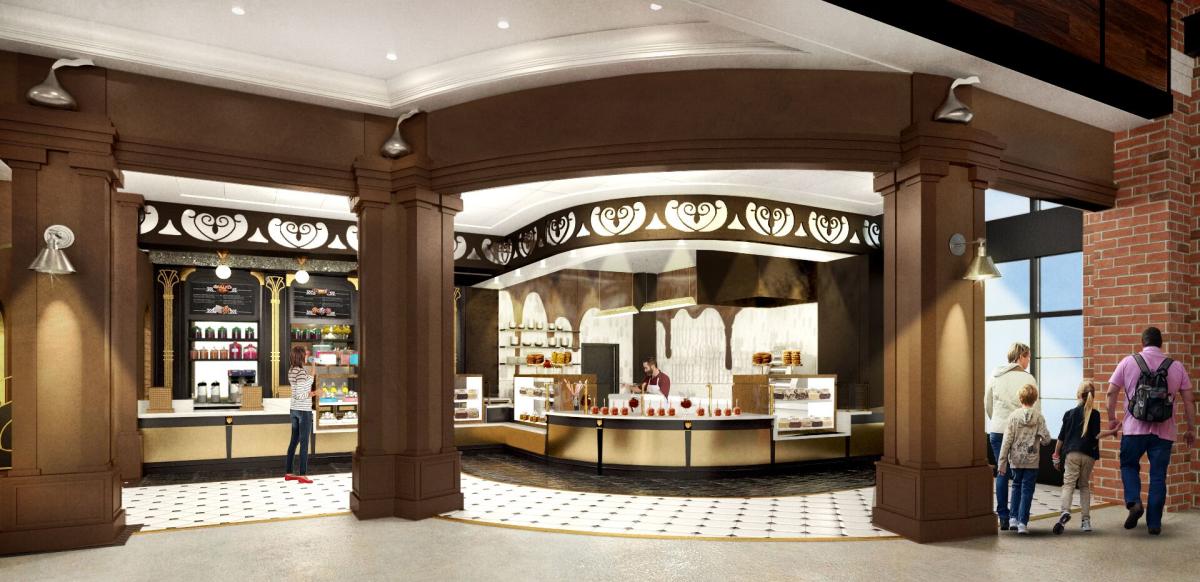 Hersheypark Supply Co.
Premier 10,000-square-foot flagship retail experience that will offer the largest collection of apparel, gifts, toys and more that will be exclusive to ​Hersheypark​.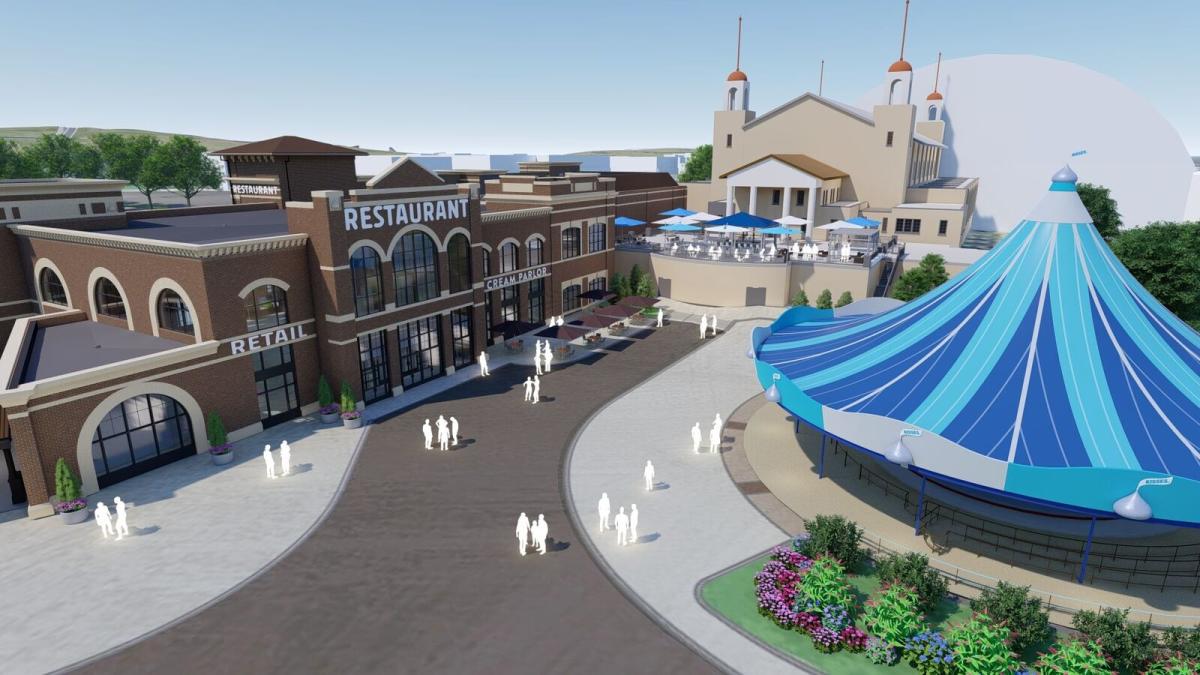 Hyperdeck
A radical immersive virtual reality experience called Hyperdeck.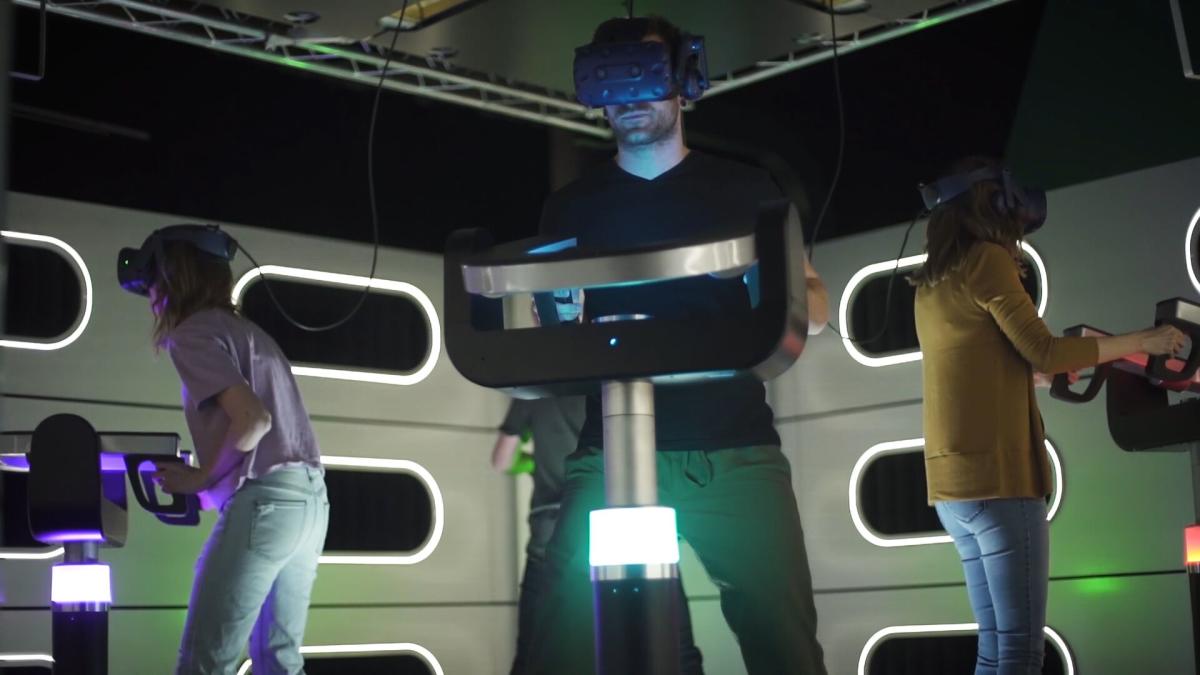 The new immersive virtual reality experience coming to Hershey's Chocolatetown will feature two unique 300-square-feet Hyperdecks that will create a dynamic virtual world with a full-motion floor and multi-sensory effects like strong winds, heat, and earth-rattling movements. The game continues outside as spectators help or challenge players via tablets stationed outside Hyperdeck. Media can download b-roll and photos here.   
ZooAmerica North American Wildlife Park - New Parrot Habitat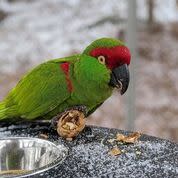 In January 2020, ​ZooAmerica ​North American Wildlife Park, an 11-acre walk-thought zoo that cares for more than 200 animals from five regions of North America, opened a new habitat for its six thick-billed parrots.
ZooAmerica​ is included with admission to ​Hersheypark ​amusement park​ ​when entered from inside the Park; hours vary. Separate admission is also available at the Zoo's off-street entrance. To learn more about ​ZooAmerica​, visit ​www.ZooAmerica.com​.   
The thick-billed parrot is an endangered species and the last remaining parrot species in North America. ​
ZooAmerica ​is one of only 11 zoos that care for these rare birds.
The new habitat provides the thick-billed parrots with an extended flight path and allows for enhanced enrichment and training opportunities.
It also features four times the amount of viewing area for guests to observe the parrots.  
As a Zoo accredited by the Association of Zoos & Aquariums, the staff lives up to a high standard of animal management and care, as well as a devotion to including conservation in their mission and day-to-day duties and interactions.
Hersheypark Leadership Development Internship Program 2020
Hershey Entertainment & Resorts Company (HE&R) has launched a new program for college students seeking an enhanced summer employment experience while learning critical skills from industry experts and thought leaders with a specially-designed leadership curriculum. Get more information.
College students graduating after May of 2020 are eligible to work at Hersheypark for 13 weeks.
Receive invaluable skills for future employment, and have the opportunity to live with other interns in nearby housing.
New program was developed in partnership with Shippensburg University to create a robust curriculum that complements the students' summer work experience.
Participants will work an average of 40 hours per week at Hersheypark, with the opportunity to secure additional shifts.
Students will also attend a weekly three-hour class with relevant exercises, experiential learning, and guest lecturers.
Students will have the ability to earn up to three college credits, pending individual college/university requirements.
Upon completion of the internship, all participants will receive a certificate for leadership development training issued by Shippensburg University of Pennsylvania.
This will provide information about the knowledge and skills acquired through the program, which can be leveraged with future employers.
Program participants will have access to rent nicely appointed apartments through CollegeTown Communities located at the Penn State Harrisburg campus.
New Hershey & Harrisburg Craft Beer Trail - Coming Summer 2020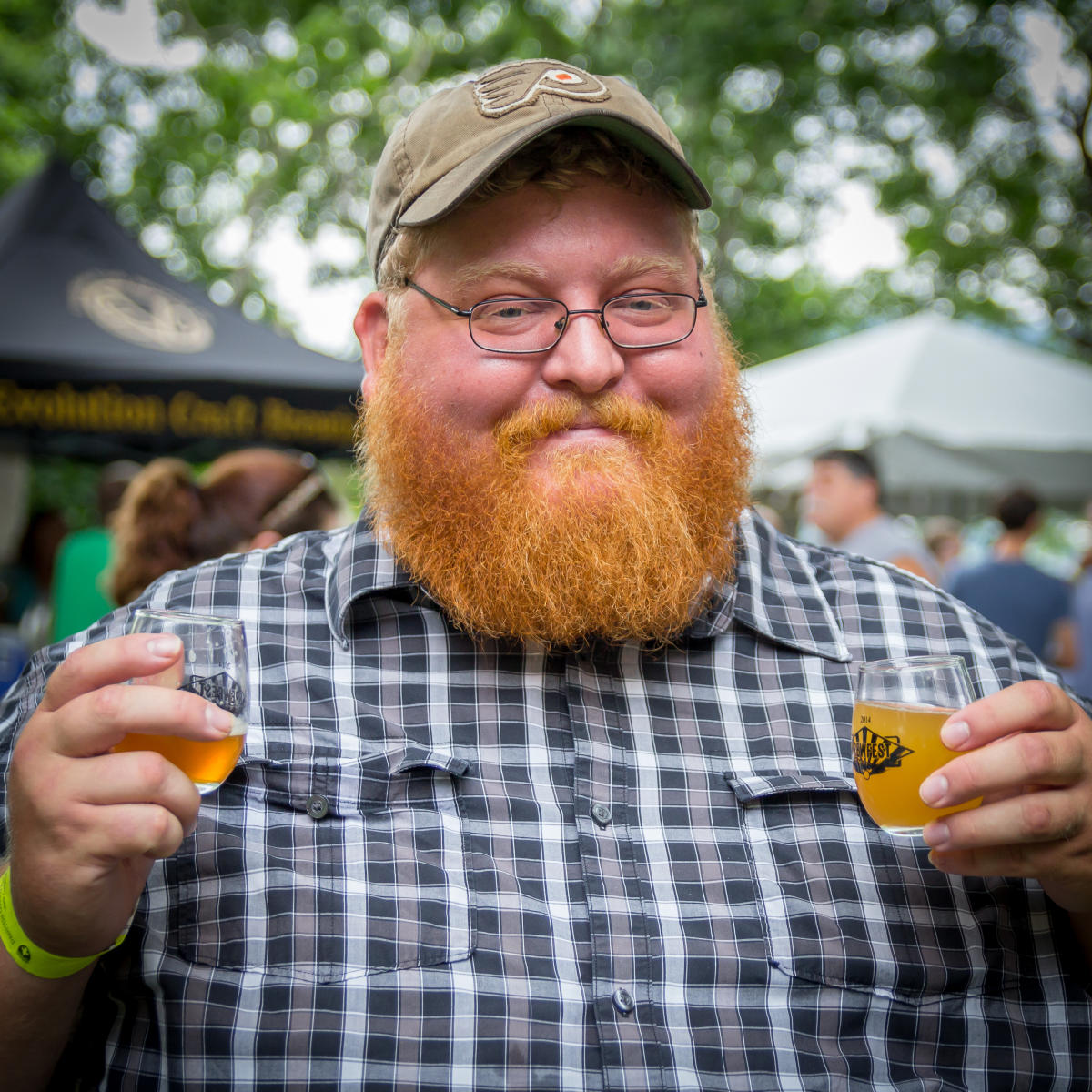 Visit Hershey & Harrisburg will be launching a new craft beer experience in Summer 2020. No details are being released yet, but tourism officials say this program will be a re-imagination of a now defunct regional brewery program previously launched by a different organization in 2013. One of the most significant changes will be the use of mobile technology to provide greater convenience for visitors and better analytics for those marketing the new trail program.
Harrisburg Murals Program 2020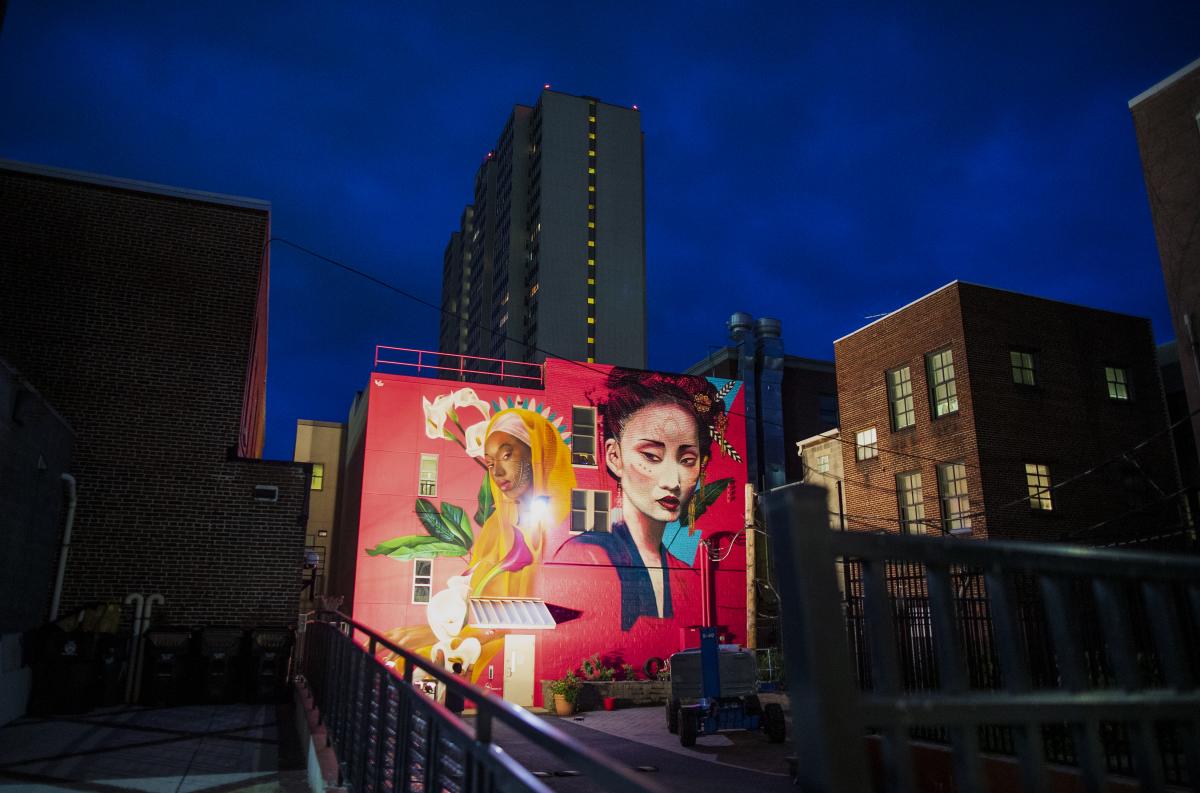 Sprocket Mural Works has produced an annual Harrisburg Mural Festival since 2017, resulting in 40 spectacular public works of art on display throughout PA's Capital City.
In 2020, a new mural tour map will be introduced along with a variety of opportunities to view the murals including self-guided walking and biking tours, guided tours on select dates, and special events like photography classes, 5k Run, etc. 
For more information on Harrisburg Murals contact Karen Hendricks, PR + Communications Manager for Sprocket Mural Works at khendricks@sprocketmuralworks.com or visit www.sprocketmuralworks.com.
Harrisburg Food Tours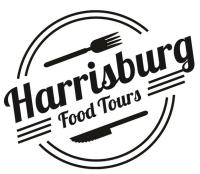 Harrisburg Food Tours opened in late 2019 and now offers various themed walking tours to discover the culinary opportunities in PA's Capital City. Groups can take a set tour or work with tour operator Nada Watson to develop a tour that speaks to specific palates and preferences.
The tours currently offered by the company include some of the city's best, locally owned, food and drink establishments with a pinch of local history, architecture and culture. This is a great opportunity for both tourists and locals to learn more about Harrisburg and those who have devoted their lives to feeding their friends, neighbors, and their community.
Whitaker Center for Science & The Arts
Drop in STEM Workshops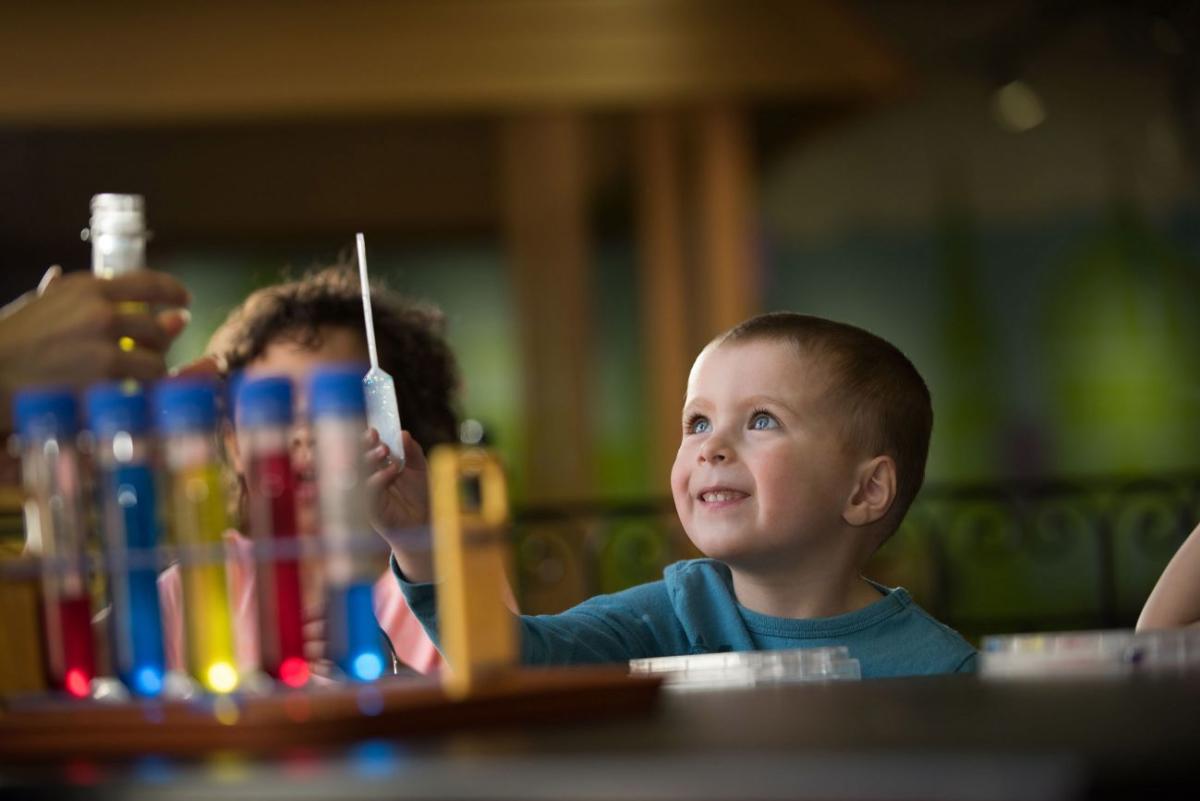 STEM Design Studios offer all science center visitors the opportunity to get hands-on with different STEM topics.
Adults and kids will meet a STEM Educator at the classroom doors and be introduced to the day's inquiry-based challenge.
Small groups will have time to design, test, and refine their projects to fulfill the posed requirements.
These engaging activities will allow parents and kids to explore STEM topics together, learning as a team. 
Get hands-on with design challenges using curcuits, tanagrams and K'NEX®.
Enjoy activities and experiments with Ozobots™ , Spheros™ and 3Doodler™ 3D printing pens. 
No reservation needed to attend, but space is first-come-first-served.
Program is intended for groups of 30 or less at one time.
Each workshop will take approx. 15 – 20 minutes (based on group size and the nature of the activity).
STEM Design Studios are located on the Lower Level of Harsco Science Center behind Backstage Studio gallery and is included in science center admission.
Bricksburg
January 11 thru June 7, 2020

Bricksburg invites visitors to take on the roles of architect, artist, engineer, and builder at brick activity tables, stocked with thousands of bricks. This new vibrant exhibition at Whitaker Center is included with admission and features building challenges, interactive areas, plus free-play and demonstration areas designed to encourage visitors of all ages to explore the power of creativity with familiar toy building bricks. An engaging experience for anyone who has ever picked up a building brick and let their imagination run free.
Exhibition highlights include:
Famous Architecture: Recreate famous architectural structures like Great Pyramid of Giza and the Eiffel Tower.
Drag Race: Explore car construction and challenge your friends to a race with your brick race car.
The Floor Is Lava!: With only tower platforms to build off of, visitors are challenged to create balconies, bridges and cantilevered platforms to get from here to there.
Tilt Maze: Arrange and re-arrange straight bricks to create a maze for a wooden ball to navigate through on a tilt-table.
Describe It!: Facing each other, but divided by an opaque screen, one visitor builds an object while describing it to the other, who then tries to build the same object. 
Open Play: Create your own masterpieces with piles of bricks.
Toys the Inside Story
January 11 thru May 10, 2020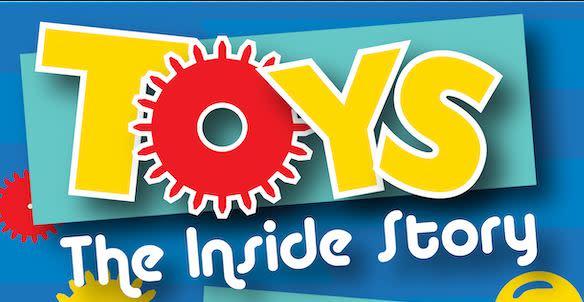 This exhibit, included with admission, explores the world of toys and the pulleys, cams, gears, circuits, and linkages that make them work. Guests can trace out their plans on a gigantic Etch A Sketch and get a good look at the other mechanisms, mechanical parts, and electrical gizmos that make toys GO! oys was developed by Montshire Museum of Science & TEAMS Collaborative, and funded by National Science Foundation (NSF).
This exhibit includes:
The Magic Behind the Silver Screen
Pattern Tracer
Big Pully & Little Pulley & Pulley Wall
Circuit Wall & Circuit Challenge
Cam Wall & Linkages Wall
Gears Wall & Gears at Play
Big Gear, Little Gear
What's Inside the Marching Machine?
What's Inside Jack-in-the-Box?
The National Civil War Museum Educational Series
The National Civil War Museum (NCWM) in Harrisburg, PA has announced a full calendar of special events and new educational programming for 2020.
All educational programming will once again be FREE to attend but regular museum admission will still apply for visitors who would like to tour the museum galleries. Admission for 2020 is $13 adults, $12 seniors, and $11 students with reduced rates for children and families. There are also special rates offered on select dates for active military, see the NCWM website for details.
Video Series: Captivating Stories of the American Civil War
The NCWM will air a new video each month highlighting a story from the American Civil War and air it on Facebook.
The museum is also expanding the See, Touch, & Feel video series to 12 programs this year.
After these videos air, they will reside on the NCWM's YouTube page with links from the museum's website for easy accessibility.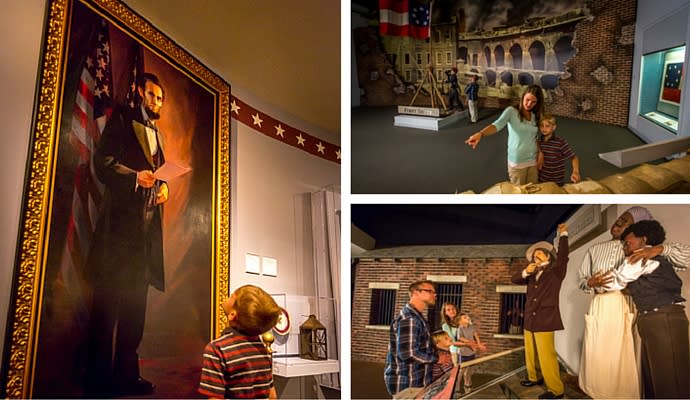 Special Event: Civil War Days
June 13-14, 2020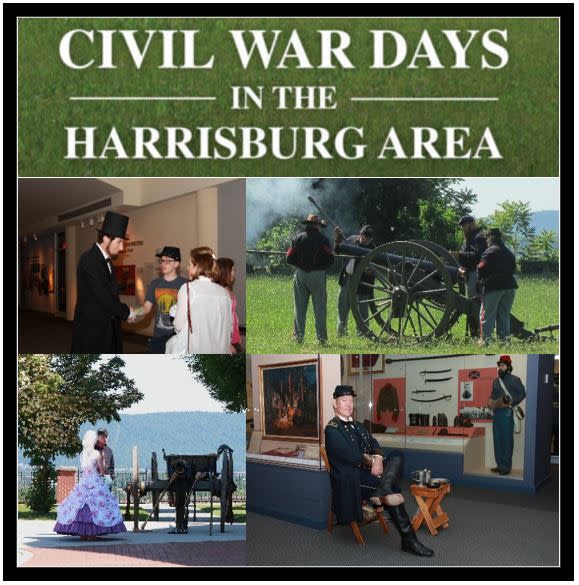 The museum announced it will be hosting Civil War Days in conjunction with their annual Summer Community Free Day on June 13, 2020.
This weekend will be programmed with fun events, living history, and presentations highlighting the Harrisburg area's role in the American Civil War.
Lecture Series: Lessons In History
The museum's popular lecture series returns with new guest speakers one Saturday each month from March thru September 2020.
March 24, 2020: "Civil War Myths and Mistakes"
Chief Historian for the Civil War Trust, Garry Adelman
April 4, 2020: "Crossing the Deadlines: The Rise of Civil War Prisons as Dark Tourist Destinations"
Professor of History, East Stroudsburg University, Dr. Michael P. Gray
May 9, 2020: "The Civil War in a Global Context"
Fred C. Frey Professor of History and History Department Chair, Louisiana State University, Dr. Aaron Sheehan-Dean
June 13, 2020: "A Broken Regiment: The 16th Connecticut's Civil War"
Professor of History, and Charles G. Summersell Chair of Southern History, University of Alabama, Dr. Leslie Jill Gordon
July 18, 2020: "Shaping the Contours of Federalism: The American Civil War in New Perspective"
Prof. and Director, History Symposium Series, Florida Atlantic University, Dr. Stephen D. Engle
August 8, 2020: "U.S. Grant, the Meaning of the Civil War, and the Election of 1868"
Professor of History, UCLA, Dr. Joan Waugh
September 19, 2020: "The Jubal Early School: How the Losers Wrote Civil War History"
Associate Professor of History, Virginia Commonwealth University, Dr. Kathryn J. Shively
Temporary Exhibits
There is also a new series of exhibits included with admission to the museum that will be available for a limited time.
Boots and Saddles: Horses in the Civil War
Now thru June 7, 2020
Nicknames and Sobriquets of the Civil War
Now thru December 31, 2020
Recreational Pastimes of the Civil War (Working Title)
June 13, 2020 thru June 1, 2121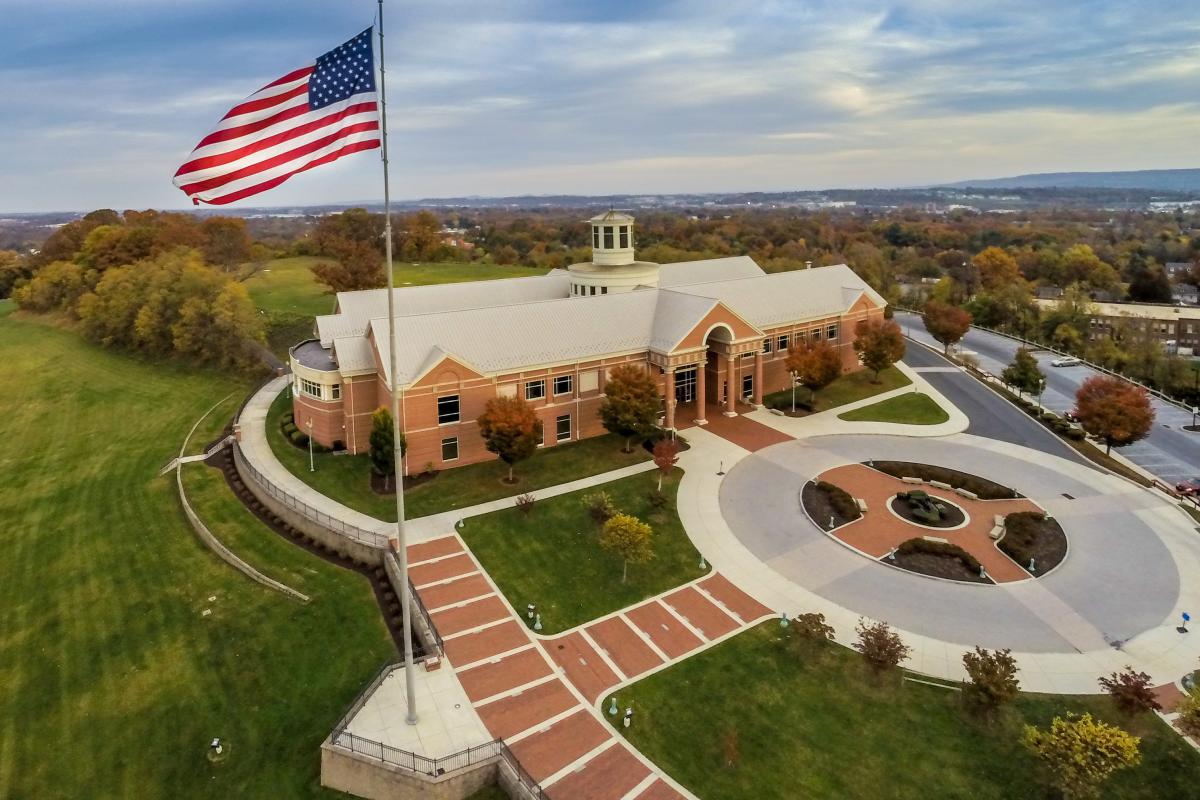 Above: Opened in February 2001, The National Civil War Museum, a member of the Smithsonian Institution Affiliations Program, is a non-profit private educational institution dedicated solely to the American Civil War. It is one of the largest museums in the world which interprets the entire American Civil War from a military and civilian perspective. The Museum preserves and exhibits some of the nation's treasures, including General Robert E. Lee's personal Bible, and more than 24,000 artifacts, documents and photos.
Susquehanna Art Museum Exhibit: Many Visions, Many Versions: Art from Indigenous Communities in India
Feb. 8 - May 10, 2020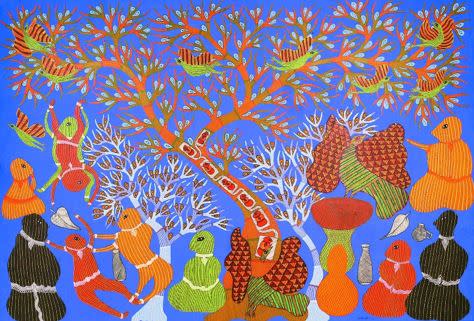 This exhibit highlights work by contemporary artists from four major indigenous artistic traditions in India.
It brings together art from the Gond and Warli communities of Central India, the Mithila region of Bihar, and the narrative scroll painters of Bengal.
The works are drawn from private collections in the U.S. and Europe and feature paintings by 24 significant indigenous artists.
The exhibit explores the breadth and variety of cultural traditions in India, revealing a dynamic aesthetic that remains deeply rooted in traditional culture, yet vitally responsive to issues of global concern.
The exhibition is divided into four broad categories: Myth and Cosmology, Nature—Real and Imagined, Village Life, and Contemporary Explorations.
Each piece of remarkable artwork offers a unique opportunity for viewers to learn about life and culture in India.
The curators organize the paintings thematically to demonstrate the shared cultural features and contemporary concerns of these four communities, while emphasizing the diversity of their artists' unique expressive forms, techniques, and styles.
Harrisburg University Concert Series
This program was launched in 2018 under the direction of Harrisburg University Director of Live Entertainment and Media Services Frank Schofield. The HU Concert Series has continued to program and welcome world-class national music artists, comedians and more to a variety of venues throughout Harrisburg such as XL Live, Hershey Theatre, The Forum, and Riverfront Park. The schedule for 2020 is available at https://concertseries.harrisburgu.edu/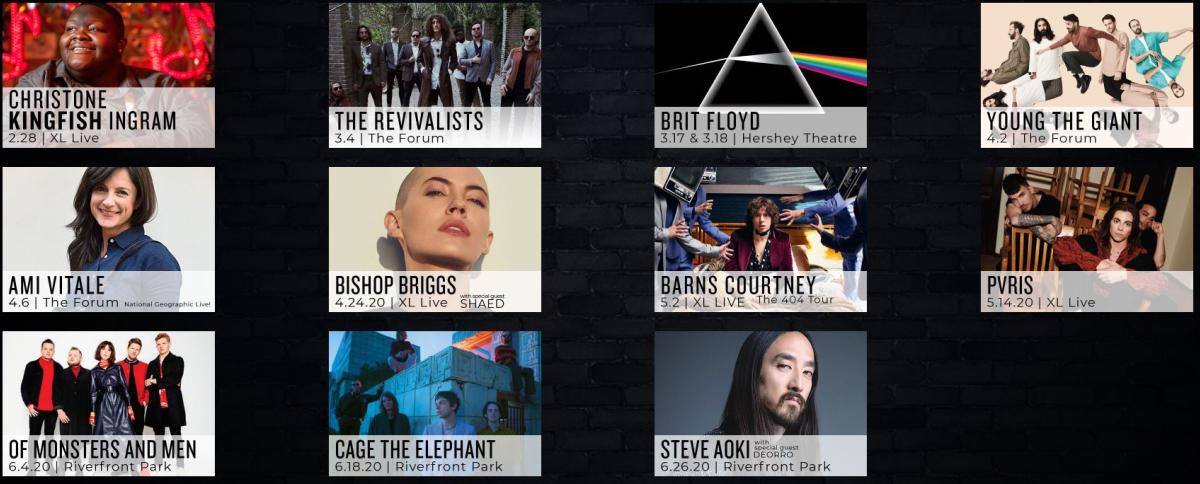 Restaurant + Dining News
Revelry Chophouse at Hershey Lodge (Hershey)
On January 17, 2020 the Revelry Chophouse, Bar & Patio opened, replacing The Forebay full-service restaurant in the heart of the Hershey Lodge. Revelry includes a refreshed dinner menu focused on classic and contemporary chophouse fare with premium cuts and the largest wine and spirits list available throughout the property.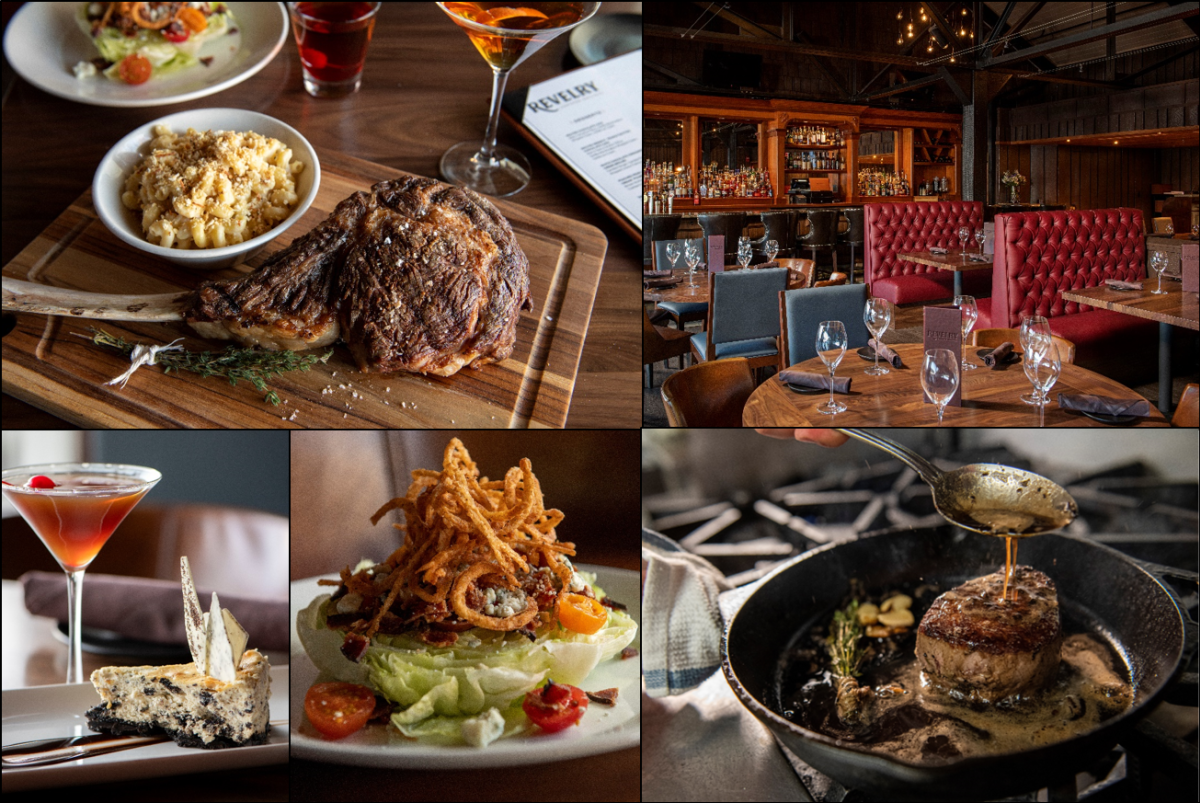 Guests will find specialty dishes on the menu, such as a 34-ounce Tomahawk Ribeye and a Snake River Farms Wagyu "Eye" of Ribeye, as well as some fan favorites including the Smoked Short Rib Chips appetizer, NY Strip Steak entree and Chocolate Molten Cake dessert. Add some Chocolate Stout Steak Sauce or order a Chocolate Manhattan cocktail for an extra Hershey's touch.
First Watch (Downtown Hershey)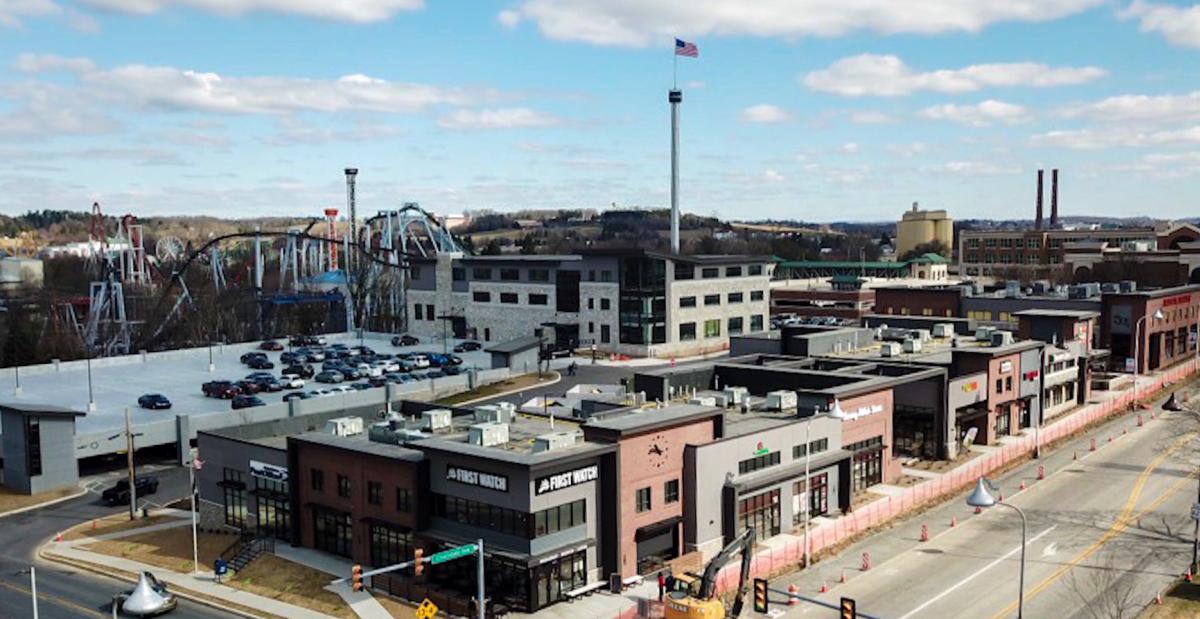 This new early-morning stop located in downtown Hershey at the new Hershey Towne Square complex provides morning perks for diners who can order cups of Colombian coffee and fresh squeezed juices along with Floridian French Toast topped with kiwi, banana and strawberries; piled-high avocado toast; and Sunrise Granola Bowls. First Watch opened its first restaurant about 30 years ago in California and now operates 250 locations throughout the United States. It is named after the nautical term that refers to the first shift of the day. The restaurants are open 7am to 2:30pm daily and concentrate on breakfast, brunch and lunch foods.
Hops, Vines & Spirits Tasting Room (Harrisburg)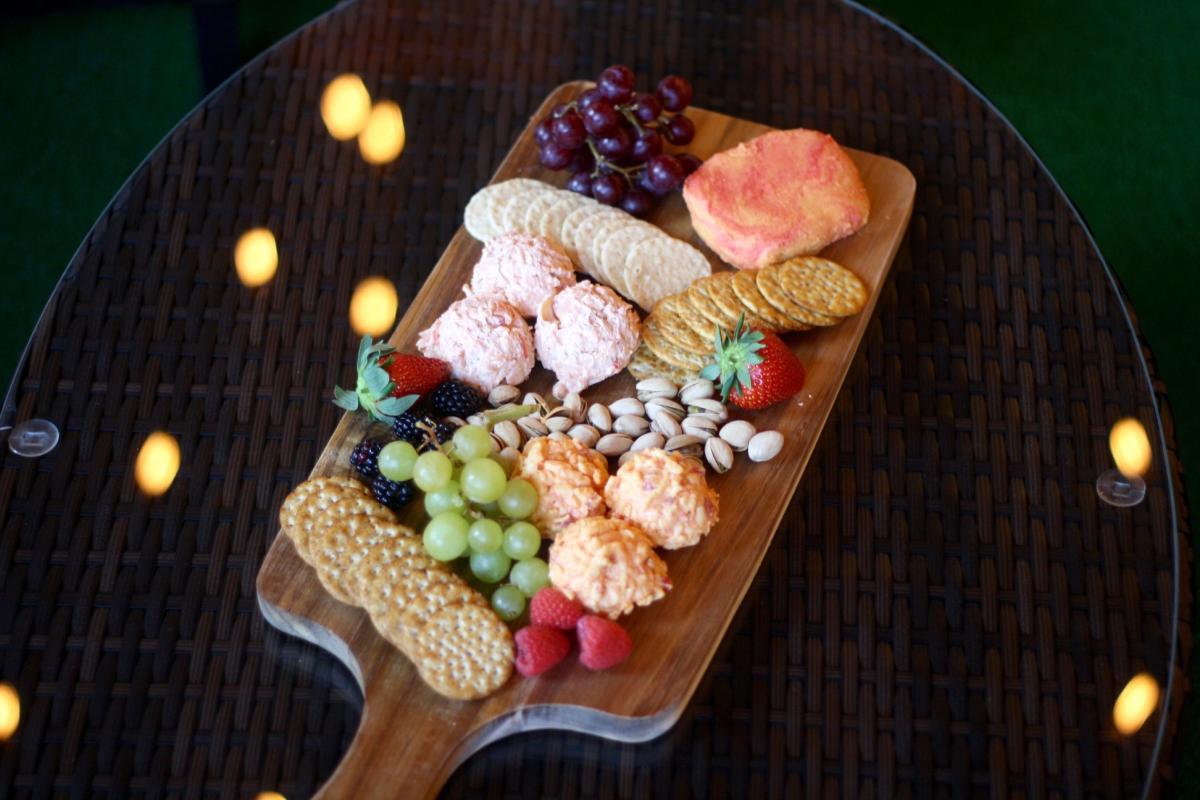 Basically an emporium of Pa.-produced beers, wines and spirits, Hops, Vines & Spirits specializes in variety of beverages and brands under one roof. Customers sit at long, wooden communal tables to sip cocktails, wine and beer and order french fry flights, meat and cheese boards and bacon on a stick.
Ron Kamionka, owner of venues such as Sawyer's and Bourbon Street Saloon in Harrisburg, created the concept. Part of the appeal, he said, is providing customers with the convenience of having different locally sourced products in one spot. Every month, the tasting room showcases a revolving door of new items, highlighting two breweries, two wineries and one distillery.
Taste Buffalo - Wing It & Fling It (Harrisburg)
This new themed offering in downtown Harrisburg provides guests with Buffalo wings, beef on weck, beer and something new for Harrisburg, a smash room. Owner Ron Kamionka has transformed the restaurant at 31 N. Second St. into Taste Buffalo Wing It & Fling It, a sit-down venue with bar food and an outlet to help alleviate stress. Earlier this year he opened Taste as a rotating taste room where the concept will change twice a year. He kicked it off with a taco and tequila theme.
Four Sea Restaurant (Harrisburg)
The former Meiji's Vietnamese at 2306 Walnut St. in Harrisburg pivoted this fall and is operating under a new name, format and menu. Now called Four Sea Restaurant, it continues to serve pho but the emphasis is on authentic and traditional Chinese dishes.
Four Sea's partner Josiah Zhang, who was born in China, said some of his family members have stepped away or retired from the business. The changes are designed to grow the business and make it better, he said.
They have hired chefs from Orlando, Florida and Los Angeles to assist in the kitchen. Diners will find traditional Chinese-American favorites such as General Tso's chicken, black pepper beef and shrimp in garlic sauce as well as more authentic fare, Zhang said.
Elementary Coffee Co. (Harrisburg)
Those looking for a caffeine jolt in Harrisburg now have another spot to make a coffee run. The five-year-old Elementary Coffee Co. branched out with a second city location in October 2019. Owner Andrea Grove and her staff opened the shop at the corner of North and Susquehanna streets, joining the block with Home 231, Mangia Qui and Rubicon. The first-floor shop is an extension of Grove's Broad Street Market stand where customers crowd around the counter for small-batch brewed coffee and conversation. Elementary roasts its own coffee and sells single-origin coffees and experimental espresso-based beverages such as nitro and cold brew.
Soul Burrito (Harrisburg)
The fleet of food trucks known for its globally inspired burritos and homemade mac and cheese expanded with a sit-down restaurant at 314 S. Progress Ave. As for the menu, it is the same core burrito menu served on their food trucks. Favorite burritos include: The Greedy made with tender grilled steak and marinated chicken and the Jamaican Sensation with marinated chicken and a mild coconut curry sauce.
He Express (Harrisburg + Middletown)
Howard Dong, known for his traditional northern Chinese restaurant in Middletown, slides into Harrisburg with another restaurant, He Express Authentic Chinese Food. The mostly takeout restaurant opened in October 2019 at 1070 S. Cameron St. in Harrisburg. The menu is comprised of central and southern Chinese dishes – rice, fried rice, noodle and hand-made dumplings. It's not traditional Chinese American takeout. Spices, peppers and other dry ingredients are imported from China. The one-page menu includes rice dishes such as chicken and rice, braised pork with rice and Chairman Mao's favorite pork belly, which is a traditional Chinese dish. He Express also serves fried rice dishes - chicken fried rice and pickled cowpea fried rice - as well as noodle dishes including Dan Dan noodles made with minced pork and a spicy chili sauce atop noodles.
Red Boat Asian Fusion (Midtown District, Harrisburg)
Welcome Red Boat Asian Fusion to the Harrisburg restaurant scene. It opened in December in midtown at 306 Reily St. in a spot where several soul food restaurants have operated in the past. Owner Nam Doan, who recently quit his full-time job with DirectTV, has renovated the space into an upbeat, fast-casual restaurant. 
The menu emphasizes flavors of Vietnamese, Korean and Thai foods. Doan said he's banking on the growing midtown community, especially with the arrival of the Federal Courthouse a few blocks away. Among the menu offerings are banh-mi, a type of Vietnamese sandwich with fillings such as lemongrass chicken, lemongrass pork, Korean bulgogi beef and fried tofu. Red Boat also has it's take on hot dogs with Saigon Dog and K-Town Dog, basically hot dogs with flavorful toppings such as kimchi, pickled daikon and chopped lemongrass.
Cafe 1500 (Midtown District, Harrisburg)
NEW All-Day Breakfast at Café 1500 serving-up house favorites like Caramel Crusted French Toast, Smoked Pork Belly Huevos Rancheros, Blackened Shrimp & Grits, and more. Experience the many bold dishes, composed salads, and pizzas made with the freshest ingredients at this American bistro located in the new 1500 building complex in the heart of Harrisburg's Midtown District.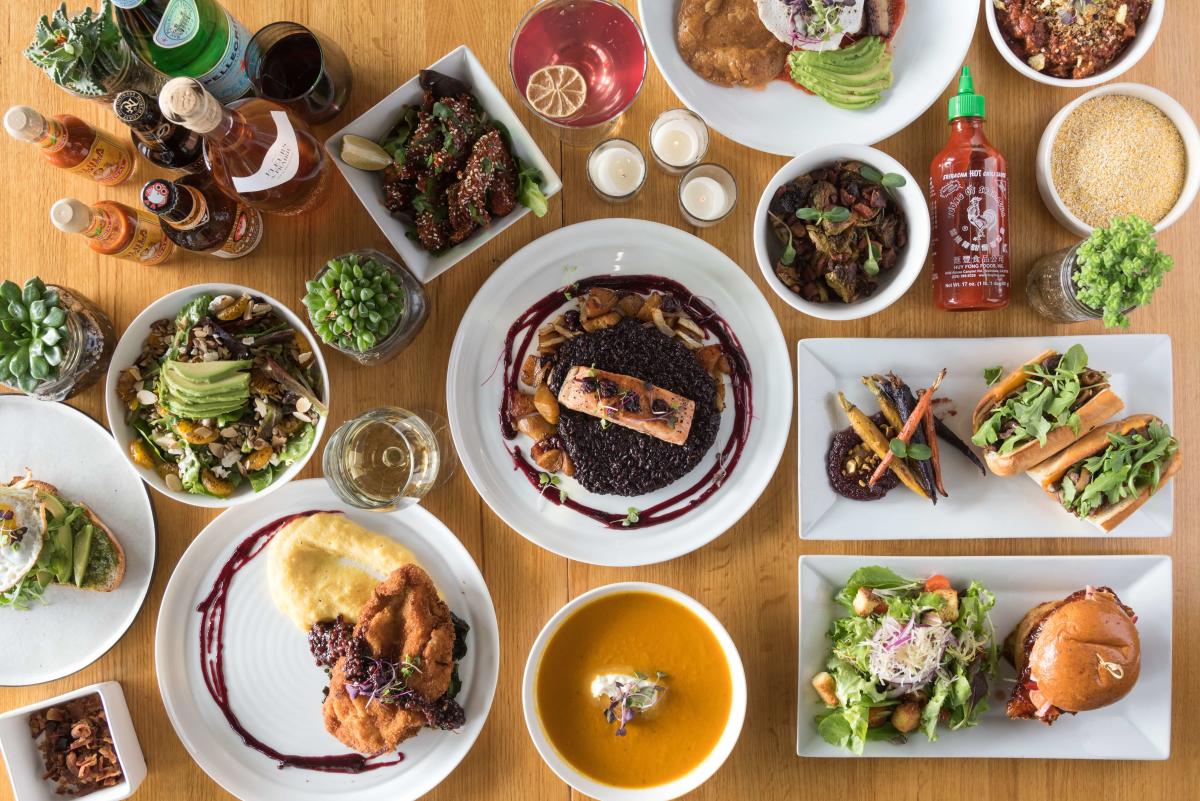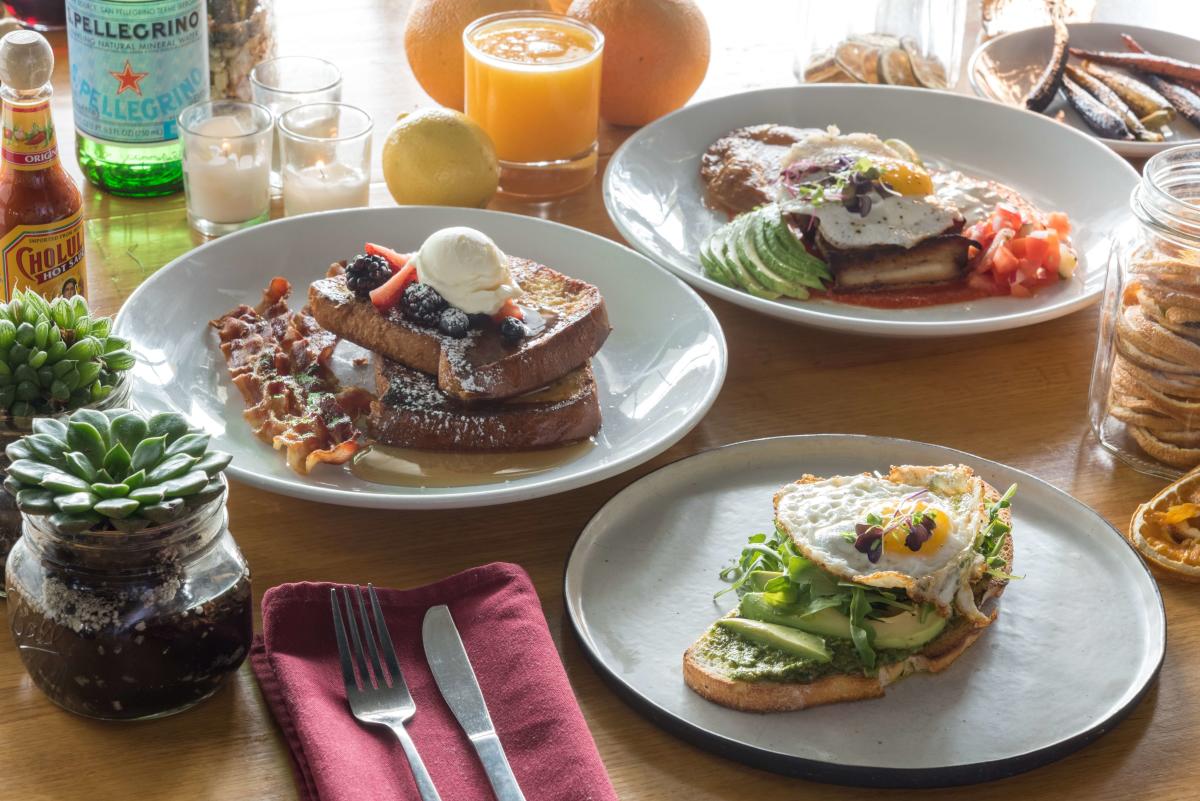 Plus, there's amazing handcrafted cocktails and that famous spicy Bloody Mary creations that are social post-worthy. Café 1500 is open Tuesday through Sunday (closed Mondays).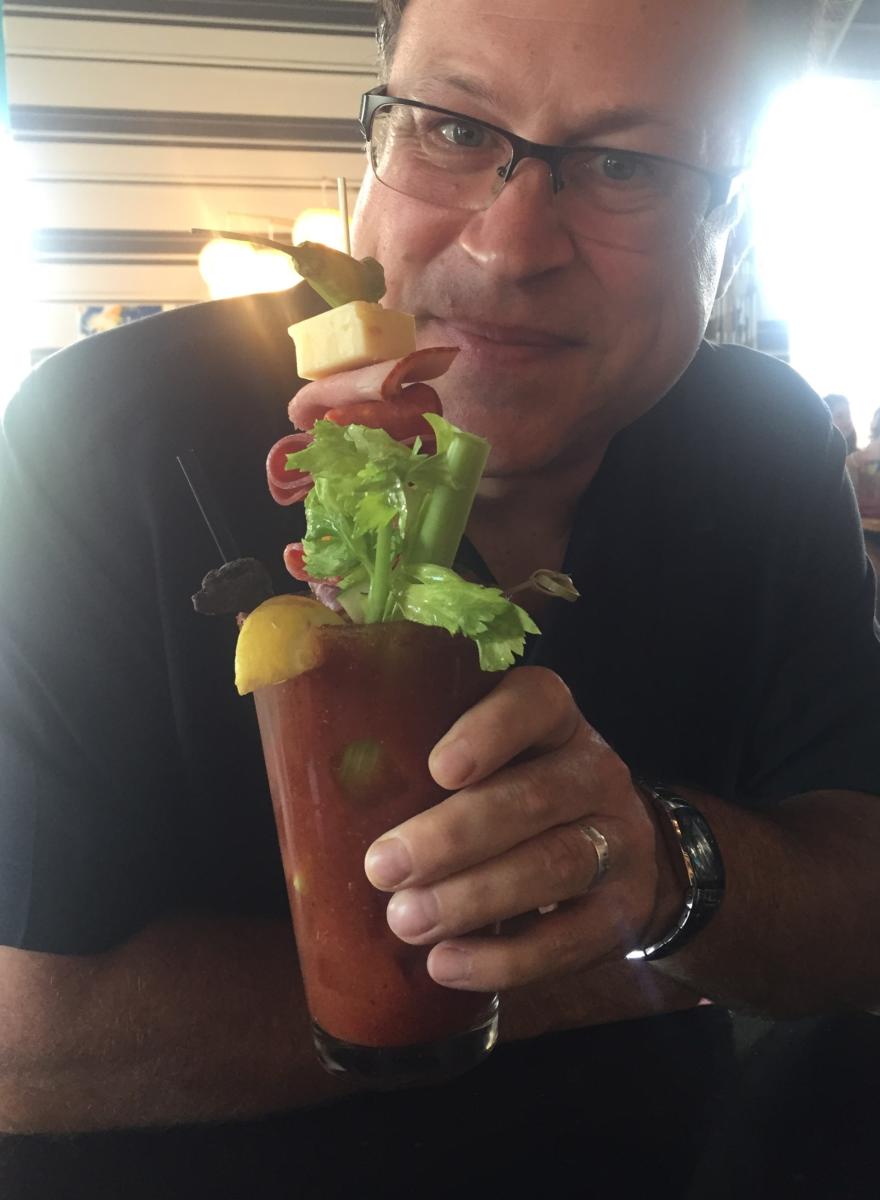 Kneed Slice Shop in Harrisburg
In January 2020 the Knead Slice Shop opened at the corner of 937 N. Third Street in the Midtown area of Harrisburg. The new shop will feature thick-cut Sicilian and thin-crust New York-style slices and pies. The new shop takes over a corner location known for years as the local hot spot Mercado's where the late night bar crowd flocked for substance. The spot will carry on that tradition for great pizza and a new selection of quality craft beer. 
Knead is taking a unique business approach to having three shop locations within a small footprint, but the secret to their success is that each location serves a totally different style of pizza, according to co-owner Jennie O'Neill. All within Harrisburg's Midtown neighborhood the pizza-focused company has a location inside the Broad Street Market, a new location serving at Zero Day Brewery, and now at the corner of N. Third.
Midtown Cinema Renovations
Just after the Academy Awards in February 2020, Harrisburg's indie movie house started major renovation to include a bar expansion, new outdoor seating, full remake of the exterior design, improved soundproofing, and a new layout to at least one theater to improve seating.
One thing that will not be changing is the cinema's programming, according to a quote by Stuart Landon, Midtown Cinema's director of community engagement in a Dec. 2019 Pennlive.com article. 

The theater's current facade, pictured above, reflects the building's origins as a convenience store dating back to 1940, according to Landon. The building was home to the Acme Self-Service Market, one of Harrisburg's first supermarkets at the time. The cinema took over the space in 2001.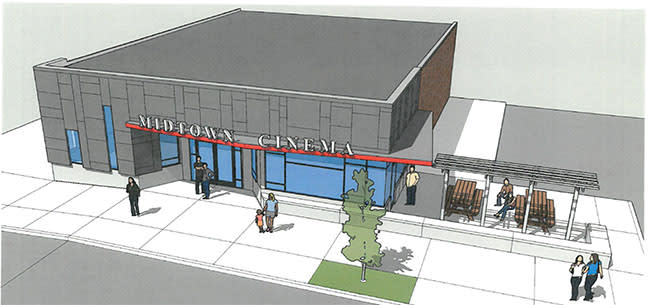 But the current owner, Lift Development, has decided it's time to overhaul the exterior and a second phase to interior improvements after it's first major investment to upgrade the theater's projection systems six years ago. According to press materials from the owners, the new sleek modern exterior (rendering pictured above) will feature glass topped by a new marquee and new fiber cement board panels while one side of the structure will extend to include an area for picnic tables under a wood and metal trellis.
New "Proudly PA!" Festival at Fort Hunter Park in Harrisburg
Dauphin County Parks & Recreation has announced a new music festival "Proudly PA!" that will celebrate all things Pennsylvania at the beautiful Fort Hunter Park in Harrisburg on Saturday, June 13, 2020.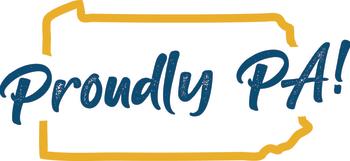 The new festival will focus on the incredible agriculture industry of PA with food, wineries, breweries, and distilleries plus music provided by bands and nationally recognized musicians with ties to the Keystone State, according to organizers. 
This event is replacing the county's annual Music & Wine Festival that has taken place around this time of year in the past. The event will run from Noon-7:30pm and tickets will cost $25 in advance and $35 at the door. Musical acts will be announced at a later date.
The Shoppes at Susquehanna Marketplace
Officials with The Shoppes at Susquehanna Marketplace, one of the local favorite locations for upscale and open-air shopping, is welcoming two (2) new retailers in Spring 2020: Pure Barre and Sephora. Pure Barre is fitness studio that offers classes that focus on small movements and target strength, cardio and flexibility for people of all levels, according to the franchise's web site.
The new Sephora will be one of over 2,600 cosmetic stores the company operates in 34 countries worldwide offering a variety of brand products for skin care, hair care, supplements and more.
Capital Area Greenbelt - Expanded Trail + Restoration Projects
The 20-mile Capital Area Greenbelt that serves as a multi-surface and multi-purpose trail in Harrisburg has received four major new improvements for 2020.

Wildwood Park to Fort Hunter Connector: A new 1.7-mile paved section of the trail now connects Wildwood Park and Nature Center to Fort Hunter Park. The $4 million project runs as a designated bike and pedestrian pathway along the Susquehanna River and Front Street in Harrisburg. 
Lower-Level Riverfront Park: Another 3.5-mile section of the trail was repaired and resurfaced between Shipoke and Maclay Street in downtown Harrisburg. This section constructed in 1912 runs through Riverfront Park at the waters-edge and cost approximately $3 million to refurbish.
East Harrisburg Cemetery: A section of the looping trail around Harrisburg that runs through East Harrisburg Cemetery had deteriorated over time due to erosion and rainfall. With funds generated by the annual Tour de Belt charity ride, the organization that maintains the trail was able to repair and upgrade the section by paving it and addressing storm water runoff at the cost of $65,000.
Steam Bank: The fourth improvement to the trail is a restoration and sewer infrastructure project at Steam Bank. This ongoing improvement project which started in 2018 includes four sites along this section with 1,500 trees, shrubs, and perennials planted. The final stage of this project will involve the removal of two sewer encasements, replacing two culverts, additional steambank restorations, and repaving the entire parkway section. This portion of the project is estimated to take two more years.
For more information and how to register for the Tour de Belt or how to donate directly to the organization that oversees the trail, please visit www.CAGA.org.
Tattered Flag Distillery Lounge in Hershey
Tattered Flag Brewery & Distillery, with headquarters in Middletown, PA, has opened a new satellite retail location along Chocolate Avenue in Hershey. The new lounge has replaced the previous 50-seat Hershey Biergarten taproom at 251 W. Chocolate Avenue. This is one of the latest developments for dining and nightlife in the Hershey downtown area with the recent opening of Hershey Towne Square in 2018 that includes Iron Hill Brewery & Restaurant. Tattered Flag may be joined in 2020 by another distillery Hidden Spirits that has plans to move into a former Hershey Company plant off of Chocolate Avenue.