Bureau Recognizes Best In Tourism at 4th Annual Tourism Awards at Hollywood Casino on March 31, 2016
The annual event marks the bureau's unofficial kickoff to the region's prime tourism season.
HARRISBURG, PA (March 31, 2016) — The Hershey Harrisburg Regional Visitors Bureau (HHR) recognized individuals and local Partner organizations for their outstanding achievements in tourism in the past year during the 4th Annual "Partner In Tourism Platinum Awards" held tonight at Hollywood Casino at Penn National Race Course.
Approximately 150 bureau Partners and tourism supporters attended the event that unofficially marks the start of the region's prime tourism season.
"We look forward to this annual event as a time to recognize bureau Partners and honor local tourism stakeholders who have made great strides in the past year," said Mary Smith, President and CEO of the HHR. "This night has become a kind of pep rally for our Partners who are ramping up for another busy tourism season."
According to Smith, attendees say they enjoy the event as a rare opportunity in this busy industry to reunite and network with their peers in a fun atmosphere.
The evening of awards began with the bureau's Partnership Director Justin Martsolf recognizing 12 businesses that have completed or initiated renovations, expansions and improvements this past year with "Keepin' It Fresh" certificates.
Martsolf also recognized 10 Partners who have made an important investment in our community by opening new tourism-related businesses in 2015 with "New Biz On the Block" certificates.
HHRVB Vice-President of Operations Sue Kunisky then handed out large ceremonial checks worth a total of $24,825 to four recipients of the bureau's new Marketing Assistance Program.
The evening's main event was the "Platinum Awards" which recognizes a select group of individuals, regional businesses, and special events for their outstanding efforts and noteworthy accomplishments from the previous year.
This year the bureau presented fifteen (15) awards to Partners for their dedication and commitment to their local tourism industry, active involvement with bureau promotions, services and programs, and the development of new events and business for the region. A new element that was added to the awards this year was a collection of short videos featuring each Platinum Award recipient.
2015 Partner In Tourism Award Winners
KEEPIN' IT FRESH CERTIFICATES
HERSHEY'S CHOCOLATE WORLD ATTRACTION - NEW Chocolate Tasting Experience.
TownePlace Suites by Marriott Harrisburg/Hershey - New lobby, guestrooms, and breakfast room.
Holiday Inn Express Hershey/Hummelstown - Remodeled all 78 guest rooms, breakfast room, and a new Guest MarketPlace.
Holiday Inn Middletown/Harrisburg - Complete remodel makeover from exterior to guest rooms to become a full-service property with restaurant, lounge, and banquet facilities.
Gamut Theatre Group - New Theatre opened in a historical downtown structure that includes a mainstage that seats 230 plus 2 spacious classrooms for educational programming. The new location now provides patrons with a reception lobby and a bar area.
Adventure Sports in Hershey - Added a new indoor meeting room and new Clubhouse that seats 80 guests and provides indoor space for larger events.
Penn's Cave & Wildlife Park - Visitors Center enhancements including murals and a model train display.
Pennsylvania National Fire Museum - Added a 1951 Model "A" Mack pumper from the Defender Fire Company located in Berwick, PA; and a new display of the Dauphin County Fire Dispatch Console that was in service during the nuclear incident at Three Mile Island in March of 1979.
The Vineyard & Brewery at Hershey - A new "Straws & Stripes" event raising funds for local military causes such as an organization called Dog T.A.G.S., which provides fully-funded service dogs to soldiers who return from service and are suffering the effects of post-traumatic stress disorder. Mike Merlot Wilson, Marketing Manager.
U.S. Army Heritage & Education Center - New Vietnam exhibit that will be open through November 2017.
Historical Society of Dauphin County - Exterior restoration of the John Harris-Simon Cameron Mansion including improvements to the grounds and structure.
The Hershey-Derry Township Historical Society - Renovations to update their facility and museum exhibits.
NEW BIZ ON THE BLOCK CERTIFICATES
Bucks Valley Winery and Vineyards - Michael Pelino, Owner
note. bistro & wine bar - Ruth Prall, Owner  
Red Umbrella Bed & Breakfast - Anna and Tim Goss, Innkeepers
Midstate Distillery - Dan Healy & Brian Myers, Owners
Hampton Inn & Suites Mount Joy/Lancaster West - Emi Nissley, Director of Sales & Diana Bernardo, GM
Boro Bar & Grill Riverview - Bill McCutcheon, Owner
Irv's Pub in Hershey - Ashley Stoltz, Marketing Manager & Cindy Hess, Owner
The Manor on Front - Dave Shuey, Manager, Mike & Sally Wilson, Owner
Zeroday Brewing Company - Brandalynn & Theo Armstrong, Owners
Susquehanna Art Museum - Lauren Nye, Exhibitions Manager & Alice Anne Schwab, Executive Director
MARKETING ASSISTANCE PROGRAM
Read more about HHRVB's new Marketing Assistance Program & Co-Op Advertising Program introduced in 2015.
Days Inn Harrisburg North = $7,500
Roundtop Mountain Resort = $7,325
Hershey Downtown Association = $5,000
Harrisburg City Islanders = $5,000
PLATINUM AWARDS
Above & Beyond Award
Friends of City Island Marketing Group
The Above and Beyond Award says - you are not 9-5. It says when your day job is done, you're first in line to volunteer your personal time, resources and skills to develop, advance and improve local tourism.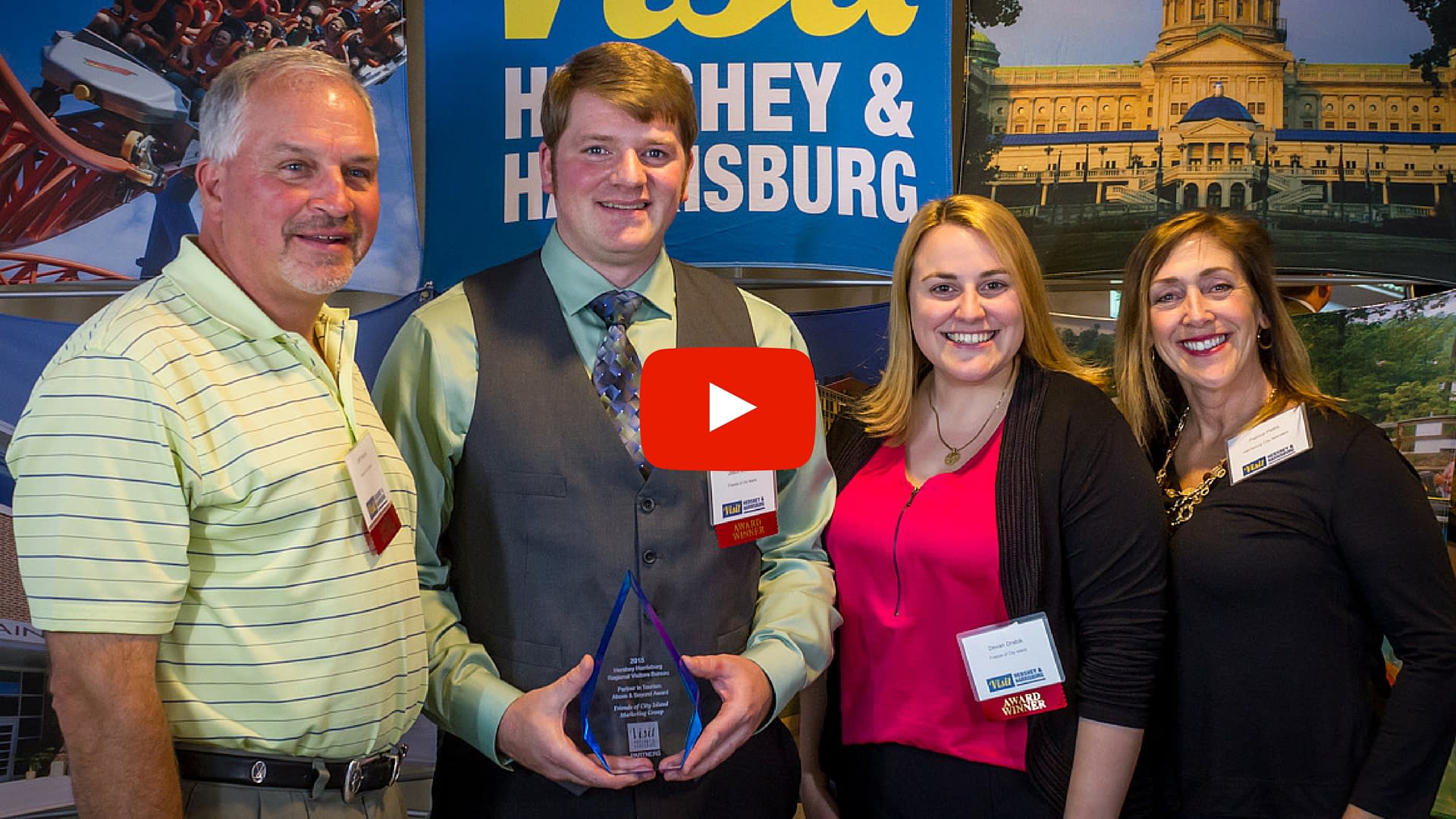 Wayne Motts, CEO of the National Civil War Museum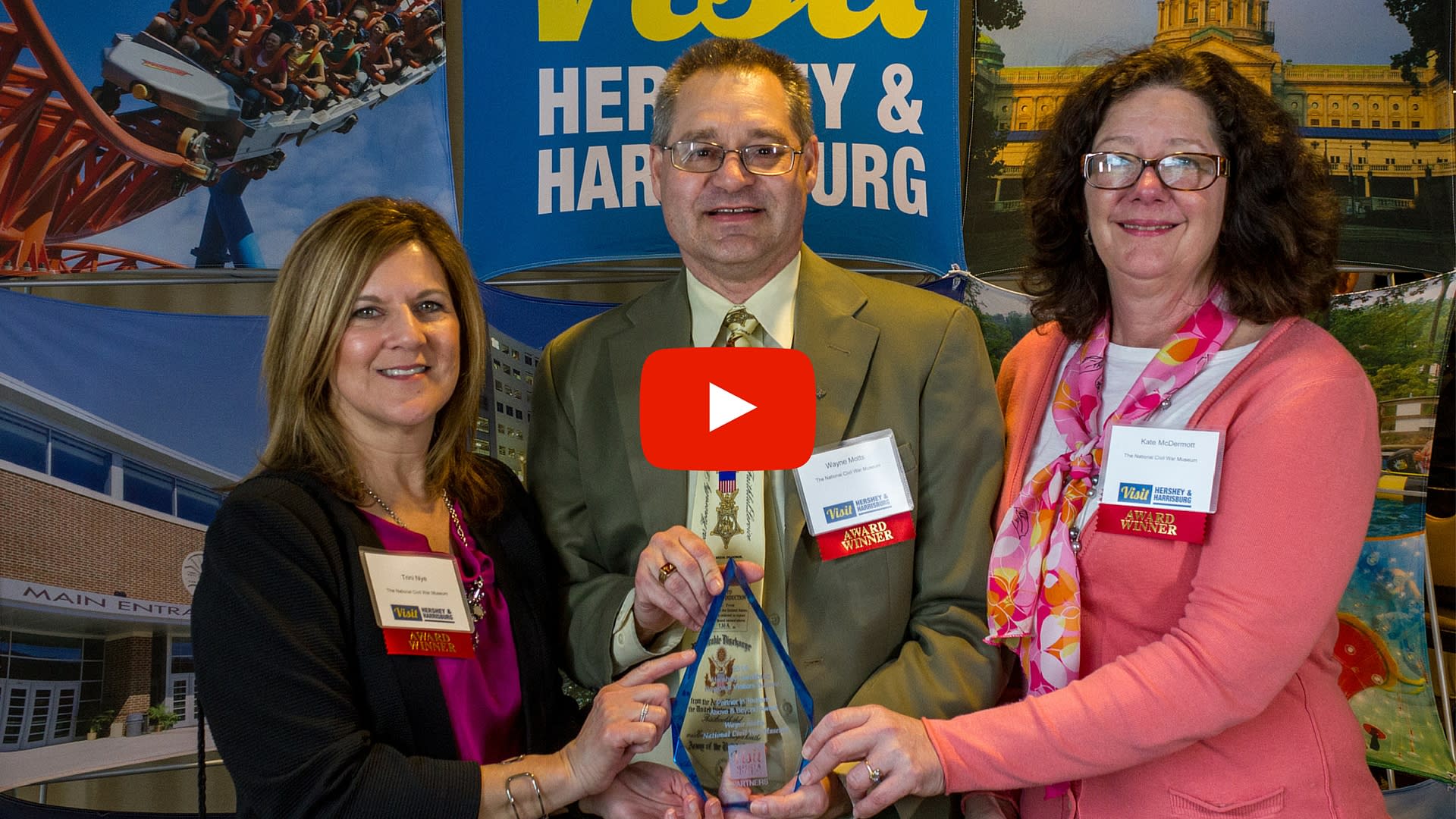 Best New Event Award
Harrisburg Beer Week
The Best New Event Award says - you ran with an idea, swung for the fences, and hit it out of the park with a new annual or one-time event that brought significant economic impact to the Hershey Harrisburg Region.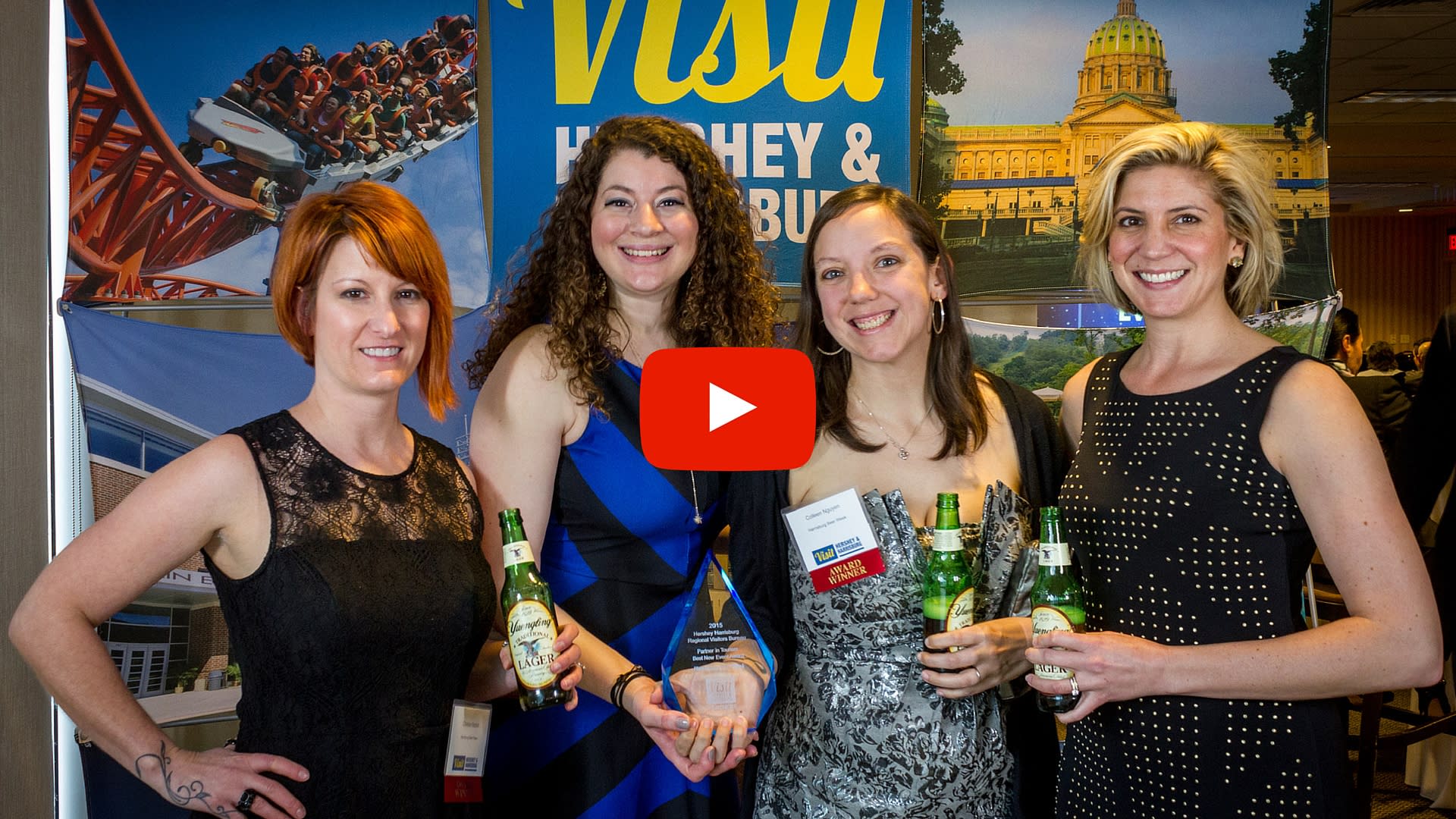 Life On Chocolate Event Series - Downtown Hershey Association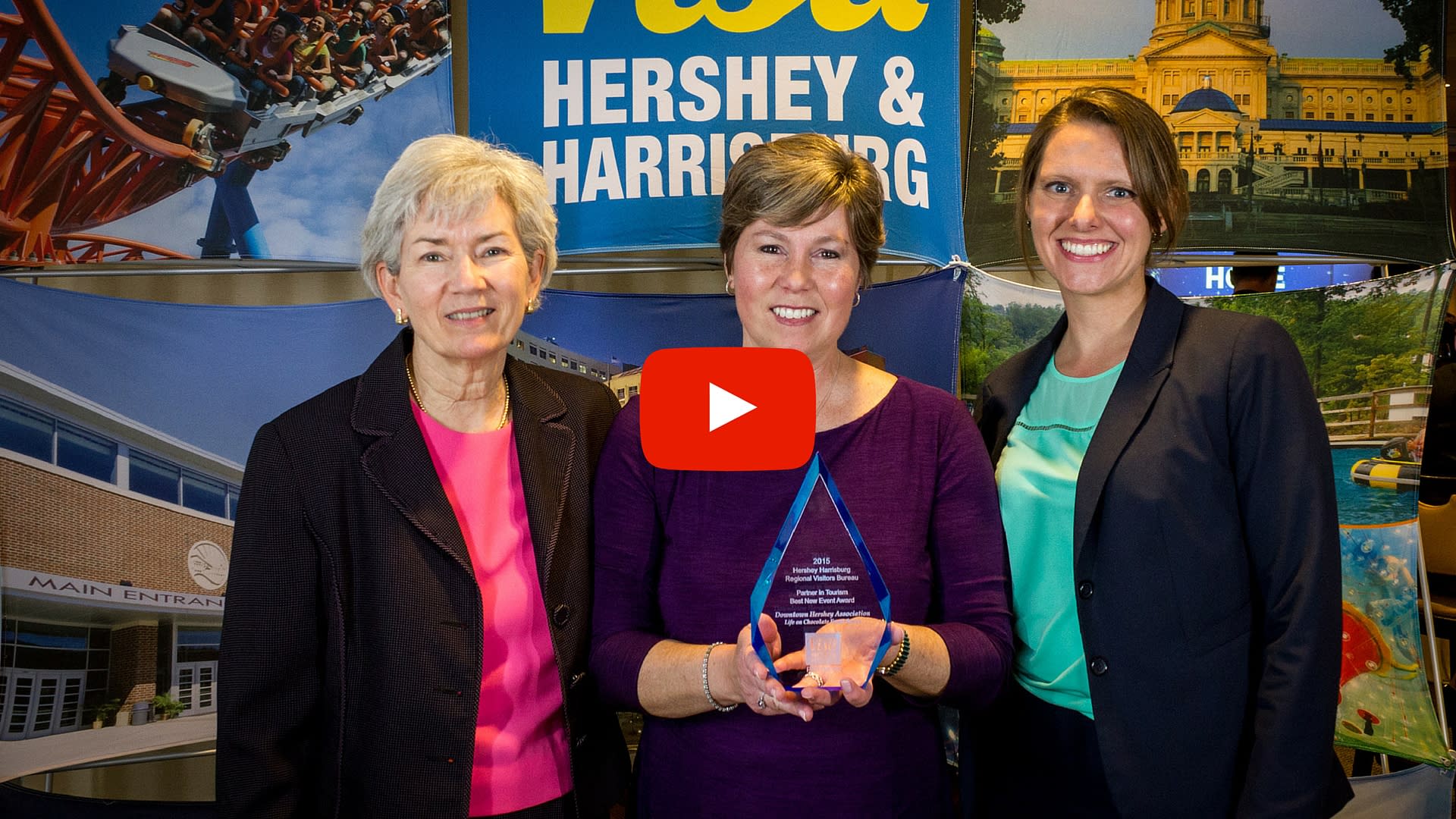 Bring It Home Award
Dominic D. DiFrancesco
The American Legion PA Department Convention
The Bring It Home Award says you know it's silly to travel to your organization's yearly meetings when we have the best facilities right here. It says you've played a critical role in securing a new annual - or one-time meeting, convention, sporting event, special event or group that has a significant economic impact on the region.
Milestone Award
Pennsylvania Farm Show - 100th Anniversary in 2016
The Milestone Award says you may have started small – but look how far you've come. It says you've learned and grown - and that you should be proud of the incredible accomplishments that have come from years of hard work and dedication.  It says thousands upon thousands of visitors to our region have come – because of you.
U.S. Junior Nationals Hershey Showcase AAU Girls' Basketball Tournament - 15th Anniversary in 2016
Excellence In Programming Award
Lost Story Lecture Series: African Americans in the Civil War
Presented by Dauphin County & The National Civil War Museum
The Excellence in Programming Award says - you believe in what you do, and you're proud to share it with the community through educational series and events. It says you take an innovative approach to programming that not only leads to the success of your own organization but also exemplifies the region's diversity and culture while contributing to the growth of the region's tourism industry.
V.I.P – Very Involved Partner Award
Janet Rozzi – Staybridge Suites
The V.I.P. award says you network like a champion. It says if it's tourism-related – You. Are. There. It says we can count on you to be active and engaged in HHRVB events and seminars. That your hand is in the air to volunteer at bureau-sponsored booths or exhibits, comp visiting media and assist with sales familiarization tours and client visits. 
Jancy Nightingale – Chocolate World
Friend of Tourism Award
The Burg Magazine – Tourism Reporting
The Friend of Tourism Award says - you get it. It says you understand how important tourism is to the region's economic success, and that you've supported the bureau's mission and goals through participation in programs and by sharing HHRVB initiatives.
Future of Tourism Award
Brandon Strouphauer - Co-Founder of AllAmericanThrills.com
The Future of Tourism Award says that you remind us all about the passion we need to be leaders in this industry. That you embody the energy and enthusiasm it takes to tell potential visitors that our region has what they're looking for in a getaway.
New Tourism Business of the Year Award
The Millworks – Joshua Kesler, Owner/Developer/Visionary
The New Tourism Business of the Year Award says that you know good business is good for the entire region, and that you've built a business model that reflects a dedication to the overall success of tourism in the Hershey Harrisburg Region.
Heart & Soul Award
Joe Massaro
The Heart and Soul Award was created in memory of our dear friend Julie Sullivan, who we lost in 2012. The Heart and Soul Award says you have shown selfless dedication to your family, community and peers just as Julie did in her life. It says your talent and energy touches the world well beyond your profession, and that your tireless enthusiasm for life, charity and volunteerism is an inspiration to us all.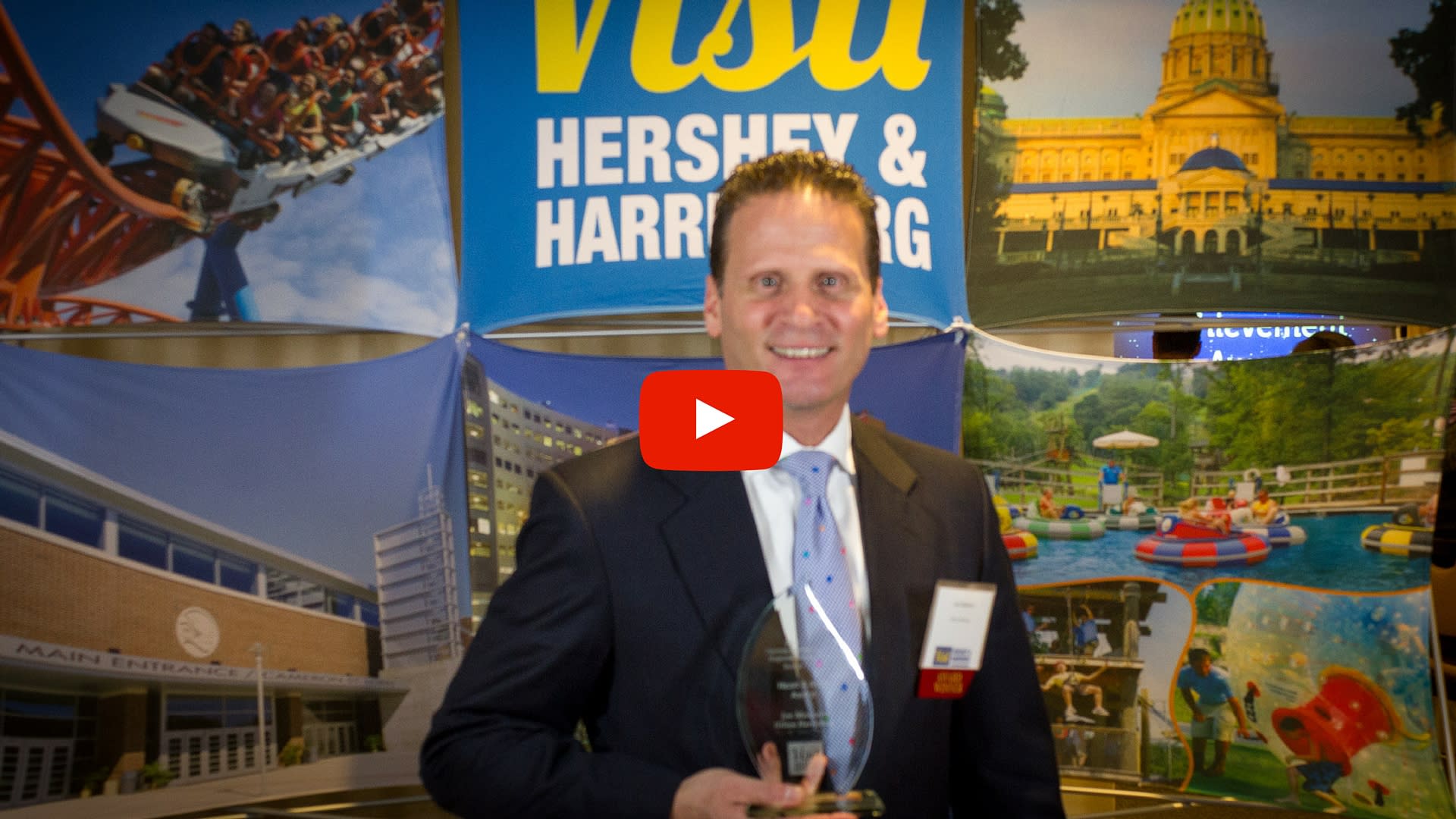 Lifetime Achievement Award
Sheldon Munn
The Lifetime Achievement Award says - you've seen it all. You've made an indelible mark on the world with your ingenuity and work ethic. You've set an example for how to treat the region's visitors that we can all learn from, and you've made those around you so very proud.
###
ABOUT THE HERSHEY HARRISBURG REGIONAL VISITORS BUREAU    
The HHRVB is the official non-profit partnership-based Destination Marketing Organization (DMO) leading economic growth for Pennsylvania's Hershey & Harrisburg Region through destination marketing and tourism development. The organization, accredited by Destination Marketing Association International (DMAI) since 2010, is committed to actively marketing the tourism assets in Dauphin & Perry County to business and leisure travelers both domestic & international. The bureau also leads regional sales efforts to attract meeting & event organizers, sporting event producers, and group tour leaders. For more information go to VisitHersheyHarrisburg.org or call 877-727-8573. Media can use #HHRVB and #HHRVB4Media when tagging stories and social media posts related to the region.