Spoiler: None of them include Hershey's Chocolate
You'll find no shortage of sugary indulgences in the Harrisburg-Hershey Region, starting of course with Hershey's and its delicious array of bars and candies. And while we still love you, Milton, it's time to make way for a few other local sweet spots. Join us on a tantalizing tour to uncover 11 tempting desserts. We hope you brought your sweet tooth!
Glazed Donuts at Evanilla in Broad Street Market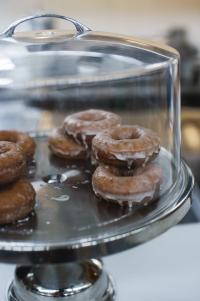 Eva Burchfield is taking donuts to the next level, concocting heavenly rings that are perfect any time of day, not just breakfast. Visit her inside the Broad Street Market for four classics (cinnamon sugar, powdered sugar, glazed and plain) and six gourmet flavors, all made on-site every Thursday, Friday and Saturday. For the ultimate treat, dig into a donut sundae, stacked with also-local Urban Churn ice cream, whipped cream, chocolate sauce, sprinkles and a cherry on top, of course. Located inside the Broad Street Market at 1233 North 3rd Street, Harrisburg, (717) 982-7029.
Layered Chocolate Torte at 1700° Steakhouse at Hilton Harrisburg
Chocolate, caramel and just a hint of salt come together in perfect harmony in this decadent dessert. Built with layers of chocolate mousse, chiffon cake, cocoa sea salt meringue and whipped caramel cream cheese, it's an indulgence you simply must try—just be sure to save room! Ask your server for a wine pairing recommendation from the restaurant's award-winning wine list. Located inside the Hilton Harrisburg at 1 North 2nd Street, Harrisburg, (717) 237-6400.
Apple Valley Creamery Raw Milk Custard at The Millworks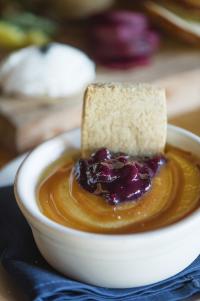 You'll be addicted after just one bite of this creamy, creative dessert. Custard made with local Apple Valley Creamery milk is layered with vanilla caramel and a dollop of seasonal fruit compote, then accented with a shortbread cookie for a light yet rich, crunchy delight that packs a punch of sweetness. A++ for this simple, refined sweet's perfect balance of flavors and textures. Located at The Millworks at 340 Verbeke Street, Harrisburg, (717) 695-4888.
Wild Honey Cheesecake at Bricco
Any pick from the full on-site bakery under the direction of pastry chef Cassandra Callahan will satisfy your sweet tooth, but we recommend you go with the wild honey cheesecake, grounded by a just-right graham cracker crust and served with a side of roasted apricot gelato. For those who like their dessert on the savory side, the cheese board features Pennsylvania artisan cheeses with membrillo, fig cake, crostini and candied walnuts. Located at Bricco at 31 South 3rd Street, Harrisburg, (717) 724-0222.
Urban Churn Ice Cream at Broad Street Market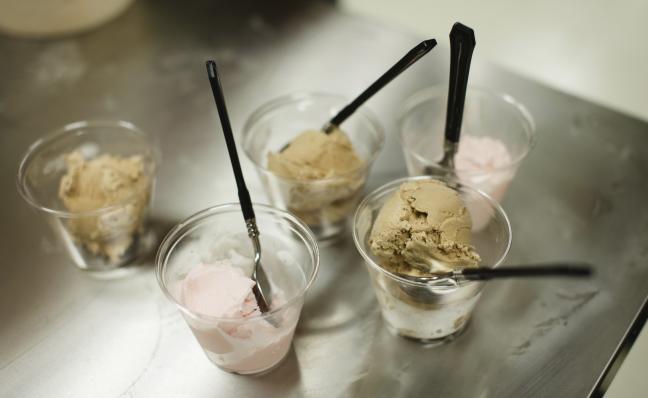 Urban Churn doesn't have a brick-and-mortar shop, but it's worth seeking out locations throughout Harrisburg, New Cumberland and Lancaster that carry this creamy, dreamy small-batch frozen confection, made the traditional way with ice, salt and all-natural ingredients. Options include the inventive (chocolate Guinness, salty caramel, bourbon and maple/bacon/waffle) and the standard (vanilla, chocolate and mint chocolate chip). Located inside the Broad Street Market at 1233 North 3rd Street, Harrisburg, (717) 982-7029.
Pie at Strites Orchard
We simply couldn't choose just one pie to recommend from this generations-old family-run farm and market. How could we, when all of our favorites are on the menu? Take your pick of fresh-baked apple, blueberry, cherry, peach, black raspberry, red raspberry, pecan, pumpkin … we could go on and on. No-sugar-added options are available, too. Our advice: add in a dozen chocolate chip cookies—or a whoopie pie, available in six flavors!—for the ride home. Located at 1000 Strites Road, Harrisburg, (717) 564-3130.
Italian Cookies at Alvaro Bread and Pastry Shoppe
This tiny spot is as authentic as it gets. Cookies are made from scratch every day by Sal Alvaro and his wife Lina, Italian immigrants who transformed an abandoned laundromat to fulfill their lifetime dream of bakery ownership and won an Excellence in Historic Preservation Award along the way. Order a mixed cookie tray and mangia on florentines, wedding cookies, jam cookies, chocolate-covered macaroons, amaretti, rainbow spongecake cookies, pizzels and more. Also on the menu: daily-made bread, pasta, croissants and gelato. Located at 236 Peffer Street, Harrisburg, (717) 238-1999.
Homemade Pop Tarts at Yellow Bird Cafe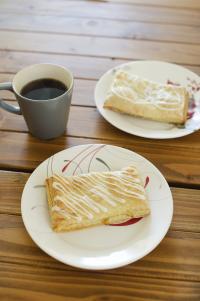 Reboot those cellophane-wrapped, bland childhood memories with Yellow Bird Cafe's homemade take on this glazed, flaky treat. Flavors, which change often to keep things interesting, include blueberry, strawberry, orange marmalade, apricot and Nutella. You'll just have to stop by to see what's on the menu! The cafe is also widely known for its to-die-for croissants. Located at 1320 N. 3rd Street, Harrisburg, (717) 635-8991.
Crepes at Au Bon Lieu
We love a sweet treat that can also be a meal. Au Bon Lieu's Crêpes Sucrées (sweet crepes) are filled with milk chocolate, Belgian dark chocolate, hazelnut spread, homemade caramel, powdered sugar or jam, plus your choice of fruit, coconut, peanut butter, or honey. For an oh-so-French sweet-savory combo, dig into a brie crêpe with jam. Visit the crêperie at one of its two locations. Located at 1 North 3rd Street, Harrisburg, (717) 743-1153; and 110 Rear W. Chocolate Avenue, Hershey, (717) 533-4074.
Grown-Up Root Beer Float at The Mill in Hershey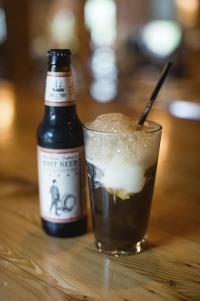 Part dessert, part cocktail—we like the sound of that. The Mill's adults-only float cools you down with a heaping helping of the restaurant's home-made vanilla ice cream while simultaneously giving you that warm-all-over feeling courtesy of über-popular Not Your Father's Root Beer. Teetotalers can check out daily-changing, home-made, seasonal ice cream selections, with interesting flavor combinations like chocolate-bacon and honey-lavender. Located at 810 Old West Chocolate Avenue, Hershey, (717) 256-9965.
Mini Dessert Sampler at What If … of Hershey
Indecisive? What If takes the angst out of choosing with its mini dessert sampler du jour, featuring an array of petite sweets that you probably should share. (But we definitely won't tell if you don't.) Any place that also features a profiterole of the day and cobbler of the day is tops in our book, or try the Paris-Brest, a puff pastry stuffed with French custard and crowned with whipped cream, slivered almonds and powdered sugar. Located at 845 East Chocolate Avenue, Hershey, (717) 533-5858.
Whether for an evening, a long weekend or an extended vacation, Visit the Hershey & Harrisburg Region and rediscover this vibrant dining and nightlife destination's energized bar and restaurant culture, featuring artisan fare by award-winning chefs (fine dining, casual, family-friendly, farm to table, and more), killer cocktails by top-notch mixologists, breweries & wineries, year-round events and much, much more!
Content provided by Dish Works author Michele Kornegay. Photography provided by Alexandra Whitney Photography.